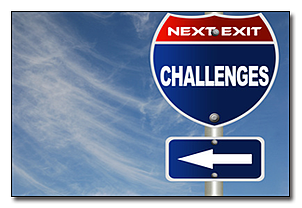 When small businesses make the decision to grow larger via the Internet, we enter a new playing field with its very own set of challenges. Most small businesses fail because they cannot overcome a combination of the Internet marketing challenges presented by World Wide Web. Being in the fields of web design, content creation and inbound marketing - our team at Bluleadz knows these challenges well, and has pinpointed the 5 biggest challenges small businesses face when they take their business online.
1. Building a QUALITY Website
This is an obvious place to start - when a business decides to go online, the first challenge they have is building the best Website they can. Most small businesses start looking for professional Web designers who make Sites that look aesthetically pleasing and navigate properly. These are both very important things to look for in a Website, but they are just the tip of the iceberg when it comes to quality Website design. Bluleadz goes about building Websites that not only look great and function flawlessly, but are also designed to perform well for business - i.e. gaining clients and making money. We utilize an arsenal of Hubspot Inbound Marketing tools to bring highly targeted Web traffic to a client's Website and convert them into leads and customers.
2. Creating Valuable Content
Once a small business has a Website, the challenge becomes creating valuable content that will attract Web traffic that is interested in (and searching for) your products and services. Creating content that is valuable to your niche is a challenge, because it takes specific skills - mostly writing, but also video, design, speaking, etc. It takes a great deal of time and expertise to create high quality content, and not all small business owners have this time or skills to invest. Overcoming this challenge usually involves hiring professionals to create content for you. In fact, one of the biggest components of our business here at Bluleadz is creating content for our clients.
3. Growing an Audience via Social Media
Once you overcome the content creation challenge, and start publishing material that people in your niche value, the challenge becomes promoting that content. One of the best ways to do this is through social media channels like Facebook, Twitter, Google+ and Youtube. The goal with social media is to grow a large audience that is relevant to your niche and industry, and get this audience's attention. This involves lots of time socializing, networking and communicating with people across all of the social media platforms, and making 1-on-1 connections with many people. It's time intensive - which we've already pointed out is not a commodity for most small business owners. Managing social media accounts and campaigns is another major component of our business here at Bluleadz, as it is integral in getting the attention of your leads - i.e. future customers.
4. Generating New Leads
Every small business needs a system of generating leads. Consumers next-to-never make a purchase the first time they go onto a Website. You need an opportunity to communicate with them a second time (usually, more like 7 times). To do this, you need to capture some sort of contact information from them (typically an email address), so that you can engage in a relationship with them. You can generate leads in a number of ways, but one of the most prevalent is giving away free content (e-book, report, video, etc.) in exchange for an email address or phone number. Once you have a lead, you have someone to communicate with, and someone to show your value to. If you do a good job in both of those things, this lead will become your customer and invest in your products and services.
5. Converting Leads into Sales
This is the very last step in the sales process, and is so, because it is such a challenge for small businesses online. Online business - actual business where sales are made - requires a great deal of credibility, trust and respect. In order to "close the deal," in the online marketplace, most small businesses have to overcome the challenge of getting their leads to look up to them as authorities in their niche. Businesses who are able to pull this off do so through a wide array of Internet marketing, Inbound marketing, promotion, networking and educating. Yes - EDUCATION - is what most people in your niche are seeking when they go online. They're not looking to be sold to, they're not looking for products or services - they're looking to learn. If people in your niche consistently believe they are learning from you, they will eventually look up to you as an authority, trust you and value your business enough to invest money in your products and services.