If you run any type of business where you sell items online, you already know how important your eCommerce website is to the success of your online sales model. However, knowing what your business goals are is a vital part of making sure your site performs the way you'd like it to.
It's predicted that by the year 2021, eCommerce sales will hit $4.5 trillion globally. Your slice of the pie comes with a lot of competition from other eCommerce stores. If your eCommerce site is successful, you can also be more than certain that competitors will spring up or come after your business. Your sites need to have weight in what your goals are as well as all these other factors and become as user-friendly as possible in the process.
That's a tall order, so here are six tips to help you reach your business goals and make your site the absolute best it can be.
1. Locate Your Customers
Even though your headquarters might be located in central Kentucky or northern Iowa, you need to take the time to map out where all your customers are located. Even though North America does approximate $988 billion each year in online sales, 84 percent of the global eCommerce market lies outside the Western world.
Figure out where your customers live or where new ones might reside, and make sure your site is in the best language and on the best servers for those customers.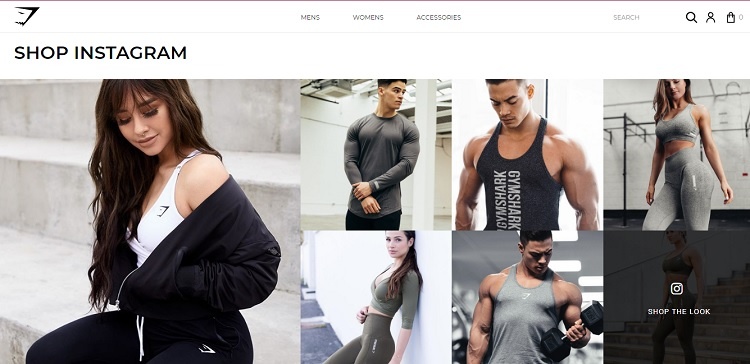 Gymshark considers the customers they want to reach and where their current customers are located. They reach out through both online efforts and brick-and-mortar pop-up stores. However, they're a UK based company, so you'll notice that their pop-ups occur around the London area. Still, the brand understands that their customers come from all over, so they also offer shipping to the U.S. and Canada.
2. Study Your Analytics
To create a site that truly meets the needs of your customers, you need to take the time to analyze the data behind your customer base. You can do this through site analytics, studying competitors' websites and by polling your current customers.
Once you have a handle on the typical habits of your shoppers, it'll be easy to figure out ways to bring them more of the items they want and to make the entire shopping process easier and more intuitive for your users.
3. Drive Your Leads
If you run a service-based business or a big-ticket item that requires an investment, your initial focus may be just to drive leads to your site and collect their information so that you can further market to them and educate about your product. You can drive leads to a well-designed eCommerce store through social media ads as well as via Google ads and good SEO practices.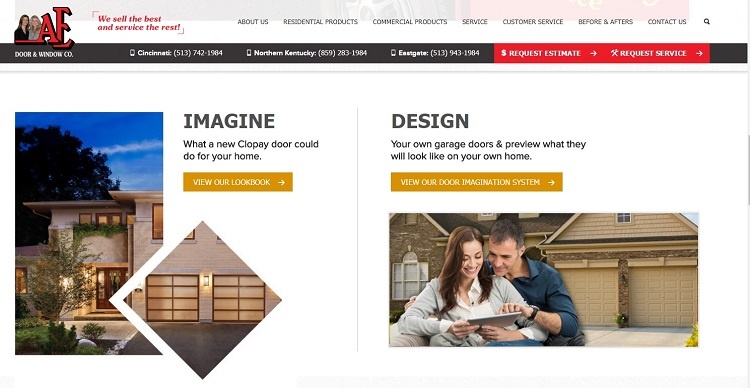 Once you drive visitors to your site, you need a design that encourages them to click on a CTA and become a lead. Note how AE Door & Window presents two clear options for those who land on their page. The consumer can quickly request an estimate or request a service. These options are what drive leads to the company's business goals.
4. Show You're Trustworthy
Consumers today expect that your business will be trustworthy. If it's not, they'll simply bounce away to a competitor they see as more reliable. Utilizing SSL and sticking to basic credibility indicators is critical here.
The Federal Trade Commission's global ethics guide is a smart place to start. You should back up any claims you make with proof and provide clear details about return policies as well as what you do with information collected from the consumer.
5. Create Visual Appeal
If your goal is to capture those who visit your site and turn them from browsers into customers, you need to make sure your site is as visually appealing as possible. This endeavor includes using the best images of your product that you can find as well as smaller details such as the balance of elements on the page and even the typography used.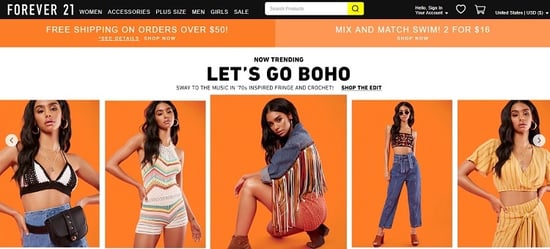 Note the eye-catching colors, beautiful images and balance between positive and negative space on the Forever 21 website. Their clothes appeal to Millennials and Gen-Z, so you'll notice that the colors really pop and grab attention. The entire page screams fresh, young, hip and "buy me."
6. Leverage Technology to Grow
For most businesses, the owner has some growth goals in mind. If you want to grow beyond where you are now, you're going to have to embrace some of the new technology available and make your online store the absolute best it can be. This undertaking could include integrating your online inventory with in-store offerings or developing an app specifically for your users.
The type of technology that works best will depend on the industry you're in. Be aware of what's trending, and don't be afraid to think outside the box to include elements such as augmented reality (AR) or use competitor mapping to see how you can reduce shipping time and costs for your customers. The more you embrace technology, the more streamlined your processes will become.
Business Goals and eCommerce
You may have a number of different business goals in mind. Take the time to focus on one at a time as you make adjustments to your eCommerce website. Always keep your customer at the forefront of everything you do.
If the user experience (UX) of your eCommerce site isn't positive for your site visitors, they aren't likely to order from you, and they aren't likely to return to your site. Leverage the traffic you have today by grabbing the ones who are already visiting your site and turning them into customers.