Blogging | 7 min read
Your company's blog is in danger of being just another blog in the crowded B2B space. Without regular upkeep and updates to the look and feel of your blog, you could be doing your brand (and your awesome content) a huge disservice.
Business blogging isn't going away any time soon, especially in the B2B world.
In fact, as the B2B Content Marketing: 2018 Benchmarks, Budgets and Trends report found 79% of all respondents say their blog is their third most common format for distributing content for content marketing purposes. And nearly half of them agree that blogs are their most effective format used for content marketing.
But just like any aspect of your digital marketing strategy, you can't just set it and forget it. Your business blog will need an occasional change in layout, navigation, design, and other aspects.
In the middle of 2018, we gave our Bluleadz website and blog a big redesign to align with our new rebranding. Even if you aren't fully rebranding your company, revitalizing your blog from time to time is a best practice you should commit to.
A common rule of thumb suggests you should redesign your entire website every two to three years. Don't wait until you start seeing the warning signs that you need a redesign. Be proactive and plan ahead for future redesigns.
In terms of updating your blog, here are a few dos and don'ts to keep in mind when it comes to design, user experience, and blog content:
Design
When it comes to design, many people just assume it's about the appearance of the blog. While appearance is important, the design of your blog impacts the whole user experience. Design dictates how readers interact with your blog and consume your content.
Don't: Assume Your Design Is Timeless.
There are still plenty of business blogs that look terrible in today's design landscape. Most companies assume that having a blog is enough and if visitors are coming, then the design must be good.
This is a dangerous assumption, and you know what they say about assumptions.
Do: Research and Update Your Design.
When you decide to update your blog design, conduct thorough research to see what is most appealing and what is working in your industry. Check out your competitors' blogs and take note of design elements you like and ones you want to avoid.
Then, team up with designers and gain some expert insights on how to make your blog and website modern and cool.
Don't: Clutter and Be Inconsistent.
If your colors are clashing and your sidebars are filled with ads and links, your readers will be frustrated. Plus, you're going to distract readers and make it difficult for them to actually consume your blog content.
Another major issue to avoid is lacking consistency. Visitors want a familiar experience, so if your blog design is not consistent with each article and blog page, they will get confused and likely not return or continue viewing more of your blog content.
Do: Embrace White Space and Brand Colors.
Readability is essential for your blog. By designing a clean look and decluttering your sidebars, you're making it easy for readers to read your article.
Also, add your brand colors and gradients that align with your branding. This consistency can make the look and feel of your blog memorable and engaging.
User Experience
This is the most important aspect of your blog. A bad user experience will hurt your traffic, diminish your credibility, and damage your reputation. This is why so many B2B organizations are investing in user experience design strategies (and why you should too).
Don't: Leave Your Readers to Fend For Themselves.
Nothing's worse than a poor navigation experience in a blog. A visitor found you, clicked on your blog, and wants to find education content. Without the right design and layout, your visitors will feel lost and leave.
You wrote all this awesome content for your audience. Why bury it with unintuitive navigation?
Do: Simplify Navigation.
Your audience deserves an easy navigation experience throughout your whole website, and navigation is especially important in your blog. Readers are actively searching for your expertise, so help them find it.
Break up your navigation bar in a way that makes sense and delivers a positive user experience. As you build out your blog content, provide specific content labels.
Also, be mindful of how you create your blog categories and tags. Keep the reader in mind when you're grouping blog articles together.
For readers who are eager to search for specific keywords, add a search function. Scrolling through your archive is a major issue and will turn your visitors off.
Don't: "Get Around" to Mobile.
It's easy to tell yourself you will get around to optimizing for mobile. But the longer you delay it, the more traffic and engagement you're losing to your competitors who are already on mobile.
In 2018, you can't afford to drag your feet on building a positive mobile user experience for your blog. According to Statista's 2017 data, as of February 2017, mobile devices accounted for 50% of webpage views worldwide, and mobile traffic made up 53% of total global online traffic.
Do: Make Mobile Optimization a Priority .

As you can see in the Statista research and all the other data on mobile marketing, a huge portion of your target audience wants to read your blog on their mobile devices. So if they can't fit the copy in their screen and have to scroll sideways or pinch the screen to zoom in to read small font, they're not going to be your reader for long.
Work with designers and developers to build a mobile friendly blog experience. This way, your audience can enjoy your awesome content on the go.
Blog Content
The cliche that haunts every content marketer continues to ring in our ears – "content is king."
Sigh.
While the sentiment (investing in content marketing is a must) is valid, the message misses the mark a bit. If you're creating content for the sole purpose of building out your blog, you're misguided.
Instead, focus on delivering blog content that is human, helpful, and tailored to each of your buyer personas. Remember, search engines aren't reading your blog. People are.
So when you're updating your blog, you need to keep a few best practices in mind.
Don't: Let Your Best Articles Collect Dust.
High performing articles are great for your authority and traffic. But that doesn't mean you should let them sit stagnant.
Everything changes, so your blog article on industrial technology from 2010 is most likely outdated. Plus, you change a lot, so chances are, your writing chops are far better now than they've ever been.
Do: Invest in Historically Optimizing.
As you go through your archive, identify your highest viewed articles and determine how to update them with more relevant information. This way, as more readers find those articles, the content delivers higher value that is far more comprehensive.
This called historical optimization, and while it delivers more value to your readers, it also improves your SEO efforts. Create an historical optimization process for your team so you can capitalize on some quick wins right now.
Don't: Create Content for the Sake of Content.
I know we already touched on this, but it bears repeating: While it's important to build a body of content assets, you shouldn't be blindly posting articles that lack value.
Content is not king if your content is thin. Value is your top priority, and you should give each piece of content a specific purpose and write with a buyer persona in mind.
Do: Build a Strategy That Includes Offers.
Strategy is every B2B marketer's best friend. When it comes to content marketing, strategy is essential to delivering tangible results that drive business goals.
Build a strategy so your content covers all the bases. You want to target a few buyer personas, optimize for keywords, develop campaigns around topic clusters, and map each piece of content to the right readers at the right time in their journey.
With all these pieces of the puzzle, you can create downloadable offers that deliver even more, high level value to your readers in exchange for their information. This way, your blog acts as a credible, authoritative resource for industry insights and a lead generation machine to contribute to the bigger picture for your business.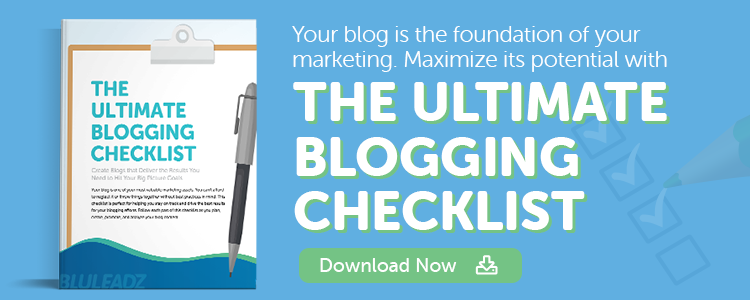 Published on October 16, 2018