There's no denying that video is an extremely powerful content medium for furthering and closing deals. With our own sales and prospecting videos, we've seen our close rate spike from 46% to 63%. That's 17% more sales within the past 2 years!
While these numbers are great, video is expensive. What many businesses don't realize is that they don't need to hire a professional video team or production house to shoot company videos. In fact, you can purchase and install a fully functional DIY video studio for your business for under $1,000.
While having a professional video camera, DSLR camera or even a point-and-shoot video camera is very helpful for creating business videos, it's not a requirement. As we covered in a recent article, perhaps the most powerful and cost-efficient video tool is already in your pocket: your smartphone.
The iPhone 7 shoots in astounding 4K resolution, and with proper lighting, its videos can even be compared to common DSLR videos. This brings us to your first absolutely essential studio purchase: suitable lighting equipment.
Lighting Equipment on a Budget

While you can order a pretty inexpensive photo portrait lighting kit online (on left; $50-70), we recommend taking the plunge and purchasing a higher quality softbox lighting kit (on right; $250-$300), such as the one featured here. These are the type of lights we use in all of our in-house videos and photos, as well as client projects.
But what about the lighting quality? Below is a side-by-side comparison of small, 3-point lighting kits and softbox kits in a video we shot in our studio. Both are set up in conventional 3 point lighting configurations:
Thanks for reporting a problem. We'll attach technical data about this session to help us figure out the issue. Which of these best describes the problem?
Any other details or context?
message

If you have the room in your budget, definitely opt for the more expensive, but higher quality, softbox lighting kits. If that extra wiggle room isn't available, the cheaper alternatives can suit for most small studios. For this blog's running dollar count, we'll be using the higher-end softbox lighting kit.
Total Spend: $300 (estimate)
Backdrops, Greenscreens and Rigging Equipment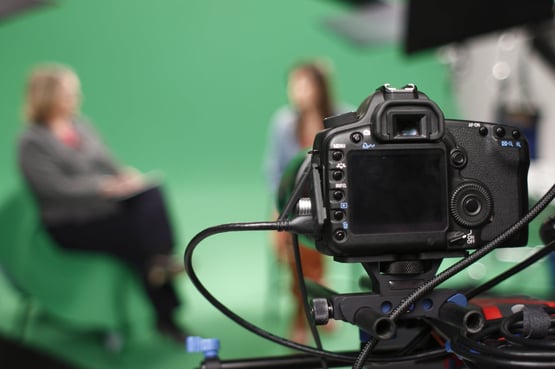 While you certainly don't need backdrops for your in-house productions, they allow you to be incredibly efficient with your productions and capitalize on simple, no-fuss visuals. As our partners over at Wistia put it:
"Using a paper background setup will let you shoot literally anywhere and still get a great looking shot. Your viewer will never know where your paper setup is located. Through the lens of the camera, viewers will see a smiling face in front of a solid colored background."

Wistia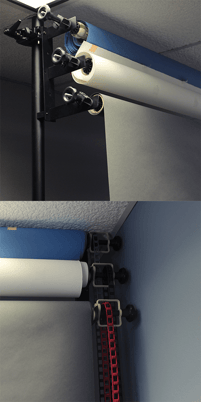 If you have the room in your budget for something higher-end, we highly suggest looking into the Varipole backdrop system ($290) that both Wistia and Bluleadz use extensively. It's easy to set up and allows you to have multiple different backdrop papers, colors and textures on one quick-setup system.
Instead of tearing down rigs and installing new paper rolls, a simple system of chains and pulleys allows you to swap out backdrop colors in seconds.
That said, there are far more affordable alternatives out there that will work for most businesses that don't need multiple backdrops.
There are many background and greenscreen kits available online, as well as standalone paper backdrop support systems for single paper background rolls. These products range anywhere from $50 to $250, and both cloth and paper rolls can be found in any color or pattern you can imagine.
If you're looking to keep video budget low, there are always workarounds for conventional backdrops and greenscreens. Consider using different locations in your office and facilities as backgrounds for your videos. This can make for some interesting and unique compositions, and will also make your business's videos feel more authentic than videos with installed backdrops.
Thanks for reporting a problem. We'll attach technical data about this session to help us figure out the issue. Which of these best describes the problem?
Any other details or context?
message

For the purpose of this blog, we're going to add a range to our Total Spend tally, ranging from all-in-one backdrop kits to our recommended Varipole setup ($50 paper roll included in tally).
Of course, if you skip backdrops, screens and cloth backgrounds altogether, and instead opt for existing office locations or even flat walls, your price won't rise in this step!
Total Spend: $350-700 (estimate)
Microphones and Audio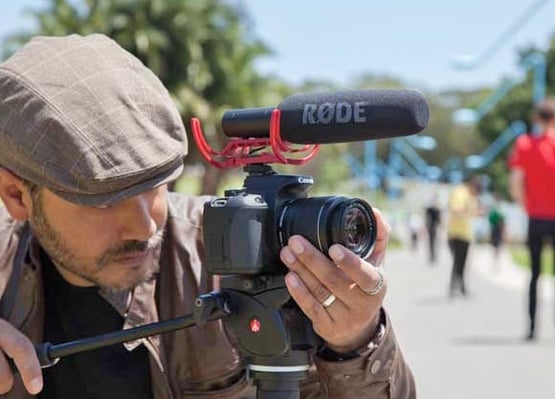 Your project could have the most well composed and lit shot in the history of video, but if your audio sucks, then so does your video. Fortunately, you don't have to overspend for decent single or multiple person audio.
A reliable LAV microphone (the clip-on microphones you might catch on folks' collars in many other videos) will only run you about $15. These mics should have you covered for videos shot in a controlled environment (aka your new DIY studio).
For group videos or on-the-fly videos at your facilities or out in the field, we've found that RØDE's VideoMic is the perfect tool for businesses adopting video and video marketing. At around $140, this camera-mounted directional mic is both an absolute must-have and a total steal for DIY video projects.
We highly recommend purchasing each of these microphones or similar items to get great audio to go with your new video projects.
Total Spend: $505-855 (estimate)
Affordable Tripods and Camera Accessories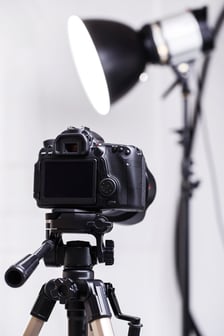 Next up, to shoot any professional quality business videos, you're going to need a trusty tripod (and smartphone adapter for the head, if you're going the smartphone route). When it comes down to it, you really don't need heavy-duty tripods or ball-head tripods (though they're nice) when shooting your business's videos.
We still use the same $25 tripod we purchased almost 3 years ago. For most business video and video marketing projects, keeping it simple and exploring other options later on is the best bet.
Additionally, if you plan on shooting your business's video with an iPhone, a tripod adapter is absolutely essential. Fortunately, these little devices cost next to nothing ($10).
Total Spend: $540-890 (estimate)
If you're using a DSLR or point-and-shoot digital camera to record your business's video projects, also keep in mind that you can never have enough spare (and charged!) batteries, as well as extra memory cards.
The Bottom Line
When it really comes down to it, you don't need to spend a dime on video equipment to create great videos for your business if you have a camera or smartphone on-hand. However, decent lighting, audio and backdrop equipment can go a long way in improving your in-house productions.
As we've learned here at Bluleadz, spending a little extra on equipment—and some plain old video goodies—is always worth it.
To wrap this blog up, here's a neat look at what we were producing several years ago with absolutely minimal equipment and what we're producing today with the exact tools mentioned in this blog:
Thanks for reporting a problem. We'll attach technical data about this session to help us figure out the issue. Which of these best describes the problem?
Any other details or context?
message

Want in on this? Check out our awesome guide on using video at various stages of the marketing and sales funnel to close more deals: