Using video is becoming an increasingly important asset for inbound marketing. In fact, in a recent study it was found that roughly 86% of buyers want access to interactive or visual content from the company they're buying from (HubSpot).
Video marketing is a powerful way to brand your company, and increase both engagement and content shareability. It allows businesses to share their stories and connect with visitors, which in turn establishes greater trust. Each video hosting site has its pros and cons; in this blog, we evaluate YouTube and Wistia to see which platform is best suited for you and your business.
The Pros of YouTube
1. It's Free
YouTube is free to use. You can have your own YouTube channel for free, and load as much video content onto your channel as you want. Being free does have its downsides, though. For starters, there's no support or integration with other hosting platforms, such as HubSpot (this is a capability you would get on paid platforms, like Wistia).
Additionally, if you have a problem, you have to troubleshoot it on your own. Wistia, on the other hand, has support that will answer you within a few hours (usually). YouTube makes the majority of their money from advertisements that interrupt the video playing, and force visitors to wait through. Wistia on the other hand, does away with advertisements completely (receiving its funding from paid services), but can end up being pretty costly at $25-$300 per month. A free plan is available, but only three videos are included.
2. Searchable
YouTube was acquired by Google in 2006, which means that they're going to choose to rank these videos before others. You can easily search for YouTube videos, which no doubt plays a part in getting found online and bringing traffic to your site. Wistia doesn't come with this benefit. They do, however, try to compete for SEO by providing users with easy to add meta descriptions, titles and tags.
3. Gain More Traction
Since anybody can easily search for videos on YouTube for free, your video has the potential of reaching a high number of viewers with zero limitations. Make your content informative and engaging enough, and it has greater possibility of being shared; this exposes your brand to people who would've never otherwise seen it. Wistia videos cannot be searched for, only shared.
The Pros of Wistia

1. Lead Capture Ability

Wistia gives you the capability to add a call-to-action at the end of your video. This way, you can guide them through the buyer's journey, and down the sales funnel to better capture leads. Wisitia is great for gathering analytics on who is watching your videos, and just how engaged they are with your content. Wistia also has a Turnstile feature, which allows you to capture a viewer's information, such as email and name. You can them use this information in your email marketing campaigns. This is Wistia's biggest selling point and value.
2. Embedding
Wistia is a unique video marketing platform for the fact that you can directly embed videos in your emails. This increases engagement with your audience and establishes a sense of trust with them. You can easily copy the embed code from Wistia and place it in the HTML side of the email, and then it's ready to be sent out.
3. Collect Analytics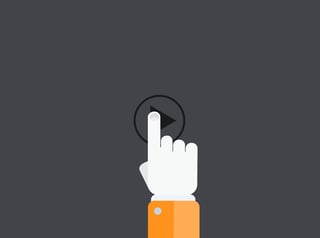 Not only does Wistia have this lead capturing capability, it also has an engagement graph where you can see where views drop off exactly within your video. This lets you know what's working and what's not, so you can fine tune your marketing efforts. YouTube doesn't have this capability.
4. No ads
Unlike YouTube, Wistia has no advertisements that bombard your visitors, or lead them away from your video. Ads can also cause your viewers to get annoyed and abandon your video altogether. If you're using video marketing for your business, keeping it professional with no ads via Wistia can have significant advantages.
Inbound marketers agree that video is a powerful tool for your business to utilize; now, it's time to decide which platform is best. Here at Bluleadz, we use a hybrid approach to reap the benefits from each hosting site. We use YouTube primarily for our #askinbound series, while we use Wistia for videos that we place on our website, blog and emails. You can also reap the benefits of both of these video platforms by using this hybrid-approach.