A business to business (B2B) website needs to be clear, concise. aesthetically pleasing, easy to navigate and offer detailed information about your product or service.
Consumer needs and business needs are different, the sales cycle and lead funnel is different and the amount of detail, user experience and design needs are all different on a B2B website.
Psychological Factors and the Purchase Process
The lead funnel and lifecycle of a B2C purchase is typically shorter. Consumers are seeking a smooth, convenient buying process. Psychologically, B2C purchases tend to be emotionally based. Branding is the key.
For example the iPhone offers the exact same features as the Samsung Galaxy, but Apple's branding leads the user to believe it is the trendier choice.
B2B purchases can be emotionally driven, but not exactly the same way. People put off making a decision when it affects a team or company. Risk aversion and fear are two emotions that are often associated with B2B purchases.
One bad experience can lead to problems with your reputation. An unhappy buyer or team can affect other prospect's decisions through negative reviews.
Pricing and Decision Making
Often when dealing with consumers, pricing is fixed and consistent. This isn't always the case with B2B purchases. Pricing can often vary based upon the level of service provided and other factors. As a result, B2B buyers rarely make an impulsive purchase.
When it comes to decision making, B2C sales are one-to-one. The consumer is ultimately the decision maker. With B2B, there is often a team of people behind the decision. Buyers may have to follow certain procedures when authorizing a purchase and this can result in a longer and more complicated purchase process.
As a result, B2B web design needs to include as much information as possible.Content needs to be informative, educational, address specific pain points and offer solid solutions.
Prospects must completely trust your business before they will make a purchase. Your B2B web design needs to be focused on content, should include plenty of CTAs and premium information including whitepapers, explainer videos, testimonials, trust icons, live chat, product demos and more, in an effort to build trust and lead to the close.
One of the best ways to learn how to create an effective B2B web design is to look at examples from other businesses. Here are 20 B2B web designs we love because they look great and they work!
20 Examples of B2B Websites and Why We Love Them!
The best B2B web design is able to capture, inform, captivate and persuade visitors to buy. They get to the point quickly, show the benefits of partnering with them, and strategically place content to direct visitors to their CTA. Here are 20 of the best!
1. Reputation Squad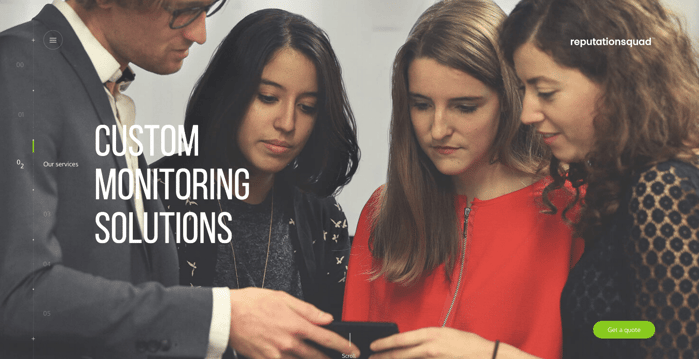 Reputation Squad is an online business monitoring solution for medium and large-scale companies. They use several mouse sensitive animations and while decorative, offer visitors a sense of control, which is exactly what you'd expect from a monitoring service. Their landing page consists of three sections.
The black section emphasizes the benefits of their product. The grey one explains how you can customize their service to fit your needs. The final green section talks about the company, team and case studies. A clear "Get a Quote" CTA follows the user throughout.
2. Asana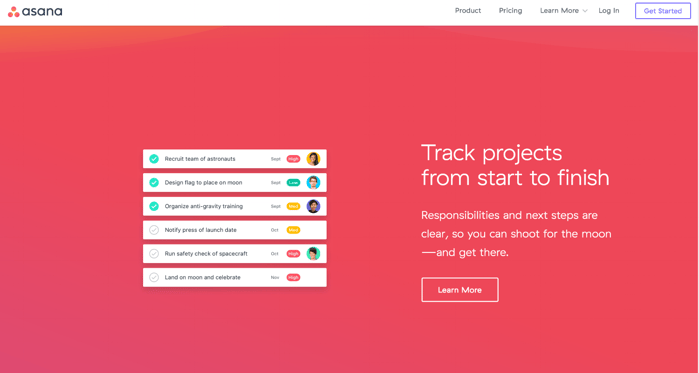 Asana's site is excellent because it directs visitors exactly where they want them to go. It's clean, simple to navigate and offers no distractions.
Prominently displayed on their homepage is a giant call-to-action waiting to convert visitors into consumers of their products.
3. Danish Shipowners Association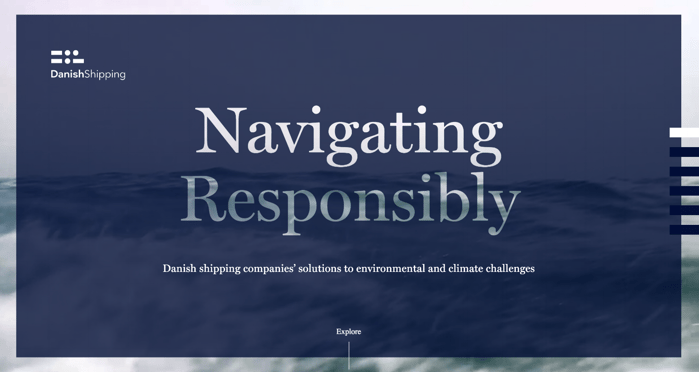 DSA is an eco-friendly certification service for sea going vessels. This website offers a great use of illustration and animation telling visitors a story while revealing eco-data on ships that travel popular marine routes around the world.
This site uses excellent design elements to bring users through 6 distinct "chapters." It's design is intriguing, yet tells their story well.
4. QUID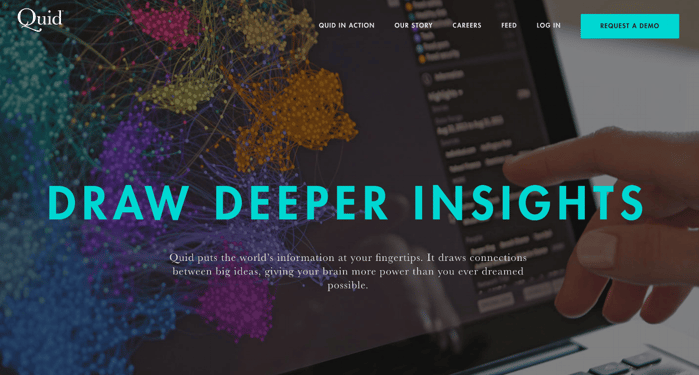 In design, less is often more. No clutter or chaos puts your message front and center. Quid is a data site that puts the world's information at your fingertips. It connects big ideas through making interesting data connections.
By using a minimalist design, it improves the user experience, cutting load times and improving readability. With less content on the page it draws more attention to their message, making small statements deliver greater impact!
5. MUV Interactive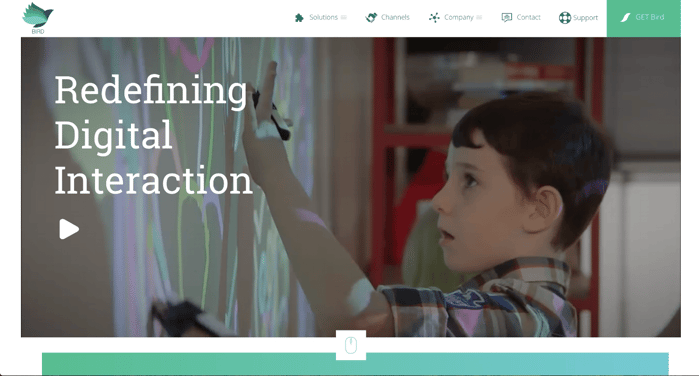 This website is designed to sell a product that's used to control visuals during group presentations on various types of displays. When you first enter the site you encounter an animation that changes it's view angle depending on your cursor.
While your busy playing with this effect, the site explains how the product works and it's major features. By the time you're done playing, you've gotten detailed information about the product. Brilliant!
6. Dropbox Business User Guide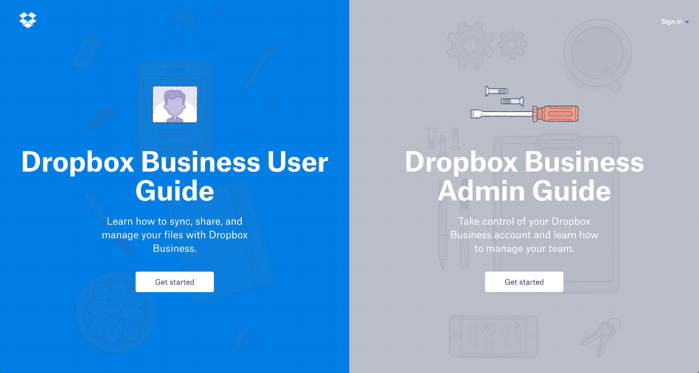 Dropbox is a well established brand. Their business user guide is set up as a separate B2B website. The website is a great example of a material design approach.
It reads like an interactive book with screen turning animations and sections that are easily accessible from the table of contents. It's incredibly interactive and user friendly. This is an excellent FAQ solution for a business service!
7. Grammarly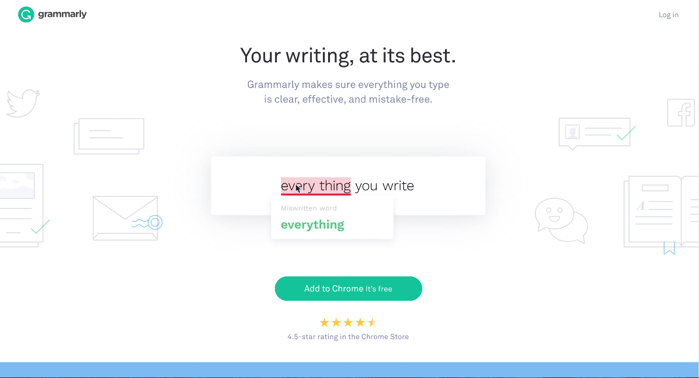 Grammarly is a great example of B2B web design. It features long scrolling, functional minimalism and animation. But the biggest feature is its flat design that fills up the entire screen.
This helps with load times, and responsiveness on mobile devices. The flat design gets information across in an easy to read intuitive manner.
8. Future Water City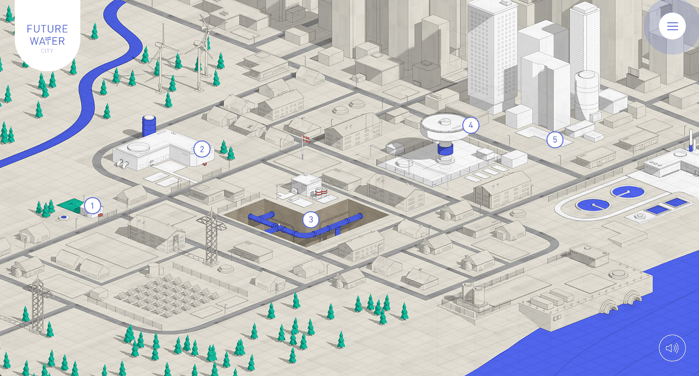 If you've ever played SimCity this website design will look familiar. FWC provides water infrastructure solutions. The site is basically an interactive map of a city block which explains how water circulation works.
By following the stages of water flow, you are brought to individual landing pages that explain in a game like manner, each step of the process and how FWC solutions factor in.
9. Aiia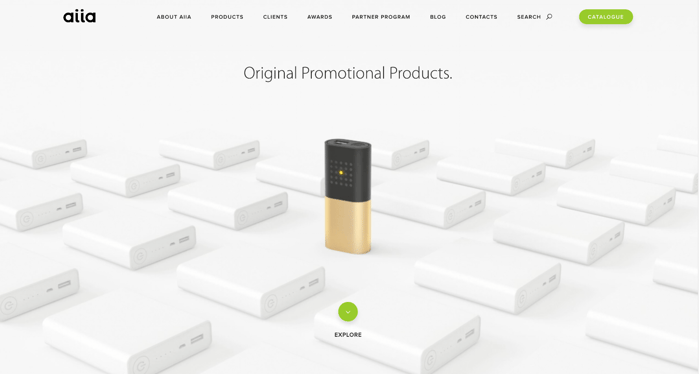 Aiia offers branded promotional products for corporations. This website is excellent in showing that gadgets don't have to be ordinary.
The catalog is showcased right on the front page, each product accompanied by a short description prompted by a mouseover. When you click on a product, a full screen promo clip is triggered. It's intuitive and informative!
10. Dstillery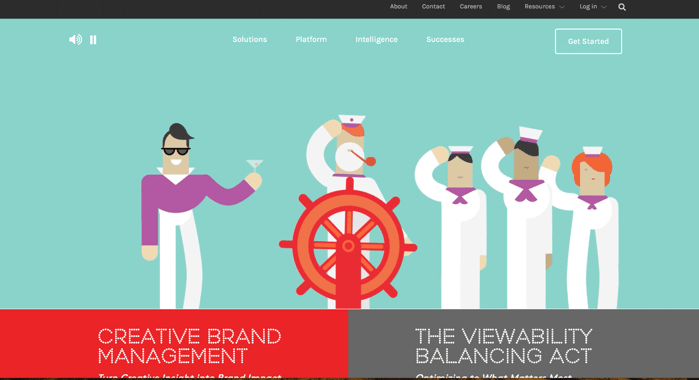 Long scrolling design is a hot B2B web design trend that can help increase the user experience on both desktop and mobile devices. It a great way to tell your company's story.
Dstillery takes long scrolling to another level with fixed long scrolling. The background image remains fixed on the page but as you scroll the content moves, not the image. It's a revolutionary design that is changing how products are marketed!
11. Kekselias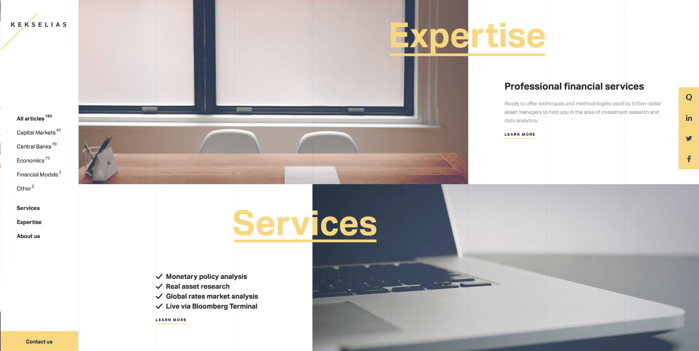 Kekselias is a portfolio management, investment analytics service for institutional asset managers offering macro research and market analysis. This site features a minimalist landing page that highlights elements on mouseover.
The page features a scrolling display of recent articles and a simple CTA to "read the post." The menu is located upper right, top of the page and when clicked opens to reveal three subpages where their services are clearly explained. It's a blog like approach that offers value (the articles) and a great user experience to elegantly explain a complicated business.
12. ACME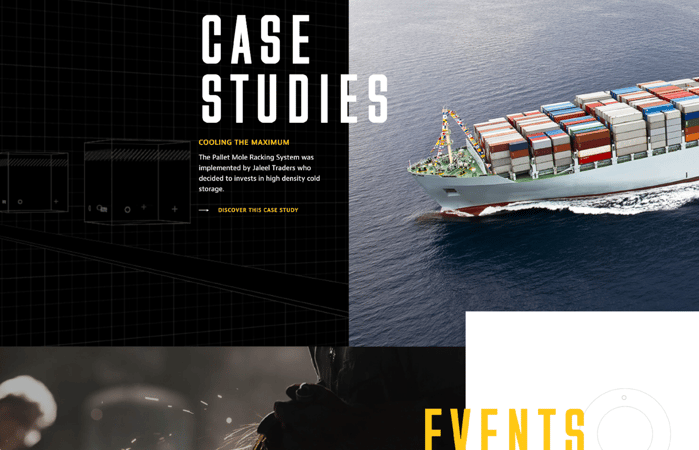 A packaging provider for shippers and logistical operators, ACME's website is beautifully designed. It features a striking yellow and white text floating over a dark black and white photograph of an empty warehouse. This is an excellent example of a strong B2B website design.
Their business services target three markets: shippers, retailers and corporate logistics managers across multiple industries. As you enter the main website, they clearly breakdown their offerings by service and industry making it very easy to find what you need.
13. Blake Envelopes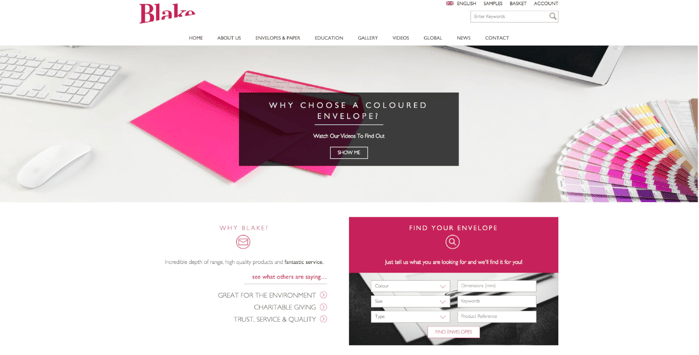 While envelopes aren't the most exciting product out there, they're something every business needs. Blake's website makes finding exactly what you need fast and easy, right from their homepage!
The first thing you see is a search function. You can specify color, size, type, and dimensions. Then search their extensive product catalog to find exactly what you need in seconds!
14. Batterii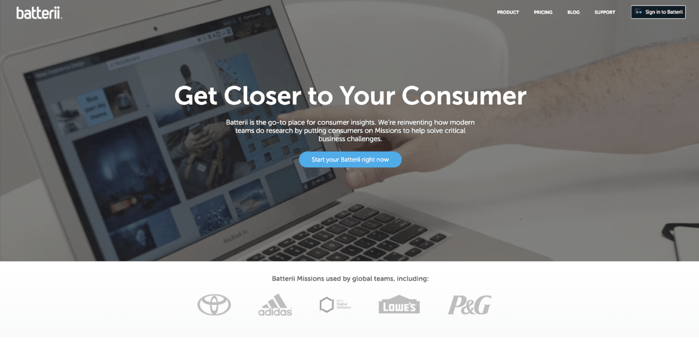 Batterii's website is an excellent example of design minimalism, that still provides the information you need. Your audience should be able to instantly identify your company's purpose and how it can deliver a solution.
Batterii's homepage is one simple sentence that describes what they do and how they do it with a video. A simple CTA "start your Batterii Now" gets you right to work!
15. PublishThis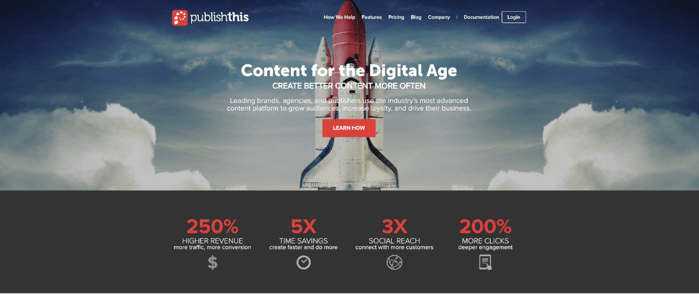 Instead of offering visitors a complex set of navigations and category pages, the Publishthis' homepage takes them on a "journey."
It's a great approach to conversational marketing, not just content marketing. Conversational marketing uses content to try to understand what your visitor is looking for and provides them with the content tailored to meet their needs.
16. D.FY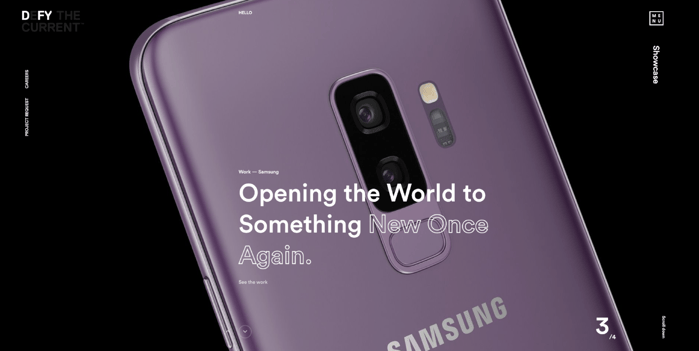 D.FY uses compelling videos to illustrate their content with the story of who they are. Video is a trend that is becoming more popular on website home-pages.
It's a great alternative to excessive "about us" content that can lose your visitor. Video is a great way to tell your story and D.FY's homepage is a great example.
17. Pulse 220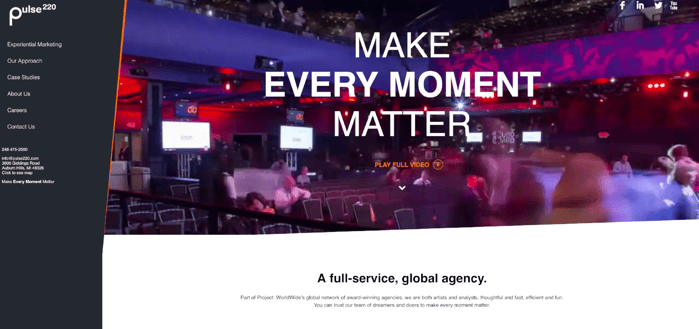 Pulse 220 uses several great design tools on their website. The popularity of mobile browsing has made "card layouts" an effective tool for organizing content to create a user friendly mobile experience.
Pulse 220 uses this design technique in a good way. Each "card" presents an image bolstering message. From the first card offering an "about us" video, to cards featuring services and testimonials, this is a great website design!
18. Yapstone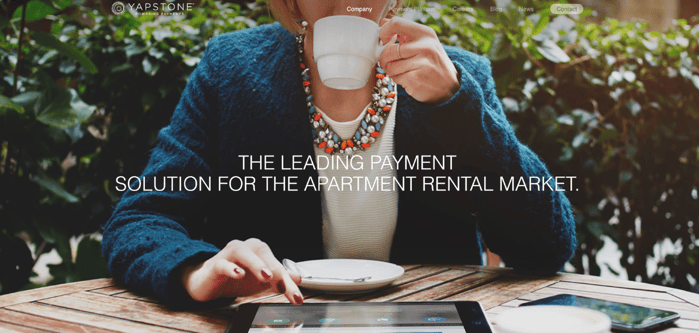 Yapstone offers online and mobile payment solutions. Their website features beautiful photography, which you wouldn't expect from a company like this. It's a really effective way of subtly developing brand identity.
The homepage photo is a stylish woman sipping from a teacup while scrolling on her tablet. It's not so much the content, but the composition that draws you in. As you navigate the site, another unique feature is their "about us" pages.
As you scroll down, rather than the page scrolling, the information is " "brought up" from the bottom, each new page covering the last. It's a cool design element that keeps you on the site! Compelling photography and unique navigation offer a wonderful user experience and make this site design a winner!
19. Jaco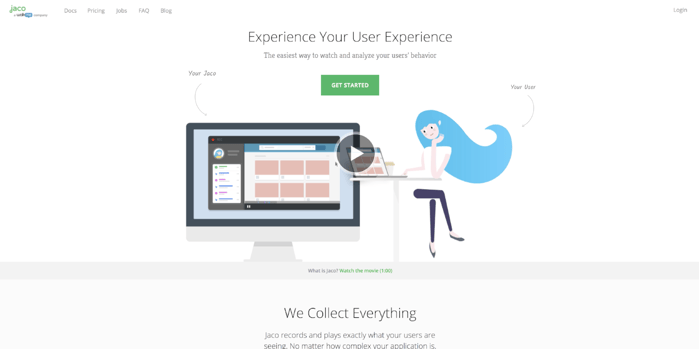 Jaco has a fun site that uses animation as a brand identifier. When you go to their website that first element you see is a video about the company. Scroll down a little farther and Jaco shows you how they record and play user interactions with your website so you can experience you site as your users do.
They also have examples of the collected user data and some of the functionality they offer. A great design that highlights the functionality of their service.
20. Pic.Io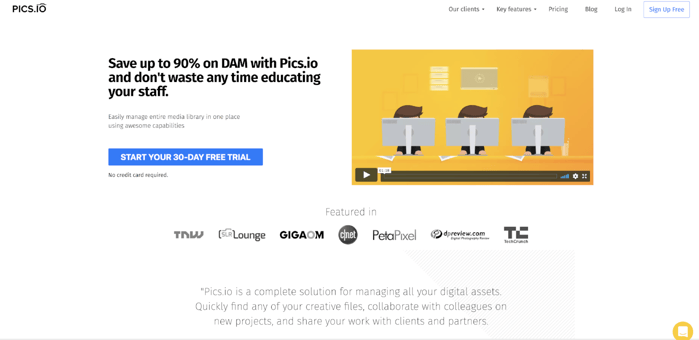 Pic.io is a cloud based digital media management platform Their website is well organized and uses multiple visuals to demonstrate how to use their product. They show how easy it is to share and store your digital assets online using Pics.io.
They allow you to access all of your digital assets, videos, audio, and images in a single place and find your media based on keywords, descriptions and custom metadata. The even offer a function that can generate keywords automatically using artificial intelligence.
These 20 examples can offer you some great ideas for design and content presentation that you can incorporate into your own B2B website. B2B websites are different than marketing to consumers.
By understanding the differences you can focus your website design on targeting businesses by providing your customers with the information they need in an aesthetically pleasing design that builds trust and help you close the sale!