Partnership Marketing Examples That Drive Results
1.

GoPro and Red Bull

2.

Volvo: Official Car of LegoLand

3.

Mezzetta Pizza and Delta Airlines

4.

P&G and National Breast Cancer Foundation

5.

Intel and Computer Manufacturers

6.

HubSpot and Chatfuel

7.

Airbnb and Flipboard

8.

Uber and Spotify

9.

Etsy and The General Assembly

10.

VICE and Vans

11.

Stellar Snacks and JetBlue

12.

Surfer and Semrush
There comes a time when many brands need to leverage their marketing strategies by doing something daring and exciting to capture the attention of untapped market segments.
A good way to give their brand the edge they need is to partner with another brand to market their products.
Co-marketing helps brands form meaningful collaborations that provide lasting value to their audience and a great boost for the brand's growth.
Here is a guide that can help you see how co-marketing can take your brand to the next level.
What Is Partnership Marketing?
Partnership marketing, also known as co-marketing, refers to the collaboration between two brands that develop a marketing campaign. This differs from co-branding, which is where two companies work together to bring a new product to market.
Instead, they form a partnership to market the offerings they already have—though such marketing might highlight the synergies between the two products/services. The marketing campaign they develop features both brands' products or services and is mutually beneficial to both parties.
The two main types of partnership marketing are:
Affiliate Marketing

: A form of digital marketing where brands collaborate with bloggers, influencers, or other brands that have a similar audience to gain access to new customers.
Distribution Partnership: This method involves bundling a partner's product with your own, or providing another brand with your product or service to bundle with their own.
While affiliate and distribution partnerships are the most common, they're far from the only types that are out there. Other types of partnership marketing include:
Product placement
Joint product partnerships
Licensing agreements
Event sponsorships
Content marketing partnerships
5 Benefits of Partnership Marketing
Traditional marketing techniques are great, but if you want a real boost in your marketing strategy, try out a co-marketing partnership: These partnerships can offer your company a few key beneftis, such as:
More Cost-Effective Marketing.
When you co-market with another brand, you can share the marketing costs associated with the campaigns you create.
This saves on costs for both brands, which often creates a great return on investment (ROI).
Broadening Your Audience.
Marketing partnerships offer you exposure to a new audience that is similar to your own or may be interested in your products and services because of how they mesh with those of your co-marketing partner. These individuals may have never heard of your brand before or they may have been familiar but didn't want to try a new and unfamiliar solution.
This new campaign may help to capture that audience if you choose to partner with a brand that your new audience already trusts.
Being Able to Target Customers at Just the Right Time.
Partnering with a brand that complements yours presents opportunities for you to market your products or services at the perfect time. For instance, have you ever booked a flight and noticed a hotel discount pop-up for a suite near your destination? That's an example of how you can use a co-marketing partnership to target customers at the perfect time.
In this hypothetical example, the hotel is leveraging the chance that you'll need someplace to stay on your trip. Therefore, they partner with certain airlines to promote their offerings.
Cross-promotions like this can add value to your and your partner's brand while also increasing convenience for your customers.
Building Brand Identity Through Positive Brand Associations.
Co-marketing partnerships can help to boost brand association for small brands that partner with larger, well-recognized brands. As a small brand's marketing messages and images are released with a larger brand, it helps to establish a brand identity.
This can also be the case for a large brand that is partnering with a small brand. It can help them capture the attention of a more specific or niche audience that they might not have been able to capture alone.
It Provides You With a Brand-Loyal Audience.
Trying to acquire new customers from scratch is difficult. It costs a lot more time and resources to earn attention from new people and convert them into leads.
Leveraging partnership marketing can provide you with new customers who already have built up some brand loyalty with your partner entity. This can help you build a brand-loyal audience more easily than you could with a solo marketing effort.
How to Create a Partnership Marketing Strategy
Every good marketing campaign needs a solid strategy. Here are some simple steps you can take to get you started with your co-marketing strategy:
1. Set Mutual Goals.
It is important to determine what you wish to get out of a co-marketing partnership before you dive right in. Let your future partner know what your goals are and listen to their goals to see if they complement each other well.
When you and your partner are working toward similar things, it helps your strategy be that much more effective.
Once you know your goals, you can create key metrics that will help you track your progress.
2. Create Some Co-Branded Content.
Content is central to any marketing strategy, including marketing partnerships. Your brand and your partner brand may both have excellent content, but it won't work well if it isn't relevant to your new campaign.
This means you must create new content together to amplify the value your content provides to consumers. Brainstorm content ideas and select the forms of content you wish to develop to make sure the content is ideal for both audience segments.
You also want to align your content initiatives with the goals you set. With the right key performance indicators (KPIs) in mind, you can create content that helps you hit your targets for growth.
3. Figure Out Your Timeline.
Set a specific timeframe for your co-marketing campaign. This helps everyone involved to be on the same page so they can get their projects and tasks completed on time.
You and your partner also need to decide on release dates that are best to capture the most attention from both audiences. For instance, your brands may have a specific season or quarter that typically shows higher engagement or an increase in sales. This would be a good time to have your new marketing materials ready for your combined audience.
4. Determine Each Party's Strengths and Weaknesses.
Each party will have some things that they excel at and others that they don't. Discuss these strengths and weaknesses with your partner to determine what each side brings to the table.
Once you know what your strengths and weaknesses are, you can assign work tasks and projects more effectively.
For instance, if you have great content creators and a blog with a large following, then your team may be better-equipped take on the written content creation portion of the partnership to streamline your processes.
5. Make Sure You Have a Co-Marketing Agreement.
Your strategy can't work unless both parties stick to it. Ensure you have a solid partnership by creating a written agreement at the very beginning. This way, you have something to turn to if any miscommunications take place.
Your agreement should include things like:
Goals
Topics
Timelines
Promotional plans
Reporting plans
Content and asset ownership
Where the content will be shared or hosted
Once you have these things in place, you are ready to carry out your partneship marketing strategy.
What Kinds of Companies Engage in Partnership Marketing?
Both small and large companies can get their money's worth from engaging in a marketing partnership with others:
Large firms have the advantage of being able to deliver a consistent brand experience across a large audience even when working with another company.
Smaller companies benefit enormously from having the chance to work with larger partners who can give them an extra boost into the public consciousness.
Organizations with niche appeal often are able to reach a broader audience that may never have heard of them otherwise.
Larger organization can quickly earn trust from a niche market sector by partnering with a company that has spent a long time specializing in that niche.
One area where partnership marketing is common is the nonprofit sector. Nonprofit organizations can easily work with other organizations by extending discounts on things like hotels and rental cars to their members. This helps the nonprofit org's members while building brand loyalty for partners.
Since nonprofits often have experience with co-marketing initiatives, it can be a fantastic idea to reach out to them. You may get the chance to support a cause you care about and show customers exactly what values your brand stands for at the same time.
Top 12 Examples of Partnership Marketing Campaigns
When you really look for them, you'll quickly notice that marketing partnerships are very common. It's easy to weave them into the fabric of what a company does so customers come to rely on them. A well-chosen partnership boosts brand equity and awareness for all parties.
Let's look at some of the leading examples:
1. GoPro and Red Bull.
Red Bull has long partnered with various sports organizations to promote their energy drink brand to the masses. However, their marketing partnership with GoPro—the portable camera company that promotes itself as a lifestyle brand—was something truly unique and interesting.
How impactful was this campaign? I assume you've at least heard of the famous "Stratos" video. If not, here's a quick reminder:
In this video, you can see Felix Baumgartner jump from space to the ground from his perspective thanks to the GoPro camera he's wearing. The video garnered over 23 million views, going viral and boosting these already-popular brands.
2. Volvo Becomes the Official Car of LEGOLAND.
When you think of Legos, you might not think of Volvo first. Still, the brands work together closely to promote the Lego Land theme park.
Volvo is its official car, giving both brands the chance to reach the same audience with their family-friendly promotions.
3. Mezzetta Seeks the Picture Perfect Pizza.
In 2011, Mezzetta Pizza put itself on the map with the help of Delta Airlines. It launched a social media contest where diners were asked to upload a snap of their favorite pizza.
Those with the best shots had the chance to win big prizes, including a free trip to Italy aboard Delta.
4. P&G Partners for a Cause.
Procter & Gamble is well-known for its annual collaboration with nonprofits focused on breast cancer research. In October, P&G supports the National Breast Cancer Foundation by giving many of its hundreds of products a highly-visible pink makeover.
5. Intel Goes Inside PCs (and Customers' Minds).
"Intel Inside" is now a ubiquitous part of the computer hardware world, but it wasn't always that way. Before Intel started partnering with PC manufacturers, semiconductor companies were known only to the businesses they served. Now, many savvy consumers have a strong opinion on Intel vs. AMD.
6. HubSpot Powers the Future with Chatfuel.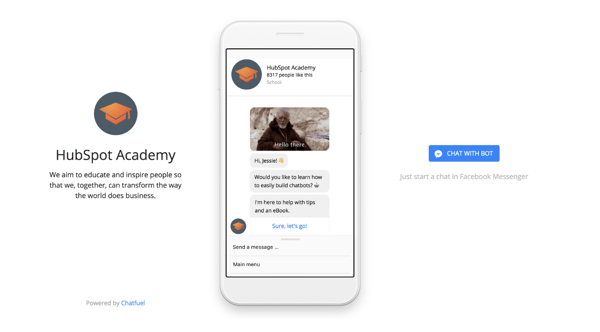 HubSpot is the world leader in inbound marketing strategy and techniques. By working with AI chat bot foundry Chatfuel, it ran a successful promotion that introduced visitors to the versatility of B2B AI with a brilliantly interactive Chatfuel experience and one of HubSpot's classic guides.
7. Airbnb Soars with Flipboard.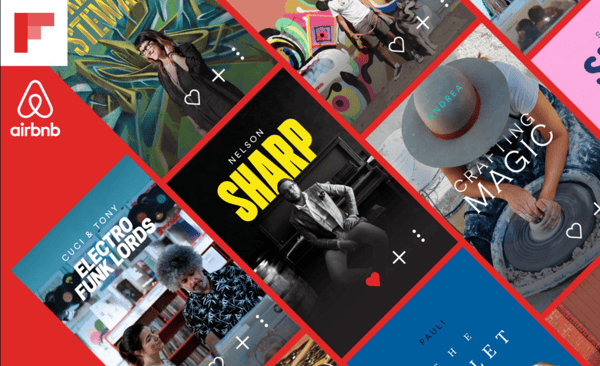 Everyone has heard of Airbnb these days, but social network aggregator Flipboard was a lesser-known player until this great joint promotion. Targeted Airbnb content crafted for Flipboard users resulted in millions of page views and tens of thousands of new social follows.
8. Uber Spots Spotify.
Uber and Spotify came up with a jazzy partnership back in 2014. Users hailing a ride on the Uber app received a special prompt to select a pre-made Spotify playlist for their trip.
While it wouldn't get Uber new subscribers, it would boost total rides and energize engagement on the Spotify app.
9. Etsy and The General Assembly ... Assemble.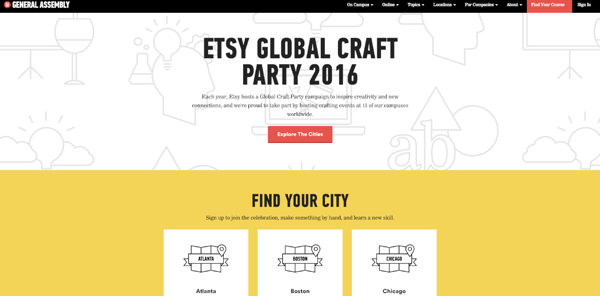 Etsy is a popular place for crafters and creators of all kinds to offer their work. The General Assembly is one of the top coding bootcamps in the world.
Working together, they've created amazing events by giving Etsy crafters free reign to design, decorate, and host events at classy global venues.
10. VICE and Vans Boardly Skating for Broader Appeal.
Vans is a clothing brand that offers footwear, clothing, and accessories—often with a sporty twist. VICE, a lifestyle magazine, once partnered with the clothing brand for a marketing campaign promoting women in skating. The name of the campaign? Boardly. Here's a video from the campaign featuring Briana King:
These short vignettes featured interviews with female skaters to help promote the traditionally male-dominated sport to women of all ages. This campaign wasn't about making money so much as it was about making an impact.
11. Stellar Snacks and JetBlue Bring Passengers Vegan Snacks.
So, you're on a long flight. What's one of the things you'll most likely need while you're in the air? For any flight, snacks are a must-have item—which is why this marketing partnership works so well. Stellar Snacks and JetBlue entered a partnership to provide free snacks to JetBlue's passengers. The snack featured in Stellar Snacks' announcement was their vegan butter pretzels.
JetBlue benefits by expanding their range of vegan-friendly and sustainable snack options on their flights while Stellar Snacks gets exposure to thousands of airline passengers who may not have known the company even existed prior to the partnership. It's a win-win for both companies.
12. Surfer and Semrush Integrate SEO for Better Site Analysis.
Here's one that should be near and dear to the hearts of anyone working in the content/website optimization space, though it toes the line between being a co-marketing partnership and being a co-branding example: Surfer and Semrush working together to build and promote a new integration between theri two tools.
The integration allows Surfer users to access their Semrush backlinks in the Surfer SEO tool "without having to leave the Surfer interface." Who doesn't appreciate having fewer interface jumps and logins involved in their daily marketing tasks?
The move is exposing Surfer users to Semrush's backlink-building tools while helping Surfer expand its SEO toolkit to better serve its customers and build its brand.
If you're looking for a way to excite and enthrall your audience, partnership marketing could be the ideal solution. Done right, it benefits both parties – often very quickly – and sets the stage for deeper collaboration in the future. Who knows where a good marketing partnership might lead?