Web design is constantly changing. With the release of new tools, new platforms, and new design trends, it's practically a full time job just to stay on top of it all.
Forums are a great place to engage with other professionals and thought leaders to catch up on the latest trends and learn about what's new and hot in web design.
What Is a Web Design Forum?
A quality design forum is the perfect place to check out other designs, get feedback on your work, search for scripts, and find solutions when facing a difficult design challenge.
Design and development aren't easy tasks to take on. If they were, everyone would have their own website and valuable specialists would be out of work.
Why Should I Join a Web Design Forum?
Participating in forums not only allows you the opportunity to share your knowledge and interests, but it's a great place to network and gain skills to help you become a better designer.
Joining the right forum can lead to multiple benefits, like:
Receiving troubleshooting aid
Building your reputation in the community
Contributing to industry conversations
Searching for job opportunities
15 of the Best Web Design Forums You Should Check Out
Here are a hot 15 of the top web design forums to check out when you need inspiration, guidance, or feedback from fellow web design professionals.
1. Designer Hangout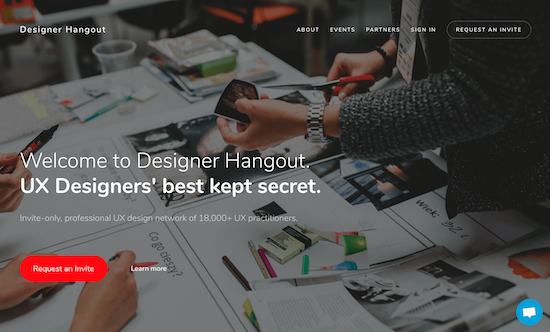 If you're a UX designer, the Designer Hangout is one of the most active web design forums on the internet. With over 5,000 members, this high functioning web design forum puts potential new members through a strict vetting process.
Members are expected to function at a high level, and you'll find plenty of high-quality discussions on this site.
2. Coffee Cup
Coffee Cup Software was started in 1996 in of all places... a coffee shop! They started with a simple HTML editor and have grown to an online community whose aim is to help fellow web designers create better websites. Search forums with the search box, or search via categories.
3. Webdeveloper.com Forum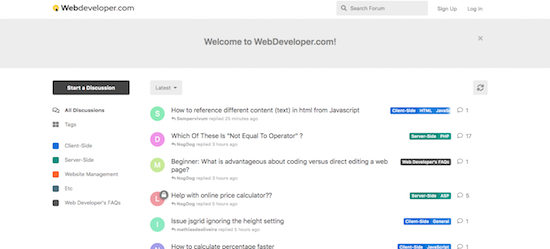 A forum for general web development and programming the Webdeveloper.com forum is divided into sections for client side development, server side development, and site management.
Recent topics include "Streaming Background Video vs Local Background Video," "Dissecting Javascript from a Website," and "Why Link Building is So Important."
4. The Web Design Forum (UK)
With 2,000 users and 39,000 posts, this forum is very popular. A great place to get feedback on your work, ask questions about web design, find tutorials, and engage in discussions about SEO, photography, business, freelancing and much more!
5. Graphic Design Forum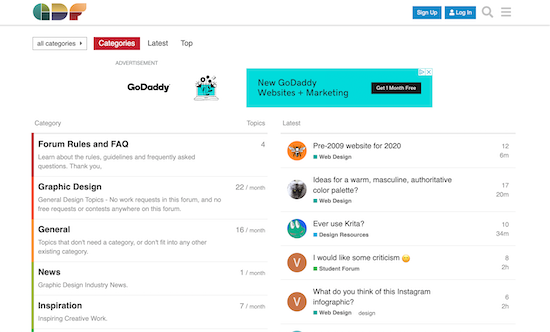 With over 20,000 members, GDF is one of the oldest and largest graphic design forums around. The community is active, helpful, large, and consists of a wide variety of general categories about web design, business tools, and much more.
6. HOWDesign
This is a great web design forum to showcase your work and get constructive feedback from other design professionals. There's also an active business and freelance section where you can get answers to your questions and find plenty of helpful tips.
7. Bootstrap
With a community of over 22,000 registered users, Bootstrap is an HTML, CSS, and Javascript framework for popular UI components and interactions. It's the forum to learn the latest Bootstrap tips and tricks!
8. Dear Designers
A community devoted to helping you grow as a designer, Dear Designers is the perfect place for young designers or those just starting out to get help, tips, and tricks from seasoned experts. Open to all levels of designers, be prepared to answer some questions when you join.
9. Webdesignforums.net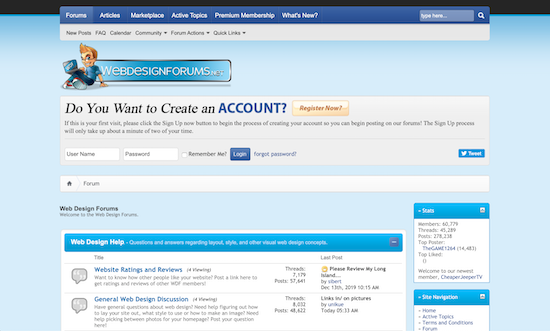 With over 55,000 members, Webdesignforums.net is an old community for designers. You'll find plenty of answers for your questions about web design, design software, programming and development, hosting, server set-up, and web marketing.
10. HTML Forums
HTML Forums is specifically dedicated to HTML. The logo promises electrifying discussions about all things HTML. You'll find information and discussions on traffic and links sale, domains for sale, names for sale, server administration and much, much more!
11. The SitePoint Forums
This is a great forum to find answers on a number of web design topics including CSS, HTML, marketing, PHP, JavaScript, .Net, Database, design and UX, hosting, and a lot more!
12. Webdevforums
Webdevforums is the place to go to get feedback about your website, find tutorials, and ask questions about marketing and SEO. You can search and navigate the various categories from the bottom of the page.
13. Stack Overflow
Stack Overflow is a great resource for when you have a tricky coding issue that you just can't seem to crack.
A user-rated forum, members can vote questions and answers up and down, similar to Reddit or Quora. You can even post a "bounty" in the form of reputation points to try and get your question answered quickly.
14. Digital Point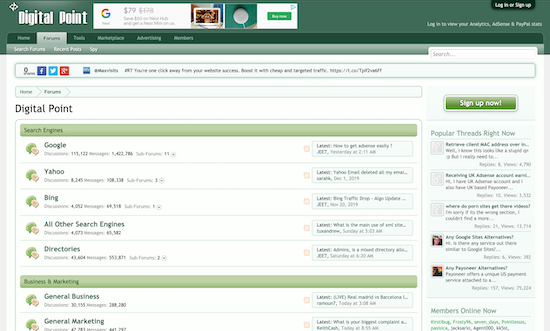 If you're looking for a community that's enthusiastic about search engines and SEO, head over to Digital Point. You'll learn a ton of best practices for optimizing your site and other marketing strategies, like pay-per-click or selling unused domain names.
15. WordPress Support Forums
Naturally, this forum is pretty committed to WordPress knowledge. Discussions revolve around installing WordPress, developing, networking, and several other categories.
As a web designer, staying on top of your game means constantly learning new techniques and tools. These 15 web design forums are great places to gain knowledge, get feedback, and network with others who share your love of web design.
While some will vet new members, most are easy to join and all are friendly and open to new members.
Check them out and begin engaging with other designers and developers in this creative, technical field.