Do you want your online visitors to download an ebook, have
access to a webinar or attend an event? Thenyou need a
call-to-action! It's what prompts your visitors, leads and
customers to take action... but, not just any action; it's the door to the next step in their buyer's journey.
An effective CTA can be the difference between hitting your marketing goals or letting them slip away. Making an irresistible CTA is a key element in increasing lead generation.
1. Placement
A CTA should be used in every marketing tactic you take on. That's right, every tactic! A CTA is what will guide your visitors, and lead customers along the buyer's journey. Use them in your emails, blog posts, social media posts, newsletters, etc. You may execute an interesting blog, but what do you want visitors to do after they've read it? A call-to-action will take them down the sales cycle to the point of contact from you.
Every marketing tactic you take on should have at least one CTA. More specifically, the CTA needs to be above-the-fold, or the part of the web page you see without scrolling. This way, if they don't spend a lot of time on your page, it's still visible to them.
In some instances, however, it's smart to use more than one CTA. These will be called your secondary CTAs. Maybe you've moved too fast and your visitor isn't ready to move from a blog to an ebook. Instead of having them jump ship, provide an additional CTA to another relevant blog. This way, they'll continue through the sales cycle until they're ready for the next step (and you won't lose the sale!).
2. Aligns with Stage In Sales Cycle
A call-to-action prompts users to go to the next step in the sales cycle. Even though they are a key element to lead generation, CTAs won't result in a direct sale right away. Your job is to take your lead's hand and gently guide them in the right direction.
For example, say you create a Facebook post featuring a CTA that links to a blog on your website. From there, the visitor reads the blog and clicks on a CTA on the sidebar or end of your post, and is directed to a free ebook. The visitor is slowly gaining more knowledge of your product or service at this point. After reading the ebook, they are then taken to the next CTA. The last call-to-action will offer them a free consultation or trial to your services.
At this point, your visitors have seen a myriad of information about you and your offer, so a connection will be established (which ups the likelihood of a sale!). Your CTA will put many different marketing efforts together in order to convert your visitors into buyers.
3. Action-Oriented Wording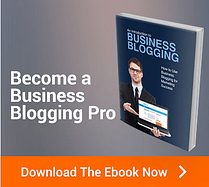 It's imperative that you use action-oriented words in your CTA.
You want it to be short, sweet and to the point. You should use five words or less to convey what the offer is. Also, because you're making the content concise, make sure you use a clear message, like "download" or "register."
Including numbers, if you have the room, is another great practice for enticing visitors to act. For example, if it's an ebook you're promoting, say "Download Free 41-Page Ebook Now!" People respond better when they know exactly what they're getting. Basically, you want to use words that make people want to act right then and there.
Effective word use is what separates mediocre click-through rate from awesome click-through rate. One rule of thumb: remember that clear language is more useful than persuasive language. On the right, you can see one of our CTAs that used clear, action-oriented language. If you really need more copy on your CTA, utilize the alt text
(which is also a must SEO purposes!) to add more information.
4. Alluring Design
You want the CTA to anchor the entire page. It needs
to be large enough that it commands your visitor's

attention. Enlarging your CTA will show that it's an important item to take a look at. If it contains a graphic, such as a picture of the ebook it's promoting, you'll need a larger CTA for visibility purposes. It's ideal if you use a contrasting color that still flows with the rest of the page.
Although the words you use will have more of an impact than the design, it can still aid in conversions.
Just like the language you use, simplicity is still best in terms
of web design. Using graphics is a great way to separate your
CTA from the rest of the page and show it's a different item.
Compel your visitors to interact with your CTA, and you can see your lead generation sky-rocket. Take a look at your site pages. Is there a CTA in the appropriate place to guide your audience through the sales cycle? If not, you're missing out on some lucrative opportunities. With such a limited time to keep web visitors on your site, use this chance wisely. If you're not guiding them, someone else will!