Chances are if you're using social media, you know what a hashtag is… unless you're like Justin Timberlake & Jimmy Fallon. Hashtags came into the social media world thanks to Twitter back in 2007 as a way to categorize social media content into different topics.
Nowadays, hashtags are used not only on Twitter, but on almost all social platforms. So, how are you using hashtags on your social platform to help spread the reach of your content?
While some companies do a great job creating creative campaign hashtags, other companies (and even social media professionals) often end up using hashtags just to use hashtags.
There is little to no strategy behind their reasoning of using certain ones, other than the fact that they think they should use them because everyone else is.
In order to make sure your hashtags are working in your favor and expanding the reach of your content, check out these tools that can provide info and assistance so that you can craft an effective hashtag.
1. Hashtagify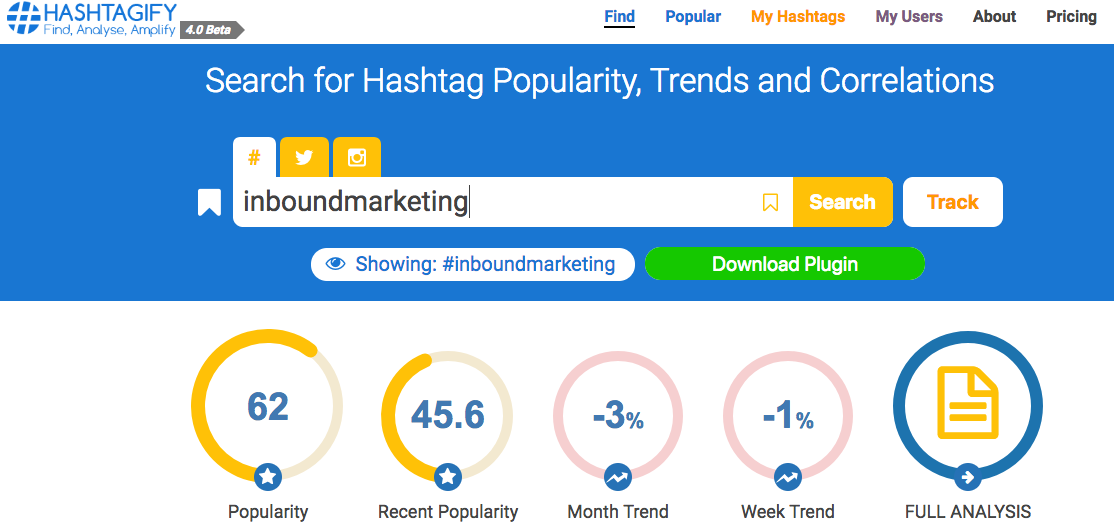 Hashtagify provides a "mind map" of interrelationships between keywords so you can see the various possibilities at a glance. The popularity of individual hashtags and strength of correlation between two hashtags are also tracked in a straightforward way.
Once you've identified your hashtags, you can also check out the top influencers for any given tag. The core functionality can be used by anyone, but some advanced features require you to sign up for a free account.
2. RiteTag

While most hashtag tools focus on what's going on "out there" at a given moment, RiteTag is a little bit different. It helps you construct your own hashtag strategy, starting by evaluating the hashtags you're using in your current posts.
Its approach to trending hashtags combines both past usage data and future projections, allowing you to get more mileage from tags right away. Plus, it will aid you in selecting tags for both immediate visibility and long-term growth.
3. Hashtags.org
Knowing what a hashtag is about is key to using it correctly. More than one national brand has run into serious trouble by diving into a hashtag before assessing its meaning.
Hashtags.org is a learning resource that functions like an encyclopedia of hashtags. It also correlates trending and popular hashtags so you can get an idea of what's going on right now. It offers all users a free subscription, but also includes several membership tiers with premium support.
4. Twubs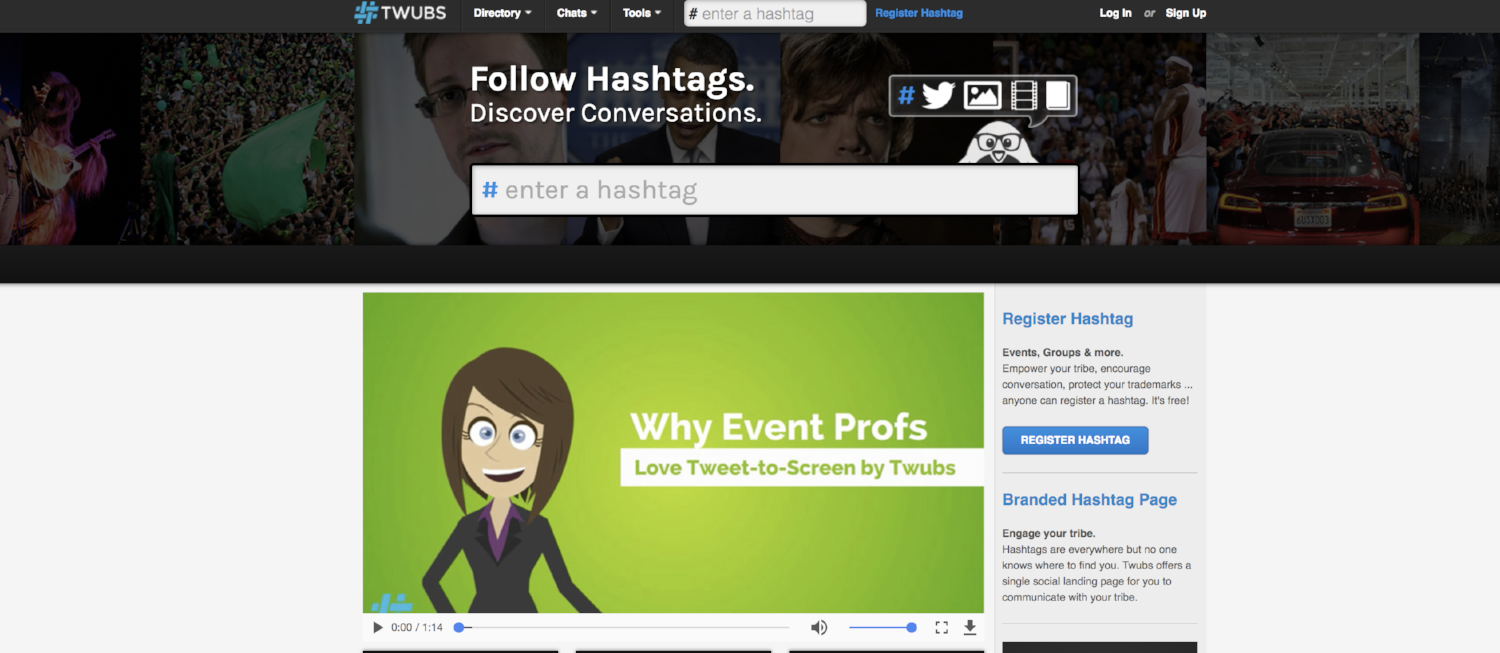 Twubs is an interesting concept – it lets you join and create conversations focused on individual hashtags, building a sort of meta-community around your tag. If you've developed your own hashtag, you can register it on the Twubs site and start a chat room centered around it.
By integrating the chat room feed into your own website, you create a new, brand-forward way for people to get involved. Naturally, Twubs also functions as a directory of important hashtags.
5. Trendsmap

Trendsmap is a terrific tool for any brand that has a particular geographic focus. It takes the form of a complete map of Earth with current hashtags overlaid on it. You can see which hashtags are trending by city, state, or region, giving you the chance to zoom in as far as you wish.
This is an unparalleled way to illuminate hashtag trends in areas that aren't typically served by other tools. Want to see what's going on in Iceland or Malta? Trendsmap can help you do it.
6. Keyhole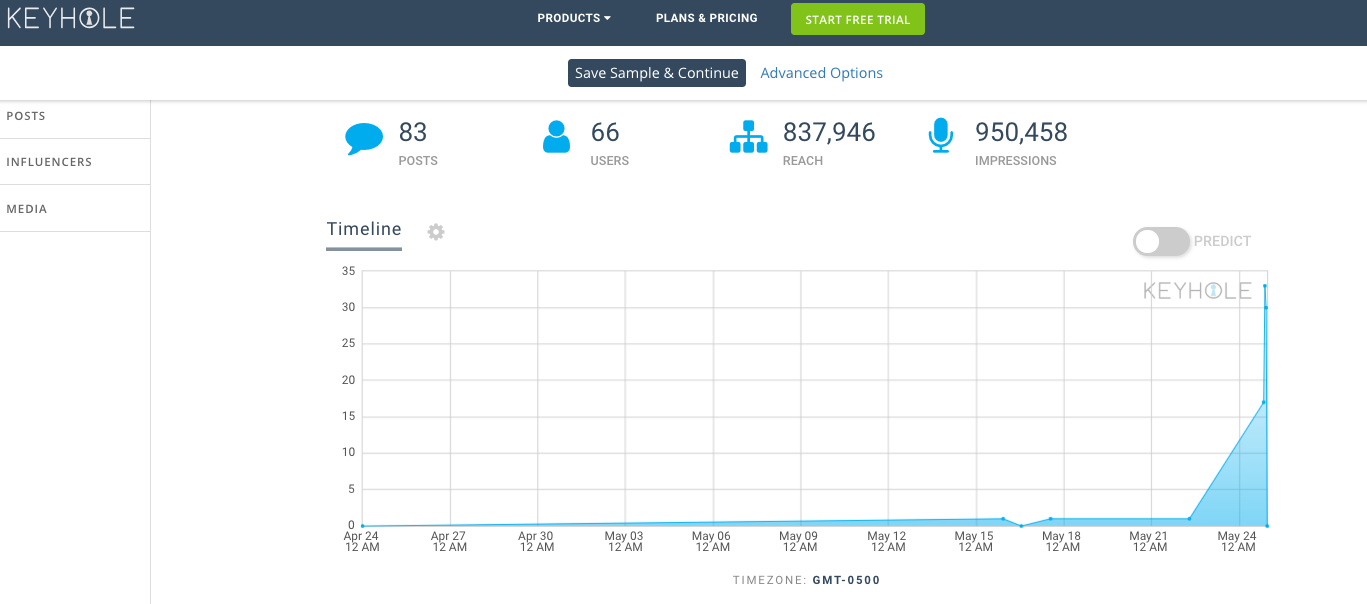 In an ideal world, all you'd need to do to find out what's going on with a hashtag is look at Twitter, right? Keyhole steps in to extend your hashtag tracking capabilities while keeping things simple.
You can find out the number of posts and users associated with a topic or hashtag, plus the total reach and number of impressions. Top posts are also provided, and the total post count is broken down according to sentiment – positive, negative, or neutral.
7. Twitter Advanced Search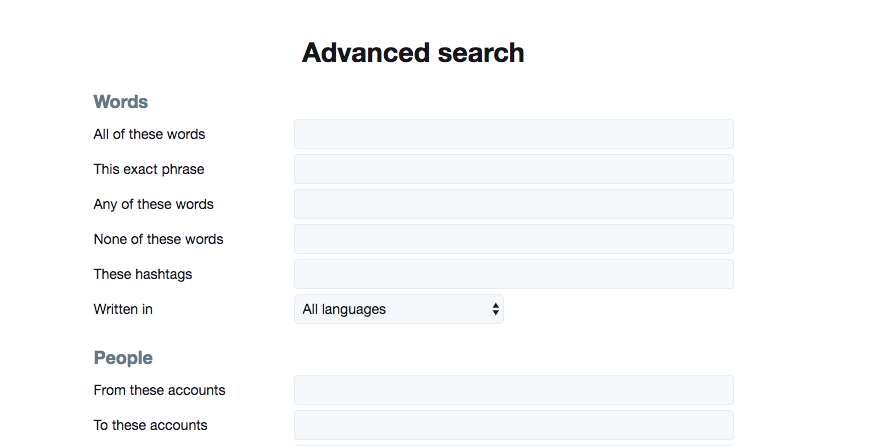 We can't talk about hashtag tools and not mention Twitter's advanced search options. Many individuals think that there is just the one simple search bar when it comes to Twitter. However, if you go to their main search page, you'll discover their advanced search option.
This tool allows you to find certain hashtags for specific conversations that people are using. Not only do you have the ability to see exact matches for your search or results that feature individual phrases in your search, but you can also see information that excludes words, mentions specific accounts and are from within a certain time period.
Want to see if your hashtag has positive or negative results? You can set that filter too. In fact, you can even see if your hashtag is used to ask a question!
8. Export Tweet
The tool Export Tweet is another great way to track real-time and historical data for your hashtags. However, it doesn't stop there. This tool also lets your track keywords and Twitter accounts, so that you can find top related tweets, influencer sources and even geographical locations.
While there is a free version of the tool, if you upgrade to a paid account, then your ability to search is endless and you receive access to reports that can help you find the perfect hashtag and track the ones you're using to ensure they are receiving engagement.
9. Tweet Archivist

Wondering what URLs are associated with your hashtag? Or maybe what languages are used for it? Tweet Archivist allows you to find out just that and so much more. The easy-to-use search function allows you to see analytics on Twitter, Instagram and even Tumblr.
It shows you the number of tweets that use your hashtag, impressions and even the date range, so that you can make sure your hashtag is already something that individuals are interested in.
To Get the Lowdown on Hashtags, Use More Than One Tool
When you look at the 9 tools above, one thing stands out. Although most of them share some basic functionality, they all approach the challenge of hashtags in a different way.
Since each one is so easy to use and takes only a few seconds to run an analysis, you can get the best performance by layering several together.
For example, you could use Trendsmap to find out what's trending in a local area, Keyhole to determine how people feel about it, Hashtagify to identify related topics, and RiteTag to be sure you're using hashtags in a constructive way.
Twitter provides so much interesting data to marketers, it's no surprise that some of the best hashtag tools out there are free to use. Use them today to achieve powerful visibility into the topics that matter most – now and next.