Social media marketing is both an art and a science. You want to be creative and unique, inspiring engagement at touch points with your audience. But you also need to actually be found by relevant users.
One of the best ways to have your amazing social media content found is by using hashtags tools to research and identify opportunities.
What Are Hashtags?
Honestly, ask any person you pass on the street who looks under the age of 25. They'll tell you all about it.
Originally known as the pound symbol, hashtag was entered into the Oxford English dictionary as any word or phrase with the '#' symbol in front of it.
In 2007, the defining purpose of the symbol become a method of indexing keywords for easy search on Twitter. Through hashtags, also commonly known as tags, you can search all messages related to one specific subject.
Twitter no longer has sole claim to hashtags, and pretty much every social media site has now implemented the tool into their interface. Leveraging the potential of hashtags has basically changed the culture and nature of social media.
Importance of Using Hashtags on Social Media
The introduction of hashtags changed the face of every popular social media channel, and that's not a bad thing. They've proven themselves to be extremely beneficial in a lot of ways:
Increase Your Reach.
Broader, more general tag categories, like #Tampa, receive a lot more search traffic, so your visibility is increased when you use them. But using more local hashtags, like #TampaPlantNurseries, will capture a niche audience's attention.
People who have an interest in a specific topic may have an interest in your brand. You can increase your brand awareness and reach this audience through hashtags.
Boost Your Credibility.
All of the big name businesses use hashtags related to their brand to market. If you use those same tags for your own content, your brand will be placed in the same pool as theirs, making you appear more credible.
Once you start getting the attention of your audience, that's when you can start proving it.
Start Developing a Community.
Using industry specific tags will project your brand's content past just your personal followers. You'll be able to participate in and create conversations in the communities that are already established.
Once you've started building your credibility and authority, you can start fostering a community around your own brand as well.
Track Your Competitors.
It's very likely that your competition is on social media as well. You'll be able to see the content and strategies your shared audience sees when you look through their tags.
You can track their authority, if they're trending, and maybe even find gaps in their marketing. If they're using very broad hashtags, you can start applying more specific tags to your own tweets and posts in order to dive into more specific groups.
Capitalize on Trending Topics.
The internet is a big place, so the chances that every person who may qualify as a lead is seeing you are slim. But the turnover in social media is pretty high, and people are always searching for new trends.
If you're using relevant, topical, or trending hashtags, your brand has a much greater chance of being presented in front of more eyes. Monitor your industry hashtags to find what's popular and trending and leverage them to your advantage.
Promote Giveaways and Contests.
No one loves free stuff more than consumers. Through a well thought out marketing strategy, you can use hashtags to advertise contests and product giveaways to your followers.
The most common example is having your customers post photos of themselves using your product with a custom hashtag of your choice. The winner, whether random or by a certain set of rules, will receive a stash of goodies from your business. It's a great way to source user generated content as well.
Hashtag Best Practices
Building a hashtag strategy that fits into your social media marketing efforts should be a priority. Make sure that you're implementing it into every channel that has hashtags, including:
Instagram: With Instagram being a more visual platform, it's recommended that you don't try to meet their 30 hashtag maximum. Keep tags to a minimum by only using relevant ones.
Twitter: Hashtags are probably the most effective on this channel than all of the others. After all, they got their start here. Tweets that have one branded tag and one topical tag tend to receive better engagement than others.
Facebook: Tags don't really promote engagement on Facebook, but they do help serve for search purposes.
LinkedIn: This platform actually doesn't have any limitations when it comes to hashtags. You can use as many as you'd like, though that may not be the best way to go about it.
Pinterest: Pinterest is one of the few channels where using a wide variety of tags may be useful. There's such a large range of content on this platform that you'll want to apply as many relevant hashtags as possible to be seen.
When using hashtags, keep these best practices in mind.
Don't Use Common Hashtags.
If your goal is to engage with your audience, then you're going to want to stay away from the more general hashtags. The more common tags will be flooded with content. The more content there is, the more competition you'll have to face.
Using industry and content specific tags will put you in niche groups, where you're more likely to be actually seen instead of lost in a sea of tweets and posts.
Pay Attention to Capitalization.
Although hashtags are not case-sensitive, using capital letters to indicate each new word in a phrase can increase readability and avoid any confusion. For example, can you see the difference between #whichiseasiertoread and #WhichIsEasierToRead?
There's a lot of accidents that can happen from a lack of capitalization too. When Margaret Thatcher died, an organization released a tweet with #nowthatcherisdead included. Twitter went wild thinking that it read as "now that Cher is dead". You can probably imagine how that went over.

Source: Twitter
Develop Branded Hashtags.
Creating a branded hashtag that can be easily associated with your company is a great way to market. Include your company name and the general topic for the purpose of the hashtag.
For example, #BZandMe is a hashtag that we here at Bluleadz like to use on our culture-related posts.
Keep Them Short.
Lengthy hashtags can deter readers from actually reading and engaging with them. Even if you capitalize properly, tags are still formatted as one long chain of text.
You should keep them to only one or two words, or a short, recognizable phrase in order to see actual engagement results. Keep them concise, contextual, and pithy.
Make Them Recognizable.
Hashtags shouldn't be hard to remember, or your audience probably won't ever use them.
Think outside the box when creating a custom tag that will not only be used by your business, but reflect it as well. Creative, recognizable hashtags can act as another way to set yourself apart from your competition.
Use Them to Launch New Campaigns.
Since hashtags can trend, it's a great idea to create branded hashtags for campaigns.
You should have a variety of content lined up to promote a campaign or product launch, so attaching a branded hashtag to each post can place your content under the same search.
Keep Them to a Minimum.
It's actually considered bad etiquette to post a tweet or picture with a ton of hashtags. Cluttering a tweet with tags not only sucks up your word count but also deters readers and decreases chances of engagement.
Stick to only the most important hashtags relevant to the specific content or message you're sharing. A good number to work around is five.
Conduct Research.
Monitor the hashtags people are already using to talk about your business. If any hashtags stick out to you as popular, consider utilizing it in future campaigns.
You should also consider any industry hashtags currently trending or popular. Make sure the hashtag you choose is unique to your business.
20 of the Best Hashtag Tools
Here are some great tools that can help you create, track, and analyze hashtags so that you can make your social media marketing efforts pack a punch.
1. Hashtagify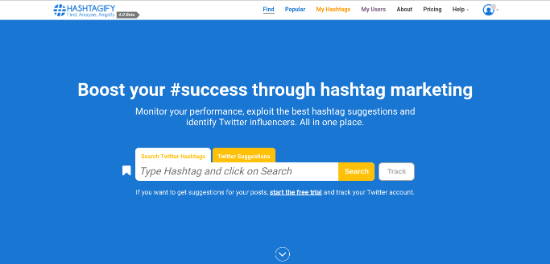 Hashtagify provides a "mind map" of interrelationships between keywords so you can see the various possibilities at a glance. The popularity of individual hashtags and strength of correlation between two hashtags are also tracked in a straightforward way.
Once you've identified your hashtags, you can also check out the top influencers for any given tag.
Price: Free general tools, but more advanced plans start at $19/mo.
2. TweetDeck
TweetDeck is an active Twitter user's best friend, and it's entirely free. You can track multiple hashtags and keywords at the same time from your account, participating in the conversations most relevant to you and your brand.
The tool has a pretty simple interface with several different engagement options that you can toggle on and off. Connected to your Twitter, you can schedule posts across multiple accounts when you're ready to launch a campaign.
Price: Free.
3. Hashtags.org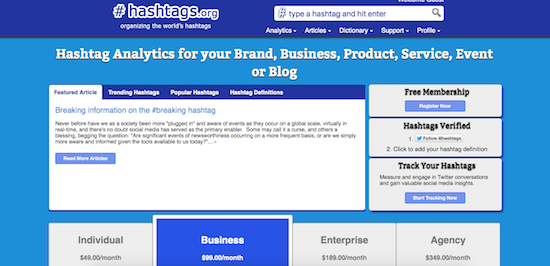 Knowing what a hashtag is about is key to using it correctly. More than one national brand has run into serious trouble by diving into a hashtag before assessing its meaning.
Hashtags.org is a learning resource that functions like an encyclopedia of hashtags. It also correlates trending and popular hashtags so you can get an idea of what's going on right now.
It offers all users a free subscription, but also includes several membership tiers with premium support.
Price: Free.
4. RiteTag
While most hashtag tools focus on what's going on "out there" at a given moment, RiteTag is a little bit different. It helps you construct your own hashtag strategy, starting by evaluating the hashtags you're using in your current posts.
Its approach to trending hashtags combines both past usage data and future projections, allowing you to get more mileage from tags right away. Plus, it will aid you in selecting tags for both immediate visibility and long-term growth.
Price: Priced at $49/yr.
5. Trendsmap
Trendsmap is a terrific tool for any brand that has a particular geographic focus. It takes the form of a complete map of Earth with current hashtags overlaid on it. You can see which hashtags are trending by city, state, or region, giving you the chance to zoom in as far as you wish.
This is an unparalleled way to illuminate hashtag trends in areas that aren't typically served by other tools.
Price: Free.
6. Export Tweet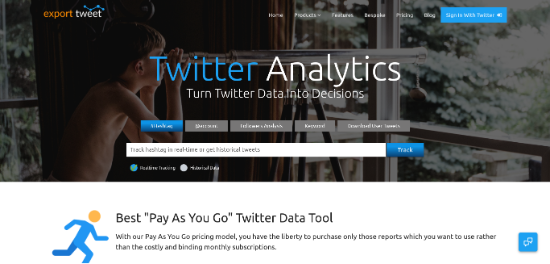 The tool Export Tweet is another great way to track real-time and historical data for your hashtags. However, it doesn't stop there.
This tool also lets your track keywords and Twitter accounts, so that you can find top related tweets, influencer sources and even geographical locations.
Your ability to search is endless, and you receive access to reports that can help you find the perfect hashtag and track the ones you're using to ensure they are receiving engagement.
Price: For real-time hashtag tracking, it costs $19.99/mo.
7. Tweet Archivist
Wondering what URLs are associated with your hashtag? Or maybe what languages are used for it? Tweet Archivist allows you to find out just that and so much more.
The easy-to-use search function allows you to see analytics on Twitter, Instagram, and even Tumblr. It shows you the number of tweets that use your hashtag, impressions, and even the date range, so that you can make sure your hashtag is already something that individuals are interested in.
Price: You can get one month for a one time payment of $19.99, or subscribe for $14.99/mo.
8. Twitter Advanced Search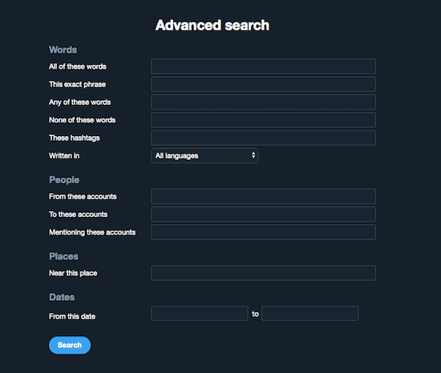 We can't talk about hashtag tools and not mention Twitter's advanced search options. Many individuals think that there is just the one simple search bar when it comes to Twitter. However, if you go to their main search page, you'll discover their advanced search option.
This tool allows you to find certain hashtags for specific conversations that people are using. Not only do you have the ability to see exact matches for your search or results that feature individual phrases in your search, but you can also see information that excludes words, mentions specific accounts, and are from within a certain time period.
Want to see if your hashtag has positive or negative results? You can set that filter too. In fact, you can even see if your hashtag is used to ask a question!
Price: Free.
9. Twubs
Twubs is an interesting concept – it lets you join and create conversations focused on individual hashtags, building a sort of meta-community around your tag.
If you've developed your own hashtag, you can register it on the Twubs site and start a chat room centered around it.
By integrating the chat room feed into your own website, you create a new, brand-forward way for people to get involved. Naturally, Twubs also functions as a directory of important hashtags.
Price: Free.
10. Keyhole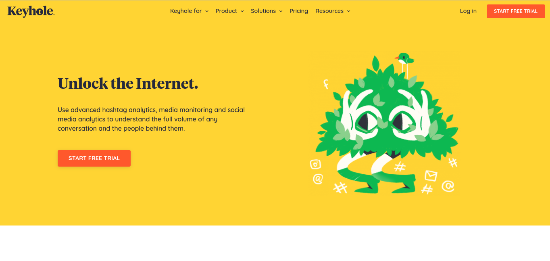 In an ideal world, all you'd need to do to find out what's going on with a hashtag is look at Twitter, right? Keyhole steps in to extend your hashtag tracking capabilities while keeping things simple.
You can find out the number of posts and users associated with a topic or hashtag, plus the total reach and number of impressions.
Top posts are also provided, and the total post count is broken down according to sentiment – positive, negative, or neutral.
Price: Prices start at $199/mo.
11. Tweet Reach
TweetReach offers a clear analysis of your account's performance in one place. Through the system's snapshots, you can view the activity of the last 100 tweets that used your hashtag, see top contributors, and a projection of the hashtag's reach.
The tool's free version allows you to download the Twitter reports as a PDF, but if you upgrade to the paid version, you can receive analytics on your Facebook and Instagram as well.
Price: Plans start at $80/mo.
12. Tweet Binder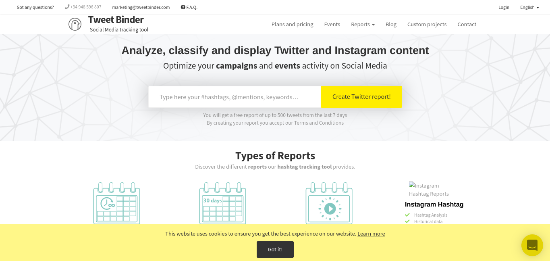 Tweet Binder gives you a comprehensive look at your social analytics on an easy-to-read interface. Monitor who's engaging in conversations where your brand or hashtag is the focus.
The tool will help identify who's the most influential and what they're sharing, the timeline of your tag's engagement, number of retweets, and more. Available to Twitter and Instagram users, you can get a free report of up to 2,000 posts from the last week. If you want more beyond that, you'll have to pay.
Price: Plans begin at almost $89/mo.
13. All Hashtags
Originally a hashtag suggester, All Hashtags has grown as a tool that will help you create and analyze topical hashtags for your Instagram content.
Enter a keyword and you'll be given a list of relevant tags that you can use at your discretion. If you're looking for inspiration for custom tags, you can still use its old hashtag generator to get ideas.
Price: Free.
14. Tagdef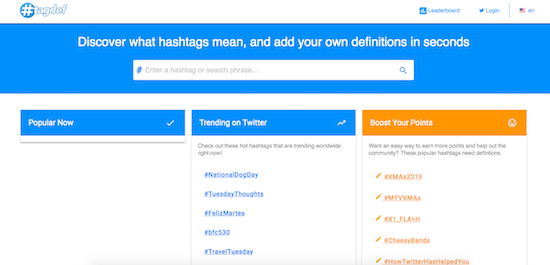 Self proclaimed "social media dictionary," Tagdef can tell you all about any popular hashtags and what they mean. It has a rather clean interface where you can find the "definition" of any hashtags you may come across.
Since media trends cycle through so quickly, it's not a bad tool to have when you're performing research on what's hot right now. Most of the definitions are crowd sourced and voted on, so make sure to cross reference results if you're uncertain.
Price: Free.
15. Twitonomy
Providing detailed, visual analytics, you can connect Twitonomy to your Twitter account to get insights on the people you follow, your hashtags, your mentions, and beyond.
You'll receive a variety of reports depending on what engagement metrics you're looking at. You can even export your follower/following lists to Excel sheets for a more thorough view.
Price: Free.
16. One Million Tweet Map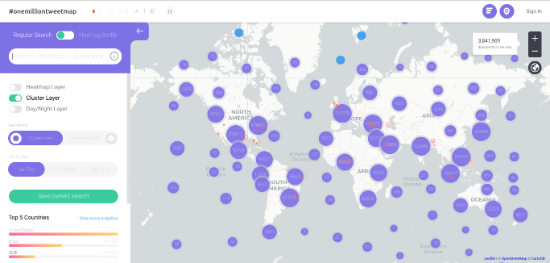 The One Million Tweet Map gives you a global view of how your hashtags are performing in real time.
All you have to do is enter your tag, a keyword, and username, and it'll provide you with volume clusters and a list of the top five countries posting about that subject.
You can apply time filters as well if you're looking for activity from within the last five minutes or the last 24 hours. See what's trending, where, and in what languages.
Price: Free.
17. Social Searcher
Social Searcher will track users, hashtags, and mentions for you so that you can monitor the conversations about you on social networks.
With a simple dashboard, you can explore trending hashtags across Instagram and Twitter. It's a pretty clean window into what and how people are talking about your brand online.
Price: There's a free plan of 100 free searches a day, but paying $3.92/mo. will bump you up to 200.
18. Mention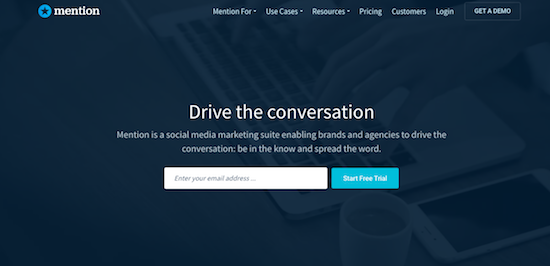 Mention will crawl multiple social channels for keywords you want to keep track of and alert you when there are people talking about it.
With real time monitoring, your dashboard will show you the tweets and posts mentioning whatever keyword you set as an alert, analyze your competitor's metrics, aid in scheduling and publishing posts, and even automating reports.
Price: The free plan allows you to link one account and set one alert, but the scope of accounts and mentions grows at a solo plan of $25/mo.
19. Display Purposes
Display Purposes can help you pick hashtags that are related to your industry or brand. You can even examine a map to find local tags, allowing you to penetrate narrower markets.
Perform a content audit of your Instagram account by entering your username and logging in. You'll get a full profile analysis, see which hashtags you've used in the past and how often, download Instagram stories, and even discover which hashtags have been banned.
Price: Free.
20. Brand 24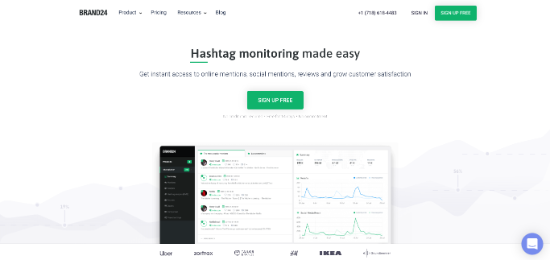 Brand 24 is a power tool meant to learn how your brand is being engaged with online.
You can track and analyze hashtags across multiple social platforms, allowing you to monitor your campaigns and find influencers who may be beneficial to your marketing strategies.
Price: After a 14-day free trial, pricing begins at $49/mo.
Leverage Hashtag Tools for Big Wins
With the right hashtag tool in place, you're ready to track and monitor conversations and get in front of the right audiences.
Using the right data can help you make the most of your social media marketing efforts. These insights you gain from these tools are invaluable. They should guide your strategy over time, helping you maximize results for your content.