In the world of business, possessing someone's email address is like holding a golden ticket. It creates a direct pathway of communication between you and your leads.
Without an email address as a point of contact, there's very little action you can take to drive someone through your sales funnel. And reaching out to an individual's direct address is much more effective than reaching out to a company's general inquiry email.
There are plenty of instances in which you'll need to go find email addresses, whether you're a marketing professional trying to enhance CRM data on a lead or a salesperson trying to catch up with a prospect who's fallen stagnant. A quick email to your prospect is a great way to keep the connection fresh and on the frontlines.
But what if you don't have the email address for the person you're trying to contact? Don't worry – there's plenty of tactics you can try to track it down.
How to Find Email Addresses for Free
Sometimes all you need to do to find that golden ticket is put in a little legwork. In this day and age, most people's contact information is readily available on the internet. You just have to know where to look.
Use Your Search Skills
via GIPHY
First and foremost, utilize your research skills to go on the hunt for the information you're looking for. If you know where the person works, start by checking the company about page, as businesses often list professional contact information for their individual employees.
Additionally, if the person happens to contribute to their company's blog, look for an author page.
You can also check their social media profiles (Hello LinkedIn), and search to see if they have a personal website, which often lists contact information.
If all else fails, you can always just plug their name into Google search and see if you can find the contact information – just make sure you've got the right person! Try a few different options like (first name + last name + company name + email) or (first name + last name + contact information).
Guess and Test
via GIPHY
Companies often have custom email domains for their employees. If you know the email address of someone else in the company, there's a good chance you can figure out the address for the person you're trying to contact.
For example, say you know somebody named Sam Platts who works at the same company as your new contact.
If Sam's email address is sam@company.com, then it's likely that the person you're trying to reach has the email address of firstname@company.com. Or it might be something like splatts@company.com, in which case the other person's email address would be first initial + last name@company.com.
There's nothing wrong with taking a guess and sending an email to the address you come up with. The worst case scenario is the email doesn't get delivered or winds up in the hands of someone with a similar name at the company, in which case they'll likely redirect you to the person you're actually looking for.
Get on the Horn
via GIPHY
If you still can't find their email address after crawling through the internet, you can always make a phone call as a last resort. Reach out to shared contacts to request information, or call the targeted person directly and leave a professional voicemail expressing your desire to get more in touch.
This isn't the most ideal option, but if all else fails, it just might work.
How to Find Email Addresses Using These 7 Tools
If the tips above land you empty handed, there's still a few tactics you can try to find the email address of your target contact. There are a number of different free and paid online tools you can use to find the email address you're looking for.
1. VoilaNorbert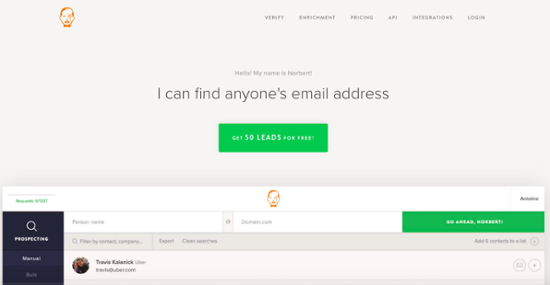 VoilaNortbert is known to be a powerful tool for tracking down email addresses. Simply plug in the contact's name and their domain (probably the name of the company they work at) and the program will generate a highly accurate email address for you.
Price: Trial of 50 free searches. Subscriptions start at $49/month.
2. Email Permutator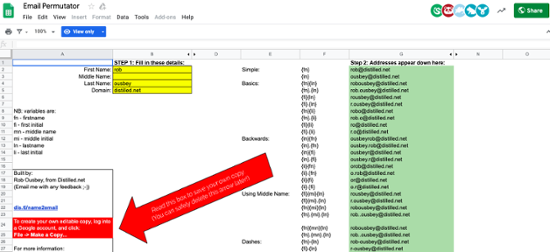 Email Permutator is a Google Chrome sheet that works in coordination with LinkedIn Sales Navigator. It allows you to see whether or not someone has used their email address to create a LinkedIn account.
Price: Free!
3. Hunter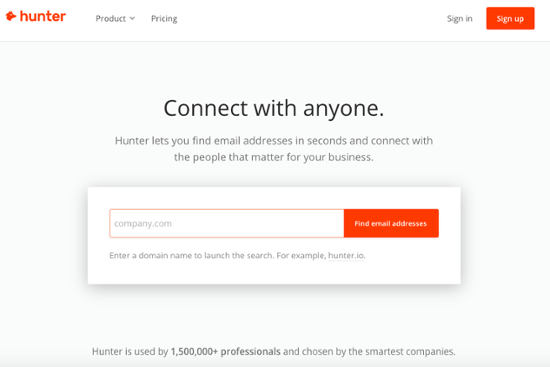 Hunter does exactly as its name states: it hunts. This program scans a webpage for email addresses, but you can also search for their name directly. Hunter also allows you to verify email addresses to make sure they're in working order and not a dead end.
Price: 100 free searches/month. Subscriptions start at $49/month for 1,000 searches/month.
4. Clearbit Connect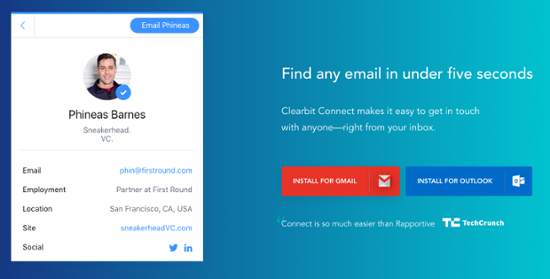 With Clearbit, all you have to do is plug in the person's name, the company they work at, or their job title, and the program generates their email address for you within seconds. You can even compose an email to that person right then and there.
Price: 100 free searches/month.
5. Sellhack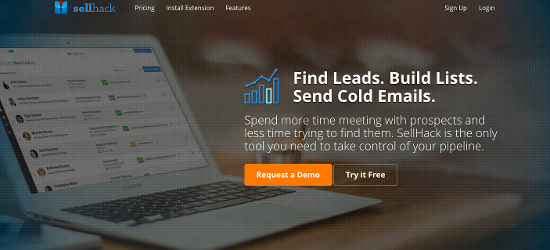 Used on Chrome, Firefox, or Safari, Sellhack scans through public data sources to find email addresses. Once again, simply plug in the target contact's name and company, and Sellhack will get to work.
Price: 10 free searches/month. Subscriptions starting at $3/month for 100 searches.
6. Leadfuze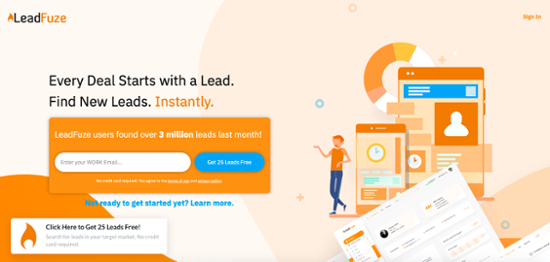 While Leadfuze (formerly Headreach) includes the standard search by name, domain, and company features, they also have an advanced option to let you search by job title and then add the information directly to your contacts and a log of all your past searches.
Price: 25 free searches. Subscriptions start at $97/month.
7. Buzzstream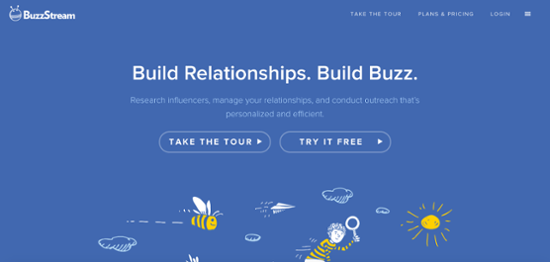 Buzzstream scans a page for emails but also tracks down social media profiles for mentions. This dual action allows you to cross reference your resources.
Download their 'Buzzmarker' plug in and then go to the website of the person or company you want to connect with. Once there, click on your buzzmarker tool, and it will bring up a sidebar that lists all the contact information that it finds on the page. You can then create a new contact in your system directly from this sidebar.
Price: Subscriptions start at $24/month.
Confirm Findings With Email Verification Tools
If you found an email using one of the search tools above, there's still a chance that it could be incorrect. In order to check whether or not an email account is active, you should verify it. Doing so will save you wasting time trying to send an email to an incorrect address.
While the search tool Hunter has in-house verification, there are other verification tools like EmailHippo that can also do it. Simply plug in the email address to their search bar, and EmailHippo will determine whether it's active or not.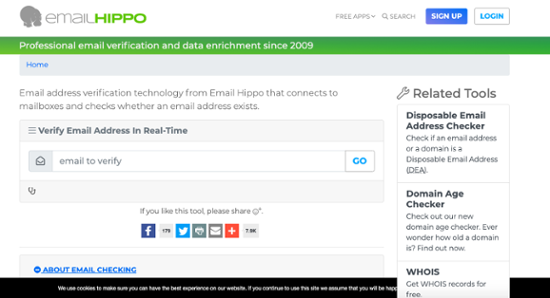 This is worth a little extra legwork to get peace of mind. When you know for certain you found the correct email address, you can focus on the important next step – your outreach message.
Don't Get Discouraged
If you have trouble tracking down an email address for a specific target contact, don't get discouraged! Finding that golden ticket will often pay off in the end, and the more you practice hunting down contact information, the better you'll get at it.
Use all the resources in your artillery – search skills (Let's be real: It's 2019. We all know how to stalk someone online.), free and paid generation tools, and verification processes.
Commit your focus to locating your ideal target audience and getting in contact with them after you find their email addresses, and it will make all the difference in your marketing and sales strategies.