Infographics have become extremely popular and have proven to work since they help make data and other information more consumable for the average viewer.
However, having a really clear and well-designed infographic is pointless from an inbound perspective if it doesn't allow the opportunity for users to know what their next steps are—and take those next steps. Here are a few tips that will show you how to quickly and easily add links to your infographic using Acrobat Pro CC.
Here is an infographic I designed for Bluleadz, called: "How to Serve up Better Leads to Your Sales Team." While drafting up the project, I realized the copywriter had plugged in a few next steps (links) in the document. The problem is that Adobe Illustrator doesn't make it easy, or maybe it's just not possible yet, to add links to illustrations or content. The following is how I was able to accomplish this using Acrobat Pro CC.
First, after completing the design in Illustrator, export the design as a PDF file. Open the file in Acrobat and click the arrow

on the right side of the screen if the editing tools aren't already visible. Under the "Find your tools here" search field, are a few options. Click on "Edit PDF."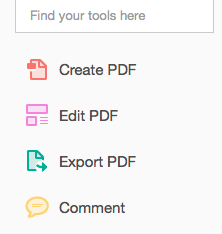 Highlight the content you'd like to add a link to by using the mouse pointer to click and drag, and then right-click on other options and click on "Create Link...".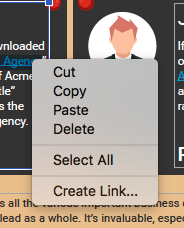 Note, if your link is already styled in Adobe Illustrator and you don't want to style it in Acrobat, then make sure you make "Link Type" dropdown to "Invisible Rectangle" and remove all other default styles that may come with Acrobat.
Before clicking "Next," look for "Link Action," click the "Open web page" radio button and then "Next." Copy and paste the link into the address field under "Enter a URL for this Link" and click "Ok."
Repeat this for all other images, buttons and content on the page you would like to turn into a hyperlink. Note that content isn't the only thing you can turn into a link; you can also target shapes and make those clickable by following the previous steps.
Once completed, click on the "X" close button above the edit toolbar to accept your changes. If you're using an Apple computer, click Command + "S" or simply go to "File" and click "Save" to make your changes permanent.
There you go! Now you have a beautiful infographic with lots of great content and links for readers to take next steps and convert on other website pages.