The world is moving fast and people often get distracted. A simple email from their favorite brand is not enough anymore. They are looking for something interesting, engaging and simply, fun.
Sometimes the thing that is driving people away is quite simple – bad grammar or using too much written content when your customers really want to be entertained by visual content.
There are a lot of similar examples where bringing more life to your email marketing can have amazing results.
Here are some of the ways to do that.
1. Use Images and Infographics
An Image can tell a better story than a 1000 words. Surely, there are a lot of important things you want to share with your readers, but they might not read it. What's the use of content that's never read?
Instead, shorten your written content and use images to translate your message. Infographics might even be a better idea because you'll get to use a lot of things you already have written but in a more colorful and entertaining way.
2. Add Special Effects
Spice your emails up by adding features like zoom, fade, scroll, add image animations, gifs etc. These are all easily achieved by using a short HTML code. Your emails being dynamic and fun will increase your open rates and even better, people will actually pay attention to what they say.
Follow the example of Golf Channel's newsletter.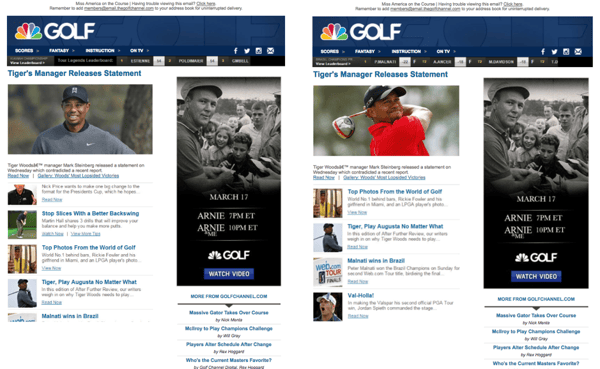 3. Embed Social Feeds
Social media is really important for connecting with your audience and appearing more human and relatable. Embedding your social media feeds can give you a double effect – people will read your email and be able to reach your social media feeds and interact with you there.
Many brands integrate this in their emails, most notably, Women's Tennis Association which includes both their Instagram and Twitter feeds.
4. Create Interesting Content
Written content requires more work than anything else. You need to pay a lot of attention to it and make it good and entertaining for your users while providing helpful information and getting your message across.
Here are some of the ways to do this:
Search for influencers in your niche who would say something good about your brand or share an interesting experience. Look for experts and use their data to support your message.
Write content with a shorter word count. Try to get your message across with fewer words but more meaning. People are more likely to read something if they see that it's not too long.
Use proper grammar. This is imperative. Bad grammar can scare people off according to research. Tools for grammar checking can be easily found: Grammarly, for instance.
Have an interesting style. Being just average with your content will not do. People want to read something relatable and meaningful – something with a voice.
5. Include Dynamic Surveys
Surveys are a fun way to engage your customers and find out something new about them. They also bring a completely new dynamic to your emails.
With interesting questions, your audience will love taking the survey. It also makes them feel appreciated and like you really care about what they have to say. Mention how the previous surveys have helped you improve for even better results.
Look at the example from PureWow and how they integrated their survey into an email.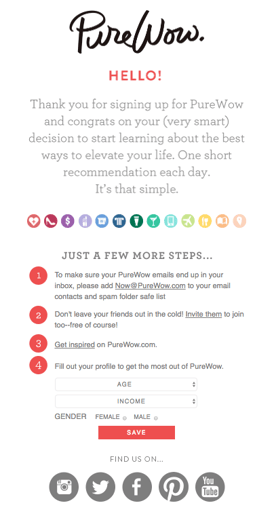 6. Have a Countdown
Including a countdown to an offer expiring or until you launch a new product will create a sense of urgency and it will create a buzz around your brand.
This also adds a dynamic element that can definitely liven up your email campaign. Just take a look at how Hearst did it.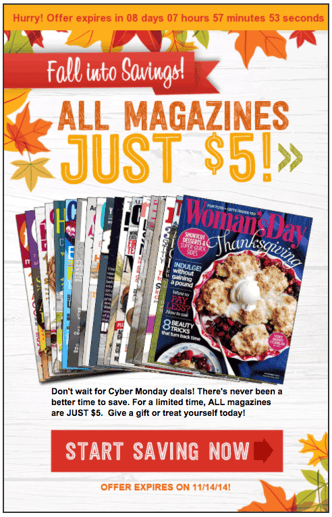 It's definitely something fun to look at and it gives an important message.
7. Import Informative Videos
Videos are a great way to tell your story without putting too many things in your email. It can serve both as entertainment and as a way to inform your readers what you are up to and what they should know about you.
If you can find an influencer to appear in your video, that would be even better and bring you more attention.
Wrapping Up
As most of these options are easy to implement, all brands can easily do it and this can instantly improve your statistics in some cases.
Take a look at what some of the biggest brands are doing in their email campaigns and what their emails look like. E-mails don't have to be boring – they can include many elements that are fun and that bring more life to your campaign.