LinkedIn has a myriad of different tools and features for professionals to take advantage of when they're growing their professional network.
However, some of these features may go unutilized if you don't know they're there or how to properly use them.
LinkedIn groups are one of the platform's many great features you should be using to further your professional reach and gain and share knowledge within your industry.
But how do you start a LinkedIn group? And more importantly, how do you manage and maintain it?
Why a LinkedIn Group Is Right For You
As the go-to professional networking platform, it's essential to use all the available tools of LinkedIn if you want to get the most out of it. Among these tools, LinkedIn groups can be hugely beneficial if they are focused and contain active, engaged members.
Starting a LinkedIn group is a great way to create a focused collective comprised of relevant individuals or organizations within your target audience. By basing your group around a specific topic, you'll attract professionals who are interested in networking within this area.
Additionally, they'll likely have similar goals to your own – to advance professional growth. With that said, you now have a group of like minded, relevant people who likely want to partner with you.
via GIPHY
Engaging in LinkedIn groups creates opportunities for building thought leadership and authority with your own team and amongst the wider industry community within your group. For starters, the creator of a group holds a strong position among the members, as you regulate and maintain what gets posted in the group.
The content that you post will likely be received by members as authoritative on the subject matter. This is a good step in establishing yourself as a thought leader among a group of people within your industry.
3 Elements of an Awesome LinkedIn Group
There are plenty of awesome LinkedIn groups out there that provide quality, valuable networking and informational resources for their members.
But what ties all these groups together? They all consist of similar elements that are necessary for making a great LinkedIn group. Let's take a look at some of these elements:
1. They Have a Relevant Topic and a Clear Goal.
Your group should be focused around a relevant topic to your company and have a clear and direct goal.
What is the purpose of this group? State it clearly in your 'about' section, and people will know exactly what to expect by joining. By doing this, you'll attract quality members who are actually interested in contributing to the group.
HubSpot has an awesome LinkedIn group focused around inbound marketing. Their "about this group" section is direct with current and prospective members.
They tell you who the group is relevant to – marketing professionals. And they tell you what the goal of the group is – to help "those looking to reach their best customers online through techniques like inbound marketing, search engine optimization (SEO), and social media."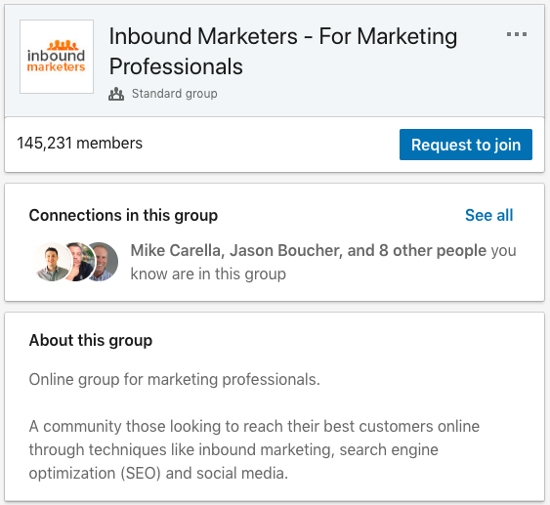 This message delivers a clear image of who would be interested in joining this group and what members can hope to gain from joining.
2. They Engage in Quality Content.
Quality groups are focused on engaging in quality content. Make sure to keep your group free of spam material – groups that are permeated with promotions and advertisements will quickly fall low on the quality scale.
People join groups for strong networking opportunities and to learn from fellow professionals. They don't want to be a part of a group in which they're constantly going to be to sold to – if that's the case, they'll likely see no value in your group.
via GIPHY
Take a look at the "group rules" section of HubSpot's LinkedIn group. It starts by stating what kind of relevant content topics are posted in the group and then goes on to state that if you are going to post, you must ask a question or provide some kind of valuable advice.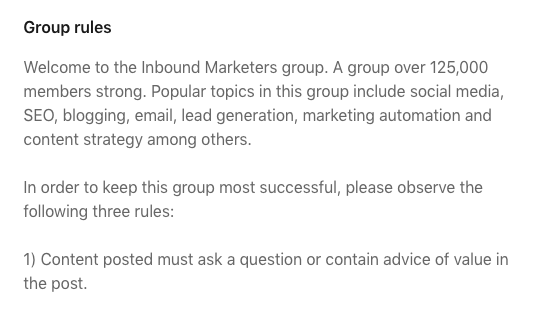 It goes on to specifically state that marketers should not post "spammy" content. They make a strong statement that their group is not a place for a promotion or sales pitch. Rather, it's a place for asking for or providing advice within the realm of inbound marketing.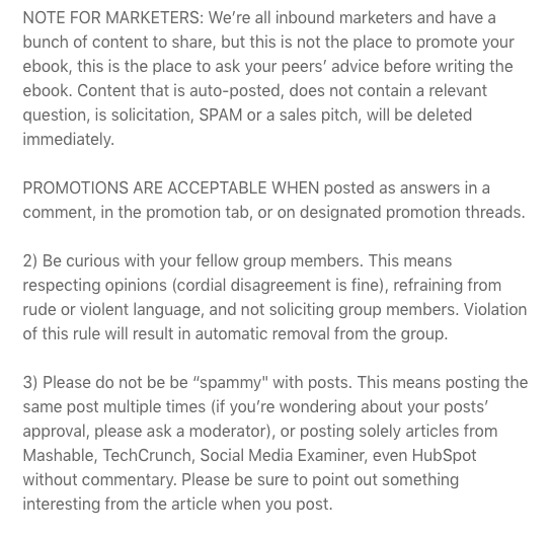 These factors are what keep the content and conversations within the group valuable and beneficial to members.
3. They Only Keep Quality Members.
Similar to the previous point, make sure your group is centered around the quality of its members, not the quantity.
It doesn't matter if your group has 100,000 members if only 100 of them are contributing anything of value. The rest of the members will likely flood the group with irrelevant, non-constructive content that depreciates the value of the group.
Establishing rules will help you define parameters to judge who is and isn't a valuable member. So, when it comes time to approve or deny requests, you have a good idea of which members to let in.
How to Create Your LinkedIn Group
Starting a LinkedIn group is an easy, quick process. But in case you need help, here's a step-by-step guide:
1. To create a group, you'll first need to navigate to the LinkedIn Group page.
2. Click on the "create a new group" button in the top right of the page.

3. This will bring up a window where you can upload a photo or logo for your group, choose the name, fill out the about section and group rules, and check whether you want it to be standard or unlisted (a public or private group).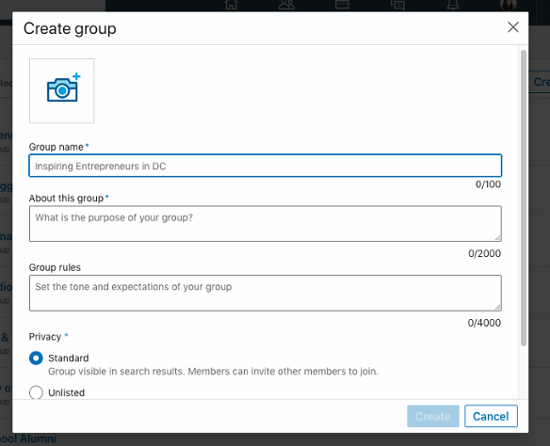 4. Once you've filled out all these sections, click the "create" button.
Congratulations, you're done! You've just created your first LinkedIn group. Now, get started posting content in your group and invite connections to join. If it's a public group, you can share it to promote interest or send out an email to your contacts announcing it.
How to Maintain Your Kickass Group
It's not enough to simply create a kickass group – you need to maintain it; otherwise it can easily become stagnant. Make an effort to post something in the group page every day, whether it's a poll, survey, or sharing a blog post. Keep the conversation going as much as possible.
Encourage your employees to participate, and they will help keep the group active – it's easier to keep a constant conversation flowing if there's multiple people contributing.
Part of maintaining a group is ensuring that it continues to grow in a positive way. LinkedIn allows you to generate automated welcome emails to be sent to new members when they join. This is a great way to kickstart each new member's experience in a positive way.
In order to maintain your LinkedIn group, you have to manage the negative as well as the positive.
If someone posts spam, make sure you delete it as soon as possible. Remove members who regularly violate group rules. This will help maintain a high-quality standard of both content and membership.
via GIPHY
Finally, ask your members what they would like to see from the group. Ask them what would make the group better and more beneficial for them.
Keeping the group relevant to their current interests, as well as meeting their wants and needs, is an important part of maintaining the group's overall purpose and goal.
Time to Get Started!
Now that you know how to start a LinkedIn group, and the benefits that it can bring for you and your company, the only thing left to do is get started!
Don't be afraid to have big goals for the group – a clear vision for what you hope to achieve will help you build something successful.
While there are many existing LinkedIn groups, that doesn't mean that your unique idea has already been tried.
Add "start my own LinkedIn group" to your LinkedIn marketing strategy checklist today. Consider what possible niche is yet to be filled within your industry on LinkedIn's platform, and work your way forward from there!