Like it or not, search engines are getting smarter and smarter – now, search engines are better at understanding the intent behind a search query, which is why the results are getting more and more tailored to each individual.
Scary, right?
Because of this, search engine optimization (SEO) is changing. Keywords are just as important as ever, but now, how you organize and link content carries a lot of weight in a search engine results page (SERP.)
You probably read that and started freaking out because you don't know what to do next to ensure your SEO efforts are actually working. But, fear not, you HubSpot users – the geniuses over at HubSpot have created a tool just for you.
What Is the HubSpot SEO Tool?
The HubSpot SEO tool helps you visualize your internal linking structure and builds your authority in search. With this tool in your back pocket, you'll have all the tools you need to plan a successful content strategy and optimize your content.
Setting up this tool isn't difficult, but it's a little easier when you can see each step of the process to ensure you're on the right track to SEO domination!
Gathering Your Tools: What You Need to Get Started
A Pillar Page, Guide, or Long-Form Piece of Content (With Links to Other Content)
First things first, you need a pillar page, guide, or any other piece of long-form content you wish to build a content strategy for. If you don't, read up on how to create your first pillar page.
Make sure that within your pillar page content, you have included links to other valuable content you've published. This is part one of ensuring proper linking.
Lots and Lots of Content (With a Link to Your Pillar Page)
You can't have a strong content strategy without some kickass content! Gather up all your top-performing content that relates to the main topic of your pillar page. Make sure that in the body copy of each article, you add a link to your pillar page. This is step two of proper linking.
Note: You can only associate a blog article to one pillar piece of content within HubSpot, so keep this in mind as you continue to build out content strategies for different pillar pages.
HubSpot's SEO Tool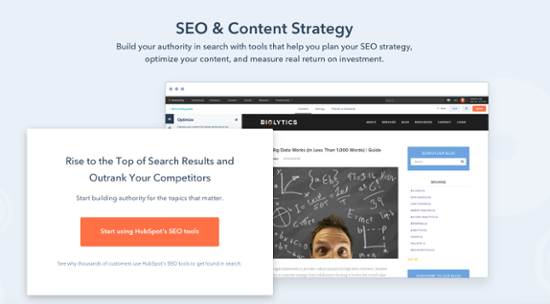 Formerly known as the content strategy tool, HubSpot's SEO tool is where you and your team will live as you double down on topic clustering.
This handy tool, which is available for Professional or Enterprise Marketing Hub packages, basically does all the hard work for you – once you set it up, anyways. But don't worry: we'll explain all that for you!
Optional: An Organized Spreadsheet
Speaking for the Bluleadz marketing team, we love spreadsheets. I mean loooove. We have spreadsheets to organize spreadsheets.
So, a successful content strategy wouldn't be complete without a nice, easy-to-use spreadsheet that outlines our content strategy, summarizes our blog articles and keywords, tracks what articles we link to and from that are associated with a pillar page, and even what anchor text we use.
It may sound like a lot, but it really does keep us sane around here: so try it out for yourself as you build out a killer content strategy!
6 Steps to Creating a Content Strategy With HubSpot's SEO Tool
The HubSpot SEO tool lives under the marketing tab of your HubSpot portal. To access it, hover over the marketing tab, jump down to "planning and strategy," and click "SEO."
Now, let's get started.
1. Add a Topic.
The first step in setting up your content strategy topic cluster is adding a topic. This will be the overall topic and name of your SEO strategy.
This part may take a little trial and error as you test out different options to compare the monthly volume and difficulty – two metrics HubSpot populates for you instantly based on keyword research.
Don't just choose the first thing you write, either; find a term or phrase that ranks fairly well but isn't too broad. The main goal of this strategy is to boost your company's SEO and authority!
2. Attach Your Pillar Page Content.
Once you've selected your topic, click "attach content" in the center and add the pillar page you are creating the strategy for. If you're proactively creating a strategy for a pillar page that's still in the works, don't fret: You can always go back in and add the link after!
3. Add a Subtopic Keyword.
From here, it's time to start adding all your related content into the topic cluster.
Click "add subtopic keyword" in the top right of the screen. Enter your desired keyword, but, like when creating your original topic, consider the suggestions HubSpot generates based on your main idea. You might just spot a keyword you hadn't thought of but ranks very well.
Tip: When brainstorming subtopic keywords for your overall topic, try to use the primary keyword of the blog article you will be attaching to it. This will help with SEO rankings!
4. Link Your Subtopic Content to the Keyword.
Subtopic content is what help build authority around your pillar page. These can be anything from other site pages to blog posts and more. If the content already exists within HubSpot, you can simply search by the title. If it exists outside of HubSpot, just click "add external URL," copy, and paste.
5. Add Up to 20 Subtopic Keywords and Links.
Depending on how much content you have that pertains to your pillar page topic, you can continue adding subtopic keywords and articles. Although HubSpot does cap you at 20 subtopic keywords, don't be afraid to link more articles to and from your main content.
While it won't technically be linked within your content strategy topic cluster, it still gives readers backlinks to and from your pillar page and provides them with valuable resources from your site.
6. Check For Green Connecting Lines.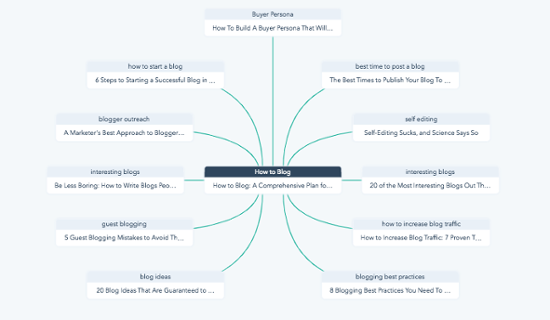 In order for your content strategy to work properly, always check that the lines connecting your subtopic to your topic are green.
If you spot any red lines, click into the subtopic, and in the area where it shows your linked article, click "check link." If you set everything up correctly, it should turn green within a few seconds.
Note about this: It can take HubSpot up to four hours to crawl each website page and confirm the links are present. If you are retroactively adding a pillar page link into an article, you will most likely come across this issue.
Once you've completed adding all appropriate subtopics, take a break and set a one-hour timer. Then, check back in and check the link again. By now, all should be green and good to go!
Green Is Great, But Don't Stop There!
Once all the lines are green, you can celebrate! Congrats! You've successfully built your first content strategy within HubSpot.
But, if you can still see any empty areas in your topic cluster, then your job isn't yet done.
Since HubSpot allows up to 20 subtopics, use them. If you are short, consider adding a few fresh ideas into your editorial calendar. Once they publish, just pop back into your pillar page, add a link in a relevant chapter, and add a new subtopic to your strategy.
Plus, don't just set it and forget it. Your content strategy should be ever-evolving. With time, your content team should be typing away, creating new content that could be a great asset within your pillar page.
Once you begin to build out a collection of top-performing content associated with that topic, consider replacing them with lower performing articles that are built into your strategy. Doing this won't be the end of the world because, regardless, you still successfully added links to and from the pillar page and article!
But more importantly, you're giving your readers new content to read. Your audience will gain a lot more value as you create and link to new informative content that educates them on more subtopics they're interested on.
Content strategies built around topic clustering benefit everyone. For your marketing team, your linking boosts content ranking in SERPs, leading to growth in organic traffic. For your readers, they are more aware of other awesome, valuable content that relates to broad topics as well as more granular subtopics.
And, with HubSpot's SEO tool, you can visualize your content assets and better organize it, boosting your SEO results and further delighting your readers.