If you've ever posted or shared something on the internet, you probably have at least a little experience with links.
But for marketers, adding links is a common practice. Whether in blog posts, social shares, or emails, there's a huge landscape of content that require the insertion of hyperlinks.
But sometimes, those links are as long as a marathon, and it makes for a real pain in the butt. This is where link shorteners come in – these tools are your best friend when you're looking to condense a URL.
What Is a Link Shortener?
It's a very simple concept – link shorteners are tools that cut links down into polished URLs. It makes absolutely no difference to the connecting page it brings the visitor to; it simply condenses the URL to be more user-friendly.
Using URL shorteners comes with a whole basket full of benefits for you and your online content. Let's take a look at some.
Why You Need to Shorten URLs and Links
There are many circumstances in which you will need to shorten URLs and links – it's especially important when posting on social, a scenario in which you can't use anchor text to hide your URL.
There are many impactful benefits to shortening URLs:
It Improves User Experience.
First and foremost, does anyone actually enjoy looking at a bulky link?
Shorter URLs make for a much better online reader experience as they don't clog up your content as much. It also makes them much easier to copy and paste if the user chooses to do so.
They're More Attractive.
Honestly, I often don't even trust lengthy URLs. Plain and simple, condensed URLs are more appealing to the eye than long, bulky ones.
Thus, people are far more likely to click on a short URL than a long one.
You Can Track Link Performance.
Some URL shortener tools actually come with built-in link performance analytics, allowing you to track the click-through rate of certain campaigns.
This can help analyze the success of your link building campaigns, which can help drive traffic to your website.
It's SEO-Safe.
In case you were worried about what link shortening would do to your SEO potential, you can rest easy. Using a URL shortener won't harm your SEO ranking for that link or the content that you're putting it into.
In fact, being that shortened URLs make for a better user experience, using this practice can actually improve your SEO.
They Help Stay Under Character Limits.
If you're posting on a platform that restricts you to a character limit (such as Twitter), then a URL shortener is your best friend.
If you're sharing a link in your post, a lengthy URL can easily eat up your character count, so a shortener is often necessary.
How to Shorten a Link
We all know it – links can be long, busy, and distracting. So you've decided to start shortening your URLs when inserting links – great! However, some shortener tools will remove your brand name and the slug.
But, if you use the right tools, you can brand your shortened links, and this will make them more reliable in the eyes of the reader. These custom short links are of great benefit because they focus more on your brand than the URL shortening tool you used.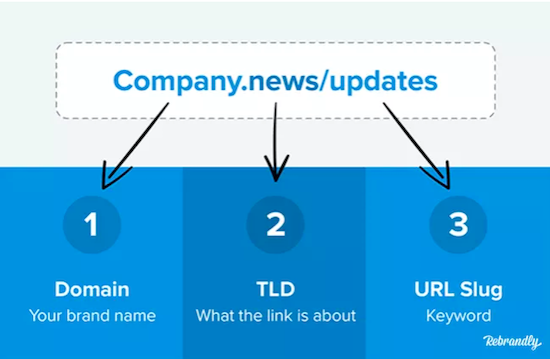 Source: Rebrandly
If you want to make a branded short link, you'll usually need to pay for that specific feature from one of the tools we've listed below. Nevertheless, we've run through a quick step-by-step process of how to use a link shortening tool.
For this example, we used one of the quickest and easiest tools to work with, TinyURL.
We chose to shorten the link to one of our blog posts: https://www.bluleadz.com/blog/link-building-outreach-campaigns
1. Insert the Long Link.

First and foremost, you need to copy the lengthy URL that you want to shorten and paste it into the tool.
2. Indicate Customization.

Being that TinyURL is a free tool, they don't allow complete URL branding customization. The resulting URL will have the TinyURL branding. However, they do allow you to customize the second half of the shortened URL, so this is where you can insert your own branding and tag.
For our custom tag, we chose to input 'bz' (our common acronym for Bluleadz) and 'link building.' Make sure that you always put a hyphen between words in your links.
3. Create the Link!

Once you've input these two factors, you're ready to hit submit and create your new, shortened link! Once it's created, it will be ready for you to spread throughout the web.
7 Link Shorteners You Need to Try
There are tons of URL shorteners out there for you to try, and some may present better solutions for what you're looking for than others. Some are free and some aren't, while some are geared toward individuals, and others are tailored specifically for enterprises.
Let's take a look at a few of your best options for link shorteners:
1. Bl.ink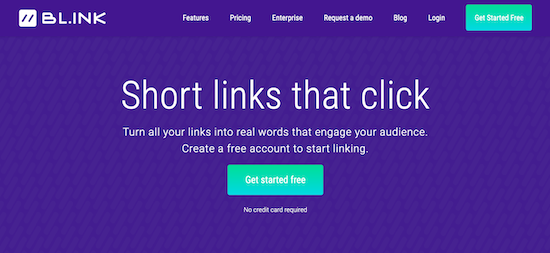 Bl.ink offers an impressive set of analytics data, tracking clicks based on device, language, day, time, and source. The tool also allows you to create highly customizable links and integrates with web tools like Google Analytics.
There are both free and paid versions, which depend on the number of links you want to create and track. The free version allows you to create 1,000 links and track them up to 1,000 clicks.
2. Bit.ly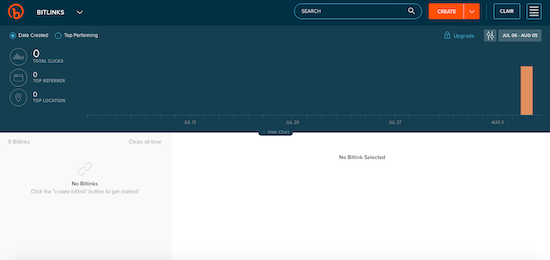 Bit.ly is the leader of the pack when it comes to link shortening. They offer both a free and paid version. The free version comes with some light analytics, while the paid version is more extensive and allows you to create custom branded links.
Bit.ly is largely crafted as a solution for bigger companies via their paid options. If you're an individual who simply wants to shorten a few links, then the free version might work fine for you, but there are other options as well.
3. Rebrand.ly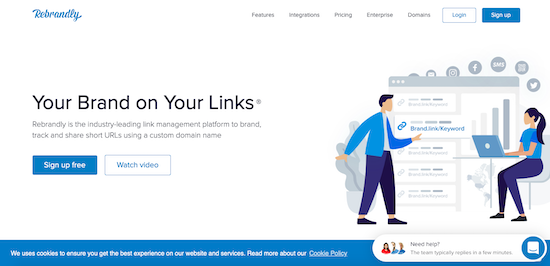 Rebrand.ly allows you to register new custom domain names to create shortened, branded links. As with the other tools on this list, they offer some impressive click-through performance data tracking. However, they also offer integration with over fifty other platforms, making them a highly versatile tool.
Their interface is very user-friendly and broken up into workspaces for your teams. You can also track your click-through performance based on the domain it's connected to.
4. TinyURL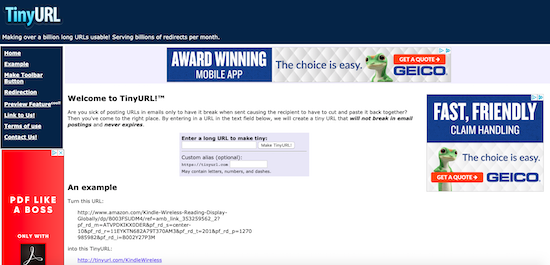 As far as link shortening goes, TinyURL is a veteran.
It's largely been the same since its creation – quick, free, and simple. The resulting shortened link is branded with TinyURL, but you are given the option to choose the tag on the end.
5. Clkim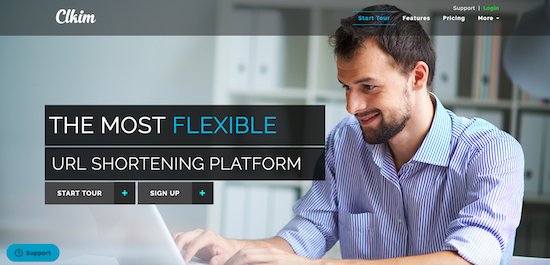 Clkim boasts that they're the most flexible link shortening tool, and they certainly have a lot of resources available for their users.
While they offer all the features that the other tools on this list do, such as customizable branded URLs and multiple campaign lists, they also focus on the monetization of your links. This means that you can essentially turn your links into full page ads.
They offer a 14-day free trial and then a three-tiered pricing plan, each with a varying degree of available features.
6. Buff.ly
Buff.ly is a link shortening tool created by social media management tool, Buffer. The link shortener is not a standalone option – you'll need to use Buffer in order to use their link shortener.
Nevertheless, you'll often find these links throughout the web because Buffer is a popular option.
7. Ow.ly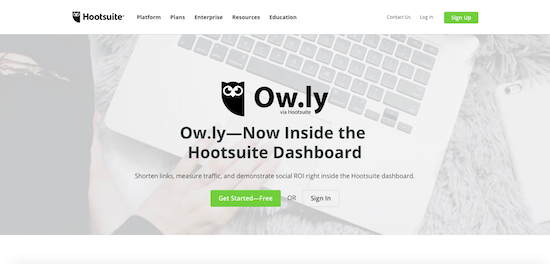 Similar to Buff.ly, unless you use the social media management tool Hootsuite, the Ow.ly link shortener may not be relevant for you.
Ow.ly is Hootsuite's very own URL shortener, and it comes with great analytics tracking if you're looking to keep an eye on your social campaigns.
You should note though – the links it generates are Hootsuite branded.
Shorten Links to Benefit Your Website
Link shortening doesn't have to be a painful process – if you utilize some of the URL shortener tools that we've discussed in this article, it can be quick and efficient. The benefits of shortening your links far outweigh the meager time requirement of doing so.
It can have a small but powerful impact on your business, such as improving website traffic by creating a much more user-friendly experience for your site visitors. This is just one of the benefits that link shortening can have for your company.