In today's day and age, social media rules the digital world, and influencers rule social media. Social influencers are just as popular and famous as traditional celebrities now, boasting millions of followers across social platforms.
With this shift in pop culture comes a new branch of business in influencer marketing. The influencer marketing book has taken the game to a new level, radically changing the landscape of marketing.
And while those successful few who garner hundreds of thousands of likes on a single post may seem like a lucrative opportunity, overlooking micro-influencers can mean passing up on greener pastures.
What Are Micro-Influencers?
Micro-influencers are individuals with anywhere between 1,000 and 10,000 followers on social media. Typically well-known in their niche with high rates of audience engagement, they possess a reach into their particular area of interest for brands.
With a more intimate level of interaction with their audience, micro-influencers have a greater degree of sway when it comes to influencer marketing.
It may seem a little contradictory to go for those with a smaller audience, but the quality of the relationships that these smaller influencers have with their audiences makes their word on a product or service leave a lasting impact.
How Micro-Influencers Can Drive Marketing Success
It's important to understand how micro-influencers are going to be able to drive real results for you. Here's a few key benefits to partnering with them:
More Affordable
Probably the most significant perk on this list, micro-influencers are considerably more affordable to partner with than the more prominent A-list celebrities.
They don't charge as much for Instagram posts or YouTube video sponsorships and, depending on the brand, would accept free products as compensation.
More Targeted Audiences and Niche Markets
Smaller scope influencers have a more topical following than their media associates with follower accounts in the millions. While a Hollywood celebrity may have a larger pool of prospects, that also means that they have a more diverse group.
Micro-influencers build their own "personal brand" around a concept, like fashion, DIY, or gaming. They build an audience around their respective topics, generating a much more targeted audience.
From a marketing perspective, that audience is a niche market that is interested in a very specific kind of product or service. Partnering with micro-influencers that have similar "branding" to your organization's gives you access to an already interested market.
Authenticity
Seen as more relatable than larger scale celebrities, micro-influencers focus on making content that truly connects with their viewers. They often act as representation for their viewers' desires, interests, and, occasionally, purchases.
When a micro-influencer endorses a product through a brand deal, they leverage a lot of trust that their viewers have placed in them.
Better Engagement Rates
Micro-influencers are known to be a lot more involved with their audiences than big name entertainers.
Replying to comments, performing Q&As, and appearing on live feeds not only reinforces their authenticity; it also increases their follower engagement rates.
It's been recorded that the higher someone's follower count is, the lower their engagement drops. Micro-influencers put a lot of effort and passion into their content, encouraging their audiences to reach out for a more organic relationship.
Higher Conversion Rates
A quality review is invaluable to most consumers. That doesn't change for influencer marketing.
A micro-influencer posting about your product or services carries the same weight as if they wrote a review directly on your organization's website. For some niche markets, it carries even more. Followers value the opinions of the people they have invested their free time in, same as any other consumer.
Who Should Use Micro-Influencers?
Considering that influencer marketing is still relatively new, the answer is pretty simple. If your audience is on social media, then micro-influencers are a great opportunity for you.
Granted, B2C businesses have a more direct benefit from influencer marketing, but that isn't to say that B2B organizations won't have any sort of profit. And considering how affordable this avenue is, businesses of all sizes can implement collaborating with micro-influencers into their marketing strategies.
If you're one to follow trends though, these are the more popular industries on social media at the moment:
Entertainment
Fashion/Beauty
Travel
Lifestyle
Home/Family
Business/Tech
How to Find Micro-Influencers
Due to the sheer volume of influencers on the web, finding the right ones can be a long and difficult job itself. To get you started, search hashtags relevant to your industry to discover who's talking in your circles.
If your presence online is strong enough, you may even be able to search within your own brand's hashtags and find if any influencers are already talking about you. They'll make great partners since they already believe in your product or services.
Outside of your own organic research across platforms, there are quite a few tools available for brands and influencers to use in searching for one another (yes, they're looking for you too!).
TRIBE
TRIBE provides a means for micro-influencers and brands to work together and create branded content that will optimize engagement and conversion.
Working across Instagram, Twitter, and Facebook, you can post your campaign, product, or promotion onto the platform and let influencers submit their creative post ideas. From there, you pick the ones you prefer and the influencers will post them for a small fee.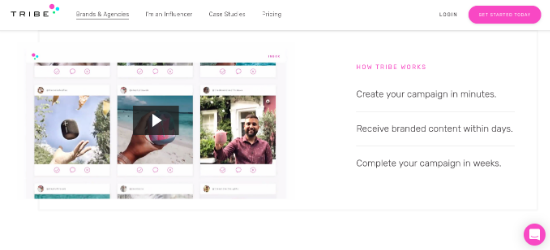 Pricing
Creating an account and a campaign brief is free. TribeGroup charges a 30 percent fee for each micro-influencer post you select in return.
They also offer a content campaign development service starting at $450, providing content delivered upfront, account management, and rights usage.
TweetDeck
Originally designed to aid in managing Twitter accounts, TweetDeck has grown into a true resource when it comes to searching keywords, hashtags, and influencer accounts. You can even filter to find top performing micro-influencers.
For example, I researched the digital marketing hashtag and wanted to sift through all the lower performing pieces of content. So I set parameters to find those who were earning over 200 retweets and 10 likes.
Source: TweetDeck
It's a great way to research a micro-influencer's value through studying their engagement analytics.
Pricing
TweetDeck is completely free to use.
Influence.co
Influence.co acts as a database of influencers across social platforms, providing search filters by concept, location, category, etc. Offering insight into an influencers online presence, you are able to carefully study and pick the right people to partner with.
Pricing
Influence.co offers a free basic plan with 50 contacts per month and three influencer lists. Going for their Business Pro plan expands your search capabilities and contact options, charging $24.95/month.
Traackr
Founded back in 2008, Traackr has been at the forefront of building a reliable database of influencers. They offer you the opportunity to really dig into a niche market with a wide array of search filters and compiled influencer lists, coupled with a deep dive into their numbers.
If, on the off chance, you aren't able to find a specific micro-influencer that you're looking for, you can manually enter their social media handle and Traackr will do the work to find all of their other channels and analytics.
Traackr also offers plenty of resources to aid in understanding where influencer marketing is today, providing case studies, blog posts, infographics, and more.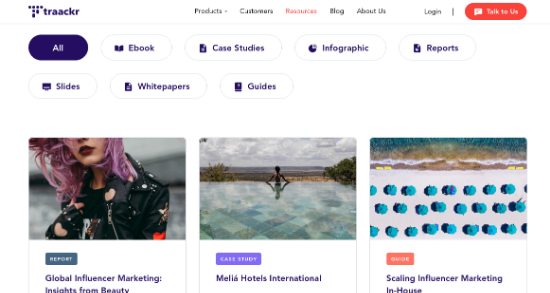 Pricing
Starting at around $500/month, Traackr offers three different subscription levels tailored to meet different needs.
Klear
Klear does a great job of grouping influencers together by category for you, analyzing their demographics and psychographics thoroughly. You can keep track of your campaigns while also monitoring those of your competitors through social listening algorithms.
With over 60,000 topics categorized, you'll definitely be able to find a solid handful of micro-influencers to partner with.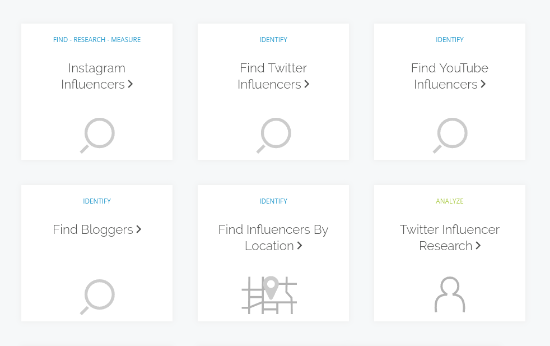 Pricing
They offer some great tools for free to find influencers by specific platform or location. For more in-depth analytics, they charge around $250/month.
Upfluence
Boasting the title of the "smartest influencer marketing platform," Upfluence has one of the most comprehensive databases out there.
Their database not only has a sophisticated search engine, but incredibly flushed out analytics as well. You have access to an influencer's engagement rates, posts, audience breakdowns, and even pricing estimates based on real-time statistics.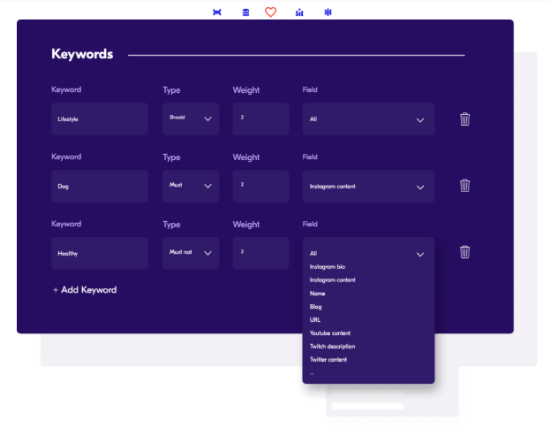 They also have an outreach program, allowing you to send customized emails out to influencers in mass. Everything is archived and organized, allowing for easy tracking of individual prospects.
Pricing
The cheapest plan costs $795/month, including 500 contacts.
BuzzSumo
BuzzSumo offers more than just influencer marketing, using social data to discover new content trends and help create strategies built around those trends. Between brand monitoring and content planning, there's a wide array of solutions that this platform provides.
They're well regarded by various agencies and businesses, working specifically to optimize a brand's presence online.
It's worth noting that, while many of the other services listed focus primarily on Instagram, Buzzsumo specializes more in Twitter analytics.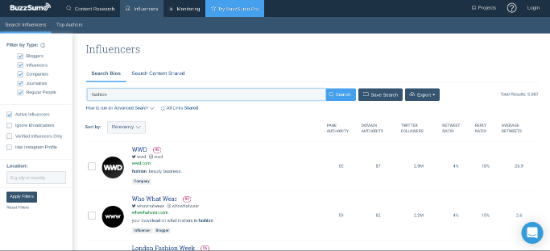 Pricing
Their cheapest plan starts at $79/month, but more features become available the higher in subscription level you go.
Awario
Primarily a social listening tool, Awario allows you to monitor brands, competitors, and, of course, discover influencers in a chosen niche. Through tracking keywords and hashtags, Awario finds the most prominent voices in your industry of choice and ranks them for you.
Even though you may not have an outreach program through your subscription with them, having a clear view of who's seen as the most relevant in their field can prove to be invaluable.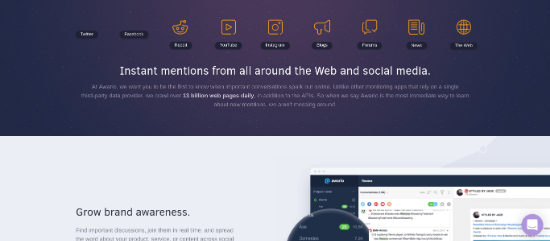 Pricing
The Starter subscription plan is priced at $29/month.
Followerwonk
Another Twitter specific tool, Followerwonk does the heavy lifting of searching through the social platform to find the most influential Twitter profiles in your industry. With unique segmentation tools, you can compare different profiles with similar audiences and view their analytics in real-time.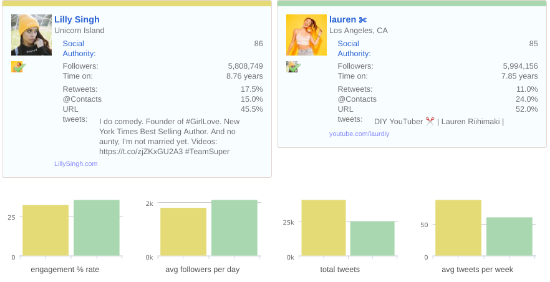 Pricing
Depending on the follower count you're searching for in a profile, prices vary. Those under 25,000 followers come free on the tool, but larger influencers start at $29/month.
BuzzStream
BuzzStream's primary use as a link building tool hasn't kept it from being useful for influencer marketing campaigns as an outreach program. Using keywords and an influencer's social media analytics, you can find micro-influencers that are booming in your preferred industry.
From there, you can add, sort, and filter them into a prospect list for a campaign. BuzzStream helps you keep track of your outreach and where each influencer is in your marketing journey.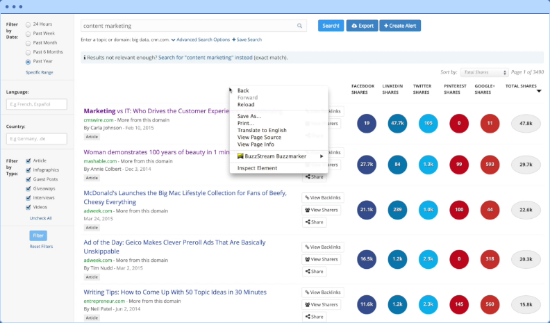 Source: Buzzstream
Pricing
The cheapest plan starts at $24/month, providing 30 searches and 1000 contacts in total.
Considerations for Your Micro-Influencer Marketing Campaign
Now that you've found the perfect micro-influencer to collaborate with, what's next? As in all things marketing, your success is built on how you structure your campaigns and execute your tactics.
A comprehensive outline of what you are aiming for not only helps with your own organizational needs, but it also will help the influencer structure their content in a way that works for both their brand and yours.
Here are a few ideas to consider when building out your campaign:
Your Objectives
It's only fair that you determine what goals you're looking to achieve before asking your new partner to speak on your behalf. Are you aiming to increase traffic to your website? Or are you looking for the sales of a particular product to grow?
Plan these objectives out. You'll never be able to successfully monitor the ROI of your partnership if you don't have clear goals.
Your Budget
It can be tricky to find the right balance of properly compensating the influencer without breaking your bank. You don't want to undermine your new collaborator, though.
They've worked hard to build their audience in the same way that your organization has to reach its own standing. Be fair in paying them for their time and resources, and make sure you're providing them with enough funds to match the budget of the content campaign.
Size of Their Following
Factoring in their follower count can help with tempering expectations. If you aim for that sweet spot of 10,000 to 100,000 followers in order to maximize engagement rates, you shouldn't look for numbers greater than that to reflect on your end.
Also, depending on their engagement analytics pre-partnership, you can tailor your content plan to meet the needs of your mutual audience based on what those viewers are used to seeing.
Relevance to Your Audience
Speaking on what viewers are used to engaging with, you can't create a generic advert for the micro-influencer to put out there.
The more relevant it feels to your audience and influencer, the more likely the campaign will be successful. Not only should the product or service meet the needs of the audience, but the delivery should align as well.
Work with the influencer to create a content plan that matches their brand. This allows the advertisement to feel much more natural. Otherwise, you risk harming your ROI and damaging the trust and reputation that the influencer has built with their audience.
Potential Content Opportunities
Perform a thorough content audit of the micro-influencer's social channels to find what's worked for them before and what hasn't. You may find inspiration in their social feed or discover failed attempts with other brands.
Keeping up to date on media trends and current issues will help avoid bumps later down the road. Social media is fluid and evolves weekly, so creating relevant content means monitoring the digital sphere regularly. New trends mean new, unique content opportunities, after all.
Your Plan to Measure Results
Measuring the results of the joint campaign comes from circling back to the objectives you laid out at the beginning. You can determine the ROI in a variety of ways. It just depends on what you're looking for.
If you were trying to drive traffic to your organization's site, take a look at the visit counts on your landing pages. Or maybe monitor how many newsletter sign-ups occurred over the course of the campaign.
8 Examples of Micro-Influencer Marketing Success
Even though influencer marketing is comparatively new to other techniques, there's already been some pretty great successes. Here are a few examples of some great campaigns:
1. Spotify
Spotify sought out to promote their Discover Weekly playlists, so they reached out to micro-influencers and asked if they'd talk about the feature.
Influencers posted images and mentioned their own playlists on their social channels, highlighting Spotify's cool personalization tool.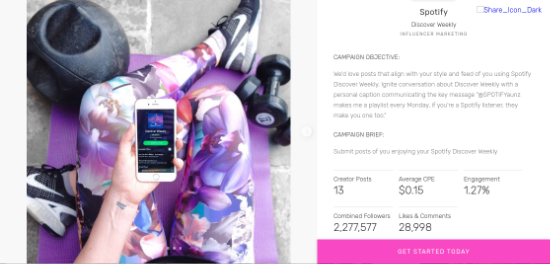 Source: TRIBE
2. Stitch Fix
Stitch Fix partnered with fashion blogger Sarah Tripp and other micro-influencers to promote brand content on Instagram. It benefited both parties since the influencers campaigned for Stitch Fix, and Stitch Fix featured them on their own account.
This collaboration was kind of like a "follow-for-follow", but tailored for advertising.
Influencers used the tag #FixObsession when they published their photos.
3. Audible
Audible is well known for partnering with social media influencers to promote its audiobook and podcast database. One particular micro-influencer that they campaigned with was a photographer Jesse Driftwood.
He posted a photo and a brief caption detailing how he uses Audible to learn more about productivity and business management.
4. ASOS
The ASOS Insiders campaign sought out fashion micro-influencers who would be willing to offer styling tips to their shared audiences in ASOS outfits.
Viewers would be able to buy the influencer's exact outfit through linking on their posts across social platforms.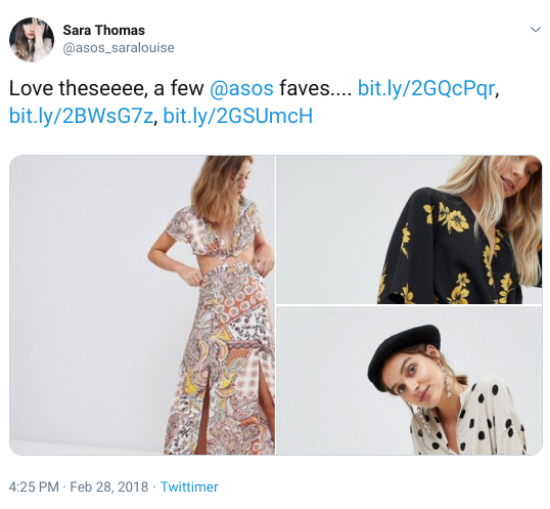 Source: Twitter
5. LaCroix
The popular brand LaCroix stays relevant with millennials primarily because of its social media presence. The company finds micro-influencers who are willing to post product awareness images on Instagram, tracking the tag #LiveLaCroix.
LaCroix features a lot of these posts on its own page for cross-promoting purposes. Partnering with micro-influencers creates a more genuine and authentic endorsement that appeals to younger audiences.
6. Tom's of Maine
Tom's of Maine manufactures personal care products with only natural ingredients. They partnered with social media presences with 500 to 5000 followers.
Tom's was careful to seek people who could engage their audience on relevant topics while still appearing to be more like an actual customer. As a result, for every 1,000 micro-influencers, they received over 6,000 interactions on social media.
7. Adidas
Adidas partnered with Emily Joseph, a lifestyle micro-influencer, to speak on their new line of Ultraboost shoes.
Emily gave an honest review of the product, letting her followers know that she was initially skeptical of the shoe's value, but she changed her mind after using them to work out.
That level of authenticity generated a pretty high engagement count, all mostly around reviewing the shoe.
8. Adobe
No stranger to working with influencers, big or small, Adobe has been utilizing micro-influencers in particular for years. Promoting their photo editing software, Adobe collaborated with lifestyle bloggers to show off what could be done.
Bloggers acted as case studies on social media, speaking about their experiences using the software over a course of months.
The Micro-Influencer Difference
Reaching out to micro-influencers is a great new marketing technique for industries across the board. There's an overwhelming list of tools that can help you find, research, and team up with these social personalities, and the payoff is there in past campaigns.
No, they may not be Chris Evans, Angelina Jolie or a Kardashian, but their group of followers are loyal and true. They'll take their influencer's word that you're worth looking into, and that's an audience you may have never been able to reach otherwise.
So go ahead and reach.