The concept of ensuring accessibility for all people is not foreign to businesses. Inclusion is a must nowadays, thanks in large part to the Americans with Disabilities Act (ADA), which passed in 1990, and the Americans with Disabilities Act Amendments Act (ADAAA) that was signed into law in 2008.
These civil rights laws explicitly prohibit discrimination against people living with disabilities in all areas of public life. And this is starting to raise questions about web accessibility.
Website Accessibility: Who It Impacts and How
Website accessibility (aka web accessibility) is the set of standards that businesses should adhere to in order to deliver an experience that caters to people with disabilities. Everyone deserves to use the internet and find the information they need.
These guidelines are created to support social inclusion for all users, including older people and people living in developing countries or rural areas. Simply put, web accessibility supports people who have disabilities impacting their life functions, such as speech, visual, neurological, auditory, and physical.
Website accessibility guidelines are outlined in the Web Content Accessibility Guidelines (WCAG 2.1) to help businesses properly serve all their users.
3 Reasons You Need to Ensure Web Accessibility Compliance
There are many reasons why companies are investing in making their websites more accessible for people with disabilities.
Apply Basic Business Ethics.
via GIPHY
Business ethics influence how companies operate on a daily basis. It ensures that leaders are following the law and are not committing crimes against their customers, employees, and consumers at large.
By following basic business ethics, your company can:
Achieve trustworthiness and credibility.
Demonstrate fairness in how people are treated.
Emphasize the importance of caring for others.
Earn respect from employees and potential customers.
Applying ethical behavior is not just about maintaining a positive reputation, although that is an important component in the context of actually attracting customers and generating revenue.
The primary benefit of conducting your business ethically is serving your customers in the best way you can. Customer centricity is what makes companies stand out in their industries. When your entire organization prioritizes customer needs and supports their success, you're well equipped to sustain a successful business.
And by prioritizing website accessibility, you're doing the right thing. You're supporting your positive reputation by being fair to all users who may visit your website.
Create the Best User Experience for Everyone.
A positive user experience is vital for driving leads on your website. If your website is slow and difficult to navigate, you're going to push visitors away from your business.
In fact, user experience can directly impact your ability to generate revenue. Some recent research found that:
Nearly 90 percent of people say they're less likely to return to a site after a bad experience.
Every $1 spent on UX brings $100 in return, which is a 9,900% ROI.
Eight in 10 customers are willing to pay more for a better customer experience.
67 percent of people say a poor website experience negatively affects their opinion of a brand.
In the context of web accessibility, if your site is not inclusive for visitors with disabilities, you're alienating potential customers. In the U.S., that impacts one in four adults – that equals approximately 61 million people.
That's a lot of potential customers trying to learn about your brand and your products and services. If they can't access the information they need, they're going to leave and likely discredit your company.
Or worse, you can even face legal action.
Prevent Potential Lawsuits.
via GIPHY
In 2018 alone, over 2,200 lawsuits were filed against companies that were violating website accessibility guidelines under the ADA.
Typically, people filing lawsuits will visit a website, then note key features that were not available to them. For example, those with visual impairments use screen readers. If their screen readers can't properly deliver the information from a webpage to a user, that can be disruptive to the user experience.
Most lawsuits filed in 2018 were related to blind people who couldn't properly find information using their screen readers. One of the most notable web accessibility lawsuits was filed by a blind man who said he was unable to use Domino's website and app to order a pizza.
Other common violations include lacking keyboard accessibility for those who can only use keyboards to navigate a website or videos that do not have captions.
For most lawsuits, plaintiffs are often required to show the lack of accessibility has caused them harm in some way (e.g., they're unable to complete a purchase they want to make). In these ADA related lawsuits, the WCAG standards are referenced as what organizations should strive to meet.
While 95 percent of web accessibility cases are settled outside of court, the costs can be staggering. Companies are often given two years to improve their website or app to achieve compliance with the WCAG standards.
What You Can Do: Website Accessibility Initiatives to Consider
The good news is that you can be proactive and prevent lawsuits while improving your user experience and demonstrating your commitment to applying ethical business behaviors. Here are some steps you should take right now:
Study the Standards.
The best first step any business can take is brushing up on the Web Content Accessibility Guidelines (WCAG) to see how the standards impact aspects of their website.
Use these guidelines as a frame of reference on the website updates you need to make. For a quick reference, use this checklist.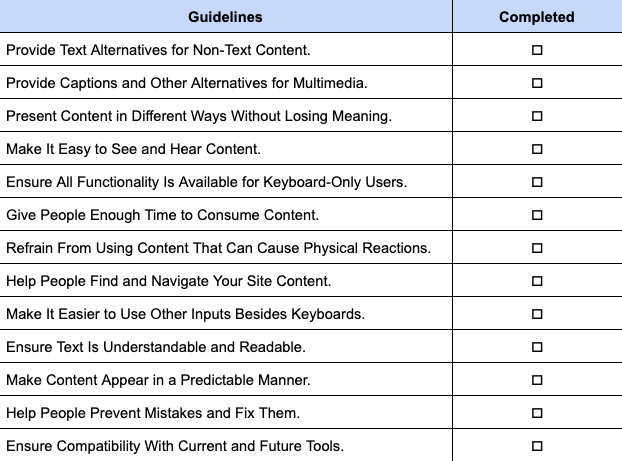 Publish an Accessibility Statement.
Making all these site updates on the checklist can be overwhelming and require a lot of resources and time. This is why you should first make an accessibility statement.
Your accessibility statement serves two main purposes:
Share information on how you're planning to achieve web accessibility for your site, while acknowledging what areas you have yet to address. Within your statement, you should provide a detailed action plan and timeline for making those updates.
Demonstrate your level of commitment to achieving ADA compliance. Users will appreciate your open expression of commitment to inclusion and ethical responsibility.
Within your statement, make sure you include contact information for people who encounter problems. This way, those who are unable to access certain information have someone who can help them find a solution.
Make Sitewide Updates.
Based on your accessibility statement, you will have a roadmap of all the updates you need to make. You should start with high priority areas, like top level pages, headers, footers, and navigation elements.
Then, move onto designing new features that adhere to the WCAG guidelines. You're probably going to need to also make updates to existing features on your site and create new templates as well.
Finally, after rolling out your updates, it's time to conduct some testing. Train your company on how these updates improve functionality and the user experience while conducting user tests on your webpages. You can also conduct screen reader monitoring and schedule monthly website accessibility tests to ensure you're compliant at all times.
Website Accessibility Compliance the Easy Way
An alternative to manually rolling out updates and constantly testing your site is using a web accessibility compliance solution like accessiBe. This tool helps companies achieve compliance within minutes. The solution is:
Fast and easy to implement – Install a JS code to scan your site to find and solve compliance gaps by presenting users with a tool set they can apply based on their needs.
Cost effective – Starting at $490 per year for each domain, you can save big on the costs of making manual changes to your site.
Focused on 24/7 compliance – After 48 hours of the JS code scan, the tool re-scans and analyzes your site every 24 hours to ensure all new content and other site updates are ADA and WCAG compliant.
Don't wait for a lawsuit. Stop alienating potential customers. Take proactive steps to continue delighting all your website visitors so you can stay credible and trustworthy in the eyes of your ideal audience.
Compliance isn't just for legal purposes. It's simply the right thing to do.