"People shop and learn in a whole new way compared to just a few years ago, so marketers need to adapt or risk extinction." (Click to tweet!)

Brian Halligan, HubSpot CEO & Founder
Traditional web design leaves you open to vulnerability and risk. Your website is an extension of your company's marketing and sales strategy; it should constantly evolve just as those strategies do. In traditional website design, your site sits there for 2-3 years until you muster up the courage (and budget) for another redesign. Old-school design is a one-shot deal, which leaves your company open to a large number of hazards.
A smarter take on web design is here - Growth Driven Design. The following are six major risks traditional site design leaves you vulnerable to, as well as ways Growth Driven Design can help you avoid them.
See the risks of traditional web design versus Growth Driven Design below!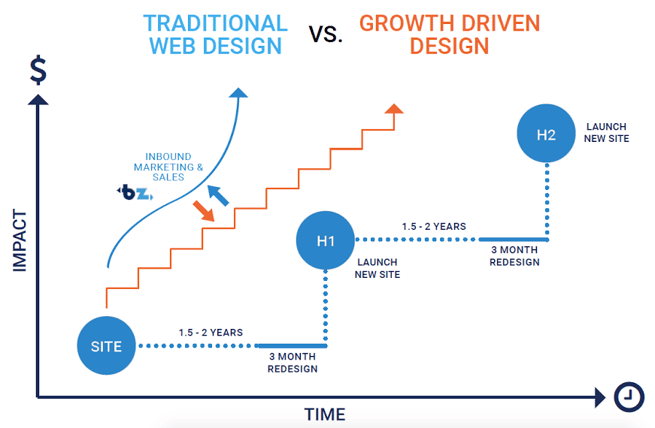 1. Huge Up-Front Cost
A website typically costs anywhere from $15,000-$80,000 to complete, and there's no turning back after this cost, either. It's all paid up-front; you're along for the ride as soon as you decide to take the redesign plunge. The worst part about this? It comes with no guarantees about your traffic and leads increasing.
Growth Driven Design doesn't come with a large up-front cost; it's a monthly expense, generally of about $2,000-$8,000 per month. What this does is ensure that your website is becoming better each month, instead of just sitting there until your next website redesign.
2. Over Budget
Traditional web design runs over budget more times than most companies like to admit. It's difficult to scope how much money a web redesign project will cost; there's so much being done at once that it's tough to stay inside an established budget. There are many factors that can contribute to a project running behind, such as improper planning and other, unforeseen bumps in the road. Any company that has had a traditional website redesign will attest to this.
Growth Driven Design doesn't push companies over budget because it comes at a much more manageable cost than traditional web design. The concept of having a monthly expenditure for web design can scare some companies off, but when you realize what it's really getting you, it'll make perfect sense.
3. Not on Time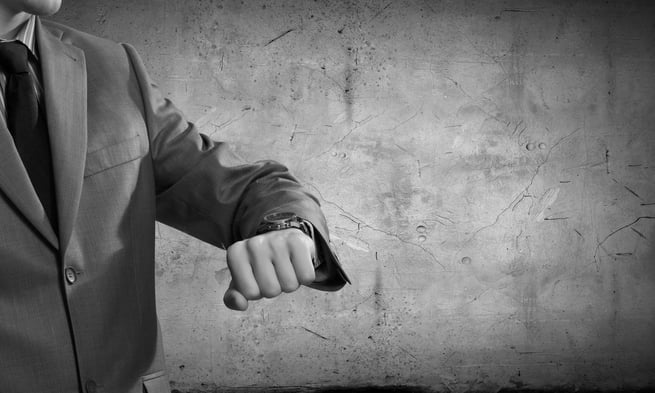 Traditional web design takes a long time; that's just how it is. In fact, it's very common for design to take much longer than expected, as the timelines created by web designers general projections. Before the design process even begins, you have to brainstorm and research your buyer personas. Effective websites don't just "happen;" they take a great deal of thought and focus.
Unfortunately, while your website is being designed, it's also taking away your focus from other projects. Web design drains a ton of planning time and resources from your end. It's not just a web designer's workload; it's a joint effort of your team and their team.
Growth Driven Design relies on a design process that simply makes sense. You don't have to worry about completing projects on an established time. Before any design work gets started, buyer personas are studied to determine what problem they're coming to your website with. Then, initial site mockups are created, which include everything that will ideally be on your site. Every step of Growth Driven Design is prioritized, which ensures that you tackle what's important first and deal with what can wait later. The things that can wait are added to the "wish list."
This means that instead of launching your new site and all its features at once (which is what causes delays), you launch features little by little, creating your perfect website over time. It's always changing, always evolving and never sitting there getting stale.
4. Design is Subjective
Imagine spending around $50,000 on a shiny, new website: you're ready to launch and start generating more leads only to find out that, with the new site, your traffic has taken a sharp drop. This isn't uncommon for traditional site design. Major design overhauls will be based on a design team's own set of 'best practices' - not tested and tried information.
Growth Driven Design relies on cold, hard facts for website optimization. It's no guessing game like traditional web design. Companies that offer Growth Driven Design use heat-mapping software like Crazy Egg to see where your visitors are going, what visitors are clicking on and what content you should be creating more of. The most critical parts of your website are prioritized and get attention right away. You can continue to tweak them until you get the best possible version of your site.
5. No Updates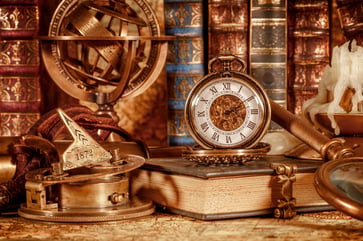 Website redesigns are usually a completed every 2-3 years. In between designs, it's sitting there, aging and not truly running the best it can. When a redesign is finally complete, changes may have happened in your industry that push you right back to the drawing boards, drafting more design changes. Your company may have gone through changes of its own; maybe you have new services or products that weren't added to the original site mockup from three years ago. Without ongoing updates, you leave your site open to vulnerabilities.
Growth Driven Design is never complete. Month-to-month, your website is always changing - it's being analyzed and tweaked to ensure that it's running the best it can. By finding out where visitors are going on your website, you can create more content for those specific topics. Your design, marketing and sales teams should all be working together to inform and refine processes.
6. Poor Usability
When a reworked website is launched, everyone's starts to use it all at once. There's no early usability, which means no one is catching various problems a site might have, such as poor navigation. As you know, poor usability causes visitors to drop off quick. Since visitors aren't using your new site until it's already completed, all of these small problems can fly under the radar and turn into big ones.
Growth Driven Design means frequent, incremental changes, which make optimization easy. Traditional site issues are quickly spotted and easy to fix; they never become huge disasters like they would with traditional web design.
Stop rolling the dice with traditional web design! It's time to get your website up and running and turn it into the best lead-generating machine it can be. Your website is your best marketing asset and #1 salesperson. Why are you letting it sit there without any updates or optimization?