Video marketing is essential for building a successful business strategy. In addition to your marketing plans, sales videos are also an impactful way to amp up your sales process and foster better relationships with your prospects and clients.
There's only one downside to using videos in your marketing and sales strategies – it's expensive. And some important elements of videos often get overlooked, like music.
Even music can start to rack up a hefty bill if you're producing lots of videos. Luckily, there are royalty free music websites ripe for the picking, which allows you to find free, quality sound for your videos.
Why Your Videos Need Music
Music is an essential element of quality videos. If you play close attention, music is prevalent throughout video marketing, and it serves many purposes.
For example, music within ads enhances the emotional impact of the story being told. In fact, one study found that music can be more effective than visual elements in shaping how consumers perceive a brand.
Even though the video is the primary focus, people are more likely to remember the music they heard than the visuals they watched. Ever wonder why you have a catchy tune stuck in your head? It's because music has a serious impact on your memory.
Additionally, research has revealed that different music impacts emotions variably. For example, 87 percent of people who participated in the aforementioned study associated string instruments played in short, sharp notes in a major key with feelings of happiness and excitement.
Similarly, 90 percent of participants also found the acoustic guitar to be positive, evoking feelings of compassion and calmness.
Brass instrumentation, on the other hand, evoked feelings of anger, sadness, and reflection.
Take a look at these two examples of music being used in marketing videos: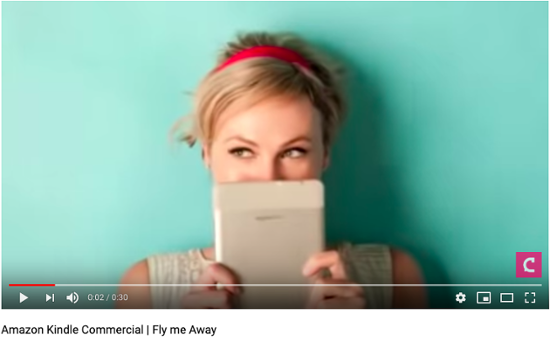 Source: YouTube
This Amazon kindle ad features the song "Fly Me Away" by Annie Little. It's a snappy, upbeat piano tune that evokes feelings of happiness and joy within the audience. It creates a light, playful tone.
Now, compare it to the music used in this Apple iPod ad – "Are You Gonna Be My Girl" by Jet, and the effect that it has.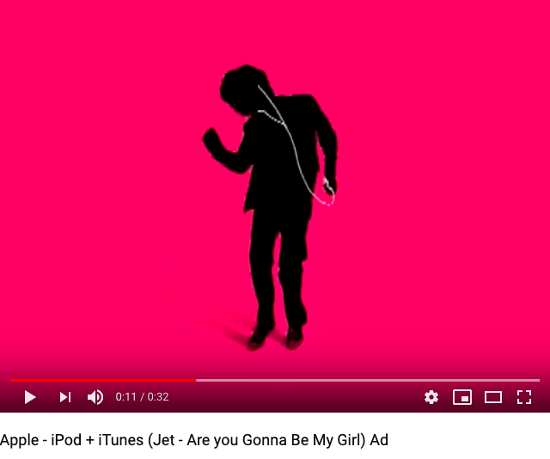 Source: YouTube
The song used in this ad creates a much more lively, energetic vibe within the video, as reflected by the dancing characters. It pumps up the audience and gets them excited, and creates a very different association with Apple as to Amazon.
Obviously, music makes a big difference in creating a resonating effect within your audience. But when you're already allocating resources to producing videos for marketing and sales, it's understandable that you don't want to cough up any more dough for music copyrights. This is why you need to know where to find free music to use commercially – and legally.
The Basics of Copyright Free Music and Royalty Free Music
When hunting for free music, you need to be careful where you find it and what to include in your video. It's important to understand the difference between what "copyright free" and "royalty free" mean because there are many misconceptions that currently surround these terms.
Royalty Free Music
Misconceptions
It's Not Totally Free to Use.
Unfortunately, royalty free music doesn't mean that it's completely free. It just means that it's royalty free – which means you won't be paying royalties to the artist when you purchase it. It's comparable to a tax free product – you still have to pay for the product, but you're just not paying tax on it.
However, artists will sometimes offer their music for free or charge in exchange for credits in your video, which increases their exposure.
It's Not Low Quality or a Certain Style of Music.
There's a certain stigma associated with royalty free music, in which it's largely considered to be of poor quality.
However, licensing has absolutely nothing to do with genre or audio quality of the music. Royalty free music can be any genre, and is often well-recorded, high quality sound.
It's Not the Same as Stock Music.
Royalty free and stock music are not synonymous terms. Stock music is simply a library of pre-made music that is ready to license and use. Some stock libraries offer music on a royalty free basis; however it is not required.
Copyright Free Music
The term "copyright free music" is misleading in and of itself. There's really no such thing as copyright free, because copyright is earned when a piece of music is created. The artist automatically owns the copyright to that music, meaning that only they can decide who is allowed to duplicate it.
However, in certain circumstances, artists simply don't care how their music is used, and by who. While music might appear copyright free in these situations, it's still the artist who is granting lenient access.
Strike the term "copyright free" from your mind, because there is no music without copyright. Instead, focus on finding "free" music the right way.
How to Find the Correctly Licensed Music to Use in Your Videos
Understanding music licenses can be a complicated endeavor. But before you go downloading music off the internet and throwing it in your videos, it's important to understand what you're getting yourself into.
There are two types of licenses associated with free music – public domain music and music protected by free licenses. This graphic is a great representation of all the different kinds of licensing involved in music production.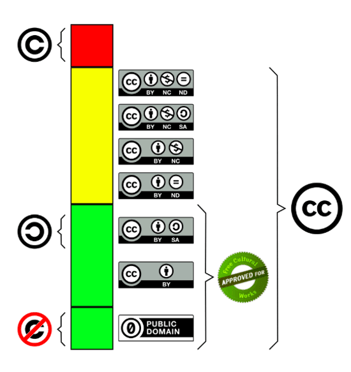 Source: Legismusic.com
Public Domain Music
Public domain music, which you see at the bottom of the graphic, includes music that isn't bound by copyright, and thus can be used without permission, and without having to pay the original artist. Essentially, this music belongs to everyone and anyone, and you're free to use it however you please.
Within public domain, artists only have rights to the recording of the music. For example, if you put your own creative spin on a Beatles song, record it, and sell it online, you have the rights to that file.
Music Protected by Free Licenses
With music protected by free licenses, artists can establish the terms of duplication and distribution of the work. These kinds of licenses generally fall within the terms of creative commons, which is signified in the graphic as "CC."
Creative Commons
Creative commons licenses encompass works that can be freely distributed. However, it's a little bit more complicated – there are four conditions that dictate creative commons, and six overall licenses based from those conditions.
The Four Conditions
Attribution
When using or distributing, you must provide credit to the original artist of the work.
Non-Commercial
With non-commercial licenses, work cannot be used to make money, or be injected into a sellable product or service.
No Derivative Works
You cannot create a derivative work from the original.
Share Alike
You are allowed to derive new works from the original, but they must be protected under the same license.
Now that we know about the four conditions under which creative commons are held, let's take a look at how we can combine those to develop the six kinds of licenses.
The Six Licenses
BY
With a BY license, you have to give credit to the artist of the work, and state whether any changes were made to it.
BY-SA
With this license, if you make changes to the original work, the new resulting piece carries the exact same license as the original. When you share this work, you cannot restrict others from sharing or making their own changes to it.
BY-ND
This license allows you to use the work for any purpose you desire. You simply have to provide the due credit as required by the type of license, and cannot alter the work at all.
BY-NC
You are allowed to alter the work as you please, as long as it will not be used for commercial purposes at all. You also must provide credit to the artist.
BY-NC-SA
This license carries over the non-commercial restrictions from the previous. However, if a new work is produced from alterations, it is held under the same license as the original piece.
BY-NC-ND
You must attribute credit to the artist, and you cannot share or distribute any new works created from alterations to the original.
The following image displays the different tiers of licenses, and the level to which they are restrictive.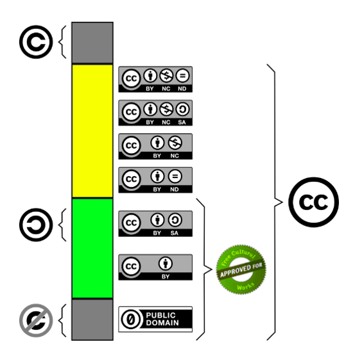 Source: Legismusic.com
So Why Pay for Royalty Free?
So with all of this in mind, where does royalty free music come into play? Well for starters, royalty free means you pay a one-time fee to obtain the legal right to use music in your project. Yes, you heard that right: unfortunately, there is a payment involved.
However, royalty free music falls outside the bounds of creative commons licenses, and there can be some big benefits to this.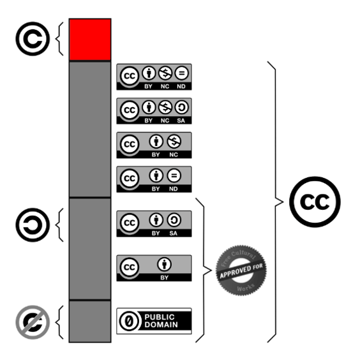 Source: Legismusic.com
Before you scoff at having to fork over a little cash, consider why it's worth paying for royalty free:
You want to use the music in a commercial project.
You don't want to attribute the artist, or you want to modify the music.
You want the peace of mind of a legal contract in case the artist decides to change the licenses of their songs.
You want better quality music than the material you find for free.
You're not able to attribute the author in your project.
As you can probably tell by now, there are plenty of factors to consider when shopping for free music to use in your marketing and sales video. But now, let's take a peek at some great websites that offer royalty free music.
10 Sites With the Best Royalty Free Music You Can Use Legally
Believe it or not, searching the term "royalty free" isn't always the best avenue to find what you're looking for. Instead, consider searching for other terms, such as:
Pre-licensed stock music
Pre-licensed production music
Pre-licensed music library
Single fee stock music
Pre-paid production music
Nevertheless, if you're still having trouble finding viable resources, don't worry. We've put together a list of the best royalty free music websites.
1. Musicbed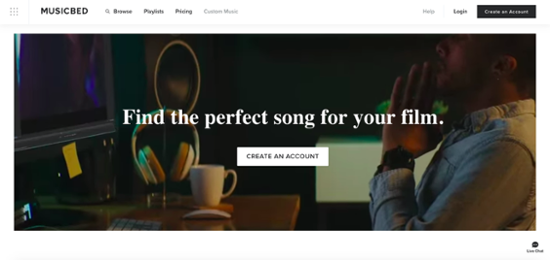 Source: Musicbed
Musicbed is an impressive, well-curated website with high quality music. Music is easily searchable by a huge range of playlists, genres, vibes, and even filmmakers.
They promote the fact that you're licensing "real music from real artists." Their platform allows you to create playlists for projects so you can save multiple songs for later listening and comparison.
Pricing: Subscriptions ranging from $9/month for personal use, to $89/month for business use. Or single songs ranging from $49/song for personal social use, to $199/song for business use.
2. Envato Market: AudioJungle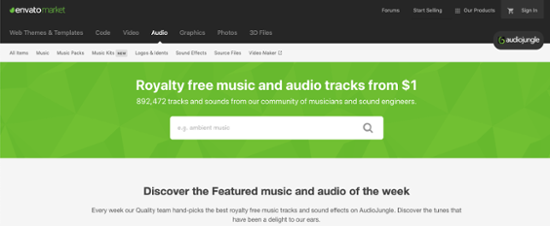 Source: EnvatoMarket
AudioJungle is hosted by a much larger royalty free market website called Envato Market. They boast almost 900,000 music tracks for you to access, with a huge variety of genres, music kits, and even sound effects.
One of the cool features about this site is that they provide you with free sound and music engineering tutorials to help you with your own projects.
Pricing: Individual songs from $1.
3. Storyblocks Audio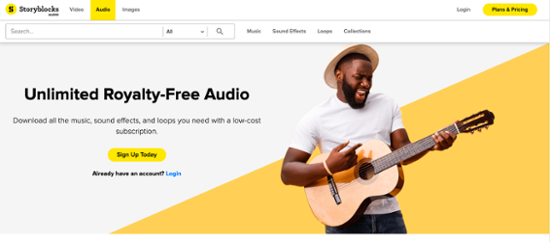 Source: Storyblocks Audio
Compared to AudioJungle, Storyblocks has a considerably smaller library, with around 125,000 music tracks and sound effects. However, they upload new content every month, and your subscription also includes access to over one million royalty free photos and video clips.
Their music is broken up into categories – mood (from angry, dark, and epic to happy, inspiring, and relaxing), instruments, and genre. They also have sound effect sections, loops, and curated collections.
Pricing: Three tiers of subscriptions – Basic for $8.25/month, All Access for $12.41/month, and All Access Unlimited $29.08/month.
4. YouTube Audio Library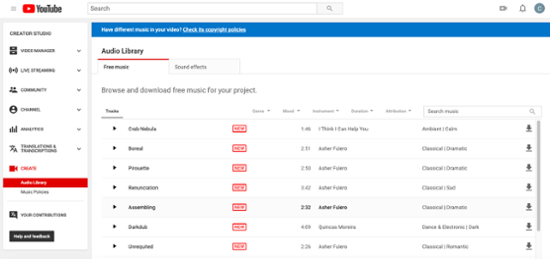 Source: YouTube
You didn't think to check YouTube for a free music library, now did you? Well neither did we, at first.
But it turns out YouTube actually has a whole hoard of free music tracks and sound effects for you to download and use, and it won't cost you a dime.
5. Epidemic Sound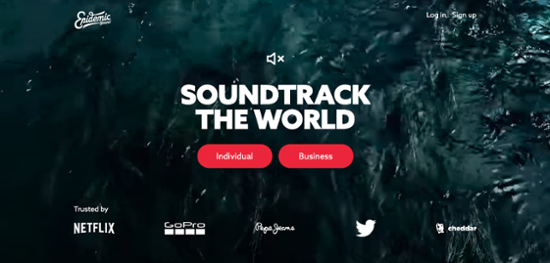 Source: Epidemic Sound
Epidemic Sound features carefully chosen soundworks "tailored for storytellers, streaming services, and in-store soundtracks." Their library contains 30,000 tracks and 60,000 sound effects, which is considerably less than some of their competitors. However, you know you're always going to get top quality music from this site.
Pricing: Individual creator subscriptions start at $15/month, and business subscriptions start at $149/month.
6. NoiseTrade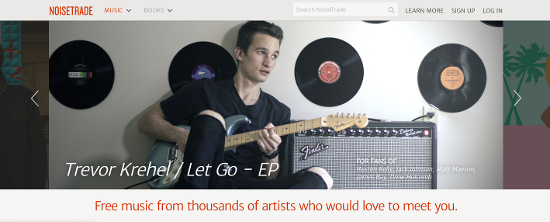 Source: NoiseTrade
NoiseTrade works a little differently than the other sites on this list. The idea is to "connect artists and labels with fans through the exchange of free music for email addresses and postal codes." So essentially – give them some personal contact information so they can email you promotions, and you get free music in return.
In general, it's a pretty cool concept – the site is equally as focused on generating exposure for its artists as it is providing free music to fans.
7. Jamendo Music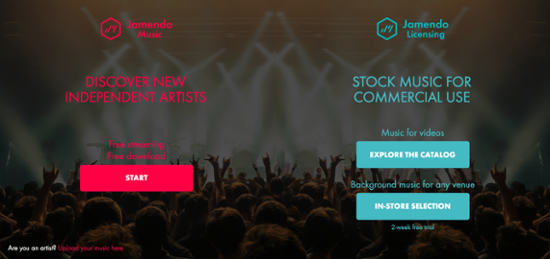 Source: Jamendo
Jamendo boasts over 220,000 tracks, and they continue to add over 1,000 tracks every month. Tracks are broken up into the typical categories – genres, themes and moods, and instruments.
However, Jamendo also includes a languages category, allowing you to search for music tracks in English, French, German, Spanish, and more. They also have a projects category, where they've chosen music and tracks that will work well for advertisements, films, video games, and other creations.
Pricing: Individual songs from $9.99/song to $299/song, based on license. There is also a "track pack" option where you can purchase multiple tracks with a 20 percent discount, and an unlimited access plan.
8. Musopen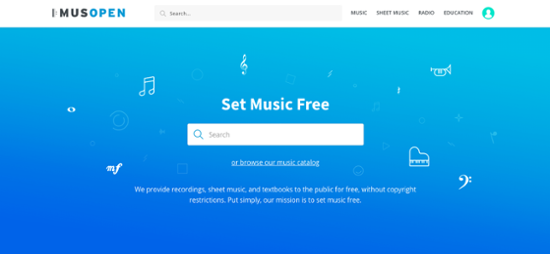 Source: Musopen
Another slightly unusual contender on this list, Musopen is actually a nonprofit organization with the goal to "increase access to music education by providing free music recordings, sheet music, apps, and educational materials." Nevertheless, the music they provide is still royalty free.
You can browse music by composer/performer, instrument, era, or form. Clearly, this site is a little more inclined to those who have a bit more of a musical education.
Pricing: Free membership, or two different plans: $55/year member plan or $20/month benefactor plan.
9. SoundStripe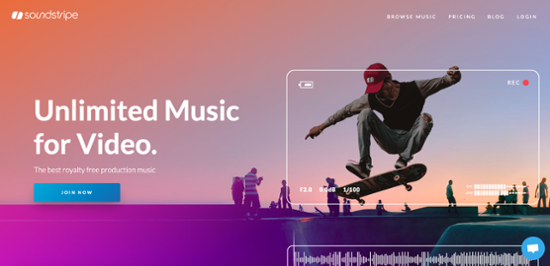 Source: SoundStripe
SoundStripe targets a huge variety of creators and project bases, from YouTubers and advertisers, to filmmakers and content creators. Their sound materials are known to be incredibly high quality, and their well-designed website reflects the care and effort they put into their sound library and overall business.
They have weekly featured artists, playlists, and sound effects, and their blog includes an abundance of information about the nuts and bolts of how and why to include music in your work.
Pricing: $11.25/month standard plan billed annually ($15/month billed monthly), or $21/month premium plan, billed annually.
10. Mixdown Music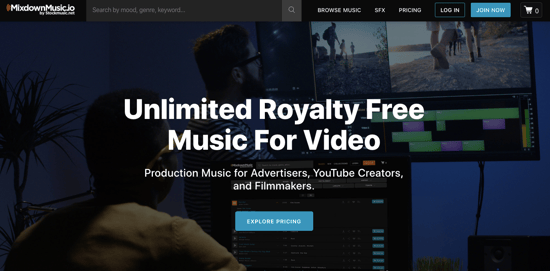 Source: Mixdown Music
Formerly known as Stockmusic.net, Mixdown Music is another top choice for royalty free music. Their massive database of music and sound effects is easy to navigate and search by looking for genres, moods, and keyword-specific queries.
They license music for commercial retail, television, advertising, film, and more, with some music being featured in big name media productions such as Fox, HBO, and Time Warner.
Pricing: Individual licenses cost $39.95. The three tiers of their subscription plans – Creator, Non-Profit, and Professional – start at $19.99/month, with the highest tier reaching $59.99/month, all without an annual commitment. If you subscribe for the year, you can enjoy a 20 to 30 percent discount on your monthly bill.
Invest Now, Save Later
Believe it or not, it's much easier than you think to end up in a sticky legal bind because you've accidentally used license restricted music in a commercial ad. In order to save yourself the legal headache (and some serious legal fees), do it right the first time by researching your best options for royalty free music resources.
Once you find a top resource that fits your needs, investing in it for the long term will always pay off. Music is an indispensable element to creating quality, impactful marketing and sales videos.