Your target audience is seeking out help from you. They have pain points they need to address and goals they want to achieve.
And they will find solutions either from you or your competitors.
One of the best ways to stand out is by creating engaging content that walks them through how to address a specific problem.
This is where hosting a webinar can elevate you as a credible, authoritative resource in your industry.
What Is a Webinar?
A webinar kind of has its definition in its name: a web seminar.
When you host one, you're able to share a high value presentation in real time across the planet via online channels. It's a pretty effective way of interacting directly with a distant audience.
When you host a webinar, you're going to need to right tools and resources to deliver an excellent experience. Your most important tool is the webinar software you use to create it.
What Is Webinar Software?
Webinar software is the means of producing and hosting your unique live event. There are a variety of interfaces and tools that come with different hosting platforms.
The key characteristic of utilizing software is its ability to enhance interactivity between the presenter and the audience. It's taking all of the best parts of web conferencing and audio conferencing, blending them, and then adding in great features, like live chat, surveys, and screen sharing.
via GIPHY
Common Benefits of Using Webinar Software
Most webinar software programs share some basic features like:
Multiple presenter capabilities
Presentation sharing
Lead registration and capture
But the benefits don't stop there. Depending on which software you're utilizing, tools and features can vary in availability and use.
Simple Event Management
Most brands have refined their user interfaces with one thing in mind: ease of use. You have the option to choose what type of webinar you would like to host, from a pre-recorded video to a live webcast.
Schedule and map out your event with ease by picking a software that works best for you. That way, you have more time to focus on your presentation.
Automated Communications
Webinars have become a popular method of outreach for marketers, educators, and business trainers alike, so software companies have adapted to accommodate the larger audience numbers. You now have the ability to automate invites, confirmations, and reminders all via email.
Once a viewer's information is captured in a form connected to the software, their contact info is locked in so you don't have to stress about re-entering the same email address five times. More comprehensive software will allow you to choose how frequently communication happens as well.
Engagement Tools
Neat tools can be used while the webinar is live, increasing engagement numbers.
Live text chats mean viewers can communicate with you or each other, depending on if you set the chat box to be public or not. You can also implement polls and surveys to either gather feedback or quiz your audience as you go.
Performance Data
Tracking analytics is an important aspect of monitoring the effectiveness of your event.
Software will log registrants, attendance rates, engagement percentages, and more. You can all of this data to plan for future webinars and adapt your marketing strategy.
Video Storage
via GIPHY
One of the great things about webinars is that you can record them for anyone who missed it live or wants to re-watch the event. More advanced software companies have implemented video libraries for frequent users.
You can store all of your recordings in one place for your audience to reference. For ease of access, special links are assigned to each video so that you can share across your communication channels.
Valuable Integrations
If you have an existing CRM on platforms like Salesforce, HubSpot, and others, many webinar software products are able to integrate those contacts into the email lists needed to promote your event.
Branding and Customization Options
Some software allow you to customize the emails and forms that they host for you. This is a great way to keep your branding consistent throughout your marketing strategy, incorporating your company name and business values for maximum visibility.
How to Find the Right Webinar Software
Even with all of those cool perks that comes with webinar software, there's still a lot to consider when shopping for the right tools.
Budget
Webinar software companies usually calculate pricing based on the number of attendees, since they'll be the ones utilizing most of the resources.
You'll need to do research and pick a platform that can accommodate the balance you need between attendee numbers and your budget.
Technical Support
via GIPHY
Webinars are inherently tech heavy. There's a variety of things that can go wrong when setting up or during your event.
Don't leave yourself exposed. Pick a software that has a strong technical support team available.
Analytics
Measuring the ROI of your webinar doesn't need to be a hassle. Look for webinar platforms that can track the analytics you want and measure them effectively.
Size of Audience
You'd be surprised to know that there are attendance caps on certain platforms. If you're planning on hosting a live event with a lot of attendees, make sure that you choose a platform that can handle the volume.
If you pick an incompatible platform, you run the risk of crashing the stream or having registered leads blocked out.
Security Capabilities
You may be sharing sensitive information during your webinar, in which case you'll want to restrict who has access to it.
Or maybe you want the attendance list to be private. Or perhaps you're charging for attendance and need a way to keep payment info safe. Whatever your reason, make sure that the software you select has the necessary security measures to protect what you want safe.
Recording Capabilities
Most webinar platforms have the ability to record your event, but not all of them possess the library features we mentioned before. Depending on your plans to share and store recorded webinars, you'll want to learn what your software options offer.
Engagement Options
What makes webinars stand out is the level of engagement that's possible through software tools. But some platforms don't offer as much as others.
Reference your presentation to decide which engagement features are going to be the most beneficial for you and your audience. This will help you find the software best suited to your needs.
24 of the Best Webinar Software
We've discussed all of the different assets and benefits of software, but you're probably ready to learn about the software options themselves.
We'll go over the pros, cons, features, and prices of the best webinar software around right now.
10 Free Webinar Software Options
Many paid platforms offer free options that have more limited features. Here are some free solutions available for you.
1. Zoom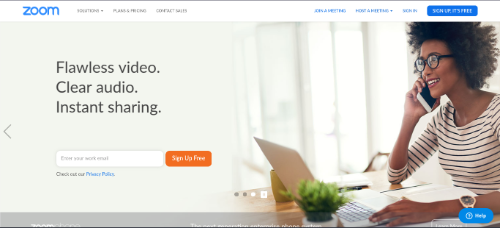 One of the top names in video conferencing for businesses today. Zoom's free plan includes their easy interface, live screen sharing, joining by calling from a phone, a whiteboard, and the option for multiple viewers to annotate.
You can host up to 100 attendees for 40 minutes at one time. One-on-one meetings are unlimited.
Pros:
"Instructor's feature" allows the host to monitor participation and engagement in real time
Clean and easy-to-use chat feature
Strong network connection
Mobile-friendly
Cons:
Lack of integration options
2. UberConference
UberConference allows you to host up to 10 participants for 45 minutes with its free package. It has a pretty simple interface that supports non-video heavy webinars best.
Users can screen share, record webinars, and share documents on an unlimited conference plan.
Pros:
Easy event management
Great for small conferences
Cons:
Browser restrictions
Reliant on Google Chrome extension
No chat feature
Supports only small attendee numbers
3. join.me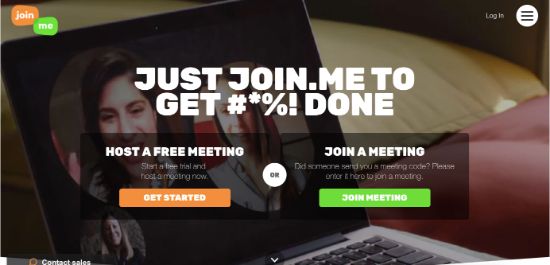 The free version of join.me hosts three attendees on a straightforward user interface. Available on both computers and mobile devices, the screen sharing feature makes for easy, brief team meetings.
Pros:
Easy-to-use platform
Mobile friendly
Audio conferencing option
Branding customization
Cons:
Software version experiences lagging
No chat feature
Supports only small attendee numbers
Not ideal for presentations
4. InstaWebinar
InstaWebinar boasts unlimited conference duration. Hosts can invite up to 100 attendees with screen and PowerPoint sharing.
It's also one of the few free software that can generate name and email lists from the attendees.
Pros:
Presentation support/sharing
Name and email list generation
100 percent free
Cons:
Lack of engagement tools
Lack of integration options
5. Apache OpenMeetings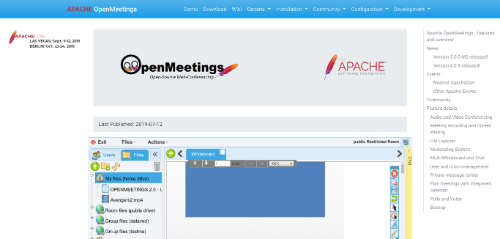 An open source software, Apache OpenMeetings offers users a moderation system, room management tools, screen sharing, file explorer tools, and webinar recording. The developers believe in constantly improving the user experience, so an open forum is available to users.
Pros:
100 percent free
Private and public chats
Whiteboards
Document sharing
Backup system for file storage
Multiple engagement tools
Integrated calendar
Cons:
Outdated visuals/graphics
6. FreeConferenceCall.com
FreeConferenceCall.com can host up to 1,000 attendees at one time. With 24-hour technical support, it's one of the more dependable software.
Hosts are able to easily screen share and record their webinars or send attendees to sub-conferences in "breakout rooms" for small group interaction.
Pros:
Public and private chats
Presentation pre-recording playback
Whiteboard
Remote desktop
Brand personalization
Cons:
7. Skype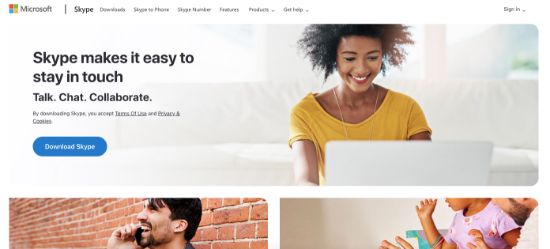 Skype allows for a group of 25 people at once to participate in voice and video calls. Its simple design and availability across all devices makes it pretty popular globally.
Screen sharing, file sharing, and an organized group chat makes for a great experience.
Pros:
Public and private chats
Presentation support/sharing
Brand customization
Mobile friendly
Contact integration through Microsoft account
Cons:
Dependent on a strong internet connection
Lack of engagement tools
8. YouTube Live
Offering live streaming capabilities, YouTube Live has become a new asset to webinar hosts with 36 hours available to an unlimited audience count. It's easy to navigate and free online, not requiring any sort of software download.
Pros:
Unlimited attendee numbers
Browser based
Easy for attendees to access
Cons:
Lack of engagement tools
Less professional
Lack of lead generation opportunities
Disorganized public chat
9. Facebook Live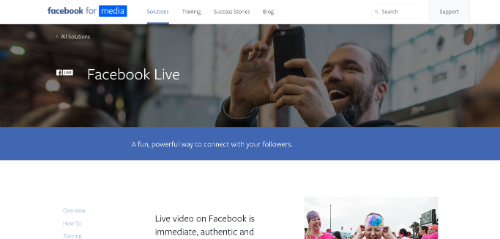 Facebook Live is comparably similar to YouTube's live platform in both function and feature. The main difference is Facebook keeps a stricter time limit at 240 minutes at one time.
Pros:
Unlimited attendee numbers
Browser based
Easy for attendees to access
Cons:
Lack of engagement tools
Less professional
Lack of lead generation opportunities
Disorganized public chat
10. Google Hangouts
Obviously Google based, Hangouts can host a group of 30 attendees directly or broadcast worldwide through YouTube Live. Recorded from the beginning, all webinars are archived on the host's YouTube account.
Pros:
Browser based
Automatically recorded and archived
Presentation support/sharing
Accessible to multiple speakers
Public and private chat
Cons:
Restricted to Google users only
Lack of lead generation opportunities
Paid Webinar Software Options
If you're willing to invest in a subscription or pay per line, then your webinar software options expand considerably. Many of the companies listed below have great packages that will make your event one to remember.
1. WebinarJam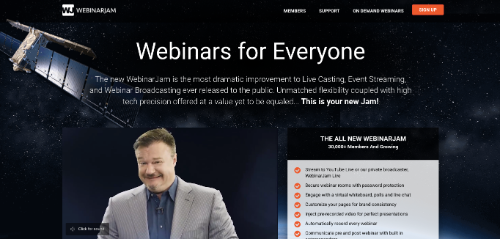 WebinarJam is great for product-focused webinar events. It has popup CTA features, allowing attendees to make purchases during the stream, and has a strong chat feature ideal for engaging with customers.
This software is great for marketers looking to interact closely with their audience. You can even have up to six co-hosts at one time shown on screen.
Pros:
Easy to use
Public and private chat
Engagement tools (polls, CTAs, etc.)
Strong technical support team
Cons:
Audio/video lagging
Lack of integration opportunities
Price: Annual plans begin at $39.99/mo.
2. Webex
Webex allows for screen sharing and live chat to 40,000 attendees at one time.
With a clean, simple interface, and a heavy lean towards team collaboration goals, video conferencing is made easy for larger companies. Webinar recording is available for later viewing.
Pros:
Easy to use
Mobile friendly
Public and private chat
Engagement tools (polls, Q&A, etc.)
Cons:
Lack of integration opportunities from outside software
Price: Plans begin at $13.50/mo. for 50 participants.
3. ClickMeeting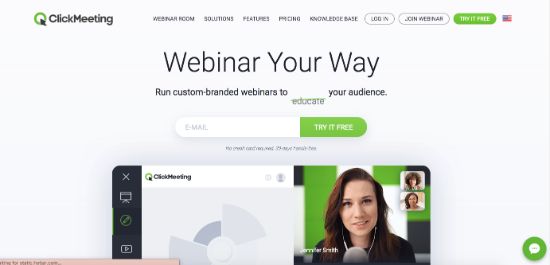 User friendly, ClickMeeting will walk you through how to set up and run your webinar effectively.
If you've used them before, you can quickly set up a new live event by simply duplicating a past event's details, automatically filling out all the fields.
Pros:
Easy to use
Extensive branding customization
Public and private chat
Engagement tools (polls, etc.)
Business/presentation templates available
Cons:
Lack of integration opportunities from outside software
Price: Plans begin at $21/mo. for 25 participants.
4. Zoom (Paid)
Webinar tool options really expand once you get on one of Zoom's paid plans.
You'll have all of the features of the free software with the added bonus of cloud storage, participation reports, admin controls, and a unique, personal domain for your event.
Pros:
Unlimited conference duration
Records video and chat activity
Cloud storage
Webinar analytics
All of the features of the free plan included
Cons:
Advanced user interface
Software is buggy
Price: Plans begin at $14.99/mo. for 100 participants.
5. GoToWebinar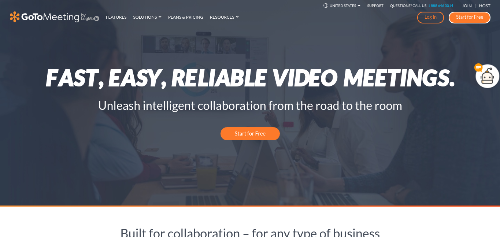 GoToWebinar has been around for a while and offers a variety of customizable tools to hosts. Because of its age though, there have been a lot of flaws found in the software and the customer service.
Pros:
Video sharing
Public chat
Webinar analytics
Brand personalization
"Breakout rooms" for small group interaction
Cons:
Expensive
Slow software
Poor customer/tech support
Price: Plans begin at $89/mo. for 100 participants.
6. AnyMeeting
With a straightforward interface and easy-to-use tools, AnyMeeting has been proven as a reliable video conferencing program.
Its screen sharing, pre-recorded presentation integration, and note taking features make the software ideal for educational purposes.
Pros:
Public chat
Charge for attendance available
Brand personalization
Cons:
Lack of engagement tools
Expensive
Price: Plans begin at $78/mo. for 100 participants.
7. DaCast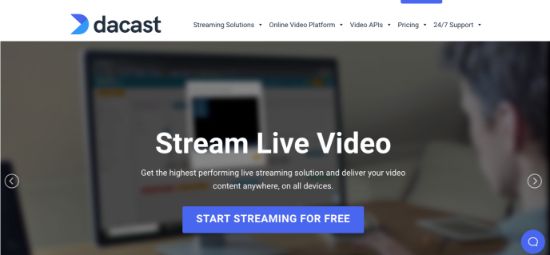 DaCast has a unique pricing plan where hosts can pay per event if they aren't frequent users. The software can be embedded into your website, allowing for streaming from your site over different social channels for viewing.
With special customization features available, the marketability of your webinar increases if you choose to brand the event heavily and charge for attendance to unlimited viewers.
Pros:
Unlimited attendance
Charge for attendance available
Brand personalization
Cons:
Bandwidth restrictions
Lack of engagement tools
Price: Pay per event prices begin at $0.25/GB. Monthly plans begin at $19/mo.
8. WebinarsOnAir
WebinarsOnAir is an add on to the Google Hangouts software that allows you to charge for webinar attendance.
More of a lead generation tool than its own event software, WebinarOnAir can still be a useful tool if worked in tandem with Hangouts' free platform.
Pros:
Easy to use
Charge for attendance available
Brand personalization
Lead information capture
All the features of Google Hangouts
Cons:
Restricted to Google users only
Dependent on Google software behavior
Price: Plans begin at $19.91/mo. for 25 participants.
9. GetResponse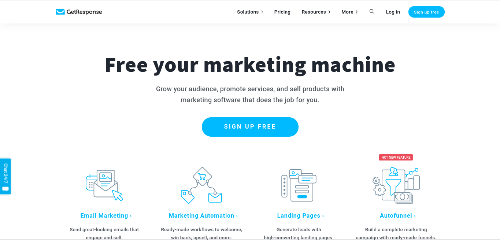 A comprehensive marketing tool, GetResponse provides webinar services as well as marketing tools, CRM integration, and an email database.
Both promotion and production of your live event can be done under this one platform's umbrella.
Pros:
Screen sharing
Whiteboard
Brand personalization
Engagement tools (polls, Q&A, etc.)
Lead information capture
Webinar analytics
Cons:
Price: Plans begin at $49/mo. for 100 participants.
10. EverWebinar
EverWebinar is an extension of WebinarJam where you can automate webinars recorded on the primary platform.
The recorded events can be used to market to your audience and generate leads who haven't ever attended one of your webinars before. It simulates the webinar experience for the viewer, making it feel much more engaging than just a video. Basically, it's a fake or "staged" webinar.
Pros:
Attendee numbers can be faked
"Ask a question" option sends viewer questions to your email
Smart bots
Webinar analytics
Mobile friendly
Cons:
Price: Plans begin at $41/mo. for 100 participants.
11. Demio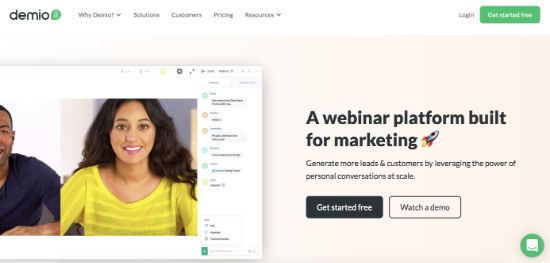 Demio has more data tracking capabilities than other software, monitoring attendance, conversion, and even offering automation rules that you can customize for different attendees. Easy to use and browser-based, it's an excellent tool for marketers.
Pros:
Webinar analytics
Automated outreach
Conference recording
Contact/list integration
Public chat
Cons:
Some device/browser restrictions
Price: Plans begin at $47/mo. for 100 participants.
12. Livestream
A technologically advanced software, Livestream has some of the most high quality video and audio features on the market.
An unlimited number of attendees will be able to reference the recorded webinar that's automatically put into cloud storage. The company offers a camera, MEVO, that's smart enough to find its own angles and track the speaker's head movements.
Pros:
HD video and audio
Unlimited attendees
Unlimited storage
Charge for attendance available
Cons:
Price: Plans begin at $42/mo. for 100 participants. Features (webinar analytics, piracy prevention, etc.) increase in more expensive plans.
13. EasyWebinar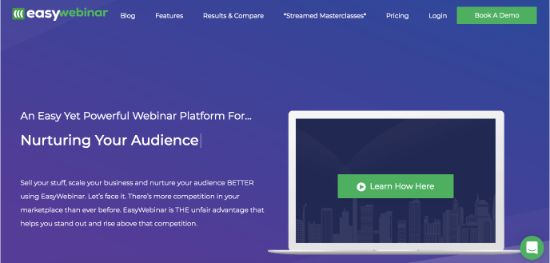 EasyWebinar is a comprehensive software meant to aid your marketing strategy.
It has a long list of features including a video archive, screen sharing, pre-made sales funnels, multiple presenter controls, and an extensive analytics suite.
Pros:
Webinar analytics
Public and private chat
Contact/list integration
Mobile friendly
Engagement tools (polls, Q&A, etc.)
Cons:
Price: Plans begin at $59/mo. for 100 participants.
14. Zoho Webinar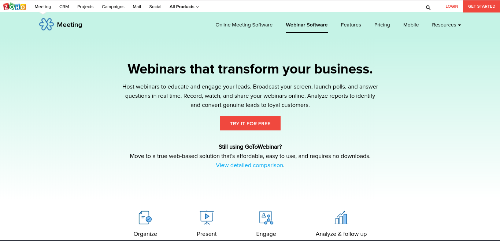 With a simple and clean interface, Zoho Webinar is a popular option among businesses. Extremely brand friendly, you can customize your registration forms and emails. As an extension of Zoho Meeting, you receive all of the platform's internal communication tools as well.
Pros:
Engagement tools (polls, Q&A, etc.)
Webinar analytics
Public and private chat
Mobile friendly
Cons:
Not suited for large groups
Basic automation features
Price: Plans begin at $15/mo. for 25 participants.
Find the Ideal Webinar Software
With the right webinar software, you can host high value events that are informational and engaging. No matter your budget and resources, you will find an excellent option that drives the results you need.