Are you properly segmenting your contacts to provide you with the best results for your business? Segmenting your database needs to be an ongoing process; you should always be thinking and analyzing how your strategy for each list is working for you. Your buyers are not all the same; therefore, they need to see different content.
By segmenting contacts, you can show them the perfect CTA for their life cycle stage, plan the most effective content strategy possible and tailor the messaging used on your website. This is one of the most effective ways to successfully target your leads, by bringing them the most relevant, helpful information possible. However, it is also one of the most difficult marketing tasks you'll have to face. You can start the segmentation process by going through your database and identifying each contact's similarities. From there, you need to create a unique strategy for each list.
Now that your contacts are in your database, it's time to start strategically segmenting them into the right lists.
Engagement
You can easily segment your contacts based on their level of engagement, and no, we're not talking about rings here. If you have a hot lead that is on your website who is reading blog posts and downloading your latest offers, you want to speak to them in a different manner than those who stumble upon your content every now and again. You don't need to go in as great of detail about your products/services to your frequent visitors; they require less explanation because they're already in the know about your business.
If one of your contacts hasn't visited your website in over 60 days, you can create a workflow that reminds them about your business and inspires them to come back.
(Almost) Sales-Ready
These are the leads that are close to completing the sales process, but haven't, and should be segmented into a separate nurturing list. This type of list can be made for every stage of the sales cycle: top, middle and bottom-of-the-funnel leads. You should put these contacts into a lead nurturing workflow to help move them further along in the buyers journey.
Demographic
Knowing the age, company title, gender, etc. can help you target specific individuals with information that really speaks to them, which will surely increase your conversions. Be aware this doesn't mean that you need a completely new set of content for each demographic.
As a general rule, the more people that relate to your brand means the more successful you'll be. For example, you can segment your contacts in an age bracket together. You can make little changes with this knowledge, like the tone and language you use. If you include pictures, you can make sure that it resonates to your target audience by making sure the people featured are their age. These little tactics really help people connect to your brand.
Industry-Specific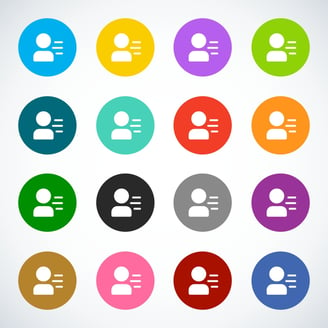 If you're another inbound marketing agency, for example, you might have clients from all types of industries. Here are Bluleadz, we have clients that specialize in many different industries-- from green industrial washing machines to engineering to copy data management. We all know that personalization sells. Adding that personalized touch within your content or emails will help you create a better user experience.
You can easily segment these contacts as well and provide them with case st udies you've done for, say, other manufacturing companies. Those prospects will realize you understand their business and have worked with professionals in your industry before.
Geography
With all the wonders the Internet brings us, it seldom matters if you're actually close in proximity to a prospect or not. However, there are times when knowing their location will help you capture their business. For example, if your company is attending a trade show or conference, you can send emails to a geographically-segmented list. People respond to personalization. Use this tactic when you have a special event or service that would benefit people in a certain area.
Your email marketing campaigns will be significantly more successful if you segment your contacts effectively. By segmenting contacts the right way, you're sending them information that they actually care about and are interested in sharing with their peers. If you create content strategically based on the needs and concerns of your audience, you'll be sure to see less opt-outs and spam complaints. Taking the time to create segmented lists from your entire database, will let you create lead nurturing campaigns that better suit your target market.