We live in a world where everyone wants it "their way," and people expect businesses to deliver custom options.
Think about how people order when you go to a restaurant. They want no tomato, but add avocado, and the burger to be cooked medium-well, but not too well.
Modern consumers expect the ability to customize anything and everything to fit their individual preferences.
If you want your business to become competitive in a global marketplace, you have to tune into what other companies are doing and then figure out how you can offer something more specific to your customers.
To stand out, you have to figure out how to create a fully custom experience – from the design of your website, to the ease of ordering, to the items you offer, and how you can make them unique.
About one out of every three consumers indicate that they want the ability to personalize a product and will look for that specific ability when shopping.
But before we look at how to implement customization and personalization into your marketing and product development, let's break down the difference between the two.
Customization vs. Personalization
The two words aren't actually interchangeable. Sure, they overlap in intent, but there's a stark difference in how they're initiated.
What Is Personalization?
Personalization is centered around the idea of tailoring a user's experience for them.
Using collected user data and research, content, interface, and marketing can all be catered toward the ideal user's direct interests.
Personalization increases user-relevancy, therefore increasing conversion rates.
What Is Customization?
Customization is about what the user can do themselves.
Users can adapt a product or service to their own preferences, exercising control over their own experience. It can increase their happiness and their engagement.
This concept can be elevated by a company through mass customization. Whenever a business is able to efficiently mass produce products that meet individual consumers' desires, they're offering their customers an opportunity to be unique.
For example, a basic model of a car can be customized through different features (e.g., GPS, paint color, wheel style, etc.) at the buyer's discretion.
The Benefits of Offering Customization Options
There are many benefits to offering customization options to your customers.
1. Charge More.
Adding personalization allows you to charge more for products because people understand the setup is more intensive than a cookie-cutter approach.
Studies show people are willing to pay about 20 percent more for a personalized product.
However, adding personalization may not cost you much at all, if you are strategic about the way you add the customization. Keep in mind, you can create a template and adjust it for each customer.
Things Remembered is a good example of a company charging a bit more for personalized products. You can find some of the same items at big-box retailers, but they won't be personalized, so people seem to be willing to pay a premium for their products.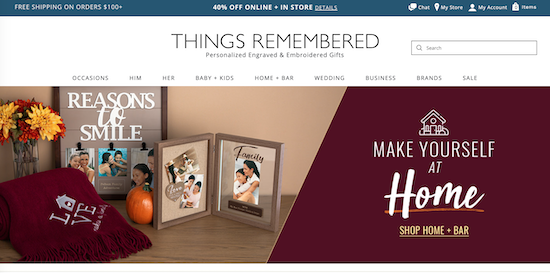 Source: Things Remembered
On top of that, they have a minimum charge of $10 and additional upcharges for longer names, monograms, and designs. Consumers search for the item they want, then add on their customization options.
2. Build Customer Loyalty.
If customers can get the exact item or service they want from you, they will come back again and again.
Why would they go to your competitor, who likely doesn't offer the same customization options? If you give them what they want, they'll tend to be loyal to your brand.
The key to building loyalty through customization is to first make sure your options are unique from what your competitors offer. Perhaps your competitors offer an option to add a first name to the back of a white T-shirt.
However, you not only offer the ability to add the name, but you also offer the shirt in 10 colors. Maybe you also allow them to put their first initial on the front pocket to make the item stand out even more.
The more you can stand out with your customization, the better.
3. Make Luxury Items More Attractive.
If you sell a luxury item, adding the ability for the consumer to customize that product can make it even more attractive.
Imagine you are about to spend five or six figures on an item. You would likely want to ensure that item was exactly what you wanted, including colors and amenities.
One example of a company that offers customization in this vein is Formula Boats, where the consumer can create a custom boat. The site offers the ability to add a graphic of choice on the side, and edit anything from the engine type to the color and graphics used.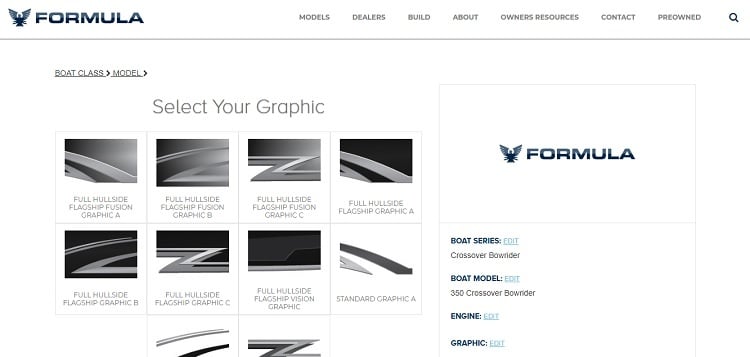 Source: Formula Boats
Of course, there is an upcharge for changing different elements, but the consumer can still customize and buy the exact product they want, creating the changes through the site's online portal.
4. Win Over Millennials.
Millennials make up a huge portion of the buying public, and with them coming of age recently, they will be consumers of goods and services for many years to come.
About 55 percent of millennials indicate they like personalized experiences, especially those associated with a good cause.
Imagine if you could tap into the huge market of baby boomers. Just picture how many sales that would equal and how your business would grow.
Did you know the millennial generation is even larger than the baby boomers? Those aged 18 to 34 in 2015 made up 75.4 million of the population, while baby boomers made up 74.9 million. If you're not already marketing to millennials, you'd be smart to shift your strategy accordingly.
5. Sell Online, But Stay in Retail.
One issue manufacturers sometimes run into is the difficulty of breaking into online sales after they've established a presence with placing their products in brick-and-mortar retailers.
If the manufacturer starts selling online, the retailers they work with may feel they are being undercut and grow angry. Big-box retailers may even stop carrying the product, which can hurt your bottom line.
One example of a company that encountered this issue is Nike.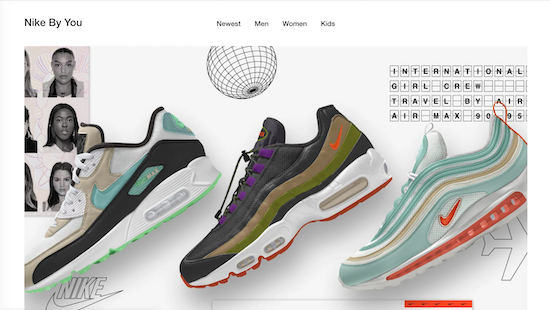 Source: Nike
Their products were already in retailers all over the world, but they wanted to break into the online retail market. Their solution was to offer the ability to buy custom shoes with their site.
Be Prepared for the Future
As the prices of 3D printers, laser etchers, and other tools that once cost tens of thousands of dollars continue to drop, more and more customization options will be available to consumers.
By offering customized options now, you are doing market research that will allow you to easily reach your target demographic when other competitors finally jump on board. This step will put you ahead of the competition.
With customers increasingly demanding personalization, it's likely this is one area of business that will continue to expand over the years.