Game of Thrones found its victor. The Avengers assembled one last time. Star Wars fans eagerly await to visit the edge of the galaxy. 2019 is a big year for pop culture events, and we've seen some demonstrations of entertainment marketing at its finest.
But what can we learn from this? What even is entertainment marketing, and how does it work to make pop culture into a big buzz throughout our society?
What Is Entertainment Marketing?
To understand how entertainment marketing works, we first have to understand what it is.
Entertainment marketing is the process of using marketing strategies to generate interest for an upcoming entertainment event, such as a movie release, theatre production, TV show, or attraction opening. Basically, if the event is meant to be "entertaining" to the public, then its promotion probably falls under the umbrella of entertainment marketing.
Popular entertainment marketing strategies include celebrity endorsements, strategic brand partnerships, and product placement.
These tactics permeate pop culture events and contribute to their rise through our society.
The Biggest Pop Culture Events This Year
Popular culture is composed of the ideas and elements that are relevant to a specific timeframe. It includes elements like music, television, movies, sports, leisure, digital life, and general fads.
For example, have you noticed that a unicorn theme has popped up all over the place? There's unicorns on t-shirts, throughout the internet, and even in your coffee (thanks a lot, Starbucks) – that's a pop culture fad.
Every year has its own set of pop culture spectacles, but 2019 really stood out. Several major entertainment hits came to an end, and shocking unveils of new projects were released to stir up buzz amongst fans.
But how does pop culture manage to become such a buzz throughout our communities? Easy – entertainment marketing.
Pop culture is perpetuated by mass media, so it's only natural that marketing strategists have tapped into that channel to promote pop culture events like movies and TV shows (and yes, unicorn coffee).
Let's take a look at three of the biggest pop culture events of 2019, and how they nailed their entertainment marketing campaigns.
The End of a Thrones Era
Unless you live as part of an isolated jungle tribe or on a remote desert island with no method of communication with the outside world, (in which case, how are you reading this blog post?) it would have been impossible for you to miss all the buzz centralized around the end of Game of Thrones.
Apart from the fact that absolutely everyone on and off of the internet was talking about it, the show made a series of powerful, strategic brand partnerships to promote the series finale, and their efforts really paid off.
Each of these partnerships contributed to re-establishing GoT's presence after a long hibernation of two years, which was important to promoting the final season and generating buzz amongst fans.
Oreo
In a truly impressive feat of snacking, Oreo and Game of Thrones partnered together to recreate the GoT intro – constructed entirely by Oreos. The production required a total of 2,750 Oreos to create.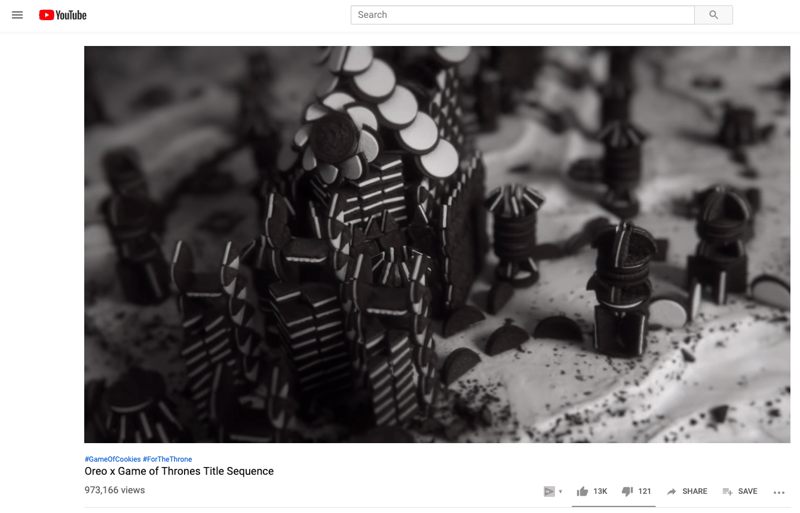 Source: YouTube
The efforts not only promoted the final season of Game of Thrones, but it also launched Oreo's limited edition cookies, which featured custom embossments of each of the three remaining houses competing for the throne – Stark, Lannister, and Targaryen – and the night king.
The partnership also tapped into social media marketing strategies, allowing fans to pledge their loyalty to specific houses using social tags #FortheThrone and #GameofCookies.
Red Cross
Nothing says strategic brand partnership like supporting a good cause. HBO partnered with American Red Cross to promote the final season while also boosting blood donations.
With the social tag Bleed #FortheThrone, the campaign promised that those who donated blood would be entered to win a life-size iron throne – attracting GoT fans from all over.
Mountain Dew
Similar to Oreo's limited edition cookies, Mountain Dew released a limited edition can that featured all the names on Arya's kill list – but only when the can is cold.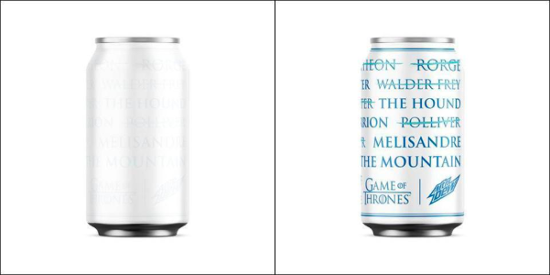 Source: Forbes
Mountain Dew made it difficult for fans to get their hands on these cans, thus making the immediate demand for them even greater. In order to grab one, fans had to post on Twitter using the tags #ACanHasNoName and #FortheThrone, stating what they would sacrifice for it. Eight hundred limited edition cans were given away via this method.
The only other way to get your hands on one involved living in New York or Los Angeles and going on a little scavenger hunt to find a "master of coin" and an "iron vending machine."
Bud Light
Game of Thrones managed to edge their way into a highly coveted Super Bowl commercial spot by partnering with Bud Light.
HBO and the popular beer company produced a commercial that featured the Bud Knight being defeated in a joust by GoT's the Mountain. Danearys' dragon then makes an appearance to burn the whole village to the ground.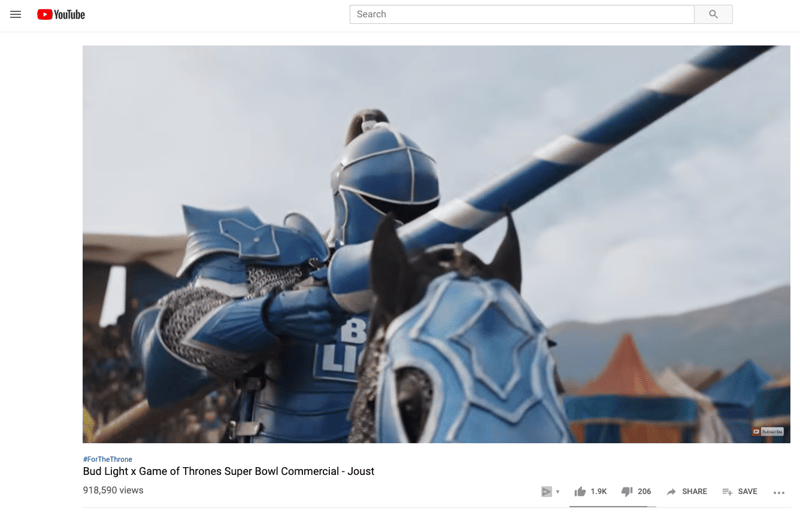 Source: YouTube
Not only does a Super Bowl spot receive millions of eyes, but the commercial was also comically entertaining and provided GoT fans with a little treat of visual video content to build anticipation for the new season.
MLB
Much like Oreo, HBO also partnered with the Major League Baseball Association to produce another creative take on the show's intro. However, instead of displaying Westeros, the video uses the shooting style of the show's introduction to showcase a baseball stadium being erected.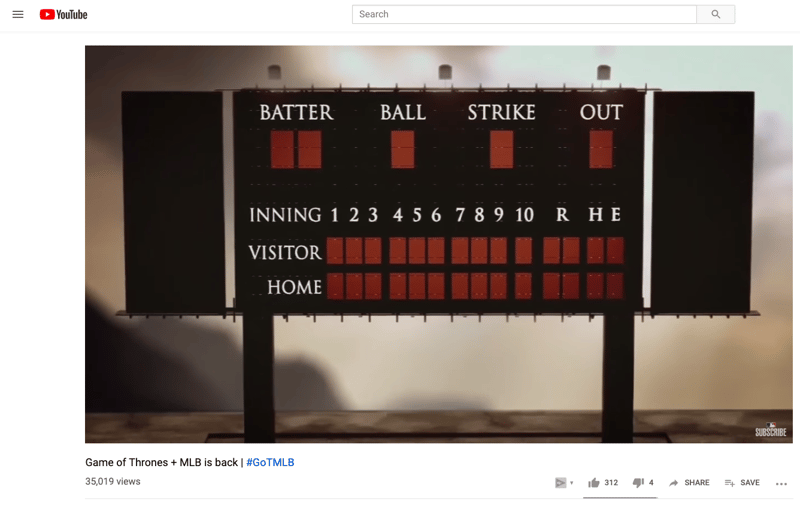 Source: YouTube
The ad even ends with the line "Baseball is coming," playing off the Game of Thrones tagline, "Winter is coming."
The Avengers Assemble
Marvel has built an intricate universe over the course of 21 blockbuster hits. There's no short supply of fans for the superhero comic series, and a big portion of that is due to the entertainment marketing that Marvel carried out.
From Spider-Man to Iron Man to Thor, Loki, and Captain Marvel, the build-up to the final Avengers movie has been long awaited by many. While Marvel has done plenty of brand partnering in its time, strategies for Avenger's: Endgame have gone against the grain of their usual Avenger's marketing tactics in a few major ways.
Trailer Content
One of the biggest changes its made is seen within the content of its trailers. The trailers dive right into the story, assuming that viewers have already seen Avengers: Infinity War. By doing this, they're catering to the target audience that is going to be interested in watching the movie.
They know that people who haven't been following along with the Marvel series aren't going to suddenly decide to go and watch the final installment – so why try to use precious seconds of a trailer to fill them in?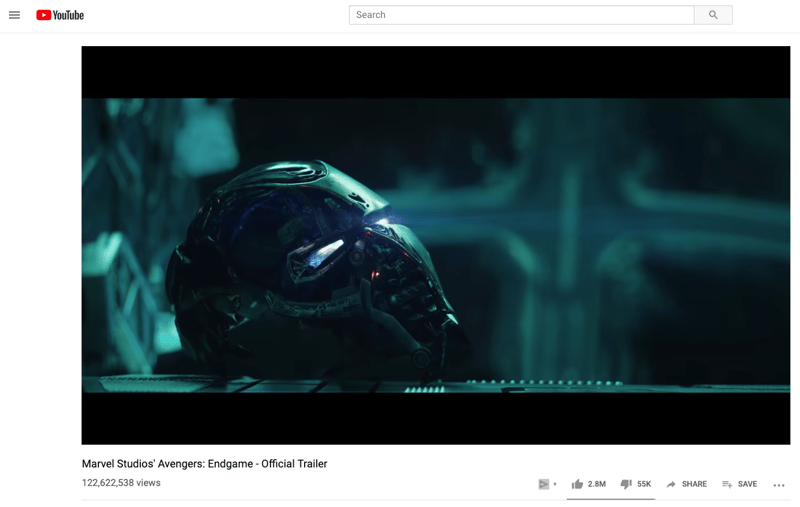 Source: YouTube
Secondly, you'll notice that the trailers for Avengers: Endgame are significantly different to those of previous Marvel movies in one major way – they focus on characters instead of action.
There are no major spoilers and no enticing or gripping action scenes of battles between the Avengers and Thanos. The trailers focus on the somber stories of the surviving characters, even featuring footage from previous movies to spark nostalgia within the audience.
Essentially, they leave a great big blank hole in how the movie is going to play out, which naturally makes fans even more eager for the final release.
Social Media Marketing
Knowing that their audience basically lives on social media, Marvel made the most of their 50 million Instagram followers and released a series of posters one month before the movie's release date.
The posters featured the tagline, "Avenge the Fallen" with the caption "One month. #AvengersEndgame." The posters received millions of likes and thousands of comments.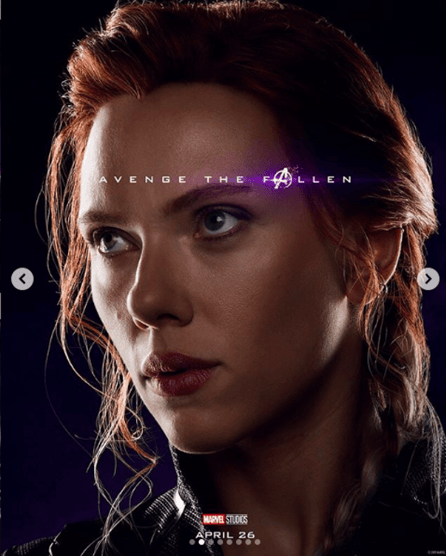 Source: Instagram
Influencer marketing also played a role in promoting the movie. With stars like Robert Downey Jr., Scarlett Johansson, and Chris Hemsworth posting about the movie on their social media channels, Marvel was able to reach a wider audience, and traditional fans naturally went wild for it.
Cross-Promotion
Marvel engaged in some cross-promotion between Avengers: Endgame and Captain Marvel. While Captain Marvel was in theaters, the studio released clips from Avengers: Endgame highlighting her role within the movie.
This not only prompted viewers to go and see Captain Marvel as a build-up to Avengers: Endgame, but it also added the final puzzle piece into the Avengers story anyway.
Reaching for Galaxy's Edge
This year, the Star Wars: Galaxy's Edge theme park is opening at both Disney's Hollywood Studios in Florida and Disneyland in California. The attraction opened at Disneyland on May 31 and is set to open at Disney's Hollywood Studios on August 29.
The new attraction is unlike any other at any of the Disney franchises. It's not just a series of rides – it's an immersive storyline experience that allows guests to actively integrate with the environment around them.
Storyline App Integration
Star Wars: Galaxy's Edge is the first attraction within a Disney park designed to integrate with the Play Disney Parks mobile app. Essentially, visitors can engage in a kind of real-life video game, using the app to interact with the Star Wars land that they've been dropped into.
This goes far beyond Disney's promotion of new rides. It's an immersive, personalized experience that is designed to envelope visitors in a storyline.
The technology they've developed to create this experience is a highly effective marketing tactic to drive engagement on their new app and delivery a completely new, unique experience.
Releasing Features to the Public
Disney released information about the immersive, detailed features of the attraction, which contributes to the depth of the entertainment. Their May 2019 first look feature on CNN dove deep on the creation process and teased details to eager fans.
Source: CNN
Some of the coolest details include an expansive food menu complete with outdoor market vendors and places like Oga's Cantina.
Apart from the food, attractions include merchandise experiences like a Droid Depot where visitors can build their own droids and a workshop where they can hand-build custom lightsabers. There's a myriad of other shops and market stalls selling on-theme merchandise straight from the Star Wars universe.
The Takeaway
When it comes down to it, one of the best ways to generate buzz around a pop culture event is to let people know that it's actually going on. Good entertainment marketing centralizes around building anticipation for that final release.
Engaging in mutually beneficial brand partnerships is a great way to do this, but so is the strategic release of teaser information and well planned product placement.
For something to become a pop culture event, it needs to permeate mass media – primarily social media, as that's the online hub for the world's population.
The entertainment marketing campaigns we've seen above found a way to achieve this – through actions like cookie partnerships, influencer endorsement, and app development.
If you're looking to market an event, whether it's a production release, a new product launch, or simply an entertaining gathering for your audience, consider how you can utilize current culture to build awareness and anticipation for it.