I've got an important question for you: Is your website mobile-friendly? If the answer is yes, then that's great. If not, then it's time to do something about it before it's too late.
Why does your site need to be mobile friendly? Here are a few critical reasons why you need to optimize your website for mobile device users:
Reason #1: Sales, Sales, Sales!
Your website is often your first point of contact with potential customers, a place where people come to look for a solution to their problems. This is especially true of mobile web users. According to SearchEngineLand.com, "9 out of 10 mobile search users have 'taken action' as a result of a mobile search, with over half leading to a purchase."
Let's break this down into numbers. If 100 mobile users find your site online, about 90 of them would become leads, signing up for some piece of content on your site in exchange for contact information. Of those 90 leads, roughly 50% of them would purchase one of your product or service offerings, meaning 45 sales.
Reason #2: Mobile Users Take Action Quickly
As reported in a Forbes.com article, "70 percent of mobile searches lead to action within one hour. (It takes a full month for the same percentage desktop users to catch up)." That's right, a lead generation process that would take a full month of lead nurturing efforts and work with the average PC user completes within an hour when dealing with mobile users.
Part of this may have to do with mobile users having some kind of immediate need at the time of search, or that they view devices such as smartphones as a tool for enhancing the shopping process. As stated on searchengineland.com, "79 percent [of shoppers with smartphones] use their smartphones to help with shopping."
In short, not only do smartphone users make purchases, they move through your sales funnel quickly, becoming a lead or making a purchase more readily than traditional PC users would. Shorter sales funnels mean more revenue now rather than later, helping to improve your cash flow.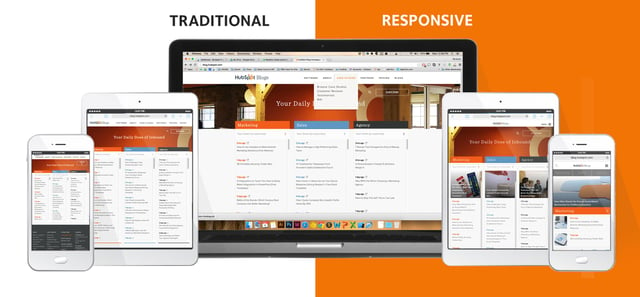 Reason #3: To Allow Mobile Users to Navigate Your Site Easily
A site that is optimized for navigation on PCs won't necessarily be as easy to navigate using a tablet or a smartphone, since these devices use screens that are much smaller than the average PC monitor.
When a site isn't made to be responsive to the different types of devices that might access it, the images, tabs, and text of the site tends to be rendered very small. This requires the mobile device user to pinch and drag zoom on the site, which can quickly become frustrating and discourage mobile users from navigating your site.
Mobile users are used to convenience and ease, if you website is too difficult to navigate because it isn't mobile-optimized, then they will leave your site and try again somewhere else, somewhere more convenient to navigate.
To highlight this, consider the following factoid from Hubspot's list of essential mobile marketing facts, "74% [of mobile users] are only willing to wait five seconds or less for a web page to load before leaving the site." A fairly huge departure from the days when people would wait for several minutes sitting through a modem dial tone for the old AOL homepage to load so they could start accessing the web.
In short, if your site isn't convenient for mobile users, you'll lose their business when you could have had easy money. Making a site mobile-friendly ensures that it is immediately useable to mobile device users, enhancing the chances that you'll close a deal with these users.
Reason #4: Google Will Punish Your Site if it Isn't Mobile-Optimized
On April 21, 2015, Google will release an update for their search engine algorithm that is designed to, in the words of their webmaster blog, expand their "use of mobile-friendliness as a ranking signal. This change will affect mobile searches in all languages worldwide and will have a significant impact in our search results."
What does this mean for your site?
Well, if your site is optimized for mobile users, being designed to responsively adjust based on the type of device it's being viewed on, then this update shouldn't be a problem for you. In fact, your ranking in search engine results pages should improve, making it more likely that people will find your website.
If your website isn't optimized for mobile devices, on the other hand, prepare for a world of pain and frustration. Websites that lack any kind of mobile optimization can expect to be buried deeper in the results pages for searches as mobile-optimized sites get the preferential treatment, even on PC-based searches. Bluleadz offers a sleek, responsive template called the Tampa Template. Check out a live demo here and get the ball rolling for your site- before the Google cut off date.
Don't wait until Google's update starts to slam your website's ranking, make sure that you're ready with a free website review by clicking below.