The Best Meet the Team Pages
1.

Lateral

2.

Etsy

3.

Wistia

4.

Atlassian

5.

Targetprocess

6.

6tematik

7.

Humaan

8.

FCINQ
9.

Electric Pulp

10.

Globule Bleu

11.

Stink Studios

12.

Digital Marmalade

13.

CloudHorizon

14.

Unfold

15.

Bluleadz
When a visitor comes to your site and clicks on your Meet the Team page, what do they see?
Headshots? A team photo? Nothing? If your answer is nothing, then you should definitely keep reading.
Visitors should get a sense of what your team is like after exploring this page. If it's pretty unclear who they would potentially be working with, then it's time to revamp your Meet the Team page (or create one in the first place).
What Is a Meet the Team Page?
via GIPHY
This page is dedicated to highlighting your business' strongest asset: your team.
Sometimes seen as an extension of the About Page, Meet the Team is all about introducing your visitors to your employees, providing transparency and a sort of personal touch.
It's a great way to put faces to names and position titles. Today, that's incredibly important since customers prefer a much more personalized, intimate experience with the businesses they purchase from. Long gone are the days of just casual, impersonal sales.
Characteristics of a Strong Meet the Team Page
An awesome Meet the Team page checks off all the right boxes:
It has personality.
It is full of quality images and/or graphics, including headshots.
It branches out from other cookie-cutter designs.
It highlights the people who make up your team in both a professional and unique way.
Remember, the whole point of this page is to help familiarize potential customers with your staff. You could be boring about it, but that's not the best way to inspire trust and camaraderie.
Make sure your page uniquely showcases your awesome team and all of their skills with fun, informative employee profiles too!

What Is an Employee Profile?
Employee profiles tell the story of your team members and their relationship with your company. This is where each employee can drop their humility a bit and boast about their capabilities, accomplishments, and what they bring to the team.
You can either publish a professionally written profile created by the company or encourage your team members to write their own during their onboarding process.
Regardless of how it's written, it should always include these important details:
Name
Position/specialty
Years with the company
Relevant industry experience/accomplishments
15 Unique Meet the Team Page Examples
Below are some companies that we think are doing a kickass job with their Meet the Team website pages. Take out your notepad and find some inspiration of your own.
1. Lateral
Lateral is a design and development studio that is absolutely killing it with the design of their team website page. When you first land on the page, you see individual headshots of each team member.
However, they aren't your standard LinkedIn profile picture headshot.
When you look closely, you'll see that each team member is posed in a way that represents their personality. They took the average team member headshot to a whole new level by making the individual team members interact and move in the direction the mouse moves. When you highlight a particular person, everyone else looks toward them – slightly creepy, but very cool.
2. Etsy
Chances are, if you shop online, then you've looked at (and probably bought from) Etsy. By looking at their team website page, you can tell that the group is made up of unique individuals, just like the vendors that sell on their site.
They start with a clean look and highlight their leadership team, but they don't just focus on the top dogs. You can scroll down and see a collage of all team members, whose photos are highlighted with their name as you scroll over. The message of how their team is "lovingly built and maintained by these fine folks" reflects their overall brand.
3. Wistia
Remember how awkward you felt taking class photos back in school? Well, Wistia embraces class photos and shows their fun side with their "yearbook" team page.
Each team member is posed facing the right side of the screen, like you did for your senior photo. However, when you hover over the individual, you will see them in a variety of different poses, acting silly and showing their personality. This is only in "Directory Mode," though.
A very interactive "Drum Machine Mode" is the highlight of this Meet the Team page. Each team member is associated with a specific sound. Play around and record your very own song. Press the play button and watch the team's photos come to life.
4. Atlassian
The Meet the Team page on Atlassian's website is definitely unique – so unique, that they created their own personal bobble heads for their leadership team.
Like traditional bobbleheads, these team members' heads will bobble back and forth when hovered over. Clicking on a team member will bring up a more professional headshot, a link to their social accounts, and a brief bio.
5. Targetprocess
When you first get to Targetprocess' team page, it might look like your typical aerial group shot. However, when you click on the different team sections like Founders, Marketing, Engineers, Support, and Managers, the static image changes into a video as all the individuals who are not on that specific team exit the page.
The individuals left on the team you clicked on then group together. It's a great interactive way to show how each team makes up the entire company.
6. 6tematik
A French agency, 6tematik, ditches traditional headshots with modern silhouettes that have a pop of color for different features of each team member. From pink glasses to a few aqua blue beards, there's a different pop feature added to each individual's image.
It's a different spin on your typical team member page, which helps them stand out. They also have a spot on the page where they invite potential new hires to meet for a cup of coffee. I love it… or should I say "J'aime ça?"
7. Humaan
Forget traditional office attire when it comes to Humaan's team photo page! At first glance, everything you see on this page makes it look like they're about to attend a murder-mystery party or play real-life Clue.
This is not something you'd typically see from a team photo, and it definitely adds character. As if the first image wasn't different enough, the rest of the page has fun GIFs of each individual team member to show more of their own personality. My personal favorite is Matt Boddy – who doesn't love Nerf guns?
8. FCINQ
FCINQ's team member page is clean and colorful. You can click on individual photos to view team members' names, titles, and social media links.
FCINQ also incorporates job clusters on their page. If you click on "developers," for example, those who work in the developing category are highlighted, and all other circles are faded out.
9. Electric Pulp
Professional on the outside and fun on the inside is the theme of Electric Pulp's team member page. The page first appears very clean with black and white headshots of each team member.
However, as you scroll over each individual, the headshot card flips around to show a funny GIF that represents that team member's personality. From Patrick Swayze dancing to a classic cat GIF, it's a fun and professional way to show that these coworkers are serious about their job, but they still enjoy a little fun here and there.
10. Globule Bleu
Forget everything you know about traditional team pages when looking a Globule Bleu's website. They start with a puzzle-looking page, made up of images from a Lego man to a blow dryer.
When you then click on a specific image, it leads to a team member's photo made up by similar mosaic squares. Instead of bios, though, they have three songs from their Spotify list to highlight their personalities.
11. Stink Studios
Stink Studios takes a very simple approach to its team page. An ever-refreshing page shows six team members at a time. The background color varies, and each photo has a little personality. When hovered, viewers can see the name and title of each individual.
I personally enjoy the constant refreshing page feature: it allows you to focus your attention on just six employees at a time rather than seeing every person that works there. The staggered design is unique and gives a slightly 3D effect.
12. Digital Marmalade
Digital Marmalade proves that it isn't hard to be both professional and personal on your company team page.
When first scrolling, you'll notice very cohesive, right-aligned photos of each team member. When you select a team member, a bar chart will pop up and provide business-related information like "years in industry," "years in DM (Digital Marmalade)," and even "coffee-making skills."
The best part, however, is the option to select various photos. Each team member has an industry headshot, a personal photo from childhood, and a superhero photo – yes, a superhero photo.
With each photo, the bar chart changes to display new information. For "Personal," you can learn each member's favorite football team, book, movie, food, etc. For "Superhero," you will not only discover what superhero each member would be, but you can compare their superhero "skills" such as mobility, healing factor, and stamina.
13. CloudHorizon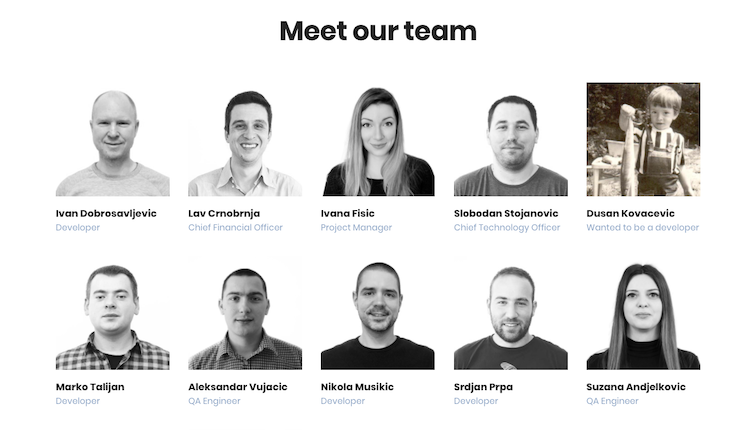 CloudHorizon, a mobile product development company, highlights how they're driven to help bring business ideas to life and tells an impactful story of their beginnings on their about page.
Scrolling further down the page, you can see all the faces of their team. They do a great job of highlighting their talented team by providing a headshot. When you hove over their photo, you can see each person's childhood photo and a description of what they wanted to be when they were younger.
14. Unfold
The Meet the Team page on this Norwegian digital agency website follows a minimalistic style. Plenty of white space surrounds each member's information, adding to the clean look of their site. They kept information minimum by only including each member's name, work category, email, and phone number.
Small pops of color are integrated into Unfold's design through squares that are placed offset of each photo. This is a small touch that really does make a big difference, and each color draws your attention across the screen to the next team member's photo.
15. Bluleadz
At Bluleadz, we love to show off the awesome people who are responsible for keeping our business booming. We section our staff off into teams and include a photo and personal description of each member.
The colors on the page are consistent with our style guide and each employee chose a GIF they felt represented who they are. You can also get a peek at some trivia questions and a cute baby photo!
4 Quick Tips for Updating Your Meet the Team Page
Are you ready to update your team's website page after seeing all of these examples? Adding personality and being creative can go a long way in highlighting your hardworking employees. Here are some easy ways you can start updating your page:
Get silly! Show your personality with fun photos of your team. Not everything needs to look as serious as a driver's license photo.
Share fun facts. Highlight each individual's personality with fun facts about each team member.
Tell a story. If your company has the capability to create videos, then it's a great idea to take advantage of that and show what each team member does at the company. If you can't do full video, then GIFs are a great way to add a video-like feel to the page.
Get personal. Visitors are on the page to get to know your team, so share contact info or social icons for different members to encourage them to reach out!
It's so important to have fun when you're celebrating your team. Use these examples to get inspired, and follow these simple tips to take your Meet the Team page to the next level.