Branding requires consistency.
Everyone knows the McDonald's logo and colors. When scrolling through Wistia's website, you'll always see their pastel color scheme and cohesive imagery.
Consistency is key.
To effectively maintain brand consistency, everything your business publishes on the web, prints for distribution, or creates in general should be created with your business's key design elements in mind.
Luckily, your company can easily develop an all-encompassing document that can store all these elements and detail out all the nitty-gritty specifics your team should know when putting them to use. What is this amazing document I speak of?
A brand style guide.
What Is a Style Guide?
A style guide is a book of rules that outlines everything pertaining to the look and feel of your brand. It can be a book, document, poster, pamphlet, PDF, or whatever is easiest for your teams.
A style guide defines and explains your typefaces, colors, logos, and everything in between. Without a style guide, your teams might present inconsistencies in their materials. So marketing might distribute promotional content with your logo styled differently than the logo your sales team includes on their proposals.
These details, whether big or small, are important to how your audience experiences your brand at every touchpoint. You want them to recognize you and connect on an emotional level with your organization.
Is There a Difference Between a Style Guide and Brand Guide?
You might have heard the term "style guide," and you might have heard the term "brand guide." Are they
No!
These two terms can be used interchangeably, or you can even combine them to "brand style guide."
Whichever way you like to call it, a brand style guide is an essential part of maintaining a consistent and strong brand for your business.
The Essentials of a Brand Guide: What You Should Include
Every business will have a unique brand guide that will clearly represent the look and "vibe" of their overall brand. Not one brand style guide is the same.
Because of this, your brand style guide can include a multitude of things. Depending on how intricate your company's aesthetic is, you'll want to define and note each element as well as use cases.
To start you off on the right track, there are a few basics every style guide should cover:
Mission statement, vision statement, and core values
Logo types ( and how to use them)
Colors
Typography
Tone and voice
1. Mission Statement, Vision Statement, and Core Values
Your mission statement, vision statement, and core values are what drive your brand. They are what shape who you are, what you do, and why you do it. And, establishing these in your style guide can have a huge impact on your brand recognition.
Noting these elements in your brand style guide should influence what content you write, who you write for, the designs and graphics you create, and even the imagery you select.
Place your mission statement, vision statement, and core values at the top of your brand style guide. That way, your employees will have a constant reminder of the purpose and guiding principles of your organization.
2. Logo Types (and How to Use Them)

Your company's logo is the top recognizer for your brand – so make sure it's never used incorrectly.
Depending on how many different variations of logo usage you have, this section might be one of the longest to outline in your brand guide. And that's ok.
Here are the major elements of your logo and usage you should mention in this section:
Color
What colors can your logo be? You never see a red McDonald's M for a reason...
Spacing
How much "breathing room" should you give your logo? Most companies choose to allow at least some spacing on either side of their logo so it's not crowded by any other design elements.
When to Use
In what cases do you use your logo? Make sure to note use cases for color-specific logos.
What Not to Do
This one is often overlooked, but it can have a valuable impact on consistency. Use this subsection to note what not to do when using the logo, including changing sizing of elements, changing colors, overlapping, etc.
Secondary Logo
If your company has a secondary logo, what is it? Make sure to note the same guidelines as your primary logo.
For example, Bluleadz's primary logo is our B brand mark with the word Bluleadz underneath. However, in certain use cases, we use the brand mark and our name separately from each other.
3. Color Palette
Behind logos, colors are the next element of your brand that is most recognized. When you think of Burger King, you know their red, yellow, and blue. Starbucks? Green, of course.
Provide the values of your colors, including the HEX, RBG, and CMYK values. If you have numerous colors in your palette, note the recommended color usage your brand should use.

If you have a secondary palette, be sure to note that here as well. Secondary colors are often used as accents in certain designs (the green subheaders you see in this blog serve as one of our many secondary colors!)
What to note in this section:
Primary and secondary colors
Color usage
Color values
4. Typography
Another vital aspect of your style guide is typography.
More likely than not, your brand uses a unique typeface and font for your website, content, print, and designs. (To simplify the difference between a typeface and font: Arial is a typeface. Arial Narrow, Arial Regular, and Arial Italic are all fonts.
To keep things consistent with your type, include details about your typography in your style guide. You should answer all of these questions in the typography section:
What typeface does your brand use?

Bluleadz answer: Museo Sans Rounded

What fonts does your brand use?

Bluleadz answer: Museo Sans Rounded 300, Museo Sans Rounded 700,

Museo Sans Rounded 900

What sizes and weights should your different headers be? (H1 to H6)

Bluleadz answer: H1= 48px, 700 weight

What colors should your typography be in in certain cases?

Bluleadz answer: Never use secondary color in our logo.
5. Tone and Voice
The overall tone and voice of your brand impacts all your content and outreach. Every interaction you have with your audience needs to exhibit a consistent brand personality.
The mission statement and values are the why of your brand. The tone and voice are the brand's how – how you exhibit those values and how you can express your company's messaging in an authentic, engaging way.
5 Examples of Epic Brand Style Guides
Medium
Medium, an online publishing platform, has a beautifully designed style guide that outlines every element of their brand in great detail.
Right off the bat, they highlight their purpose, which will keep employees encouraged about promoting a positive brand.
They also do a great job of visually explaining their elements, from noting the different sizes of their logo to showing what the logo should look like on different backgrounds. They don't miss out on anything, and it shows.
Check out their full brand guide here.
Bacardí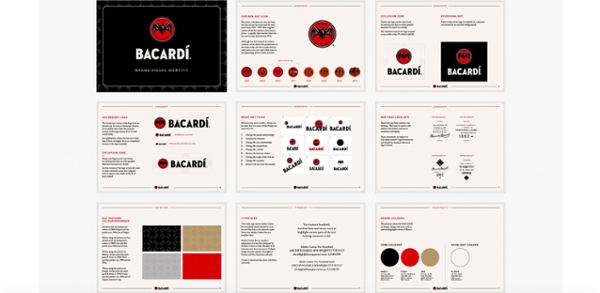 Bacardí focuses mainly on logo, color, and typography in their simple style guide.
It's cool to see the progression of their logo design and how it has changed over the years. They also excel in detailing every aspect of their logo use; you can see how they invert their logo against a black background, how much breathing room you should leave around it, and even various ways you shouldn't distort their logo.
Overall, their brand visual identity guide is clean cut and detailed enough to create consistency across their brand.
Look through the full style guide here.
American Red Cross
American Red Cross covers all the basics in their simply designed style guide.
In the logo suite, they make sure to highlight all the ways the logo can be used in different cases, such as in button form, in classic form, or on a dark background. They even explain in red text when exactly to use each, so there shouldn't be much confusion within the company!
A simple breakdown of primary and secondary colors falls underneath, with CMYK, RGB, and HEX values for each. Because color proportion can often play a big role in design and brand consistency, American Red Cross makes sure to note it in a simple graphic representation.
Beyond design, they also added a section to set guidelines for tone of voice, which can make a huge impact on their overall messaging and content across all platforms. Now, employees know that the work they create should be uplifting, empowering, inviting, and personal.
Scroll through the full brand guide here.
Fandango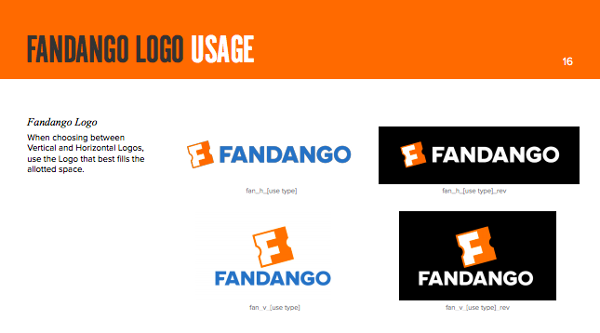 Fandango, a movie ticket company, doesn't miss out on any details in their 52-page style guide. One big reason why is due to the countless ways to use the Fandango logo.
When scrolling through the style guide, you can see how to use the Fandango logo with corporate partner logos, how to use the Fandango MOVIECLIPS logo, how to use the Fandango Powered By logo, how to use the Fandango logo when accompanied by their tagline ... I can go on and on.
They also do an excellent job of highlight what not to do when using their trademark logo and extended logos. This surely ensures that their logo is being used across all platforms in a consistent way.
Don't worry – they didn't forget to include typography and color, and they even have a whole chapter on brand usage on YouTube.
Check out the full brand identity style guide here.
Njord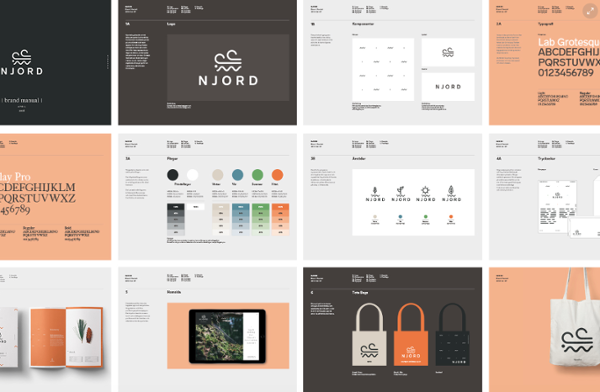 Njord might have one of the prettiest brand style guides out there.
Through a simplistic design, this restaurant doesn't skip a beat on outlining the essentials of their brand. They include the numerous opacities of their primary colors, the pattern they use as a subset of their logo elements, and even the four logo variations they use.
Beyond that, they even highlight product design, showing how to use their brand elements in bag designs. This is a great feature for a B2C company.
Learn more about Njord's style guide here.
A Style Guide Can Make a Big Impact on Your Brand
When it comes to creating a consistent brand, your style guide will be your best friend. As you grow your business and hire new employees, they won't need to ask any questions because they'll have access to all the details of your brand and how you represent yourself to others.
With these tips and examples in your back pocket, start designing a brand style guide that works for your business today. No style guide is too long – add any elements and examples you think you'll need to create the best possible brand for your business.