In the B2B world, it's often assumed there's a wall between B2B and B2C.
In the conventional thinking, B2B marketing doesn't need to be exciting, interesting, or hip. After all, B2B decision-makers are serious people in gray suits who only value the bottom line.
Right?
Well, yes and no.
First, today's B2B decision-makers are a more diverse group than ever before. Millennials are stepping up into these roles and will hold the majority of them in the years to come. In fact, millennials are already the largest generation in the workforce today.
Second, the B2B thought process just doesn't work the way it used to.
It wasn't long ago when most B2B buyers had a very limited range of solutions that would meet their needs at any given time. To grind some value out of the available options, they would usually look at price and features as major differentiators.
Oh, how things have changed!
Now, most B2B buyers have dozens or hundreds of options to choose from – in some cases, they may even have thousands. Price is rarely the biggest factor, and desirable features get copied by competitors so quickly, they don't stand out as differentiators for very long.
If the rest of the product mix won't get through to your decision-maker, what will?
The answer is marketing.
With this in mind, more marketers have been drawing on B2C examples to inform their B2B campaigns. Still, people continue to ask the question: What is the difference between B2B and B2C marketing? It's not as pronounced as it once was, but the two are still distinct.
What is the Difference Between B2B and B2C Marketing?
Even as popular as B2C examples are these days, B2B still stands on its own in certain ways.
When it comes to marketing, these capsule descriptions give you a good start:
B2B marketing is:
Focused on clear ROI and business objectives usually already clear to the buyer.
Based on authority, expertise, and social proof, although emotion can enter into it.
Filtered through expectations set by the workplace and a wider industry community.
Although the three stage buyer journey always starts with Awareness, the other two phases – Consideration and Decision – are the real meat and potatoes of most B2B campaigns. Buyers know the kinds of objectives they want to reach, but don't always know how to get there.
Emotions play a much bigger role in B2B buying than most people realize, but what decision-makers are really looking for is expertise combined with social proof. They want to hear from an authority on the subject and verify that others with their same needs have succeeded with a solution.
Last, but not least, everything in a B2B marketing campaign should either obey or intentionally subvert the style and expectations of the industry it focuses on. Every industry is different: For example, you can be a lot more fun and freewheeling in digital marketing than in law or finance!
B2C marketing is:
Focused on emotion, often tapping into a desire the customer doesn't yet realize.
Based strongly around values, lifestyle, and the customer's individual aspirations.
Grounded in individual experience and personal networks like friends and family.
When customers are making purchases in the B2C realm, they're usually buying solely for their own needs. Only one person is involved in the decision-making process – two if there's a couple, three if there's a child involved. A choice can usually be made quickly.
Emotion plays a bigger role in B2C marketing, but that doesn't mean it's the only factor – or that emotion only hits the stage for consumers. Many people do a great job analyzing vendors and comparing purchases before they buy, but they're likely to ask advice from friends and family.
B2C marketing is strongly value-oriented. People want to make purchases that are grounded in their worldview and the kind of person they aspire to be. One thing you'll learn from looking at B2C examples is that B2B marketers are quickly adopting the value-focused perspective, too.
Got it? Now it's easier to see how B2C campaigns could help you.
Check out these B2C examples and you might find just the creative spark you're looking for.
Top 6 B2C Examples to Inspire Your Next

Campaign
1. Chobani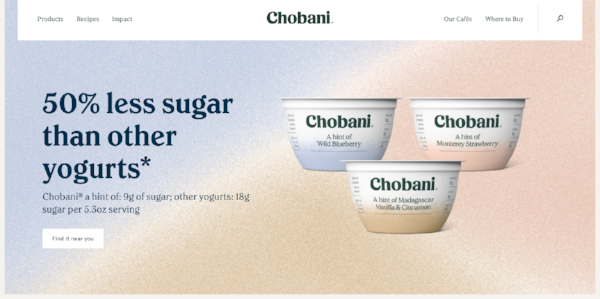 Yogurt brand Chobani goes above and beyond with the gorgeous visual marketing that you can find showcased on its website. Though it only has one product – yogurt – it uses the settings, lighting, and accompaniment of each photo to evoke a gourmet feeling.
Chobani attracts upscale customers who've outgrown the traditional flavors of big market rivals like Dannon. By appealing to the tastes of a largely female consumer base focused on clean ingredients and healthy living, it builds brand loyalty and recognition.
Pretty good for a single-product site – about yogurt, of all things.
The lesson: Use everything at your disposal, including the visual language and branded "feel" you want to create, to emphasize your value add. The more you know about your target buyer, the easier it'll be to communicate in a way that resonates with them. It's not only about text!
2. Oreo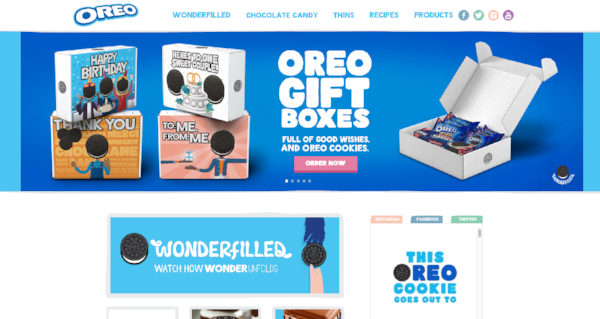 Kids love Oreo cookies, but what about teens and young adults? The brand had a marvelous idea to use a targeted web experience to bring (slightly) older consumers back into the fold without having to sacrifice its brand power – or roll out more uninspired flavors.
The #PlayWithOreo campaign zeroed in on a single brand theme: Play.
Using a wide range of interactive experiences and creative collateral, Oreo aimed to capitalize on the fact that the kid inside never really grows up. Rolling out in 40 countries and 14 languages, it provided 12% consumption growth and 2% category share growth.
Plus, the brand saw more than 3X increase in its overall Twitter following.
Oreo wanted to diversify its appeal. It did this by sharpening its core message and finding a single value that could appeal to both its core and its adjacent audiences. In B2B, having clear values is becoming an important differentiator. Find yours, and build campaigns around them.
3. Purina
Purina's Puppyhood Campaign is an amazing example of creative thinking that made the brand's value – market-leading dog food with quality ingredients – concrete in the best way possible: an innovative and adorable video content focused on bonding between a man and his new pup.
Spawning humorous sequels including "Our First Poop" and "We Met a Girl," the Puppyhood Campaign might seem to be the furthest thing from B2B. However, it cleverly concealed Purina's thought leadership research in a brilliantly accessible format.
The hilarious and heartwarming videos led to a full community experience where users could access live chats with experts in dog ownership. This provided a huge burst of data and CRM opportunities for the Purina brand. As B2C examples go, it's hard to ask for more.
Not only did the company find outstanding ways to leverage its digital platform, but it built a funnel that was fun and effective. Lured in by cute puppies, people ended up accessing custom content and engaging with the brand on a totally new level.
Are you using your content to the utmost? Designing great lead magnets? Building community?
4. Lay's
Lay's potato chips can feel kind of bland compared to all the "gourmet," "artisanal," "hand-crafted" options out there. However, when it comes to connecting with its core audience online, it has lessons that both B2C and B2B brands can learn from.
To rev up interest in its brand, renew its image, and – yes – win plenty of engagement, Lay's has made its annual flavor contests a mainstay of its digital strategy. During these contests, users vote for one of three flavors to become a permanent fixture in Lay's product mix.
The campaign is called "Do Me a Flavor," and it's a master class in marketing.
All three flavors of the year are distributed throughout select retail outlets for the duration.
Now, this might read like a standard social media contest at first.
And, odds are, you've probably heard about those as a digital marketer.
But get this: During the contests, Lay's sees a huge jump in consumption, even though the new flavors are only available at limited locations. People don't only react to the scarcity: They also recognize that their selections could help make a concrete difference.
Plus, the contests have consistently served as an effective lead-in to product launches, helping ensure that consumers who voted for the winning flavor will actually remember to buy it later.
Lay's has been so successful in using this to soft launch new products that it went all the way with a whole selection of regional flavors this year.
As a B2B enterprise, what kind of contests or user-generated content could you be using to build your brand? How can you leverage scarcity to get more leads into your funnel? And where do you still have room for innovation in your product launch strategy?
Have some Lay's and ask yourself these pressing questions.
5. Lululemon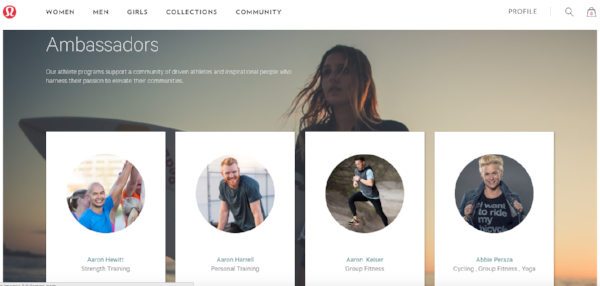 With its Ambassadors Program, Lululemon – the woman-focused athletic wear brand largely known for yoga and similar collections – has turned its brand into an experience.
By reaching out to community partners who serve its target demographics, such as gyms and yoga studios, Lululemon raises its visibility while supporting current and future customers in the lifestyle they want to achieve. Plus, it does it all without adding lots of logistics or overhead.
Thousands of events have been held all throughout the United States under the Ambassadors Program banner. More than 1,000 current ambassadors are listed in the current online directory, and each one is incentivized to work hard to introduce the Lululemon brand to others.
B2B enterprises should think creatively about how to cultivate champions in the enterprises they target, but that's not all. By reaching out to a defined target persona – for example, industry professionals in your area – you can foster rapport and identification with your brand.
Lululemon wins when people see it as an indispensable part of becoming the person they want to be. If you can use your expertise to leverage that same feeling in the professional sphere, you will be on your way to lasting bonds with B2B leads. Referral business is sure to follow.
6. Spotify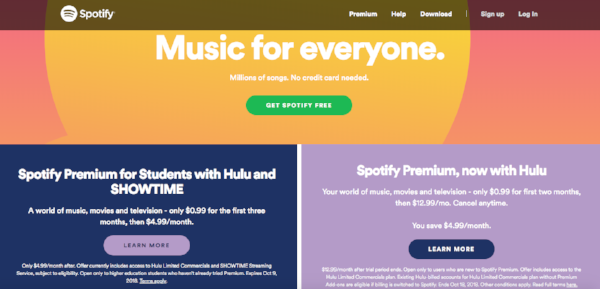 Thanks to its reams of data on user listening habits, Spotify has a huge advantage when it comes to personalizing content. Any other brand might drop the ball, spooking subscribers and causal users alike with ham-fisted customization, but Spotify is right on target.
Personalization goes further with Spotify, which leverages its reach for hyper-targeted email marketing that's pertinent and persuasive. It also curates custom playlists filled with songs a user might like – and it's even spun off into content strategy with its annual wrap-ups.
This is one of the best B2C examples for data-driven enterprises to understand.
When data is used with a deft, human touch, it doesn't need to spook your leads or customers. Look for way to drill down into your data so you can transform it into a source of value for your users. They'll know if you're using it to help them ... or just using it to get more data.
The World is Teeming With Amazing B2C Examples – So Use Them!
B2C examples are the fabric of our lives ... in fact, that's inspired by one right there.
No matter what your professional background is, your whole life has been shaped by some memorable B2C examples. Outside of work, people are swimming in them each and every day.
That should be enough to remind you that you don't have to stick to the tried and true ways of doing things in B2B. You can infuse your digital B2B campaigns with a whole new energy when you take inspiration from the way B2C brands develop their unique, memorable campaigns.
Got some favorite B2C examples we missed? Let us know in a comment below!