If you want a consistent and successful content marketing operation, you need a CMS everyone can use. Long gone are the days of writing out HTML by hand – now, with dynamic sites that can reach into the thousands of pages, a marketing CMS streamlines the work involved in creating new content in unprecedented ways.
With the right marketing CMS, it only takes seconds to bring your ideas to life.
Then, and just as importantly, everything remains organized and accessible on the back-end for the entire life of your website. A CMS enables you to make sweeping changes to the look and feel of your site without ever adjusting a single page individually. You can even use a CMS to stay current on the most recent design trends, such as responsive mobile UX.
When it comes to content, the right CMS is like graduating from the hammer and chisel to the modern computing experience. Thanks to inspiration from bloggers and ecommerce sites, dozens of different CMS suites have appeared on the web.
Many of these – though certainly not all – are free, and some are even open source.
The best marketing CMS option is often the one that integrates with your existing marketing technology stack. That gives you the potential to make your CMS part of your overall marketing automation plan.
Let's look at the best marketing CMS platforms in 2019, ranked in descending order:
10. Pixpa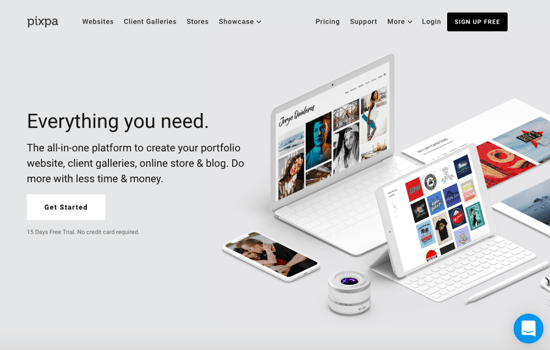 Pixpa is an all-in-one website builder and marketing platform that is used by creative professionals and small businesses around the world. Its easy drag-and-drop tools enable everyone to showcase, share, and sell online without any coding knowledge.

It also offers integrated marketing and revenue generation tools, including an ecommerce platform, client galleries, blogging features, announcement bars, and much more. With 24x7 support and a budget-friendly cost of the low tier at just $6 per month, Pixpa is a great CMS for creatives and small businesses.
9. TYPO3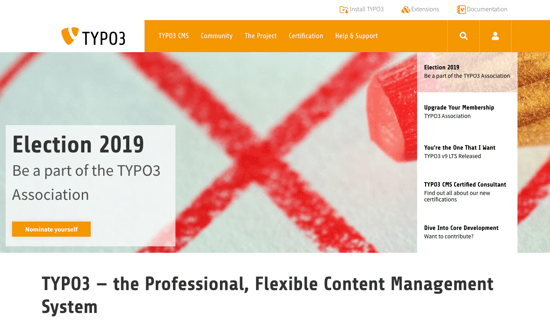 As far as free, open-source CMS platforms go, TYPO3 stands tall. It's one of the most popular CMS options in the world, predominately used in Europe and other regions. This is why it's a common choice for those looking for multilingual solutions.
The good news is that it's very flexible, so companies of all sizes looking to scale enjoy this platform. However, it comes with a hefty learning curve and it's not the most user friendly CMS on this list.
8. Drupal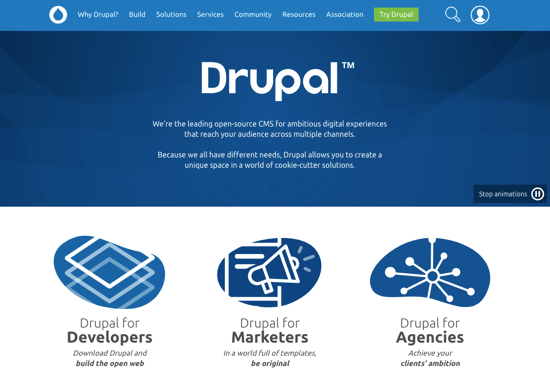 Drupal is a free, open source CMS software that has been used for sites ranging from the White House to BBC, NBC, and MTV UK. It was one of the first to utilize now-familiar CMS concepts like modules that extend functionality, themes that instantly adjust the appearance of a site, and more.
Drupal comes with a far wider range of features and more flexibility out of the box than many alternatives. However, some of the drawbacks include an opaque user interface (UI) and some complexity.
7. Weebly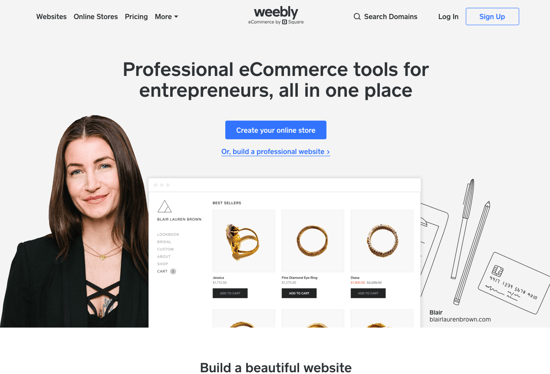 Weebly is a remarkably popular CMS among marketing companies that want to empower their clients to put their own stamp on the work that gets done. Although not the first full-featured drag and drop CMS, it has endured as one of the best for designing and testing online stores.
It combines an assortment of beautiful, responsive themes with simple, intuitive controls and built-in analytics. That said, it lacks the depth of some of its competitors.
6. Magento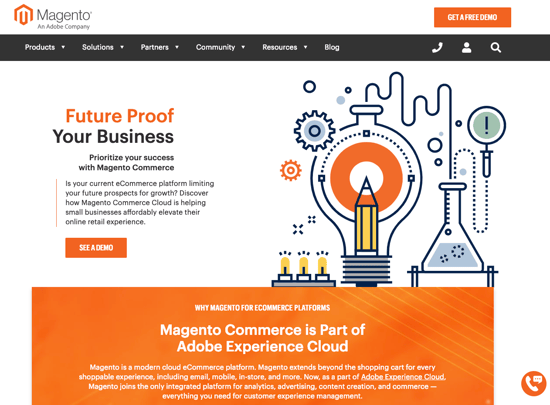 Magento focuses on designing customized ecommerce experiences. It grew out of the need for more robust security in the CMS space. Since it's both powerful and easy to use, it is appropriate for marketing organizations and the clients they serve.
Magento is ideal for companies that are leveraging eBay as the core of their ecommerce strategy. Marketing promotion features, customer service tools, and detailed reporting are all built in.
5. Joomla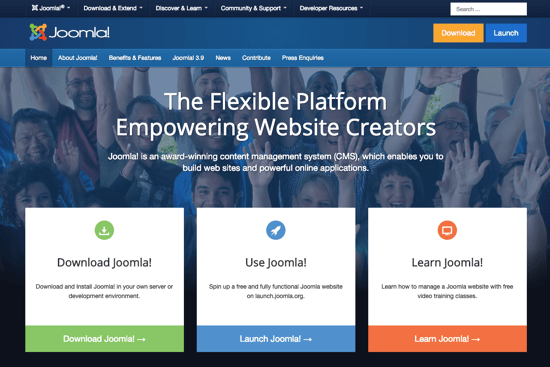 As a free and open source CMS, Joomla is easily mistaken for WordPress. It has templates, feature extensions, and a vibrant development community. One thing that sets Joomla apart is its high-level security features, which ship out of the box instead of as plugins.
Joomla is easy to use and can be leveraged to create a completely customized social network experience that integrates seamlessly into existing platforms.
4. Wix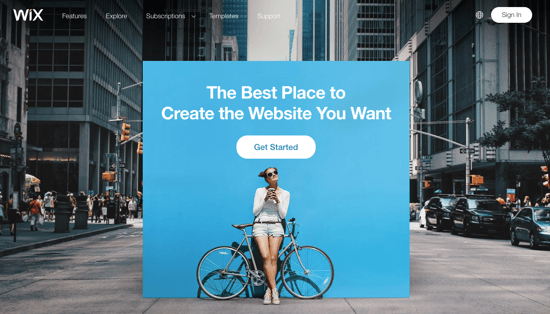 Wix is one of the leaders of the pack in "What You See Is What You Get" (WYSIWYG) web design. As a marketing CMS, Wix shines with its combination of user-friendly publishing that blends easily with advanced customization for coding experts.
It is also known for its excellent support and rapid maintenance. Likewise, Wix surprises with a deep list of ecommerce perks like coupon codes and inventory tracking. Recently, the brand has focused on expanding search engine optimization (SEO) features.
3. Squarespace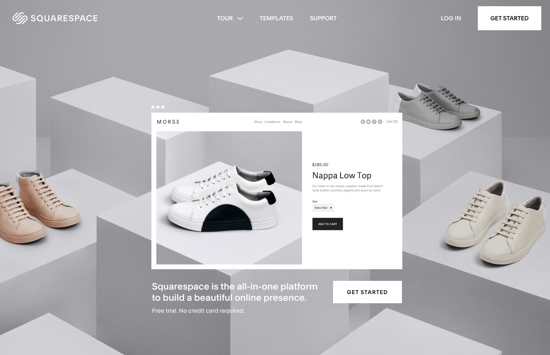 Squarespace rounds out the "do it yourself" website designers with a superior drag and drop interface none of the rest can match. From the marketing perspective, one of Squarespace's strengths is its exceptional analytics, which are ready to go from the moment you start.
Its SEO and customer relationship management (CRM) toolkit is more varied than others, and it comes with full email marketing integration. Calendars and maps make it ideal for local businesses, too.
2. WordPress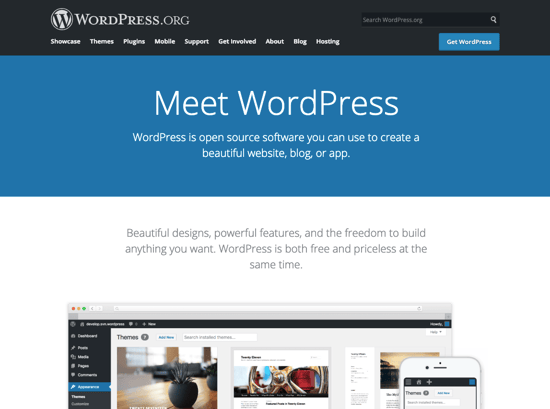 With tens of millions of sites and the most active development and support communities on the web, WordPress is one of the biggest success stories in modern software history.
As a marketing CMS, it pioneered many of the ideas its rivals are still trying to perfect. It has the biggest catalog of optional feature plugins and themes of any CMS and can be customized to suit any vision. However, maintenance can be tedious and security implementation is sometimes uneven.
1. HubSpot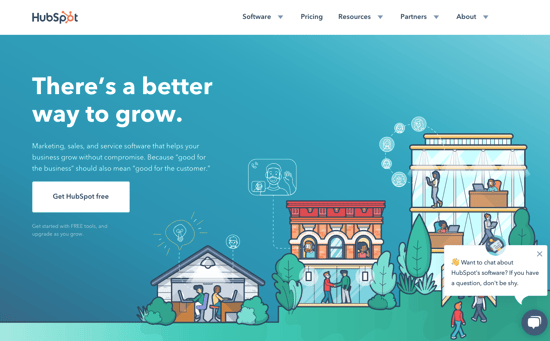 WordPress may have launched some of the top CMS design concepts, but HubSpot is the place where the inbound marketing revolution began. Not surprisingly, it's the top marketing CMS, beating out WordPress thanks to its unbelievable ease of use balanced with trendsetting marketing features.
That includes best-in-class SEO, a sparkling blogging interface, integrated calls to action anywhere on the site, and exceptional workflows for landing page creation and testing.
Find the Best Marketing CMS For Your Needs
At Bluleadz, we often advocate testing out different solutions and finding out what works for your team and stack. That's good advice when you're testing the water with social media apps, lead generation, and other parts of the ever-growing marketing mindset.
Once you choose a CMS, switching to another one is a bear. The very aspects that make certain CMS choices attractive for bloggers and entrepreneurs – no fees, open source structure – can be problematic when you are an SMB trying to scale and grow.
Any of the options above can create responsive ecommerce websites for clients, but it takes a little something extra to serve as a complete publishing solution for marketing teams focused on being true inbound marketing thought leaders. With that in mind, we enthusiastically recommend HubSpot, the solution we use at Bluleadz.
Although any one of HubSpot's features is great on its own, it's truly unique when you look at the big picture. So many of the groundbreaking ideas in content marketing have come from HubSpot: Using its solution ensures you benefit from those bursts of inspiration as they happen.
Plus, the HubSpot CMS integrates with the brand's full suite of marketing automation solutions.
Not everyone will pick HubSpot, of course, but the consensus is clear: If you're not using a marketing CMS yet, 2019 is the year to make the switch. No matter how big your site may be, it's easier to shift to a structured CMS solution than to keep manually updating and organizing.
A good CMS not only makes your site faster to maintain, but makes it more rewarding to grow your team and make the most of your innovative ideas. The benefits compound as you go, so the perfect time to get started with your chosen CMS solution is right now.