A CRM suite isn't just for the biggest Fortune 500 enterprises anymore.
More small and mid-sized businesses are adopting customer relationship management systems as a key part of their overall customer outreach and retention strategies.
What Is a CRM?
A CRM is a powerful way to make sure you're capturing and centralizing all the important details that have to do with each one of your customer accounts, whether new or established.
Without a CRM, sales pros usually fall into one of two camps:
Trying to remember everything with Post-Its and other, shall we say, analog tools.
Using a range of different programs to store info, including email and spreadsheets.
Both of these techniques have some obvious drawbacks.
via GIPHY
Sales pros who are taking handwritten notes in 2019 are at a huge disadvantage against competitors.
They can easily lose vital information or simply forget about the most crucial facts when they need them. Needless to say, this traditional method is falling out of favor fast.
Using several different programs to gather and store information is still common, though – especially in sales departments with between two and 10 people.
The huge adoption of chat services like Slack for work has given some teams the idea that all their data is tied together, when in fact it is still floating loose.
There are lots of pitfalls here, too. It's very easy to waste time duplicating information, but also easy to lose it. If you find yourself spending a lot of time combing through threads looking for exactly the factoid you need to move forward, you've seen the problem firsthand.
Luckily, a good CRM does away with all of that – and adds much more value besides.
What Does a CRM System Do?
CRM software lets you manage your customer relationships by giving you end-to-end visibility into every interaction you've had with a company and its various contacts.
It organizes and systematizes everything you need to foster true rapport with your leads.
It even helps you stay on track by proactively signaling you when it's time to follow up. That might be when a lead takes an action on your website, when a new headline about your lead pops up on the web, or simply because enough time has gone by.
Benefits of a CRM for Your Company
via GIPHY
CRM software does a lot more than just house data. It's actually an excellent tool to help with streamlining your business' sales process.
Here's how the right CRM can make your job easier. Let's run through the top benefits of a CRM for your company:
A CRM Means Better, More Effective Follow-Up.
Out of all the things a CRM does, this deserves to go at the top of the list. Follow up is one area where a lot of teams fall flat, even if individuals perform well.
We all know that the first time you talk to most leads, they won't be ready to make a buy, but it's harder to accept that it might take three, five, or even seven contacts to make it happen.
Still, being persistent with people already in your funnel will pay off in the long run. It's also a lot easier (for you and them) than expecting to close an agreement perfectly the first time.
Let your inbound strategy work. With good follow up, leads can steep in your web content until they're ready.
A CRM Centralizes Everything in One Location.
With a CRM, you'll always know where to find what you're looking for.
Since CRMs sort everything in terms of accounts, you can see the capsule overview of an entire relationship in an instant. That includes when and how "first contact" was made, what other major milestones have happened, and what client info you've gathered in research.
A CRM Is More Cost-Effective in the Long Run.
A customer relationship management system calls for an upfront investment, but it will pay for itself if used wisely.
Sure, it might seem like a CRM can't compare in cost to a patchwork of free or low-cost tools, but you have to look at the sales strategy's big picture.
via GIPHY
A good CRM will do all of the following, often within the first few weeks of adoption:
Lets you cut out other software you might be using and licensing at premium prices.
Accelerates your sales cycle by weeks or even months, especially in the B2B world.
Helps you cultivate and close on new business that would otherwise be left behind.
All in all, your CRM should add a substantial amount of sales revenue to your pipeline within a relatively short time.
Not only will you have the chance to cut some overhead and complexity, but you'll find it easier to identify and act on the biggest opportunities available.
A CRM Is Scalable (Especially Versus the Alternatives).
If you have more than five prospects in the pipeline, you'll quickly see how easy it is to drown in Excel spreadsheets and Notepad files.
No matter how sophisticated and consistent your own filing system is, a software-based system will simply grow better with your business.
Even the stress relief you get from the added ease of use is worthwhile.
A CRM Delivers Much Better Data.
Ultimately, you can only refine your sales techniques if you're getting enough data. Inbound sales and marketing rely on crafting your approach and message in accordance with the known facts about your prospects and leads.
The more concrete data you have, the easier it is to make a genuine connection.
Like your website's data analytics suite, your CRM is always chugging along, building up new data in the background.
That data helps you understand what's working well and what you could be doing better, ideally fitting into an end-to-end data-driven strategy.
A CRM Leads to Easier Collaboration.
via GIPHY
With a CRM in place, you can assign particular leads to particular sales reps or allow all sales reps to follow the process as a lead develops.
This is a great teaching tool, but it also ensures that everyone is on the same page at all times. Leads are much less likely to slip through the cracks, and you can plan and coordinate within your group when progress stalls out.
What to Look For in a CRM Platform
There's a lot on the table when trying to pick the right CRM platform for you and your business.
And rightfully so. You want the software you pick to be a perfect match, or else a lot of effort (and money) could be wasted on a platform that doesn't meet your needs.
Here's what to keep in mind when reviewing your options:
User Experience
How easy is it to use the software? What's the learning curve?
You don't want to invest in a software that's going to require a skillset far above you or your team's ability to learn. Look for intuitive, simple interfaces that are easy to navigate and learn. Otherwise, you risk overwhelming everybody.
Integration
Chances are that you already have at least one or two specialized software or tools that you're using already to help you manage your sales efforts. Finding a CRM that has integration capabilities is important here.
You don't want your sales reps to spend a ton of time clicking between your CRM, their email, and their calendar throughout the day. Find a software that will be able to pull it all together for you.
Reporting
Visibility is big in keeping up with what's going on in your business. Most CRMs offer you pipeline data in some capacity, but only the best ones will provide deep reporting on different filters and variables.
via GIPHY
The ability to track data is imperative in picking a platform.
Automation
Probably one of the most handy features that a CRM can offer, having an automated trigger system for your emails and campaigns is something you should keep an eye out for.
Not only is it faster and more efficient, but it also helps keep your sales reps more organized, assisting at every touchpoint in the sales process.
Scale
Depending on the size of your company and the number of prospects in your pipeline, certain CRM platforms are going to suit you better than others.
If you're not super large and are looking for a simple means of keeping yourself on top of your sales, then look for a less intense, more budget-friendly software.
But if you have expansive teams and thousands of leads, then you'll definitely want to check out some of the more involved CRMs that come with all the bells and whistles.
Team Accessibility
The CRM you choose should be able to support multiple users, allow for easy team communication, and should be easy to teach to all of your sales reps.
Without keeping your team in mind, what's the use in trying to purchase a software that only you'll be able to see results from. Pick one that will uplift and optimize your entire sales team.
The Best CRM Systems of 2019
Of course, there are tons of CRM systems out there, each with plenty of features to choose from.
Let's meet some of the best business CRMs on the market today.
1. HubSpot CRM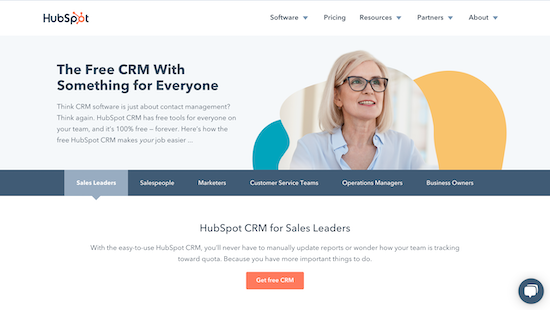 This CRM system comes to you from the masterminds at HubSpot, the home of today's inbound marketing best practices.
It's free to use for life, with a capacity for up to one million contacts and unlimited data storage. It boasts a robust feature set designed to help you align your sales and marketing, build value, and supercharge follow-up – all with a simple, yet powerful interface.
On G2 Crowd, HubSpot has a rating of 4.3 stars.
One user left a review saying, "I highly recommend HubSpot CRM for being the best customer relationship manager, it is the best CRM that I can recommend because I can keep absolute control of our business and the products offered is a wonderful customizable software, and the best intuitive interface very easy to drive."
2. Insightly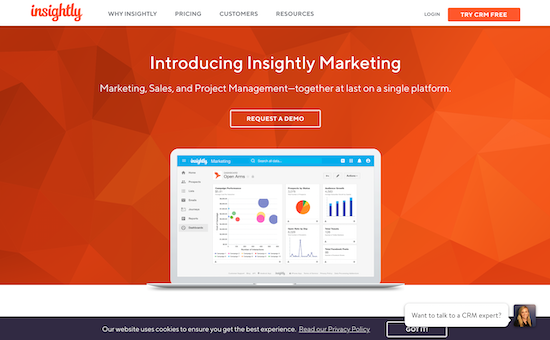 With more than 1.5 million total small and SMB users, Insightly is known for its integration with Gmail and the G Suite.
Starting at $29/month, it's targeted specifically to smaller enterprises. With Power BI, you can issue amazing reports. Plus, the mobile app squeezes every drop of functionality out of this CRM system, so you'll always have its power right at your fingertips.
G2 Crowd's rating of Insightly sits at 4.1 stars.
A user said, "This is a very good tool, where you get everything you are looking for in one place, I trust my work in this good application, through this you can achieve better advantages compared to other programs. It can be easily adapted to the requirements of the user of the moment, it is quite simple to be able to keep track of existing sales and customers and new ones within the company. I find it easy to use so I have not had problems as with other programs that are quite cumbersome to handle."
3. Zoho CRM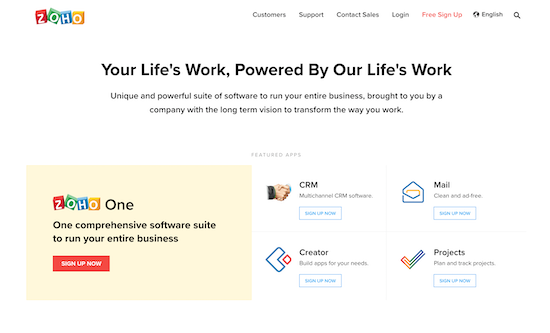 Zoho is one of the more versatile CRMs on our list and has something for everyone, from the solopreneur to Fortune 500 firms.
Its timeline-based approach makes reviewing contact activity across all your channels a snap (and even kind of fun). Enhanced telephony, live chat, and social integration allows you to reach out to leads easily and get more converts.
Zoho CRM has a 3.9 star rating on G2 Crowd.
One user left a review saying, "What I like about Zoho CRM is that it is a totally useful tool when we try to grow our business, since it has all kinds of tools that can be useful when working and automating our advertising campaigns, apart from allowing us to have a control Absolute about the majority of activities that our business performs, such as sales management, campaign management, webinar options, without a doubt this adds enormous useful value to any business."
4. Agile CRM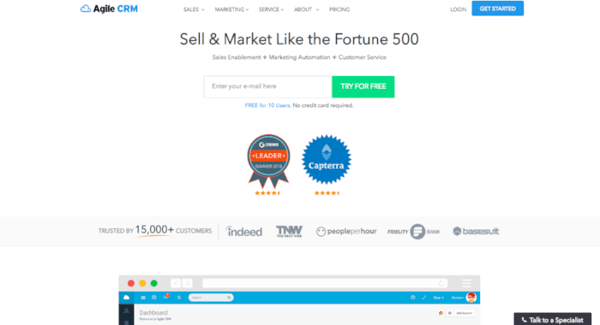 Agile is a platform that combines sales, marketing, and service automation.
As CRM systems go, it's particularly noteworthy for its web analytics, which can help you cut down on third-party apps. It also offers helpdesk functionality, going a long way toward keeping all of your customer contacts under one roof so you provide a consistent experience.
G2 Crowd gives Agile a rating of 4.1 stars.
An Agile user shared "It's really an all-in-one CRM. It's fast, the interface is user-friendly, it allows you to view data contacts and conversations with customers easily, automates sales tracking."
5. Pipedrive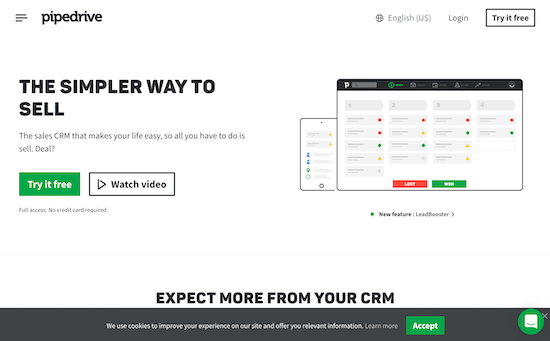 Pipedrive is focused around activity-based selling – that is, all the actions that lead to a sale. That makes it perfect for inbound selling, as it takes a granular approach to identifying, reporting, and leveraging lead actions that can move the sales process forward.
It comes in an easy and intuitive package out of the box. For power-users, everything can be customized to meet your exact needs.
G2 Crowd has given Pipedrive a 4.3 star rating.
One user left a review saying, "On the daily basis, we use PipeDrive to manage deals with customers or potential customers, keeping updated the evolution of the sales process for each one. All the trace of our selling activity is going directly to PipeDrive, so everyone in the sales team can be informed about the status of each deal."
6. Nimble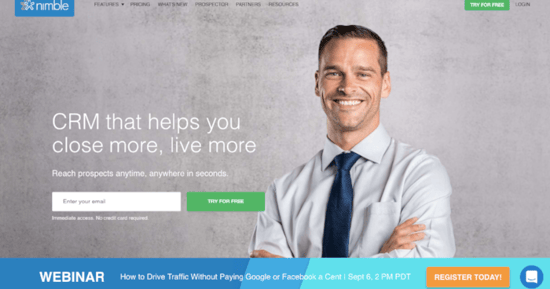 Nimble is a proactive CRM system that works overtime to grab fresh prospect data from the web, so you'll always have the most up-to-date picture.
Nimble's internal database and social monitoring make it especially strong for online prospecting. As a self-proclaimed "social CRM," it also has a huge number of integrations to help you use it successfully in any technology stack.
G2 Crowd has a rating of 4.5 stars for Nimble.
A recent user left a review saying, "It seems to me the best CRM platform since it offers a great variety in its software, such as being able to see those who are connected in their social networks, as well as seeing their interests and being able to establish communication with their clients, it helps a lot in what is the marketing but also allows you to have several active emails, and manage several companies in your organization."
7. Salesforce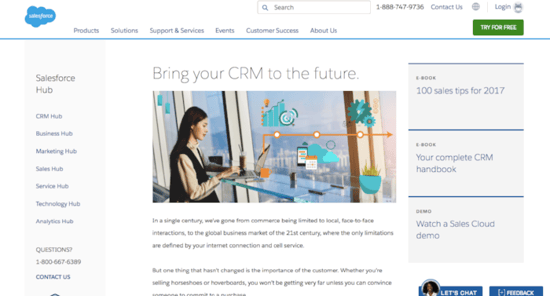 Salesforce is the big daddy of the CRM world, with mature products, trailblazing features, and an unbeatable installed userbase.
The Salesforce CRM catalog is always evolving, but Sales Cloud is a good bet for most enterprises. Its AI-driven opportunity management engine, Einstein, is one of its more popular new innovations, providing a flourish of machine intelligence to lead scoring.
Salesforce has a G2 Crowd rating of 4.2 stars.
One user reviewed, "I love how easy it is to manage all your prospects and connect with other team members. From setting tasks to gauging where a prospect is in your pipeline, this tool takes every facet of a prospect and makes it able to be tracked, reported on, and managed. Sometimes it feels a bit cumbersome to fill in everything, but I don't have many negatives to say."
8. Zendesk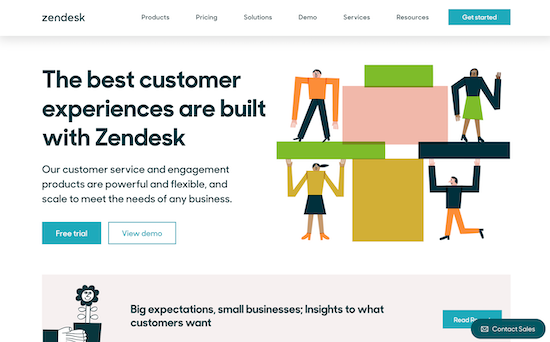 Zendesk aspires to make your sales team 10x more productive.
Its flagship product keeps everyone in the loop with real-time reporting, and it has one of the most powerful built-in lead scoring systems anywhere.
This lets you stay alert to priority leads at all deal stages, and it only gets smarter as the web analytics and built-in data management tools crunch more user info.
Zendesk only has one review on G2 Crowd, but it's five stars and says, "Zendesk has helped with our customer interface by being able to respond to them in a timely manner. It is easy to use when we are tracking how many times a customer reaches out to us."
9. Apptivo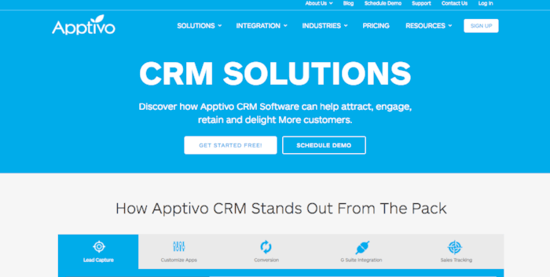 Another scrappy contender in the SMB space, Apptivo does it all: It has web- and email-based lead capture, lead conversion, and a full performance dashboard.
It also includes spiffy sales planning and territory management apps, giving leaders tools for maximizing team performance. It even goes a step further in automating away the busywork associated with incoming orders.
G2 Crowd has a rating of 4.1 stars for Apptivo.
A user left a review saying, "The app flows nicely in terms of navigation, and fits our business, either directly or with flexible customization. The support is a serious differentiator, as it is available near-immediately online through the app. The quality of responses is quite good and we solve issues effectively in real-time rather than having to wait on email replies that can take days with other CRMs."
10. Less Annoying CRM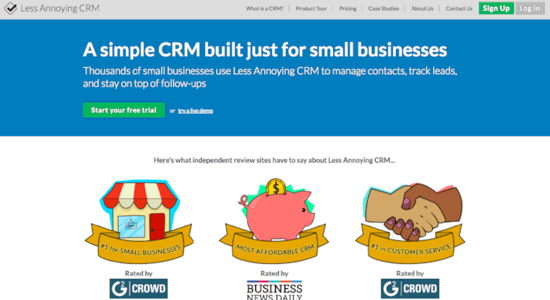 Our list wouldn't be complete without the CRM with the best name out there.
If you've found the alternatives clunky, this one's for you. It lets you see everything there is to know about a contact, including notes, files, tasks, and events, in one screen. Everything maps to a convenient, collaborative calendar, and the reporting is streamlined and straightforward.
Less Annoying CRM has a 4.9 star rating on G2 Crowd.
One enthusiastic user wrote, "Less Annoying is the easiest CRM that I have used, but not just that, it has everything that you need, and it is continually being developed to be better. The subscription option really works for us, and it is part of our daily process. It has been invaluable and we are really pleased that we went down this path. I have signed up for the latest version and that looks awesome. Thanks so much and keep up the great work!"
Start Boosting Your Sales Efforts with Great CRM Software
Specialized CRM systems are popping out of the woodwork every day. Right now, they differentiate the most agile, informed, and engaged businesses. Pretty soon, however, a CRM system might well be the cost of doing business for those who want to succeed in B2B.
Luckily, a CRM system doesn't have to be complicated or expensive. Barriers to entry get lower all the time.
Getting started with a CRM will uplevel your processes and broaden your vision for sales and marketing, so we suggest getting acquainted with the free HubSpot CRM today.