Growing up, we were all taught about the importance of remembering our "pleases" and "thank yous," and your website user experience should function the same way. The days of hand writing a thank you message are practically over, unless of course it's intended for your grandmother, wedding guests, or your child's classroom teacher.
Thank you emails for your marketing campaigns are most likely automated, such as a notification that you have subscribed to a blog or when you have downloaded a piece of content from a website. Receiving a thank you email will give your website visitors a sense of satisfaction knowing their action is complete and will also stay in their inbox for future reference. In order to get the most out of your thank you emails, be sure to utilize these 6 tips that I have found that can set you apart from your competitors:
1. Get Personal
Personalizing your thank you emails causes your leads to feel as though they are on a more one-on-one level with your company. Simply including their name makes them feel important. A statistic shows that clickthrough rates of emails improve by 14% and conversion rates improve by 10% when they are personalized.

If you're a HubSpot user, personalizing your emails is easy to do. In your follow-up thank you email (and the rest of your emails), simply insert the "First Name Personalization" option at the beginning of your email and you're all set.
2. Use Lead Nurturing
Thank you emails can be used to nurture your leads down the marketing funnel. Including a new offer and/or providing a few recent or related blog articles are important to include, especially for lead nurturing.
Here's a look at one of our thank you emails here at Bluleadz for our Social Media Paid Advertising Ebook. We included a link to access the ebook in addition to providing relevant blog articles to the topic.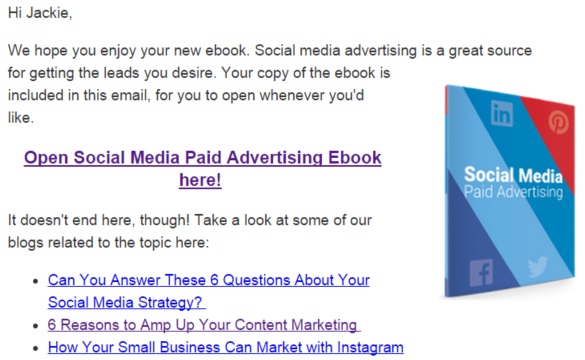 Using a thank you email as the first email of a lead nurturing campaign or workflow is a great way to keep your leads engaged. This way, they will receive a series of emails over a certain period of time to help push them down the marketing funnel.
3. Write Awesome Subject Lines
Subject lines are an important part of your thank you emails. A statistic from a Sidekick article states that 33% of email recipients open an email based on the subject line alone. This means you must have top-tier subject lines to entice your leads to open your thank you emails.
Personalization comes into play not only in the body of your thank you email, but in the subject line, as well. Another statistic from the same article states that personalized subject lines are 22.2% more likely to be opened than those without personalization.
Here's a few more statistics for some extra pointers for some dos and don'ts when it comes to writing the subject lines for your thank you emails:
Emails with "Free" in the subject line are opened 10% more than those without
Emails with "You" in the subject line are opened 5% less than those without
Emails with "Quick" in the subject line are opened 17% less than those without
Using the words "Sale," "New," or "Video," in subject lines boost open rates
Email opens increase 61.8% when using the word "Alert" in the subject line
Subject lines with 30 or fewer characters have an above-average open rate
4. Present Relatable & Easily Accessible Content
If the content you're presenting in your thank you emails is not related to the offer your lead downloaded, your email will most likely have a poor clickthrough rate. You should include blog articles that are related to the offer, or, if you're introducing a new offer, you should include articles related to that offer.
Your thank you email should always include a link to the offer your lead downloaded. This could be a direct link to your offer, or a link that sends them back to your thank you page. Sending them back to your thank you page can be beneficial by giving them no choice but to visit your website again to retrieve the information they downloaded.
5. Include Calls-to-Action
It's important to include a call-to-action (CTA) in your thank you email to encourage your leads to download another offer or to request a consultation or free trial. Your CTA should be an offer that continues to direct your lead down the marketing funnel.
Another tip for HubSpot users: implement Smart CTAs into your thank you emails. A smart CTA adapts to the lead that is receiving your thank you email by automatically changing the CTA depending on who is receiving your email so your lead is not continuously given the same offers to download.
6. Add Social Media Buttons

Incorporating social media buttons into your thank you emails allows your social media accounts to be followed/connected with. It also has the option to share your content on social media in addition to gaining followers and fans. This gives you the ability to extend your reach to a larger audience.
Key Takeaway
Hopefully you're already using at least one or two of these tips for your thank you emails. If not, here's your chance to enhance your thank you emails so that you can get the most out of them. Remember, your thank you emails help your leads complete an action, so now that you've learned these 6 tips, make sure to utilize them in your next thank you email, as well as all your future ones!