In a world where B2B sales cycles can stretch on for months or even years, you need to maintain relationships with your leads longer than ever. At the same time, retaining and expanding your existing accounts demands that you have a long-term strategy for adding value.
Those are the keys to not just surviving, but thriving. And that's where CRM comes in.
A Customer Relationship Management suite empowers sales and marketing to be excellent.
CRM software lets you manage your customer relationships by giving you end-to-end visibility into every interaction you've had with a company and its various contacts. A CRM organizes and systematizes everything you need to foster true rapport with your leads.
It even helps you stay on track by proactively signaling you when it's time to follow up. That might be when a lead takes an action on your website, when a new headline about your lead pops up on the web, or simply because enough time has gone by.
Of course, there are tons of CRM systems out there, each with plenty of features to choose from.
Let's meet some of the best business CRMs on the market today.
1. HubSpot CRM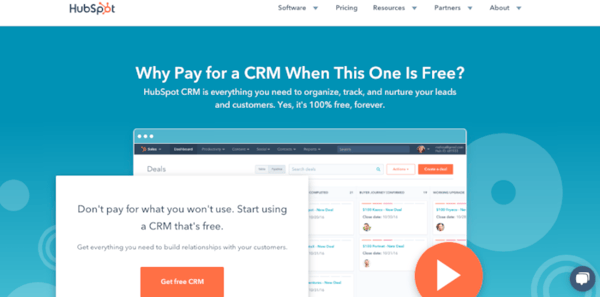 This CRM system comes to you from the masterminds at HubSpot, the home of today's inbound marketing best practices.
It's free to use for life, with a capacity for up to 1 million contacts and unlimited data storage. It boasts a robust feature set designed to help you align your sales and marketing, build value, and supercharge follow-up – all with a simple, yet powerful interface.
2. Insightly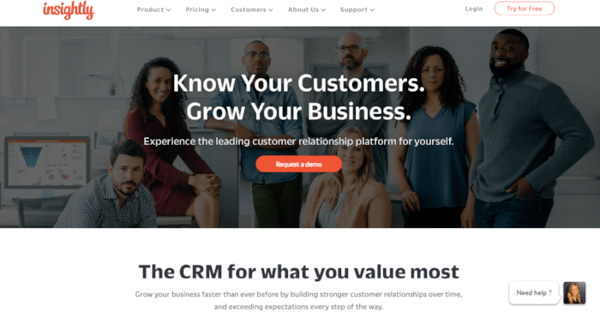 With more than 1.5 million total small and SMB users, Insightly is known for its integration with Gmail and the G Suite.
Starting at $29/month, it's targeted specifically to smaller enterprises. With Power BI, you can issue amazing reports. Plus, the mobile app squeezes every drop of functionality out of this CRM system, so you'll always have its power right at your fingertips.
3. Zoho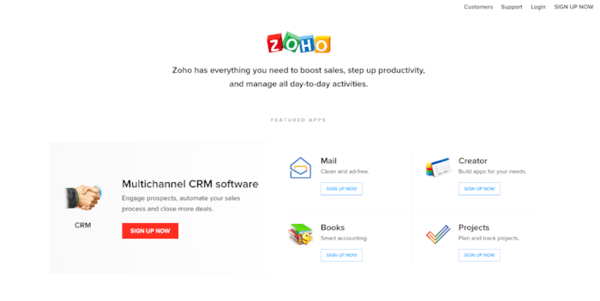 Zoho is one of the more versatile CRMs on our list and has something for everyone, from the solopreneur to Fortune 500 firms.
Its timeline-based approach makes reviewing contact activity across all your channels a snap (and even kind of fun). Enhanced telephony, live chat, and social integration allows you to reach out to leads easily and get more converts.
4. Agile CRM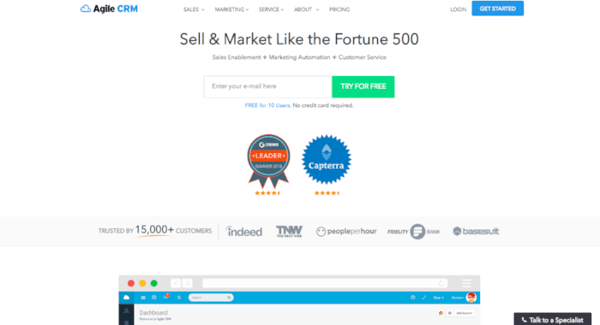 Agile is a platform that combines sales, marketing, and service automation.
As CRM systems go, it's particularly noteworthy for its web analytics, which can help you cut down on third-party apps. It also offers helpdesk functionality, going a long way toward keeping all of your customer contacts under one roof so you provide a consistent experience.
5. Pipedrive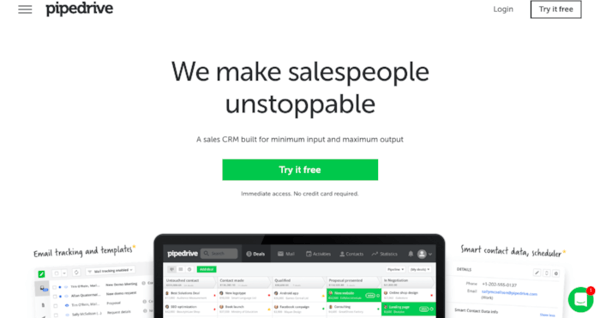 Pipedrive is focused around activity-based selling – that is, all the actions that lead to a sale. That makes it perfect for inbound selling, as it takes a granular approach to identifying, reporting, and leveraging lead actions that can move the sales process forward.
It comes in an easy and intuitive package out of the box. For power-users, everything can be customized to meet your exact needs.
6. Nimble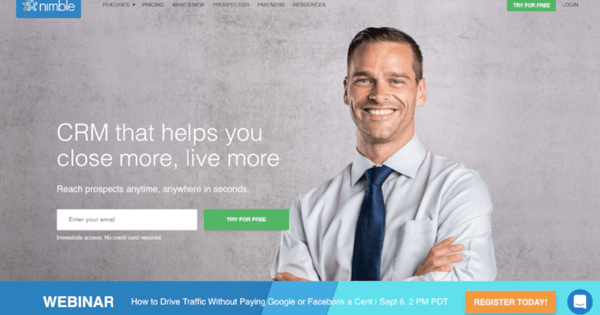 Nimble is a proactive CRM system that works overtime to grab fresh prospect data from the web, so you'll always have the most up-to-date picture.
Nimble's internal database and social monitoring make it especially strong for online prospecting. As a self-proclaimed "social CRM," it also has a huge number of integrations to help you use it successfully in any technology stack.
7. Salesforce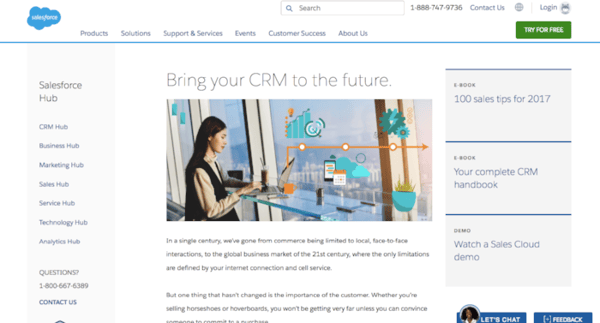 Salesforce is the big daddy of the CRM world, with mature products, trailblazing features, and an unbeatable installed userbase.
The Salesforce CRM catalog is always evolving, but Sales Cloud is a good bet for most enterprises. Its AI-driven opportunity management engine, Einstein, is one of its more popular new innovations, providing a flourish of machine intelligence to lead scoring.
8. Base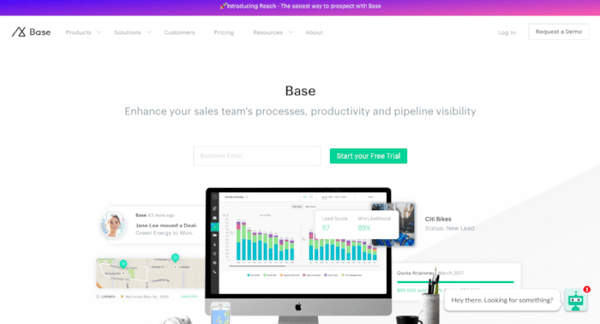 Base aspires to make your sales team 10x more productive.
Its flagship product keeps everyone in the loop with real-time reporting, and it has one of the most powerful built-in lead scoring systems anywhere. This lets you stay alert to priority leads at all deal stages, and it only gets smarter as the web analytics and built-in data management tools crunch more user info.
9. Apptivo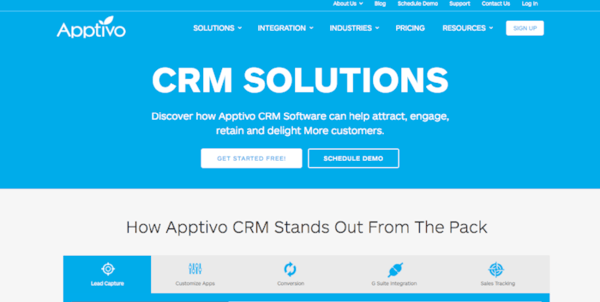 Another scrappy contender in the SMB space, Apptivo does it all: It has web- and email-based lead capture, lead conversion, and a full performance dashboard.
It also includes spiffy sales planning and territory management apps, giving leaders tools for maximizing team performance. It even goes a step further in automating away the busywork associated with incoming orders.
10. Less Annoying CRM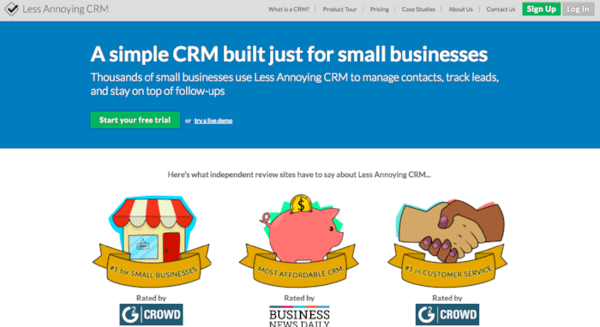 Our list wouldn't be complete without the CRM with the best name out there.
If you've found the alternatives clunky, this one's for you: It lets you see everything there is to know about a contact, including notes, files, tasks, and events, in one screen. Everything maps to a convenient, collaborative calendar, and the reporting is streamlined and straightforward.
Specialized CRM systems are popping out of the woodwork every day. Right now, they differentiate the most agile, informed, and engaged businesses. Pretty soon, however, a CRM system might well be the cost of doing business for those who want to succeed in B2B.
Luckily, a CRM system doesn't have to be complicated or expensive. Barriers to entry get lower all the time. Getting started with a CRM will uplevel your processes and broaden your vision for sales and marketing, so we suggest getting acquainted with the free HubSpot CRM today.