Catchy title? Check! Personas? Check! If you're not checking these items off when you're creating your editorial calendar, then you're doing it all wrong.
Editorial calendars are crucial when creating a plan for your content.
An editorial calendar is what tracks everything you need to know about the content you are publishing. Who are you writing it for? What is the article's overall purpose? What does the title rank?
Ok, all of these questions might seem confusing at first. But, once you establish the framework for your own editorial calendar, answering these questions will be a breeze – and keep you on track to create amazing, valuable content.
The good news is: You can make your editorial calendar as robust as you want.
For example, you can use one calendar to track and manage all aspects of your content strategy, including your blog, your social media content, content offers (like ebooks and checklists), and everything else you're creating for your audience.
Or you can keep your calendar simple, using one strictly for your blog content. Whether you do them monthly or even quarterly, you should be sure to follow a certain format that includes specific items in order to make your blogging process easy and painless.
Here are some best practices for creating an editorial calendar.
1. Research Your Keywords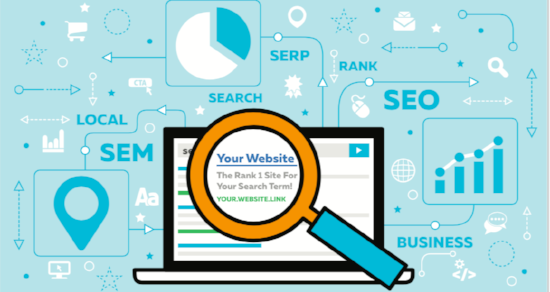 Creating good titles for your blogs is the most important part of your editorial calendar; they are the hook that will entice users to click on the article and actually read your content.
However, great titles start with great keywords.
It's important to use keywords in your title for SEO efforts. Keyword research is important for creating a title that will perform well.
Search to see what people are talking about; this will help you identify a keyword that people are interested in and what will rank well. Using keyword tools, such as Moz, will also help you find keywords to include in your title and throughout your blog post.
Your editorial calendar should have a section where you include your main keyword, as well as any secondary keywords you might be using throughout the article. Then, your title should go in a separate column in your editorial calendar, followed by its title score.
2. Always Check Your Title Score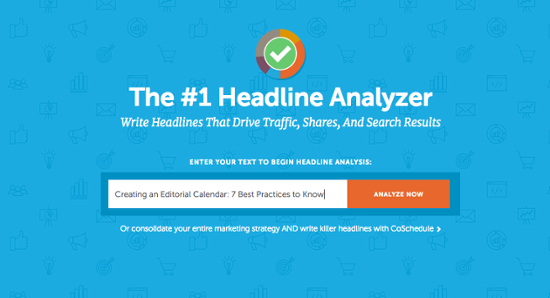 A title score is basically an assessment that will score your headline quality and rate its ability to increase traffic, social shares, and SEO value. Our personal favorite is CoSchedule's Headline Analyzer Tool!
This headline analyzer breaks down your word balance of common, uncommon, emotional, and power words to create your overall title score. We always suggest your title score equal 70 or higher for optimal SEO ranking efforts!
3. Identify Your Personas
Who are you planning on writing this blog for? What persona do you want your content to target?
Different personas and target audiences can change the tone of a blog and affect how it is written. By including the persona you want to write for in your editorial calendar, you are indicating who the audience is for yourself and/or your copywriter.
Having this information also helps you make sure that you are not always targeting the same persona for each blog post. That way, you can be sure your blog has diverse content that attracts your entire audience.
4. Note Your Call to Action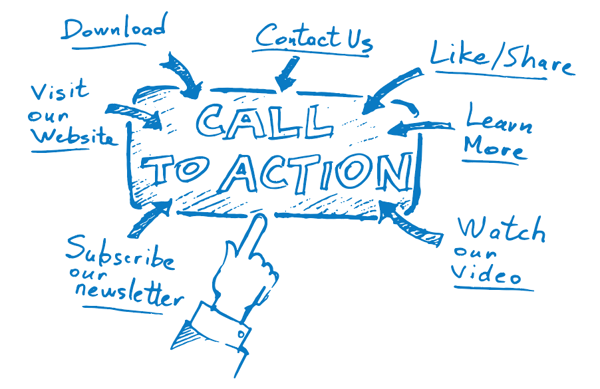 When your readers get to the end of your post, what do you want their next step to be?
You should always include a desired call to action (CTA) at the end of each blog post you publish, whether it leads readers to a resource or contact page, asks them to subscribe, or even sends them to another blog post.
Because of this, you should also always note it in your editorial calendar.
Including a column in your editorial calendar for what CTA you want to use in your blog will help you know in advance where you want your readers to go and will make the writing process easier.
By making a quick note of the CTA you'll include at the end of your blog post, you'll also be able to spot any holes in your content. You might unknowingly skip out on writing about a content marketing strategy, meaning you never get the chance to promote your CMS Checklist.
Keep track of all the available CTAs you have in your system, and make sure you aren't overusing one – you want variety in your content, after all.
5. Include Written and Published Dates
The most obvious information to include in your editorial calendar is the date ... it is a calendar!
Your editorial calendar dates should be clear on when posts are going to publish so that you can be sure you have a consistent flow of content to publish throughout the week, month, etc.
If you write your blogs one week and then publish during the next week, make sure you have two columns on your calendar to be clear which dates each of these will be completed. This will help you with deadlines and keeping track of when you are publishing.
This can also be a handy note to have if your business is considering historical optimization. Knowing the original date of publication can help you tell how dated the content is and what might need to be added or adjusted since it was last written.
6. Create Organization Hacks With Color and Lists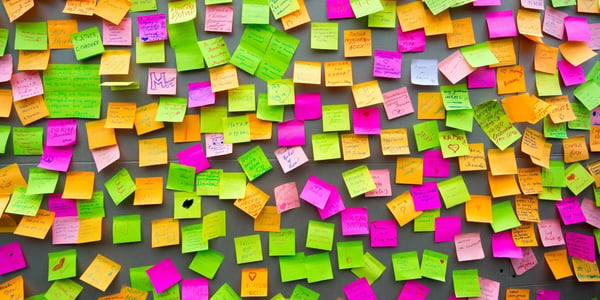 As you continue to use your editorial calendar, using an organized, color-coded system can be very helpful to know the status of your blogs.
Set a color for what is currently being written, what is being reviewed and edited, and what is published. This will help you quickly identify where each blog currently stands in the editorial process. That way, you won't have to ask copywriters, editors, or other individuals about the status of the blogs.
Additionally, you can create option lists within your editorial calendar to help employees quickly select their option. In Google Sheets, you simply right click the top cell on the column and click "data validation."
Within this menu, select "list of items" in the criteria dropdown menu. Then, in the form field, write out each item you want included in the dropdown menu for that particular column. This will be a list of items, separated by a comma for each item.
For example, if you have four "overall intents" – inform, curate, educate, entertain – you can add these options to that tab where anyone can quickly choose their intent from a drop-down menu.
For sections that require specific answers, like buyer personas, having pre-automated answers might make the filling out process a little quicker.
7. Save All Your Resources!
Have you ever found yourself typing away on your computer on a new topic you just did a bunch of research on ... with 15 different tabs open?
We've all been there. As I write this, I have six tabs open. I am a big fan of numerous tabs.
Storing all your research links in one place can eliminate this tab clutter and streamline your writing process. You will no longer have to re-search for that handy article you found a few days ago. Simply copy and paste the URL into your "Resources" section of your editorial calendar, and you're done.
When it comes to editorial calendars, the more information you have, the better. Including details up front before your content is written will only help smooth out the writing process and make sure everyone is on the same page.
Ask around your office and work with your teams to create an editorial calendar that works for everyone. Once you've identified the most important aspects of your editorial calendar to include, you'll have a valuable tool to streamline content and better track your editorial process.
Editor's Note: This post was originally published in January 2018. It was updated in January 2019 for accuracy and comprehensiveness.