Catchy title? Check! Personas? Check!
It's important to have all your information in order before you start creating content, and that information includes buyer persona research, awesome titles, keyword research information, and more.
If you're not checking these items off when you're creating your editorial calendar, then you're doing it all wrong.
What Is an Editorial Calendar?
Editorial calendars are crucial when creating a plan for your content.
An editorial calendar is what tracks everything you need to know about the content you are publishing. Who are you writing it for? What is the article's overall purpose? What does the title rank?
All of these questions might seem confusing at first. But, once you establish the framework for your own editorial calendar, answering these questions will be a breeze – and keep you on track to create valuable content.
Why Use an Editorial Calendar?
There are quite a few answers to that question, actually, and most surround the idea of keeping you and your team organized. Here are some of the key perks to keeping a clean ed cal:
Your Blogs Will Be More Consistent.
The best bloggers know that consistency is far more important than frequency. It's kind of like a quality over quantity philosophy.
By committing to specific days of the week or an identified time, then your audience will know exactly when to check your blog for your latest post. Your frequency is entirely up to you, but you should have some sort of schedule established – both for your benefit and theirs.
You'll also be able to keep better track of what content you've already put out and what you have scheduled to come. Managing your brand, topics, and themes becomes far easier when you schedule posts ahead of time.
You'll avoid being redundant in your postings and be able to backlog posts if you're hit with a bout of inspiration.
You'll Have Better Project Management.
Say you have a special series that you're blogging about on a certain topic. Keeping up with a project like that can be made simpler through an editorial calendar.
You can plan what to write, perform research, and gather relevant images, videos, and references all ahead of time. You can even list out files and links in your calendar for future reference.
You'll have everything at your fingertips when it comes time to publish your blog post.
You Can Eliminate Writer's Block.
The arch nemesis of most writers, it can be demoralizing to sit in front of your computer and stare at a blank page for an hour before an idea comes to you.
A well planned ed cal allows you to plan your topics weeks ahead of time and keep you aligned with your content marketing strategy.
Another happy consequence is the stress relief that comes from when the pressure to ideate on the spot is lifted. Knowing you have a subject to write about is a great feeling.
You Can Feature Guest Bloggers.
Since you're planning out your calendar weeks in advance, it's not a bad idea to cut yourself a break every now and again. A full schedule can lead to burnout if you're not careful, so highlighting guest bloggers can take some of that pressure off.
You can look for appropriate slots in your editorial calendar where it makes sense to schedule a guest post. It gives them more exposure and gives you a break.
Diversifying your content has benefits too, keeping your readers engaged and interested.
You'll Re-Define Your Strategies.
When it comes to your content and social media marketing, staying on top of your efforts is critical.
An editorial calendar will help you track your postings across social channels, optimize engagement, and archive topics you've touched on already. You can get accessible metrics of what content is truly resonating with your audience and revisit them later.
Leveraging the details of your ed cal can help your analysis of your strategies' effectiveness.
You'll Increase Lead Generation.
All of the above benefits work together toward one goal: generating leads.
You'll be able to build an editorial calendar centered around content that will attract your target audience and build brand awareness and credibility. You'll have a better chance of generating leads from both your blog and social accounts.
The good news is: You can make your editorial calendar as robust as you want.
5 Editorial Calendar Tips For a Better Content Strategy
There are some key tricks that you can implement into your editorial calendar that will help revamp your content marketing efforts.
1. Research Your Keywords.
Creating good titles for your blogs is the most important part of your editorial calendar – after the intent of the topic, of course. They are the hook that will entice users to click on the article and actually read your content.
However, great titles start with great keywords.
It's important to use keywords in your title for SEO efforts. Keyword research is important for creating content that will perform well.
Search to see what people are talking about. This will help you identify a keyword that people are interested in and what will rank well. Using keyword tools, such as Moz, will also help you find keywords to include in your title and throughout your blog post.
Your editorial calendar should have a section where you include your main keyword, as well as any secondary keywords you might be using throughout the article. Then, your title should go in a separate column in your editorial calendar, followed by its title score.
2. Identify Your Personas.
Who are you planning on writing this blog for? What persona do you want your content to target?
Different personas and target audiences can change the tone of a blog and affect how it is written. By including the persona you want to write for in your editorial calendar, you are indicating who the audience is for yourself and/or your copywriter.
Having this information also helps you make sure that you are not always targeting the same persona for each blog post. That way, you can be sure your blog has diverse content that attracts your entire audience.
3. Note Your Call to Action.
When your readers get to the end of your post, what do you want their next step to be?
You should always include a desired call to action (CTA) at the end of each blog post you publish, whether it leads readers to a resource or contact page, asks them to subscribe, or even sends them to another blog post.
Because of this, you should also always note it in your editorial calendar.
Including a column in your editorial calendar for what CTA you want to use in your blog will help you know in advance where you want your readers to go and will make the writing process easier.
By making a quick note of the CTA you'll include at the end of your blog post, you'll also be able to spot any holes in your content.
For example, let's say you're a marketing agency, and you created a checklist for your audience to use when they're assessing CMS platforms. You might unknowingly skip out on writing about a content marketing strategy, meaning you never get the chance to promote your CMS checklist.
Keep track of all the available CTAs you have in your system, and make sure you aren't overusing one – you want variety in your content, after all.
4. Be Strategic With Dates.
The most obvious information to include in your editorial calendar is the date. It is a calendar after all.
Your editorial calendar dates should be clear on when posts are going to publish so that you can be sure you have a consistent flow of content to publish throughout the week, month, etc.
If you write your blogs one week and then publish during the next week, make sure you have two columns on your calendar to be clear which dates each of these will be completed by. This will help you with deadlines and keeping track of when you are publishing.
This can also be a handy note to have if your business is considering historical optimization. Knowing the original date of publication can help you tell how dated the content is and what might need to be added or adjusted since it was last written.
It's also a good idea to synchronize your postings with important company milestones. Does your business have an upcoming product launch? Or would your audience enjoy some sort of holiday tie in? Working around key dates can add extra impact to your posts.
5. Create Organization Hacks With Color and Lists.
As you continue to use your editorial calendar, using an organized, color-coded system can be very helpful to know the status of your blogs.
Set a color for what is currently being written, what is being reviewed and edited, and what is published. This will help you quickly identify where each blog currently stands in the editorial process.
That way, you won't have to ask copywriters, editors, or other individuals about the status of the blogs.
Additionally, you can create option lists within your editorial calendar to help employees quickly select their option. In Google Sheets, you simply right click the top cell on the column and click "data validation."
For sections that require specific answers, like buyer personas, having pre-automated answers might make the filling out process a little quicker.
Editorial Calendar Examples
The beauty of an ed cal is that it can look however you want it to. Customize it to whatever works best for your marketing strategies and goals.
But, it never hurts to look at what others are doing well. Here are some impressive editorial calendars to pull inspiration from:
Buffer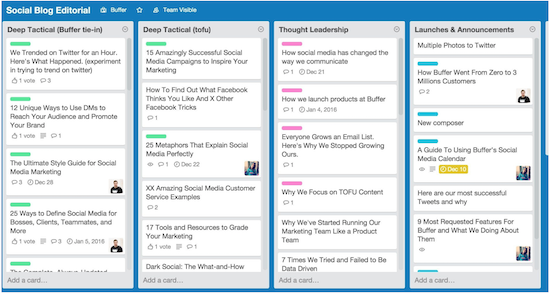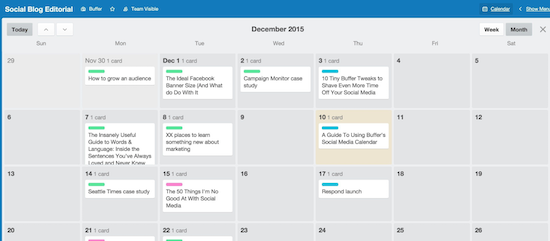 Source: Buffer
Buffer does a great job of planning out both their content blogging and social media posts. Leveraging different software platforms, like Trello, they've been able to map out entire months in detail, segmenting via topic, category, and author.
Time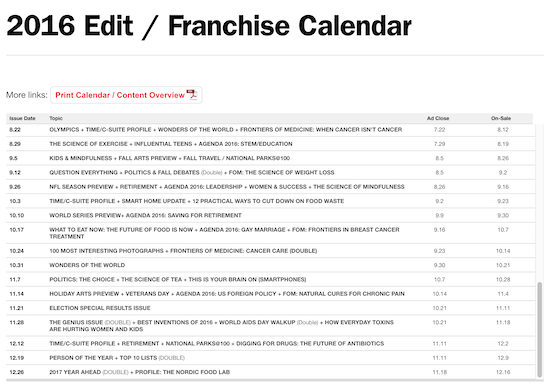 Source: Time
Time's Media Kit releases their annual editorial calendar to the public, highlighting their topics and key dates.
Their audience can even identify when their prints will be ready for sale, building anticipation and a pre-planned purchase.
Inc.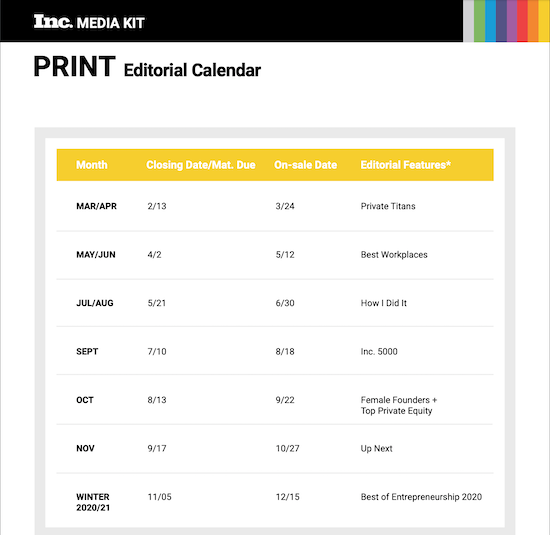 Source: Inc.
Inc. publishes their ed cal as well, though in far less detail. Still, there is a clear presentation of what the feature is, what month it's planned to be released, and when it will be on sale.
Editorial Calendar Template to Help You Get Started
With all of those tips and great examples of editorial calendars in action, you're well on your way to building your own and streamlining your content strategy.
Good news! We created an editorial calendar template you can use!

You can use this template when you download the Ultimate Content Ideation Workbook. Ask around your office and work with your teams to collaborate on an editorial calendar that works for everyone.
Once you've identified the most important aspects of your editorial calendar to include, you'll have a valuable tool to streamline content and better track your editorial process.