Content marketing professionals like you juggle a lot in your day.
If you're not writing, you're strategizing, working with clients, or pulling reports to analyze previous campaigns. Then, you're writing again.
In other words, you have a lot in the air at one time. You wear a lot of hats throughout the day, so you need to be super focused, creative, and efficient.
But this is easier said than done.
Fortunately, there are plenty of apps available to help you stay productive throughout the day. Here's a look at what apps are best for time management, focus, and ideation:
Time Management
Your level of productivity is impacted by your ability to manage your time throughout the day. And this is a common challenge for most content marketers.
In fact, ClearVoice's Content Marketing Survey from 2017 found that time is the top challenge marketers face. This is not surprising when you look at how time consuming it can be to create a strategy, produce content, and measuring your content performance.
The better you are at managing your time every day, the better your content's quality (and quantity) will be. Here are a few apps to help you:
Focus Keeper
Available: Apple App Store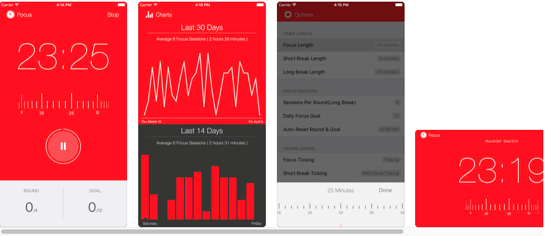 One of the most popular time management methods, the Pomodoro Technique is easy to follow. You simply work for 25 minutes straight, then step away for a short break (usually about five minutes).
The Focus Keeper app has a clean interface that is simple and intuitive. It is easy to use: You simply pick a task, set the timer for 25 minutes, and focus until the timer goes off.
Then, relax for a few minutes before starting your next 25 minute interval. After four focus sessions, step away for a longer break (20 to 30 minutes).
This technique helps prevent burnout and keeps you on task for shorter, super productive periods of time.
Forest
Available: Apple App Store, Google Play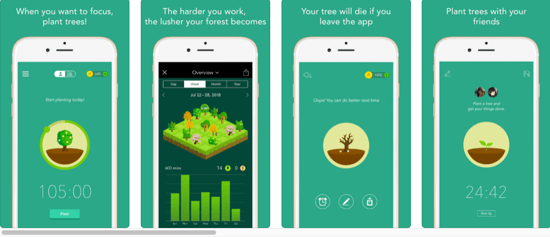 Time management apps don't need to be a snooze. The Forest app adds a fun element. Instead of simply watching a timer count down, you get to grow a "tree" and, eventually, build a full digital forest in your app.
If you exit out of the app, you're given a reminder to stay focused or your tree will die. So if you don't hurry back to your focus zone, your tree dies and you have to start over.
This is the perfect tool if you want a little more visual stimulation. The more trees you plant and grow, the bigger your forest expands. This can be motivational because you see the progress you make with each time interval you complete.
You can set time intervals between 10 and 120 minutes. Your timeline shows you a history of your activity. You also earn achievements and can track your statistics on a daily, weekly, monthly, and yearly basis.
And perhaps the coolest feature of all - you can redeem rewards to plant real trees through the organization Trees for the Future.
Todoist
Available: Apple App Store, Google Play, Desktop for Mac and Windows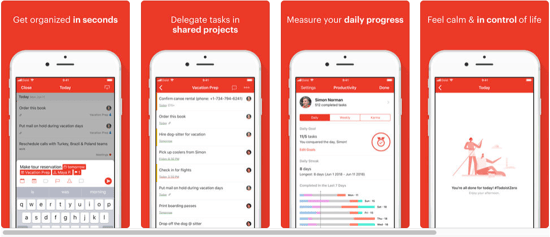 Some days, your list of things to do can feel intimidating. As you build your list in your notebook, you can lose track of your priorities.
This is where Todoist comes in. This app gives you a clear overview in a simple, intuitive design.
You can assign deadlines and recurring due dates to stay on top of your weekly tasks and color code tasks based on priority. Also, you can map out your goals and projects by breaking them up into smaller steps.
The Todoist Karma points help you stay on track and manage your streaks and progress. Best of all, you can integrate your Todoist app with hundreds of apps, including Google Drive, Slack, Zapier, Microsoft Flow, and Amazon Alexa.
Blink
Available: Apple App Store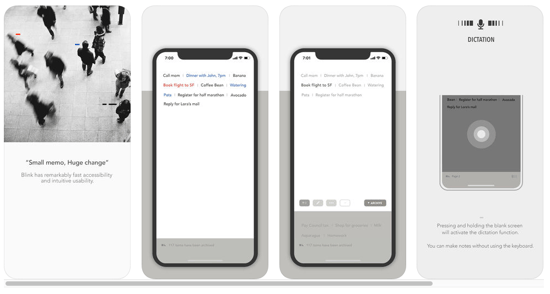 If you prefer straightforward, clean design and a minimalist aesthetic, the Blink app is right for you. No complex additional features or in-depth color coding schemes.
It's incredibly user friendly and fast. You can also use dictation for hands free note taking and follow straightforward gestures to manage your items.
If you complete a task, hold down on the item and slide it done. Need to reprioritize? Hold and slide the item up to shift your to do list around.
Trello
Available: Apple App Store, Google Play, Desktop for Mac and Windows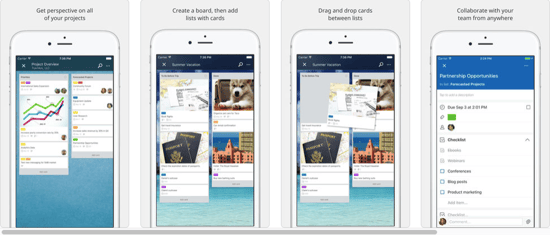 One of the leading project management tools, Trello helps you visualize all of your projects in one clean interface.
Trello boards include cards that are dragged and dropped into columns. This is the perfect platform for using the Getting Things Done (GTD) productivity system.
With these boards, you can structure your workday around what needs to be done first and what tasks will take more time than others. This is especially helpful for teams who are collaborating and want to share progress on specific projects.
Some other noteworthy time management apps include:
Things - Get a full glance of your day, and build your workflow around your to-dos.
Airtable - This is part spreadsheet, part database
Focus
For tackling your task list, you must be able to hold your concentration on single duties for a long period of time. This is a skill you can actually develop with consistent practice.
These apps will guide you to better focus every day:
Spotify
Available: Apple App Store, Google Play, Desktop for Mac and Windows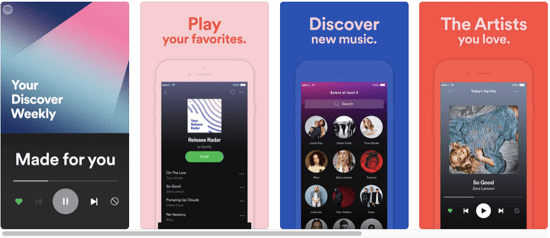 Music can actually help you stay on task.
According to a 2007 study conducted at the Stanford Cognitive and Systems Neuroscience Laboratory, music impacts areas in the brain that are associated with memory retention and attention spans.
But the kind of music you choose is important. A 2011 study conducted at the University of Wales found that students were distracted by music with lyrics, whereas students listening to instrumental or lyrically repetitive music were less distracted.
The study found that listening to background music before performance increases cognitive processes, including attention.
With Spotify, one of the biggest music streaming services in the world, you can customize playlists or listen to pre-selected playlists that are curated to help you focus. Then, when you knock out your to do list, rock out to your favorite tunes!
Headspace
Available: Apple App Store, Google Play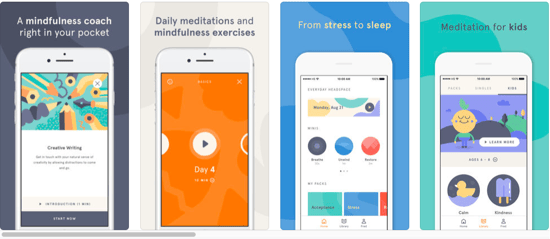 Mindfulness is more than just a trendy term. It actually delivers real results for your overall well-being and performance. A 2016 study from Case Western Reserve University found that mindfulness improves focus, attention, and behavior in the workplace.
Meditation is one of the best exercises to develop mindfulness, and Headspace is the most noteworthy, popular meditation app available.
They offer a variety of meditation options, including:
Everyday Headspace - A new, short guided meditation delivered every single day.
Minis - Short on-demand guided meditations for exercises like mindful breathing and body scans.
Packs - Themed packs of longer form guided meditations for topics like health, happiness, work and performance, and sport.
You can track your usage and build momentum to create mindfulness habits that will help you focus and improve your work performance.
Bear
Available: Apple App Store, Desktop for Mac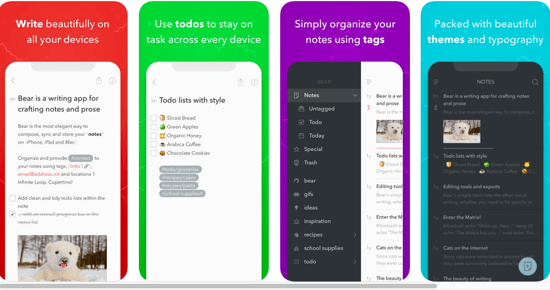 There are plenty of writing apps available, but not all are created equal. Many of them can be overly complex and crowded.
Bear is the standout writing app. The interface is super simple to navigate, and you can customize your organization system for your notes and content.
There are several editing tools, including header fonts, list and quote options, coding, and export options for PDF and Word documents.
You can organize all your thoughts through hashtags one the left side bar and stay on top of your content across all your devices. Their Focus Mode hides all your notes and makes it simple to attend to writing your copy.
Scrivener
Available: Apple App Store, Desktop for Mac and Windows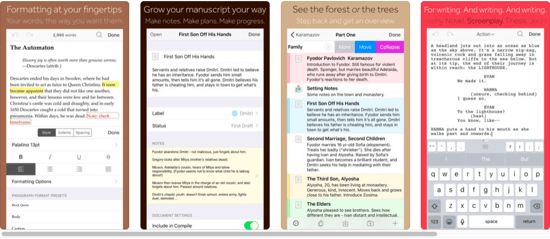 Have you ever felt overwhelmed when you're gathering research and planning out long pieces of content? When you're tackling big projects, it's easy to get lost in your process and lose sight of your end goal.
Scrivener is here to help. Their features help you along every step of the way. These features include:
Outliner - See an overview of each section to make arrangements, and leave notes to yourself on what needs to done for each section.
Corkboard - Use virtual index cards to keep track of information and organize each section for your entire project.
Full screen writing - Eliminate distractions when you're ready to put cursor to page.
This is one of the most popular tools used by authors, journalists, students, lawyers, novelists, and so much more.
Momentum
Available: Chrome and Firefox
Do you find yourself drowning in dozens of open tabs? Are you jumping out of your task at hand to get lost in news articles and funny videos?
Block out the noise and stay on task with the Momentum browser extension. This tool helps you reduce web surfing temptations.
The photos are beautiful and inspiring, and you can personalize the extension to address you by name. Plus, you can build a to do list so you see every task when you're tempted to start mindlessly surfing.
If these don't interest you, look into other focus apps, such as:
Calm - Another great app for learning mindfulness through meditation, sleep assistance, music, and audio classes.
Coffitivity - A desktop app that delivers audio mimicking the sounds of busy cafes, so you can channel your Starbucks creativity.
Ideation
One of the most time consuming aspects of content creation is actually developing ideas you want to create content around. Ideating doesn't have to drag you down anymore, thanks to these apps:
Evernote
Available: Apple App Store, Google Play, Desktop for Mac and Windows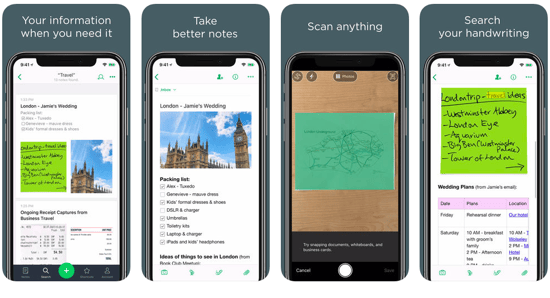 Research and collecting information plays an integral part of the ideation process. Without an organization tool, your research collection can get messy.
To reduce time looking for your notes and research, you need a digital tool that you can customize to your needs.
Enter Evernote, arguably the most popular app for note taking. You can use this app to do practically anything research related.
From taking simple notes with images to clipping and saving webpages and annotating documents, with Evernote, you're cutting your ideation time down significantly.
For example, if you see a competitor publish an awesome ebook, save it and take notes on how you can provide more value with an ebook of your own. Also, collaborate with fellow content marketers with brainstorming documents.
The Brainstormer
Available: Apple App Store, Google Play

Speaking of brainstorming, the Brainstormer app touts itself as the best defense against writer's block. And it deserves that accolade.
Fiction writers, novelists, and other creative thinkers love this app because it does a lot of the legwork for generating ideas. The features include:
Wheel mode - Spin the digital wheel to get unique combinations of three important areas: plot/conflict, style/setting, and subject/location.
Slot mode - Similar to the wheel mode, shake your device and the slots spin for a randomized combination.
Word lists - Customize your own wheels with terms and keywords that align with your project.
Builders - Develop your own characters, worlds, and creatures within builder tools.
Even outside your role as a content marketer, you can fuel your creative juices by writing for fun. And tools like this are excellent for both your hobby and professional writing.
Feedly
Available: Apple App Store, Google Play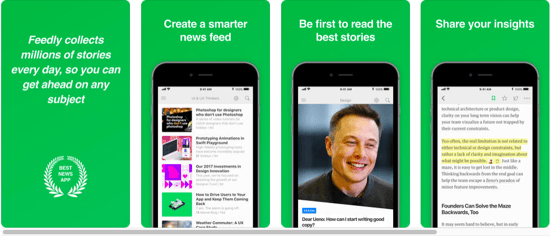 Instead of mindlessly scrolling through news stories and webpages, collect your favorites and organize them with a news aggregator app.
Feedly is one of the best ones out there and a must have if you're looking to generate new ideas. You can even use it to track keywords, your own brand, and your competitors.
Plus, you can connect your Feedly to your social media platforms, Evernote, Bugger, Zapier, and more, so sharing awesome content is a breeze. If you need inspiration, check out their popular topics.
Overall, this is an excellent tool for organizing your favorite resources.
MindNode
Available: Apple App Store, Desktop for Mac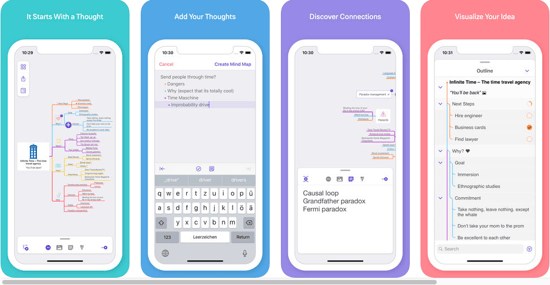 The best kinds of apps for visualizing your ideas and brainstorming revolve around mind mapping. A mind map helps you brainstorm thoughts and visually structure them in a diagram. In the center, there is a subject, and the outer branches are words, concepts, items, and tasks.
MindNode is one of your best options. You can build out your branches and nodes with ideas. The branches and connections can represent different types of relationships.
Plus, through myMindNode, you can create shareable documents to collaborate with your team. There are unlimited personal themes, plenty of styling options, and export options for PDF, image, and outline formats.
Eyewire Creativity Cards
Available: Everywhere with an internet connection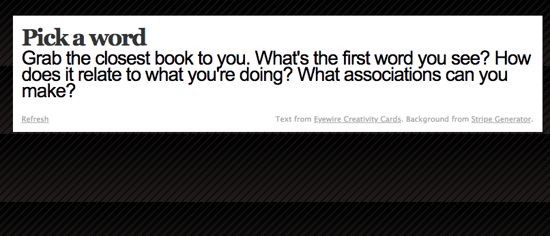 Not so much an app as it is a vital online resource, Eyewire Creativity Cards are simple by design. All you do is visit the homepage to receive fun creative prompts that can stimulate ideas in an instant.
If you don't like the prompt, hit refresh for another option. This is an excellent go-to tool when you need to get unstuck quickly.
There are so many amazing tools you can use to fuel ideation. Here are a few others to consider:
Mind42 - Another excellent mind mapping app available for free online.
Flipboard - This alternative to Feedly is another awesome tool for aggregating your news.
What are some of your favorite productivity apps? Share in the comments below!