Posted in Website Design, and Content Marketing. 5 min read
Understanding the feelings and emotions that are caused by seeing a particular color is very important to making the right decision with your web design and marketing. With that being said, orange is a great color to use for your marketing efforts. Orange is a fun and eye-catching color that's bold enough to grab attention but not too strong of a color (like red or neon green) that causes too harsh of a reaction.
What Does Orange Evoke?
The orange color spectrum can represent fun and optimism or elegance and calm, and everywhere in between. Orange merges the energy of red with the happiness of yellow. This energetic happiness is associated with sunshine, the tropics, creativity, success, encouragement, and stimulation. It also portrays the autumn season, including Halloween and Thanksgiving. The overall impression is a mellow and relaxing warmth. Other examples of orange symbolism include the color of warning and visibility, such as yield signs and life jackets. As a color in design, orange captures and holds its viewers.
Technicalities
In HTML, different colors are given a set of six specific numbers or letters based on their balance of the colors red, green, and blue. The six specific numbers are the Hex numbers, or the code telling HTML which color is to be used. The Hex number is the reason we see colors on websites. The balance of the colors red, green, and blue is referred to as the RGB number. For example, inserting the color black into HTML code would be "#000000" and white would be "#FFFFFF." In the case of orange, the red number will be the highest, since orange is closer to red than blue or green in the color spectrum.
Companies that Rock Orange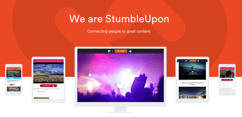 With orange being used to capture attention or reflect tropical success, many websites utilize orange as a marketing tactic. Here are three brands using orange for their brand, the right way:
StumbleUpon is a web surfing adventure of a site. You choose from an array of personal interests and they basically find the best of the web for your tastes. In this case, orange awakens a sense of fun and adventure; it's exciting, just like the website itself. It's a great color choice for this brand to use because without reading or seeing any pictures, you can already get a sense of what to expect.
HubSpot uses orange for an accent color; it's even in their logo- an orange sprocket. It brings a certain energy to the brand. You can get the feeling that it's a young, vibrant brand
without having to know too much about the company itself. For this reason, many sports teams have taken advantage of using this color, such as the Baltimore Orioles and Cincinnati Bengals.
Etsy uses orange in their logo as well. It's also present in their website but in small doses. This brand realizes that overusing the color can cause a washout of it. If it's used sparingly it's great as a highlight so you can drive visitors to what you want them to focus on
Orange as a Marketing Tool for Your Website
Orange as a marketing tool conveys the eye-catching attention of the contemporary. This provocative color stimulates the eye and intrigues the design. Orange is a very family friendly color, which is why orange are also associated with children and youth, because it conveys the fun and adventurous whimsy of childhood. Even if it's not the most prominent color in your website, orange can be used to highlight specific elements of your design, like:
Calls-to-Actions are where you're really trying to steer your visitors so they can download an offer and learn a little bit more about your company and its services. Use orange here and it'll be sure to garner attention.
Using an accent orange color is also smart. This is a good choice because it can become quickly overused. Like Etsy, if you use it as a color in your logo, then you can strategically sprinkle accents of it across your website.
Focal points also do well in orange. If you use it in your navigation, visitors can easily see where your blog and contact us pages are. It really makes it pop! You can also color certain words on your site orange so they stand out; however, I wouldn't recommend all of your texts being in orange, this may put a strain on your visitor's eyes and they won't want to read your content.
Orange can be a great eye-catching color for any website. When using certain shades, however, it would be best to exercise caution, lest the result could end poorly. Darker oranges represent deceit and distrust (probably not the impression you want to give your audience!) while red-orange has the similar effect as red, corresponding with passions and aggression. If you are looking to capture your customer's attention, then a lighter or vibrant shade would work best. Use your discretion and merge it with the association you want to portray, and orange becomes a versatile color good for many designs.