Defining your brand identity isn't easy. There are so many different little pieces and puzzles to try and optimize or perfect.
When it comes to your business' brand, you're expected to nail everything, from the messaging to the shade of gray used in your logo's shadow.
Surprisingly, the fonts you use carry a lot of weight in how your brand is perceived. They communicate quite a bit when it comes down to it. How fun is your company? Are you more high-end? Do you aim to come across as relatable?
We try to take a bit of mystery out of picking a brand font and lessen the pressure of building the perfect brand.
Elements of a Brand
Ok, but what exactly are we talking about when we use the word "brand".
via GIPHY

Well, there's a long list of elements that go into how your brand is perceived.
Brand Values
What does you brand stand for? Your audience wants to know, and the idea is that they should be able to identify those values rather easily.
Sure, they know what you do, market, or sell, but they're looking for your beliefs and priorities as well. People prefer to do business with other people they can relate to, not an enigmatic identity that just pumps out products.
Brand Voice
Your brand's voice is a culmination of personality and messaging that acts as the face of your company. A strong brand voice makes communicating all of your beliefs, values, goals, and successes so much easier.
Brand Logo
Choosing a brand logo is like choosing a house insignia.
You want it to evoke some sort of emotion and carry a sense of pride. It's what represents your company visually, bearing your entire brand's identity in one symbol.
Brand Colors
Your brand color palette works in tandem with your logo and font, playing off color psychology to create certain emotional attachments to your brand.
You can direct whatever sentiments you would like with the right combination of tones, shades, and tints.
Brand Typography
Typography is just another way of saying font. Nicknames aside, it's just as important as the rest of the elements. The font you choose reflects your brand personality and, at times, can help position your company in your industry.
Font Types
You've probably been able to recognize the differences in different fonts, but the specifics of every font type isn't common knowledge. In fact, there's a lot of little nuances found in each.
Serif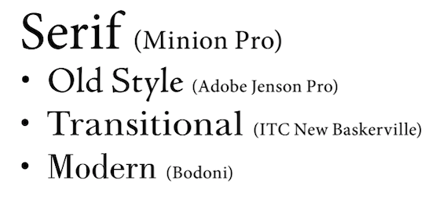 Source: Wikipedia
Serif fonts date back to the 15th century with the Romans, and they're still one of the most classic fonts today.
The defining characteristic of a serif font is the "feet," or flared brushstrokes, at the top and bottom of each character. There are a ton of smaller fonts that fall under this font family classification, varying in weight, shape, and height, but they all have that one trait to set them apart.
Pretty much every book or official document uses a serif font because the feet are alleged to help guide your eyes as you read large chunks of text. It's the most well-received font face, trusted globally.
Slab Serif


Source: Wikipedia
We're not going to go into every font type that falls under the serif umbrella, but this one does deserve an honorable mention in the world of brand fonts.
Slab serif fonts are a "bolded" style. They have a thicker line, making them pop. It also makes them a favorite for more bold companies that seek to grab attention.
Sans Serif

Source: Wikipedia
If you didn't take Latin, then "sans" means "without." So, "without serif." Kind of self-explanatory, yeah?
Sans serif lack the small feet on each, individual character, but they still add a nice touch. Coming about in the mid-19th century, they're considered more clean and efficient. An economical font, they're great for digital screens.
Script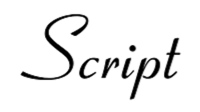 Source: Wikipedia
Script fonts are more aligned with a cursive style. You have formal scripts and then you have casual scripts. Depending on the effect you want to have on the reader, you'll likely prefer one over the other.
Formal scripts tend to be more fancy and professional. Best used for titles and headings, you have to be careful when using them for extended copy.
Casual scripts are a lot tamer, with a lot less flamboyance and a bit more legible. They give a bit more of a natural, fun vibe that's a bit easier on the eyes.
Handwritten

Source: Urbanfonts
Even though these look pretty similar to script fonts, they actually have a bit more design incorporated into them. They often lack true definition or structure, following fewer rules than the other font types.
They're pretty exciting and eye-catching, making them great for posters, book covers, logo designs, and more visually-centered collateral.
Tips for Picking a Font for Your Brand
Choosing something so important has a lot of pressure applied, but you shouldn't let that stop you from your quest to find the perfect font.
Here are some best practices to use along the way:
Understand Your Brand Personality.
If you don't understand your own brand, then how can you expect to visually define it for your audience?
Your brand's identity, or personality, is what your customers are going to relate to and find memorable about your company. All of those brand elements we mentioned before come together to create that personality.
If it isn't already well-defined, then consider performing a brand audit to get a solid grip of what messaging your company is putting out there and how your audience is receiving it.
Find a Font That Reflects Your Brand Identity.
Very quickly following that first notion, you need to be on the hunt for font families and typefaces that represent that defined personality well.
Create a list of adjectives that define your brand personality traits and look for your personal reactions to different fonts as you search. Collect the ones that align with your list.
Keep in mind that each of the font types we listed earlier carry specific traits and sentiments to them. If you're searching for a font that matches your ambitious, future-forward company, then Courier New (a serif font) may not be the right match.
Pair Fonts Carefully with Consideration.
via GIPHY

Using two fonts together is a pretty common practice, but it's all too easy to couple the wrong styles together and create something that clashes a bit too much.
Put a lot of thought into making sure that your pairings are balanced, attractive, and showcase your brand identity.
For example, try pairing a slab serif header with a more minimalist sans-serif sub-header to create a friendly, trustworthy attitude.
Consider How It Will Appear on Every Medium.
Finding flexible fonts should definitely be on your priority list. The ones you choose need to be legible and attractive on every medium, including print, web, and mobile.
Think about it. These are the fonts that you'll use on your blog, packaging, social media images, and other designs.
Be Versatile in Weights.
When picking your typography, you should also factor in the chosen font's weights. You'll want the versatility for your brand style guide, but it's important to note that not every font is going to look great as it thickens.
Font weights vary from light, regular, semibold, and bold. Leveraging all four of those styles is great for differentiating copy elements. Make sure to pay attention to your desired font's look in every style.
Check for Licensing and Cost.
There are free font sources, sure, but not every typeface is open for public use. If you want more expanded catalog choices, you'll need to pay licensing fees. And, typically, there's separate charges for web, print, and mobile use.
Before you dive into your search, build a potential budget. Or you can acknowledge that your options may be a bit more limited, but looking at free sources might be the best the way to go.
10 Free Sources for Brand Fonts
To save you a bit of time, we've found some of the best free font sources on the web right now. The ones we've chosen have pretty loaded decks and a ton of variety.
1. Google Fonts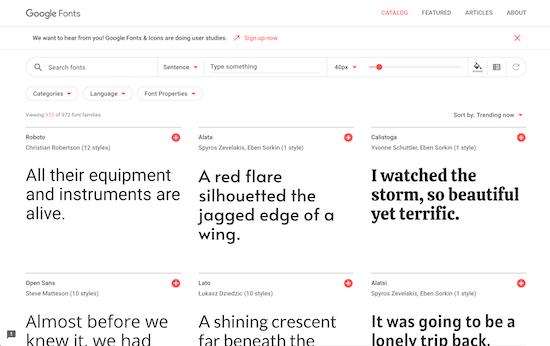 Of course, we have to start with Google. Where best to find fonts perfectly suited for web and mobile devices than Google Fonts? Open-source and home to over 800 font families, you're bound to find a font you like.
All of its fonts are downloadable, which makes it a favorite among designers.
2. FontSpace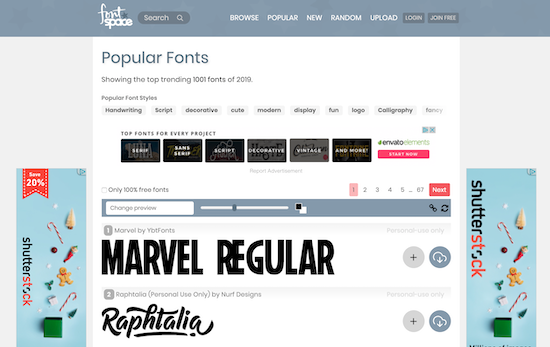 FontSpace sources its collection from over 2,100 designers, resulting in a catalog of 32,000 fonts. All of their resources are downloadable. Simply hover over your font of choice to find the licensing info.
When you become a registered member, you can build a list of favorites so that you can come back to them. If you're feeling especially grateful, maybe donate a few bucks to the designers.
3. Behance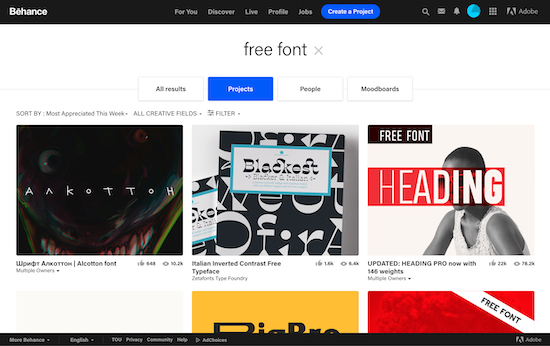 A social network, Behance is where designers congregate to showcase their portfolios.
There's a lot more to the site than fonts, but you can find a lot of free options available for download. They're unique and often less used than the more conventional fonts found in the other sources.
4. DaFont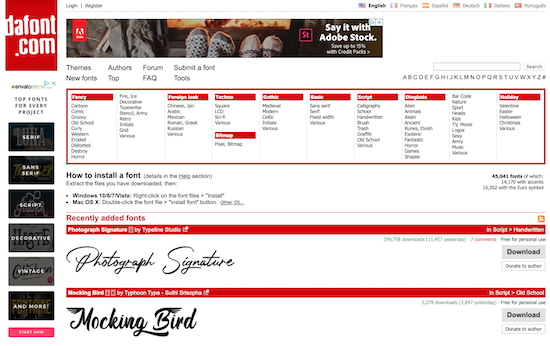 DaFont has a pretty wide deck of commercially licensed fonts available for use. It has a well-built category system that allows you to filter different fonts by theme.
5. FontStruct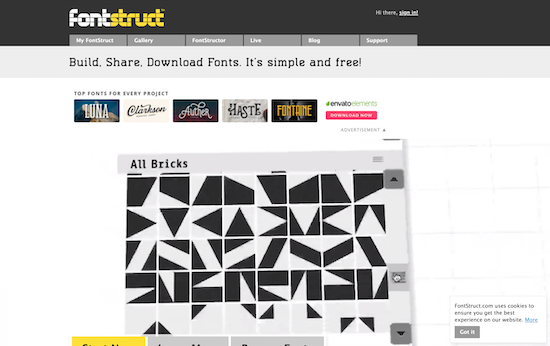 This one is radically different from the rest. FontStruct allows users to "build" their own typeface using a special editor. Users are encouraged to share them with the community afterwards.
If you're not in the mood to try and draft your own typeface, you have a library of others to choose and download, both user-made and the ones you're more familiar with.
6. 1001 Fonts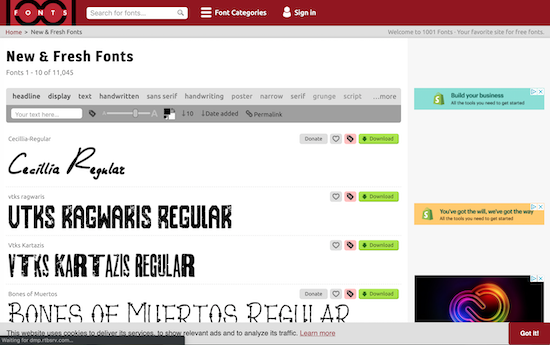 1001 Fonts has more than that available. With over 9,000 fonts available, the website is constantly updating and refreshing their library. You can search by size, style, and weight to find the perfect match to your brand.
7. Typedepot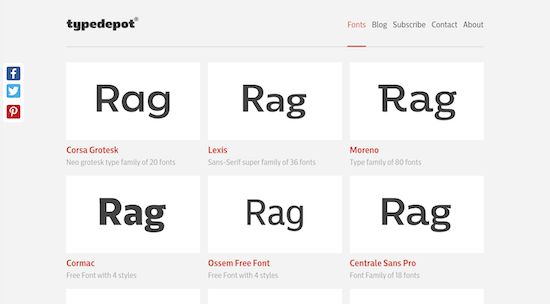 An organized font sourcing site, Typedot offers fonts based off of type and style. It's a great choice if you're looking to download more professional, simple fonts for your business.
8. Lost Type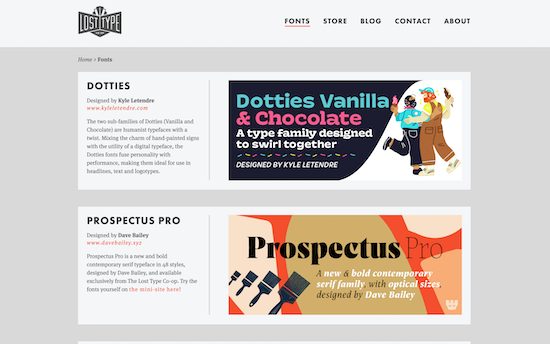 Lost Type offers you a variety of fonts and a unique one-page website to see the font in action at different sizes, weights, and alignments.
You can offer to pay whatever you'd like for a download, including $0, although certain commercial licenses will require an actual investment.
9. The League of Movable Type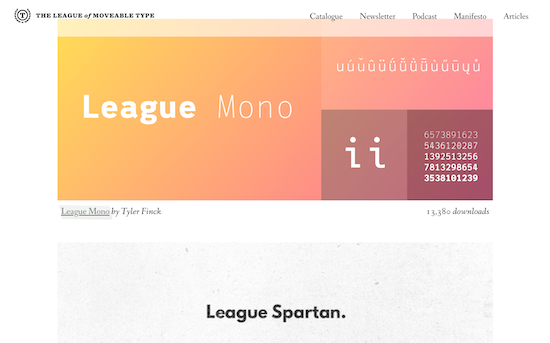 The League of Movable Type is a GitHub project that allows for free, open-source fonts. With a specially selected group of typographers and designers tasked to make fonts, the source has been seen as a revolution.
10. Neogrey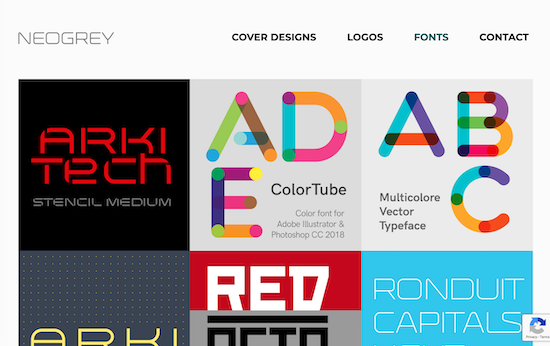 Neogrey is especially unique on this list. Ivan Filipov, a graphic and web designer, has made his portfolio open for use to the public online.
It's not an expansive portfolio, but all of his personally designed fonts are available for download. You draw inspiration from the sample artwork gallery committed to each font.
With so many options available, whether you're looking for free choices or have a readily available budget, you'll be able to find the right fonts for you.
Just be sure to always keep your brand identity and messaging at top of mind when picking out elements.