Your blog is the core of your content marketing strategy. But it's also a reflection on your company and how technologically developed you are.
Every detail of your blog should be perfectly in sync with your brand style. After all, it's a key element of your website, so it needs to be presented as a unified, wholesome entity within the larger framework of your site.
But how do you make sure that your blog is always in sync with your brand? Fear not because creating a style guide for your blog answers your prayers!
Why a Blog Style Guide Matters
A blog style guide outlines the theme of your blog, including tone, color scheme, and overall feel of the page.
Creating a blog style guide is especially important for businesses that have a content team managing their blog. When more than one person is contributing to your blog, posts can quickly become inconsistent with each other, and the whole thing can end up looking sloppy.
A clean, consistent, well-maintained blog is the goal. It should be a unified representation of your overall brand, so it needs to stay in theme.
Who Should Be Involved in Creating a Blog Style Guide
via GIPHY
Your content team should work together to determine how to keep your blog in theme with your brand. The most important element is to determine what the voice of your company sounds like and how you can present it in a clear way for the entire team to get on board with.
Work together to answer important questions, like what outline and shape will each blog post take? When do you use headers? What are your brand colors, and how can you integrate them?
It's a good idea to talk to one of your in-house designers when discussing the visual style of your blog and how you can utilize important elements like white space to make it more appealing.
What to Include When Creating a Style Guide For Your Blog
When your content management team sits down to create a blog style guide, they should have a full list of all the elements they need to include.
Just to make sure you don't miss anything, here's a list of the most important features to include in your content style guide.
Tone of Content
via GIPHY
First and foremost, you need to nail down the tone of your content; otherwise your blog might sound like a hundred different people yelling in a room – nothing will sync up, and the whole thing will be incredibly messy.
What's the tone of your company? Is your voice upbeat and friendly? Serious and authoritative? Fun but professional? Relaxed or formal? Consider the key adjectives that would be used to describe the tone of your brand.
Colors
Color is another important element of your content style. Consistency in color is a major player in aligning your visual appeal throughout the entire blog.
Pick a few colors that are on theme with your brand, and stick to them. Make sure you record the HEX or RGB color code so you use the exact right shade every time – variation in the tone of the color will look inconsistent and sloppy.
H Tags
Consistency within your headers will shape a maintained structure of every blog post. What color are your H1, H2, and H3 tags going to be? When should you place a new header to break up sections?
Determining this will help you outline content from the very beginning to stay in theme with your blog.
Title and Subtitle Capitalization
This one might seem insignificant, but no detail goes unnoticed. Proper capitalization is a reflection on both professionalism and intelligence.
Are you going to capitalize all your titles, and make your subtitles uncapitalized? Or just capitalize all of it? How about your headers for each section?
Your team can use tools like Capitalize My Title to ensure a consistent approach to how you capitalize everything. First, choose your preference, like AP or Chicago style, then stick with it!
Image Use, Quality, and Type
via GIPHY
This is a big one. Images are an incredibly important element of your blog, so it's essential that they're consistent throughout.
For example, can your content creators include humorous images like gifs to lighten the mood? What about illustrated images or cartoons? Or should they only include relevant, high quality photographs to add a simple, subtle visual element to the posts? What purpose do images serve in the overall post?
Visual elements are equally important as written material for your content marketing strategy, so make sure you dedicate time to determining how you want to integrate them.
Video Use and Type
Similar to static images, video should also hold a place in your blog. Even if it's not an element you utilize very often, you should still include guidelines for how to include it when you do.
Do you want the videos to play sound in your posts? Should they play on an automatic loop, or just once? These are the considerations you need to look into as you're creating a style guide.
Tags
Organization is your best friend. No? Is that just me?
As a content creator, organization is definitely my best friend. And keeping your blog organized will save you a hell of a lot headaches. Putting blog posts under the proper category tags is the best way to maintain organization within your content platform.
If your content creators are using a hodgepodge of different blog tags to categorize posts, then they'll likely be scattered all over the place and you (and your readership) won't be able to find what you're looking for.
Establish a list of tags to use, and make sure your team applies the relevant one to each of their posts for optimum searchability and organization.
Grammar and Spelling
via GIPHY
If you've got a strong content team, chances are they're all grammar nerds. But there are a few widespread debates amongst grammar and spelling, like the commonly disputed Oxford comma.
Just last week, I was writing a blog post, and our content team got into a debate about whether or not to capitalize Google when using it in verb form – googling. You know what settles those debates? A style guide.
A Styled Blog Example
You guessed it – here at Bluleadz, we have our very own blog style guide that our copywriters and content creators follow religiously. It's how we maintain consistency throughout our blog and website.
Take a look at a few examples of primary style elements from one of our blog posts to help you spark ideas about what you can do for your own blog!
H Tags
All of our headers are formatted based on size and color. H2 tags are blue, H3 tags are green, and H4 tags are pink. Doing this maintains structure within the blog and helps the reader know what's going on as they read through it.
Also, all of our headers are capitalized, with the exception of prepositions.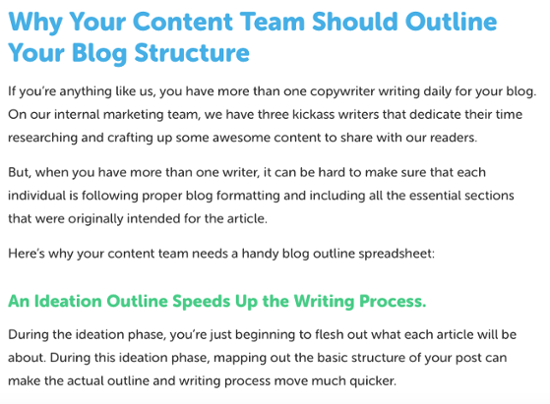 Bulleted Lists and Hyperlinks
Our bulleted lists feature bright orange bullets, and hyperlinks are always signified by orange text.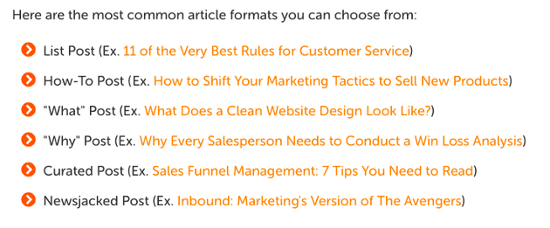 Image Use
We like to have a little fun here at Bluleadz, so we often include GIFs in our blog posts to make them more enjoyable for the reader. It not only inserts a little humor into our writing, but it also breaks up large chunks of text that might appear bulky to the reader's eye.
There's loads of GIF generators out there, but we always get our GIFs from Giphy.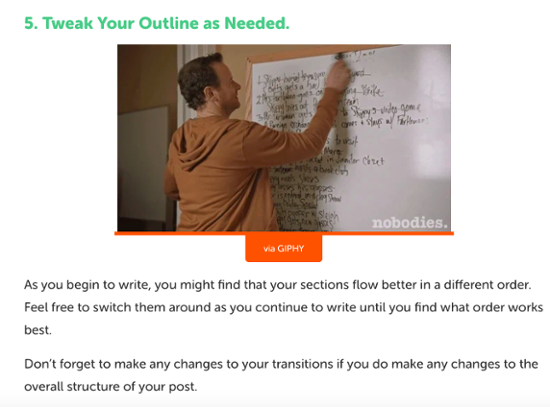 White Space
On that note, we also emphasize lots of white space in our blog. You'll never find a lengthy block paragraph in any of our blog posts, as we always break our writing up into short, easily digestible paragraphs to make for a reader-friendly experience.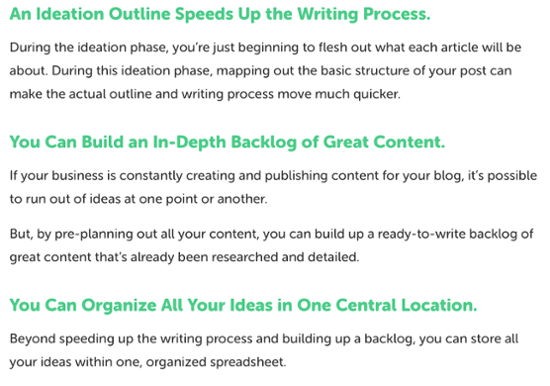 Work Within Your Current Brand Style
If you've already got some kind of brand style guidelines (brand colors, chosen fonts, etc.), then you're already a step in the right direction to creating your blog style guide!
Work within the framework of your brand's theme, and the process of creation will go much, much quicker – remember, the two are meant to be in sync.
Determine the larger elements of the style guide first, like color schemes, headers, and, most importantly, tone. Once you've got those done, it will be easier to go into the smaller details, like specifics on grammar, spelling, and organizational tags.
Don't forget to have fun with creating a style guide! You're about to give your blog a serious facelift, and the results will be well worth the time you put in.