The quality of internal communication within your business makes or breaks your company's ability to smoothly run day to day operations.
Research has proven that your team's ability to collaborate and communicate makes a big impact, with 86 percent of employees and executives citing a lack of collaboration and ineffective communications as the cause for workplace failures.
So how do you solve your communication problems for greater success within your business?
Simple: with technology.
20 Communication Tools (Ranked)
1.

Bucketlist

2.

Spike

3.

Monday

4.

Staffbase

5.

Slack

6.

Zoom

7.

Telegram

8.

ThoughtFarmer

9.

Trello

10.

Google Hangouts
11.

Jostle

12.

Quip

13.

Cisco Webex Teams

14.

Glip

15.

Basecamp

16.

Microsoft Teams

17.

Workplace by Facebook

18.

Chatter

19.

ContactMonkey

20.

Yammer
Numerous companies are already utilizing this solution, with up to 80 percent of businesses using social collaboration tools for enhancing business processes.
The results have been substantial – nearly 83 percent of professionals depend on technology to collaborate, and 82 percent felt they would feel impacted if this communication technology was lost.
When it comes down to it, your company needs communication tools to ensure strong collaboration and a positive workplace culture.
What Are Communication Tools?
The term "communication tools" is pretty self-explanatory – they streamline communication between individuals and teams internally and externally.
However, communication tools come in varying forms, as there are many kinds of platforms and software that simplify all kinds of business communication efforts.
Types of Communication Tools
Video Conferencing
Video conferencing tools allow multiple people to video chat at once.
If your company has multiple locations or employees that sometimes work remotely, you still need to be able to have meetings to discuss business plans, strategies, and progress. Video conferencing makes this possible.
Chats
Chat tools are basically like texting online. Remember having AOL and AIM back in the day when you were a kid? Those are chat tools.
However, web-based chat tools are also quite popular, in which messaging takes place through a tool within a regular internet browser window.
Voice Over IP (VoIP)
A VoIP is simply a voice call conducted over the internet rather than through a phone line.
VoIP's are a great tool for when you need to make quick contact with team members who may be out of the office, working remotely, or working at a different company location.
Email
Right, we're pretty sure you already know all about how emails work. Compared to the other types of communication tools, it's an elder.
Nevertheless, sometimes the power of email can easily be forgotten – it's an incredibly useful tool that allows you to deliver a large amount of information quickly and easily.
Whether communicating with your internal team or reaching out to your customers, email is still one of the best methods of digital communication out there.
Forums
Forums are online discussion groups in which people are able to respond directly to specific posts, messages, or comments.
Forums are often a popular place for Q&A discussions, so it's a great place for your teams to give and receive advice on issues or questions they may have.
Whiteboards
Believe it or not, you don't need a giant white plastic wall to use a whiteboard. In this day and age, there are now digital interactive whiteboards that teams can use to collaborate.
They're amongst the most recent development within communication tools, but they're proving to be hugely popular for creative teams who need to flesh out ideas together.
And hey, it saves you an office eyesore.
20 of the Best Internal Communication Tools
No matter your company size, internal communication can be tricky to navigate. You need to make sure you choose the best option for your company, which will be based on several elements you should consider – budget, team size, and unique needs.
When you're finally ready to start shopping around for communication tools, make sure you take a look at some of the best:
1. Bucketlist
What It Is:
Bucketlist is an employee recognition and rewards program with the goal of motivating team members to be productive and grow. This is a great tool for tracking productivity and team achievements and helps to create positive company culture.
Pricing: Not advertised
Reviews: 4.9 out of 5 stars
2. Spike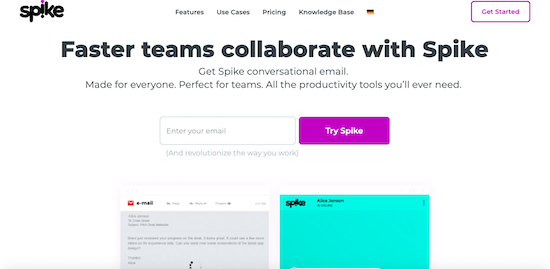 What It Is:
Spike is a conversational email app with one primary goal – to unify all of your forms of communication to a single place. That includes emails, chats, calls, team projects, everything all in one single location to save you from switching back and forth between methods of contact and thus losing valuable time.
With Spike, your regular emails come to look like chat threads, allowing communication to be clear, concise, quick, and easy.
Pricing:
Personal Account: Free
Pro Account: $5.99 per account/month
Reviews: 4.9 out of 5 stars
3. Monday
What It Is:
Apparently, Monday is more than just everyone's least favorite day of the week. It's also a project and team management platform that allows you to create dashboards to track progress and organize workflows.
You can set due dates, timelines, and even progress updates for each project, as well as assign them to team members so you know who is in charge of what. This tool is great for managers and entire teams working on a project with lots of moving parts.
Pricing:
Based on size of organization, from two users to 200+ users, from $17/month to $2,500/month.
Reviews: 4.7 out of 5 stars
4. Staffbase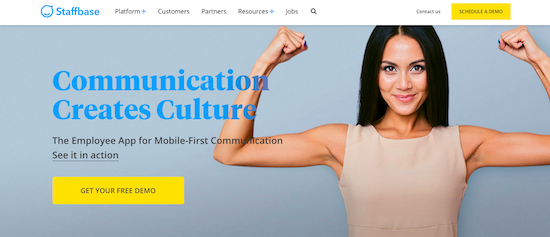 What It Is:
Staffbase is an employee app for mobile communication. It allows you to message, send push notifications, share documents, and even conduct employee surveys.
The app has a user friendly interface, and it's a great, easy way to communicate with your team and employees if they're always on the go.
Pricing: Custom quotes
Reviews: 4.6 out of 5 stars
5. Slack
What It Is:
Slack is a messaging software that makes communication throughout your entire organization quick and easy.
In addition to messaging, you can also make VoIP calls, and send files and videos via chat. Slack allows you to search through chat history, and you can even make chat groups called 'channels' for individual teams.
Slack is accessible on all devices – in browser, and via computer and mobile apps.
Pricing:
Standard Plan $6.67/month for small to medium businesses
Plus Plan for $12.50/month for larger businesses or those with additional administrative needs
Custom Enterprise quote for large businesses
Reviews: 4.5 out of 5 stars
6. Zoom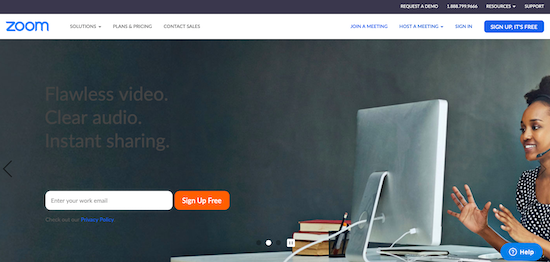 What It Is:
Zoom is an all-in-one video, audio, screen-sharing and messaging solution that allows you to conduct online video call meetings, host webinars, and much more. It's compatible with all devices, and has useful features like "Zoom Rooms" for optimum video conferencing.
Pricing:
Basic free plan
$14.99 per host/month pro plan for small teams
$19.99 per host/month business and enterprise plans for small to large companies
Reviews: 4.5 out of 5 stars
7. Telegram
What It Is:
Telegram is a cloud-based mobile and desktop software app for instant messaging and VoIP. Telegram is available on every major device system and allows you to synchronize your chats across all of them.
Pricing: Free
Reviews: 4.5 out of 5 stars
8. ThoughtFarmer
What It Is:
ThoughtFarmer is an intranet software service that aims to "boost productivity" by "strengthening internal communications."
It offers a wide range of features, including communication tools, project management and team collaboration tools, social features, document management, and informational navigation tools.
It also offers two data hosting options, cloud hosting and onsite hosting.
Pricing:
Based on company size
Cloud Hosting: $4 flat fee/user to $10 flat fee/user
Onsite Hosting: $89 flat fee/user to $119 flat fee/user
Reviews: 4.5 out of 5 stars
9. Trello
What It Is:
Trello is essentially an online bulletin board that allows you to create different project cards and move them throughout different columns on the board.
It's great for organizing and tracking the progress of specific tasks and projects, as the project cards enable you to collaboratively and continually add comments, upload files, and more, so anyone can click on it and see what the latest update is or add a note.
Pricing:
Free Basic Plan
Business Class Plan: $9.99 per user/month
Enterprise Plan pricing based on size of organization
Reviews: 4.4 out of 5 stars
10. Google Hangouts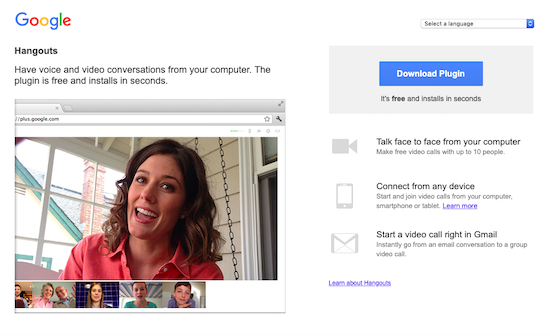 What It Is:
Another excellent, user-friendly Google tool, Hangouts makes video and voice calls easy. You and your team can see each other and hold meetings from anywhere, at anytime. Notable features include:
Pricing: Free
Reviews: 4.4 out of 5 stars
11. Jostle
What It Is:
Jostle is a cloud-based intranet software. For those of you who don't know, intranet is a secure, private network that can only be accessed by a company's employees.
They focus on being the "go-to place for anything and everything in your organization" by helping you build culture, boost communication, and find the necessary information.
They have Android and IOS apps, and even include cool features like JostleTV that allows you to broadcast news and other material to TVs in different rooms.
Pricing: Two pricing plans: 'essential' and 'complete,' both based on the number of employees in your organization
Reviews: 4.4 out of 5 stars
12. Quip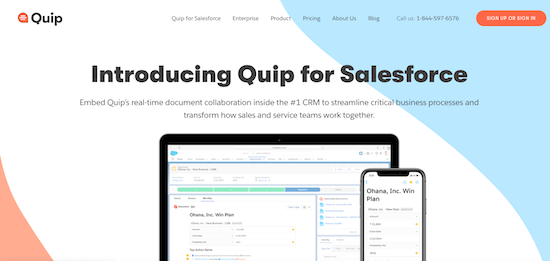 What It Is:
Quip allows teams to create collaborate documents, spreadsheets, and checklists, and discuss progress on the project by instant messaging directly within the document sheet. Users can also work on documents anytime from anywhere, as it's available both as a desktop and mobile app.
The program emphasizes its ability to enable teams to get more work done while requiring less emails and meetings.
Pricing:
Starter Plan: $10 per user/month
Enterprise Plan: $25 per user/month
Quip for SalesForce: custom quote
Reviews: 4.3 out of 5 stars
13. Cisco Webex Teams
What It Is:
Cisco Webex Teams does a little bit of everything – it's an app that allows video calls, instant chats with group messaging, file sharing, VoIP calling and whiteboard features. It's available on desktop and mobile devices, and it integrates with various other digital business tools.
Pricing: Not advertised. Contact for pricing
Reviews: 4.3 out of 5 stars
14. Glip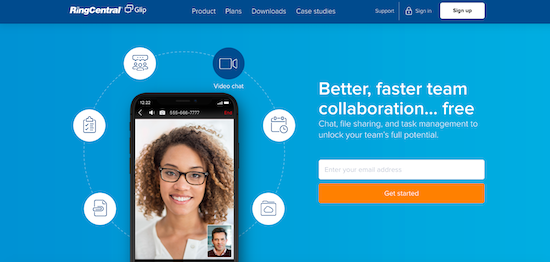 What It Is:
The great thing about Glip is that they like to emphasize that almost everything they bring to the table is unlimited. Unlimited storage, unlimited users and guest users, unlimited projects and posts, and lots and lots of third party integration options.
It allows chats, voice, and video calling, file sharing organized by project, task creation and management within teams, screen sharing for those long-distance meetings, and mobile use options with their desktop, IOS, and Android apps.
Pricing: Two plans: free or $5 per user/month
Reviews: 4.2 out of 5 stars
15. Basecamp
What It Is:
Basecamp is a project management and team communication software. It focuses on bringing all those scattered methods through which you've been communicating with your team into one place.
Pricing: $99/month
Reviews: 4.1 out of 5 stars
16. Microsoft Teams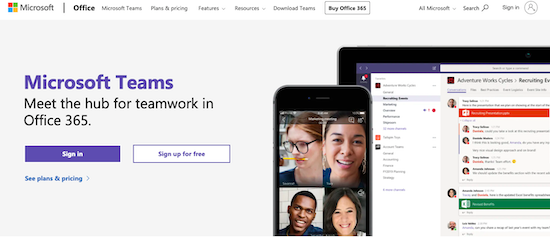 What It Is:
Like Yammer (ranked #20), Microsoft Teams is a communications platform application within Office 365. It allows instant chats, video calls, and file sharing. So what's the main difference between these two Microsoft products?
While Yammer is great for large, enterprise expansive communication, Microsoft Teams is better for streamlining communication within a smaller group working on a single project together.
Pricing:
Microsoft Teams basic: free
Also available as a part of Microsoft Office 365, plans from $12.50 per user/month to $20 per user/month.
Reviews: 4.1 out of 5 stars
17. Workplace by Facebook
What It Is:
Workplace aims "to transform communications, culture and workflows inside organizations of all shapes, sizes and industries." It's a collaborative platform that allows you to deliver news and updates to the entire organization via a feed, share video materials for training, run polls, and of course includes regular features such as chat and video calling.
Pricing:
Free Standard Plan
Premium Plan $3 per user/month
Reviews: 4 out of 5 stars
18. Chatter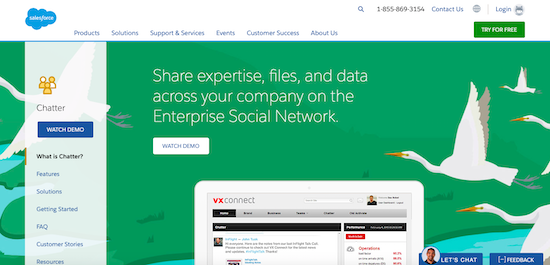 What It Is:
Chatter is a Salesforce product – an enterprise social network and collaboration software that allows you to "share expertise, files, and data across your company." You can create chat groups and event pages for your team, hold polls, and organize discussions based on topic groups.
It also has several features that make it a useful tool within your sales process and service efforts, allowing you to open and manage cases right in the software.
Ultimately, Chatter aims to improve several key points within your business: "drive productivity," "accelerate innovation," "share knowledge," and "take action anywhere."
Being that it's a Salesforce product, it's highly integrative with their platform.
Pricing:
SalesForce users: Free
Non-Salesforce users: $15 per user/month
Reviews: 4 out of 5 stars
19. ContactMonkey
What It Is:
ContactMonkey is a responsive HTML email builder that allows you to schedule and track emails. It's great for sending out company-wide newsletters and announcements and allows you to keep track of engagement with your emails. It's fully integratabtle with Gmail and Outlook.
Pricing:
For sales teams: three tiers – $10, $15, or $25/month (per user)
For internal communication: custom pricing
Reviews: 3.8 out of 5 stars
20. Yammer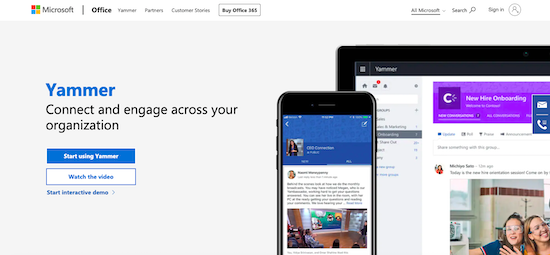 What It Is:
Yammer is a Microsoft Office social networking service for companies who want to increase connection and engagement across their teams. You're able to create groups and communities to work on projects and gather feedback.
The most function-able, feature-rich version of Yammer comes as an integrated part of Office 365 and is available as downloadable computer app.
Pricing:
Yammer basic: free
Yammer Enterprise as a part of Microsoft Office 365, plans from $8 per user/month to $35 per user/month
Reviews: 3.5 out of 5 stars
Boost Your Communication for a Better Company
In business, communication is often overlooked, and this can lead to some ugly consequences.
When it comes down to it, effective communication is one of the most important keys to efficiency and success. But it can break down quickly and easily, regardless of whether it's throughout a small team or a large organization.
But with the right toolkit in place, you and your team can collaborate seamlessly and drive performance within your business. Consider how and why your internal communication is failing, and use that information to choose the right solution to help your company.