Great leaders guide our world through good times and bad. Without leadership, our society would likely be a chaotic swarm of misdirected misfits. Leaders bring people together and unite them towards a path of improvement.
But what makes a successful leader? A great leader isn't defined by one key element, but many – principles, habits, and skills.
What Makes a Great Leader? The 5 Skills You Should Know
1. Define Your Vision
via GIPHY
This is the first skill listed because it forms the base of any and every great leader. If you don't have a clearly defined vision – a goal to work toward or a cause to advocate for – then where exactly are you leading people?
Great leaders define their vision and direction, and they work toward accomplishing it. Whether it's ending world hunger, fighting for gender equality, ensuring accessible education for all, or even a small goal, like getting a community garden planted, every great leader has a clear vision to strive for.
2. Communicate Effectively
Defining your vision is the first step to being a great leader, but unless you can communicate that vision clearly and effectively to your audience, then you won't get very far.
Strong communication skills are a leader's most powerful tool when it comes to inspiring others to follow you. Nobody will follow someone who stumbles, mumbles, and mutters.
3. Motivate Others
via GIPHY
You have a vision, and you know how to communicate it. Excellent. Now it's time to rally the troops.
A leader is nothing without his or her followers. If you don't have anyone to lead, then...you're not a leader. Successful leaders find ways to motivate and inspire people to take up advocacy and join them on the quest to accomplishing a set goal.
4. Make Decisions
Nobody ever became a leader by saying, "I don't know." Successful leaders are able to grab the bull by the horns and make the tough decisions that others can't.
Indecisiveness simply isn't an option for those who want to lead. You need to be a decision maker when you're the head of a team.
5. Listen
This one is incredibly important. Great leaders know how to listen to their people, to their planet, to the world around them. And not only that, but they know how to adjust and respond.
Keeping an ear to the ground keeps leaders in check and focused on the core task at hand, even if it means adjusting initial strategies and pathways. Successful leaders know how to read what is and isn't working along the way and find solutions to problems that arise.
10 Examples of Great Leaders
Today, our world has a fair few successful leaders who are doing good for our people and our planet. Whether in business, politics, or media, leaders can be found throughout all walks of life.
Here are 10 examples of great leaders and the number one thing that they do every day that contributes to their success.
Some of these habits may seem insignificant, but it's often daily routines that make a big difference in the long run.
1. Brian Halligan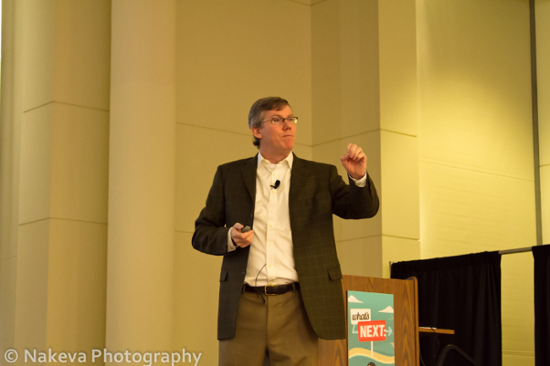 Brian Halligan is the CEO and cofounder of HubSpot, so naturally, we're a big fan of him over here at Bluleadz. He's also written two books on marketing and is an MIT professor. That being said, his career path is impressive, but it's not what makes him a great leader.
As the CEO of HubSpot, Halligan prioritizes company culture and the satisfaction of his employees. Halligan regularly checks in with his employees every quarter to run a satisfaction survey and see what's working and what's not. He not only leads his employees in an admirable way; he also inspires other employers to do the same.
His Daily Habit: Get a Little Shut Eye.
That's right, you're not misreading this. Halligan is a self-proclaimed "nap king." He takes a nap every day to ensure that he's rested and his mind is clear to make big decisions.
A quick 15 minute snooze makes a big difference to his productivity and mentality, especially when working through a chaotic day.
2. Reese Witherspoon
via GIPHY
Reese really does it all – mother, successful film actress, and business extraordinaire. Most of us know Witherspoon for her booming acting career, but lately, she's started to transition to much bigger things.
Witherspoon has become a powerful voice and leader for women in the industry. Her production company Pacific Standard produced big hits like Gone Girl and Wild.
But she didn't stop there. Witherspoon has gone on to start a female-centric media brand that's "on a mission to change the narrative for women." The brand has helped give women a voice and presence, not only in the film industry, but in every industry.
Witherspoon's ability to recognize an issue, define her goals, and then go after them are what have made her an influential leader of women to speak up for themselves.
Her Daily Habit: Digest Some Food for Thought.
The first thing Reese does when she gets up? Reads email newsletters.
It might seem simple, but she's got a heck of a reasoning behind it: "I read a couple of email newsletters because it's food for thought for my brain, and I enjoy having constructive conversation with people at my company."
3. Barack Obama
via GIPHY
It takes a hell of a lot to lead an entire nation – and to do it for eight years.
No presidency is perfect, but Obama was nothing if not graceful throughout his two terms. Each time a crisis arose, he addressed the nation in a calm but compassionate way, expressing grief and empathy in time of sorrow, providing comfort in times of fear, and encouraging strength when needed.
Obama's ability to speak to his people, to comfort and encourage them, is one of the key factors that make him a great leader.
His Daily Habit: Conduct a Daily
Run-Through.
Every day when the former president stepped into his office, he had a quick meeting with his chief of staff to go over what was to be done for the coming day. The meeting often wouldn't take more than a few minutes, but it kept him focused on the priorities at hand for that day.
4. David Attenborough
via GIPHY
Even if you haven't seen his face, you've likely heard his voice. You might not think of him as a traditional leader, but Sir David Attenborough has lead the world in a very significant way.
A broadcaster, explorer, historian, and naturalist, Attenborough has brought the natural world into people's homes throughout the world and raised significant awareness about the plight of our environment.
He isn't just the narrator of popular nature documentaries like Planet Earth and Blue Planet – he has been out in the field hard at work since he was just 28 years old. In 2007, Time Magazine named him "Hero of the Environment" and said, "No living person has done more to make the people of Planet Earth aware of the world around them."
Attenborough seeks to raise awareness and inspire, and he has managed to do so among millions of people. If you ask us, that's one hell of a leader.
His Daily Habit: Consider Your Big Picture Impact.
While this isn't an explicitly defined daily habit, it's certainly clear that he considers the bigger picture on a regular basis. As Planet Earth II aired, Attenborough delivered a clear call to action for humanity:
Surely our responsibility is to do everything within our power to create a planet that provides a home not just for us, but for all life on earth.
This consideration of big picture impact is essential for successful leaders. They see the effects of all their actions, in terms of the short and long term.
5. Emma Watson
Honestly, is there anyone who doesn't love Emma Watson? Like Reese Witherspoon, you probably know her as a glowing film actress – Hermione Granger is etched into our hearts forever. But Watson has gone far beyond films these days, making the most of her fame and admirability to use it for a much greater good.
In 2014, she was appointed the UN Women Goodwill Ambassador, with the goal to empower young women. She also became an advocate for the UN's HeForShe Campaign to promote gender equality.
Called the "Voice of a Generation," people admire Watson's grace, intelligence, and resolve with which she carries herself, and she's making a big difference in today's gender equality issues.
Her Daily Habit: Prioritize Self Care.
This might not seem like the daily habit of a great leader, but it's actually incredibly important. Watson has emphasized that she makes time in her day – every day – to do at least something to nurture her own self care.
Whether it's taking a bath or curling up with a book for half an hour, she understands that in order to be at your best, you need to slow down and take a little time for yourself to regroup.
6. Tony Robbins
via GIPHY
An entrepreneur, author, philanthropist, and life coach, Tony Robbins has changed the lives of millions of people. For the past 40 years, he has helped people find success and make the most of their lives, helping the everyday individual and powerhouse CEOs alike.
Tony's mission is simple – he wants to help.
He seeks to "end suffering" for every human he can, regardless of what the issue is. He often holds live events, shaping the energy and changing lives in a room full of hundreds or even thousands of people, and often moving his audience so strongly that he brings them to tears. Only a truly great leader has the ability to change millions of lives simply with his words.
His Daily Habit: Stick to Your Morning Routine.
Even at 57, Robbins still keeps a very busy schedule helping people. But in order to maintain his own wellness, he keeps to a strict daily 30-minute morning routine. It includes meditation, expression of gratitude, visualization of success, a high-intensity 15-minute workout, and of course – a balanced breakfast.
7. Malala Yousafzai
via GIPHY
After the Taliban took control in Pakistan in 2008, girls were no longer allowed to attend school. But Malala Yousafzai fought for her rights for an education, and in 2012, she spoke out publicly about the issue.
This made her a Taliban target, and she was later shot in the head after a gunman boarded her school bus looking for her. Miraculously, Yousafzai survived, and she did not let the incident discourage her.
She has since established the Malala Fund, a charity dedicated to helping girls get the education they deserve and define their own futures. In 2014, at the age of 17, Yousafzai received the Nobel Peace Prize, and became the youngest ever Nobel laureate in history.
Her immeasurable courage to speak out and to continue fighting for women's education and futures has made her an influential leader, and will continue to do so in the future.
Her Daily Habit: Persevere Consistently to Achieve Your Goals.
Despite the attempt on her life, Yousafzai did not let adversity obstruct her path. She continues to be a Taliban target, but every day, she perseveres with her mission to enable accessible education for women everywhere.
In March 2018, Yousafzai, despite death threats from the Taliban, returned to Pakistan for the first time since the attack. While some oppose her activism, much of the community were uplifted by her return and consider her to be a hero for the work she has done, and will continue to do.
8. Al Gore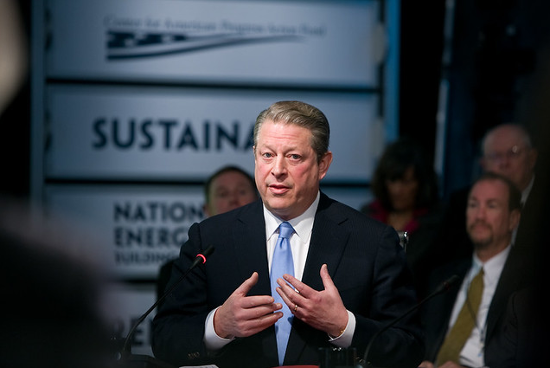 Vietnam war veteran, vice president, humanitarian, and environmentalist, Al Gore has made a massive impact in our world. After his vice presidency ended, Gore founded the Alliance for Climate Protection and wrote the screenplay for his impactful film about climate change, An Inconvenient Truth.
Gore essentially sparked the flame that made the whole world start talking about the effects of climate change.
Gore received the Nobel Peace Prize in 2007, and he is still very active in the environmentalist movement today. He is devoted to leading the Climate Reality Project, in which he trains leaders of the environmentalist movement. Nothing says great leader like devoting yourself to training the leaders of tomorrow.
His Daily Habit: Follow Through on Your Vision.
Since his vice presidency, Gore has consistently and passionately dedicated his energy toward climate change efforts almost every day.
His documentary took the world by storm over a decade ago, but he has continued to follow through with his vision to devote himself to making a difference for the good of the environment and our planet as a whole.
In 2017, a sequel to An Inconvenient Truth was made, covering Gore's continuing efforts in the fight against climate change since the release of the first documentary.
9. Oprah
via GIPHY
The Oprah Winfrey Show was the highest-rated program of its kind throughout the history of television. But Oprah is so much more than just a television host. She has been said to be the greatest black philanthropist in American history and one of the most influential women in the world.
Oprah used her show to break media taboos, being one of the first to openly accept and invite LGBTQ speakers onto set. She has emphasized the awareness and importance of mental health, advocated for human and animal rights, contributed to educational funds, and much, much more. The open, honest, and emotional nature of her show generated a mass viewership of millions of people.
Her Daily Habit: Express Daily Gratitude.
Of late, the science of expressing gratitude daily has become proven for better health and state of mind, and Oprah partakes in the practice.
She has a stack of "gratitude journals" by her bed, and every night before she goes to sleep, she writes down five things that she was grateful for that day.
10. Greta Thunberg
A young leader is a leader none-the-less, and we have big expectations for Greta Thunberg in the future. At just 15 years old, this Swedish school girl's environmental activist efforts sparked the formation of the school strike for climate movement in November 2018.
It all began with her protests outside the Swedish Parliament to demand greater efforts to fight climate change. On March 15th, 2019, 1.4 million students in 112 different countries joined her in striking.
Greta has leveraged social media to spread her important message, but has also spoken at various public engagements, including TedX and the 2018 COP24 United Nations Climate Change Summit.
Her ability to inspire other young minds to follow her in her efforts for a good cause is practically unparalleled for someone so young. At just 15, Greta is already a great leader, and we can't wait to see what she accomplishes in the future.
Her Daily Habit: Prioritize Both School and Striking.
Naturally, Greta still attends school every day. However, ever Friday, she still holds her weekly strike outside the Swedish parliament. She stays committed to her cause without letting it affect her schoolwork.
How Will You Lead?
While there are elemental qualities necessary to be a successful leader, no two leaders are the same, and neither are their leadership styles.
You can draw from many great leaders to shape your own methods. Study those who are making big impacts in the community and even your own life, and cultivate a leadership style that fits you.
How do they engage people? How do they communicate with the public? What is the mission that they're working toward? Answer these questions to help you understand their habits and methods to shape your own.