What is company culture?
Simply put, it's a composition of your company's core values and the demeanor of your overall office, including the unique, individual employee personalities that make up the life of your company.
It can be strict and stressful, relaxed and team-driven, or somewhere in between. There's a million different definable natures for company culture, and no two are exactly the same.
Today, positive company culture is an increasingly attractive element considered by both clients and prospective job applicants in almost every industry. It makes the difference between waking up with morning dread five days a week or going into work with a smile on your face.
In order to attract both clients and prospective job applicants, you need to share your company culture with the world, and the best way to do this is through social media.
Why Promoting Company Culture on Social Media Matters
In today's modern business world, companies are looking to improve corporate culture by building more positive environments. Once you accomplish this, your company should make the most of it!
Promoting your company culture on social media makes a huge difference in your relationships with clients and plays a role in the quality of your recruitment marketing strategy.
Here are a few benefits of getting social about your culture.
Create Transparency and Build Trust
First and foremost, displaying your company culture on social media creates transparency between your business and the wider public, and it allows them to get to know your organization on a more elemental level.
Transparency builds trust with audiences, and people always prefer to work with brands that they know and trust.
Humanize Your Company
via GIPHY
Secondly, while your company culture is shaped and established by management, it is largely composed of the individuals who work at your company. Each and every one of those employees is a real person.
Displaying your company culture on social media allows the public to see and connect with that. It humanizes your company and makes it more accessible to your clients. It allows your audience to put faces to names and see the real people that make your company run every single day.
Attract Top Talent
Finally, in addition to improving your relationships with clients and consumers, showcasing your culture through social media is a substantial element of successful recruitment marketing strategies. Job seekers are valuing positive company culture over other job factors more and more.
If a top talent candidate has been offered a position by two different companies, they're far more likely to accept a position at the organization known for having a great work environment over the one who has little to no available information about their work environment at all.
Why's this? Because positive work environments make a monumental difference in employee happiness.
Do's and Don'ts for Creating Company Culture Content on Social Media
There's plenty of different social media platforms for you to use to highlight your company culture. Social media and culture practically go hand in hand. The top dogs in this area are obviously Facebook, LinkedIn, Twitter, and Instagram.
While you should be using these channels, there's a right and wrong way to highlight the nature of your work environment. We're going to run you through the do's and don'ts of using social media to highlight your company culture.
A quick note: Always make sure that you ask permission from your employees to post photos or videos of them on your company social media pages or to use their individually created content.
Do's
Use Visuals as Much as Possible.
Photos and videos are the best way to display your company culture, and Instagram is the perfect platform for sharing them. Seeing your employees in action is the best way to communicate the nature of the environment within which they work.
Visuals are powerful and resonate with viewers. Being able to see the culture of your workplace is more impactful than reading about it.
Use Employee Generated Content.
via GIPHY
Using employee generated content on your social media is a great way to display positive company culture directly from the source! Employee generated content like photos and videos of company events are great for all social channels.
For example, if your staff is live tweeting an event you're hosting at your office, your company should retweet that content. Or when your employees are recording live video on Facebook, draw attention to it through your company's Facebook page.
Highlight Your Employees for Their Accomplishments.
It's always nice to have your accomplishments celebrated, and employees especially appreciate when their companies praise them to the world! It shows that you support your employees in their achievements, in and out of the office!
Maybe one of your employees published a book or makes a significant impact at a non-profit organization in their free time. Or maybe they just did a really great job crushing it on their team projects this month. No achievement is too big or too small to sing the praises of and share!
Provide a Behind the Scenes Look.
Don't be afraid to include content of your employees in their element – hard at work. This could be a quick photo snapped during a meeting, or a video of your team working on a more hands-on project.
Clients and prospective job applicants like to see how a company operates, the real nuts and bolts of what makes it work. Giving a little behind the scenes look at your business creates clear transparency with the public.
Engage With Comments on Your Social Media.
via GIPHY
Posting content to your social media is great, but you can take it a step further. If your audience comments on your posts, make sure you engage with them. This opens the lines of communication between you and the public.
Remember, it's "social" media, so be social! Don't just post and ignore interactions. You're posting to spark conversations and build relationships with your followers.
Diversity Your Culture Content.
Your talent manager and content team should work together to determine how you can add depth to the company culture content that your post on your social media channels.
Don't just utilize one social media platform – each one has uniquely highlighted features (photos on Instagram, quick news on Twitter, longer posts on Facebook and LinkedIn), so spread your wealth across a few of them to reach a greater audience and diversify your content!
Don'ts
via GIPHY
Be Careful of Party Culture.
Including fun content from company parties is always a great way to show how your business can mix work and play. However, be aware of the party image that you may be creating around yourself.
Don't include any photos or videos of excessive alcohol consumption or drunk employees – it will come across unprofessional, and you won't be taken seriously by clients.
Use Stock Images.
There's nothing worse than going to a company's Instagram page and finding nothing but infographics and bright stock images. This kind of social media content shows that the company is ultimately disengaged with its social channels, and there's no clear pathway of communication between them and the public.
It also makes followers wonder why you're not showing real people in your content. What do you have to hide? Are you intentionally hiding something about your culture?
These are red flags to job seekers, prospects, and customers alike. When you have an awesome culture, embrace it and stop hiding behind inauthentic visuals like stock photos.
Best Examples of Company Culture Content on Social
Each social media platform has its own key features for you to use. Instagram is a great place to post photos and videos. You can also use the Instagram stories feature to easily post quick, temporary videos or photos.
Twitter is also great for photos, but its primary strength is in the quirky, short updates that you can post.
LinkedIn and Facebook are great for posting longer pieces of content. For example, you can use LinkedIn to post articles featuring employee achievements. Facebook can be used for a more in depth look at teamwork on a particular project.
Here's a few examples of how different companies use each of the social media channels to highlight their positive company culture.
Instagram
Google
Google is well known for having an incredible company culture, and they use Instagram to showcase it. Meet Ella – this adorable little puppy belongs to a Google employee who works at their NYC office, and she gets to go to work with him!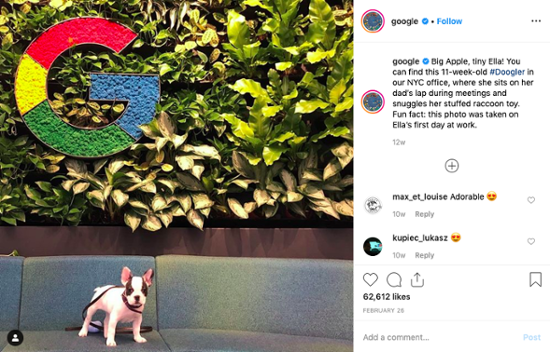 Google is promoting the fact that they're a pet-friendly office, which is an increasingly popular benefit amongst modern businesses.
Drift
Drift is a mid-sized B2B conversational marketing platform company based in Boston, MA. They heavily utilize their Instagram account to share their company culture with the world, from simple group pictures of the team at social events, to showing them working behind the scenes.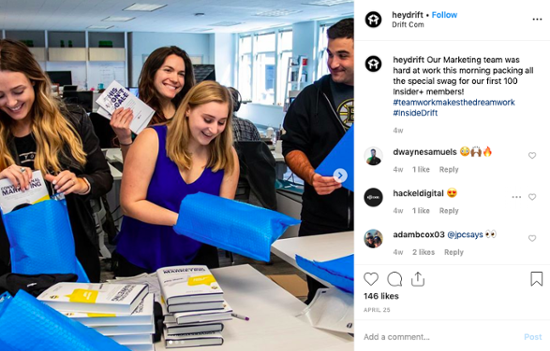 Notice how much engagement this post has received – 146 likes and a whole bunch of comments. Drift is sharing their great company culture the right way, and it pays off – they boast 20.4K Instagram followers.
23andMe
23andMe is a genealogical research company that creates DNA tests for the public, allowing them to trace their ancestry. The company is full of passionate employees who love what they do, and it's centrally focused around fostering connections with each other.
Their Instagram account is full of stories from customers who's lives have been changed by the results of 23andMe tests, but you can also find snippets of the happy employees behind the scenes.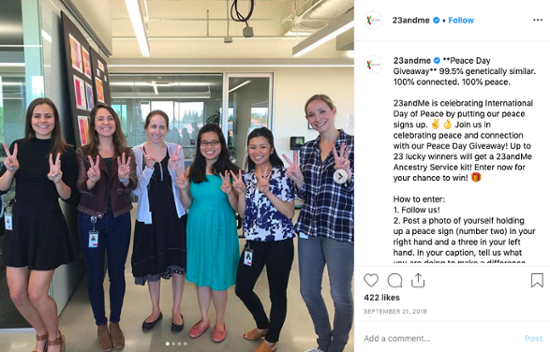 Twitter
HubSpot
HubSpot uses Twitter in an innovative way to showcase their positive company culture. Take this recent post for example – they're engaging with a nationwide theme of the month (mental health awareness), and using an employee's intimate, personal story to showcase the genuine compassion that is displayed in their work environment.
They even feature #HumansWorkHere as an element of humanization for their company.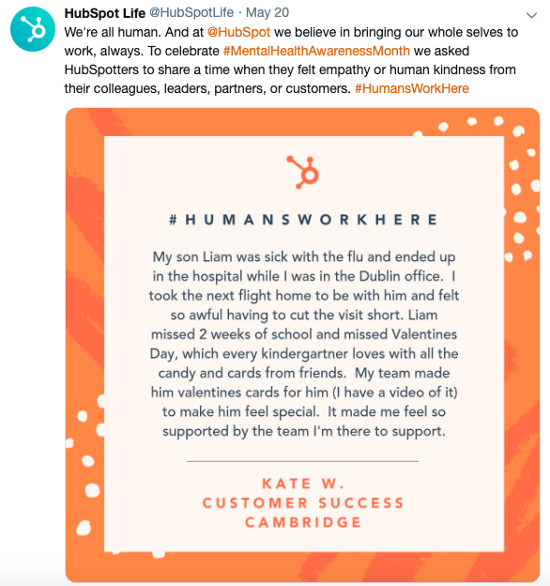 Wegmans
Wegmans has been recognized by various publications as a great place to work, with exceptional company culture. They're a small supermarket chain with just 99 stores throughout the United States, but any time one of these stores opens up in a new neighborhood, it makes a serious impact.
Their Twitter account often celebrates the Wegmans impact, and they post frequent updates about new locations popping up. They stir up a lot of buzz, and the customers and employees alike get very excited!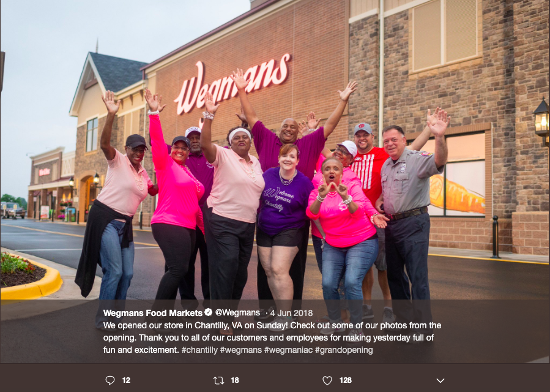 Nationwide
This insurance company has 93 years under its belt, so they learned a thing or two by now about how to keep their employees happy. Nationwide employees rave about the quality of mentoring and development opportunities available to them at the company.
But on top of that? Like Google, they're a pet friendly place, and honestly, you'd be happy too if your office had a team member like this one: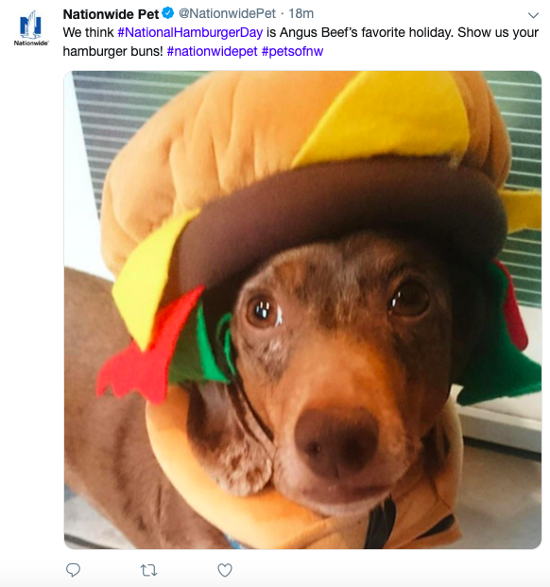 Nationwide Pet uses employee generated content like this photo on their Twitter page to exemplify their great company culture!
Facebook
Purina
Purina pet food puts animal welfare at the forefront of their company. Volunteering time for a good cause is a huge part of what makes their company a great place to work – all of their employees are genuinely passionate about their purpose there.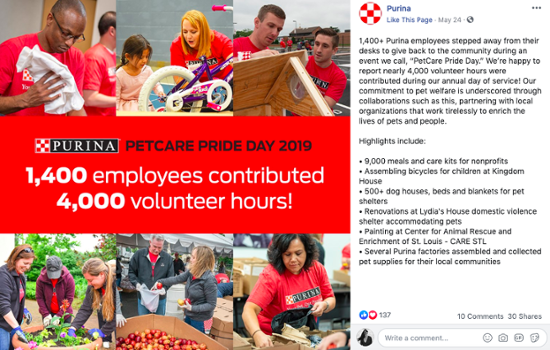 Purina celebrates the hard work that their employees put into volunteering and showcases the impact that their efforts make in the community and for local animals.
Publix
Any good Floridian can tell you how great Publix is. While they're a much larger supermarket chain than Wegmans, they still care greatly for every individual employee. Publix takes the time to celebrate their team members and make sure that they feel valued, even throwing individual employees parties for special occasions!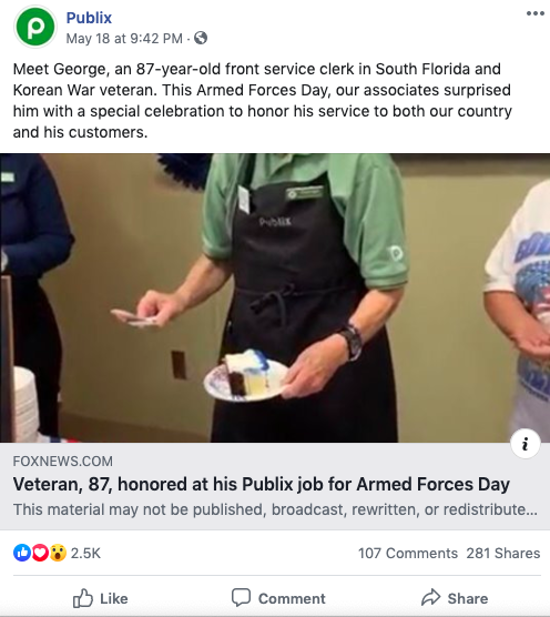 This Facebook post exemplifies the exceptional work culture at Publix, and how the company will go above and beyond for their loyal employees.
Bluleadz
Not to toot our own horn, but we have a pretty great company culture here at Bluleadz! And we like to share it with the world – we frequently post photos of our team at our monthly culture events and around the office.
Something as simple as a group photo of your team with a positive message is a great way to introduce the real people behind the business to your clients!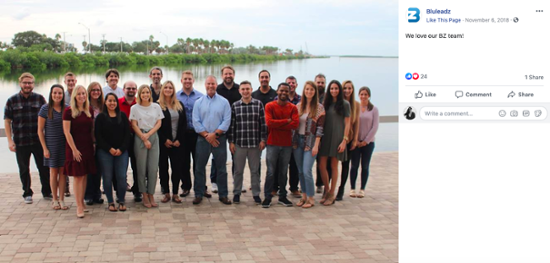 LinkedIn
Airbnb
Airbnb is another company known for having an exceptional company culture and high employee satisfaction rates. They post lots of culture content to their LinkedIn page, including articles featuring the unique journeys of their employees, like this one.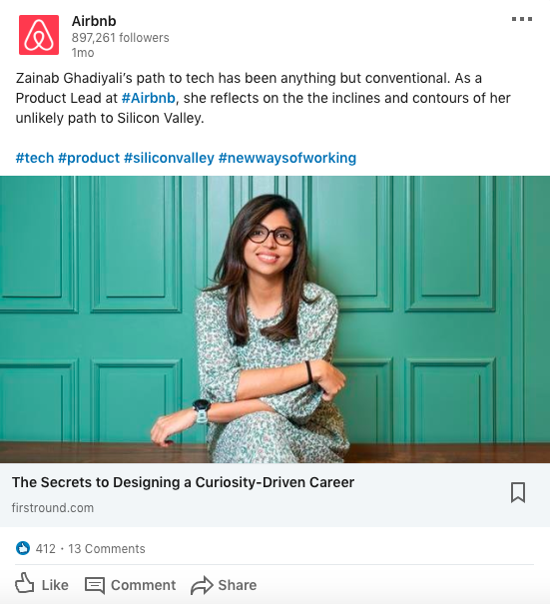 This post shows how much Airbnb values the individual experiences of each of their employees, and their steps through life to achieve where they are now.
Adobe
Adobe is a massive international software company, but that doesn't stop them from having a great company culture. They've actually landed a spot on Fortune Magazine's '100 Best Places to Work' list 16 times!
Adobe proudly celebrates their employees on their social channels, exemplifying the genuine interest they take in the professional and creative development of each and every one of them.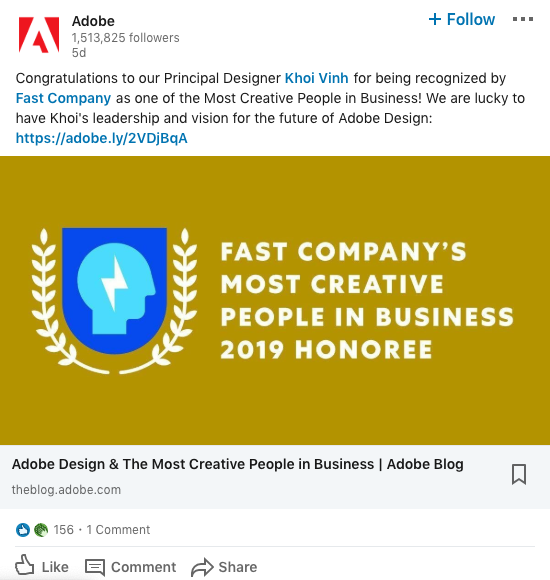 REI
Another spot holder on Fortune Magazine's '100 Best Companies to Work for" list, REI is well known to have a fantastic company culture. REI has actually held a spot on Fortune's list for 22 years. If that's not worth celebrating, I don't know what is.
LinkedIn was a well chosen platform to celebrate this announcement on, as it will attract potential job applicants!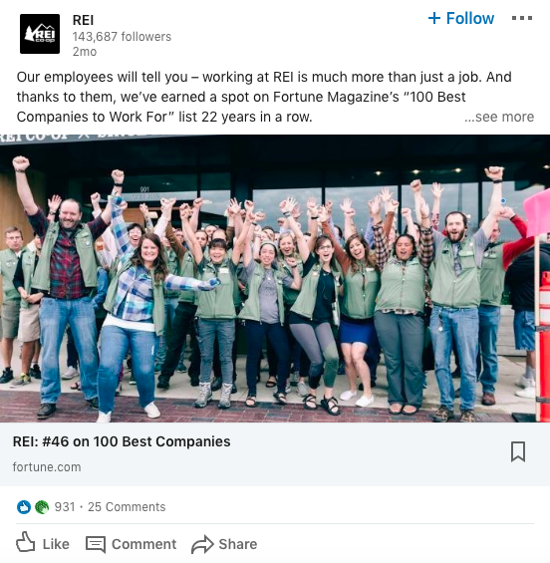 All of REI's employees are passionate about the outdoors and appreciate that the company actually encourages them to take time off to spend time in nature.
Define Your Company Culture
If you're having trouble figuring out which direction to take your social media posts, make sure that you've clearly defined your company culture before you promote it!
Establish core values that your company is based around, and make sure that all the culture content you post embodies those core values.
Sit down with a pen and paper, and write down a list of keywords that you would use to define the work environment at your company. This will help you shape a consistent image of your company that you want to promote on social media.