Driving business revenue requires collaboration in all departments. Unfortunately, the dreaded silo continues dragging many organizations down.
These walls exist between teams and even within the hierarchies of employees and leadership. This can cause plenty of communication issues.
In fact, 69 percent of managers say there is something about their role as a leader that makes them uncomfortable communicating with their employees. That's a staggering majority that doesn't just hurt the day-to-day; it can really slow down business growth.
Many companies still segment their teams into marketing, sales, and service (or products).
Fortunately, there's been a necessary shift in this siloed way of thinking, as introduced by HubSpot's flywheel framework.
The CEO's Perspective of the Flywheel
The flywheel framework is replacing the funnel out of necessity. The old funnel approach doesn't account for the impact all teams can have on the customer. It also doesn't foster an experience that perpetuates revenue growth.
The funnel leaves the customer at the bottom without any plan for maintaining that relationship. On the other hand, as you can see in the flywheel, the customer is at the center of everything for each department.
CEOs look at the center as both the customer and revenue. When companies talk about sustainable growth, that's CEO speak for business revenue growth.
You need to look at all departments and ask the important question: How are you going to drive more revenue?
This dedication to business revenue growth is exhibited by a recent iteration – the chief revenue officer.
The Birth of the Chief Revenue Officer (CRO)
Most businesses consist of a chief operating officer (COO) who is focused on everything related to operations, client services, and product delivery.
The chief revenue officer (CRO) was born from the Silicon Valley boom, specifically within the SaaS industry. This newer role focuses on all revenue generation processes within an organization. So they're focused on full alignment of all revenue related functions, including marketing, sales, and service.
Just based on the fact that CROs are growing in popularity, the revenue-focused mentality is a must. Your competitors are embracing this mindset, and you should too.
Even without a CRO, a CEO must drive that mentality to all levels of the organization, in every department.
Driving Business Revenue Through Lens of the Flywheel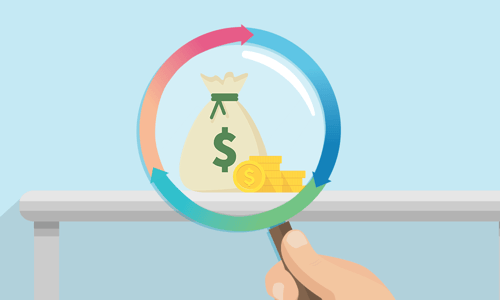 Obviously, employees in each department are focused on their daily operations. But it's important to have a big picture view and ensure that all aspects of your flywheel must drive revenue.
The traditional mentality was to just focus on sales and invest in sales growth strategies. And while those are obviously a big piece of your revenue growth puzzle, sales alone doesn't account for the whole picture.
If you're just focused on sales, your wheel has two other spokes that are broken.
Fortunately, many professionals are fully embracing the idea of revenue operations being part of each flywheel area. Over 45 percent of B2B professionals and decision makers consider revenue operations to be a unified coalition between sales, marketing, and customer success teams.
Not everyone on your team is literally selling your products or services. But they're contributing in their own ways. And they need to see that.
For example, here's a basic breakdown of revenue operations for each portion of your flywheel:
Marketing: Creates and distributes content assets to attract and educate leads and support the sales team with sales collateral.
Sales: Conducts prospecting strategies and builds relationships with marketing qualified leads (MQLs) to ultimately close deals.
Service: Retains customers through customer education, support, and service strategies, leading to referrals, word of mouth, and upsell and cross-sell opportunities.
CEOs and team leaders need to emphasize the importance of these revenue operations for each team. It shows your team how their efforts directly impact company growth.

Foster a Revenue-Focused Culture
Simply put, each leader in your company must foster a mentality for driving business revenue with each person. This message should trickle down to all levels so employees don't lose sight of their impact on the big picture.
For example, here at Bluleadz, we host a State of the Agency meeting to remind our team of their impact on big picture results, like revenue. We show successes and setbacks each team experiences and take a moment to celebrate revenue growth together.
But you don't need to wait for company-wide meetings to get your staff focused on revenue growth. Make sure you're encouraging management to continually recognize their staff. For example, when they host more informal one-on-one sit downs, they should map out how the employee's successes directly impacted revenue streams.
The more you and your leadership team do this, the more your employees will keep revenue at top of mind. This keeps them engaged in their daily operations and encourages them to consider creative ways to spur additional business revenue growth.
As you can see, while revenue is a primary focus for CEOs, it should also be in the purview of all your employees. When you align your teams and foster a revenue-focused culture, you're well on your way to building scalable, consistent revenue growth strategies.