Employer branding helps connect brands with talent that can make them even better.
And when it comes to effective employee branding, storytelling is the secret sauce!
Storytelling is one of the unique things that makes us truly human. Even if you're not a writer, you're still a storyteller. People tell fun stories to one another all the time: Around the dinner table, at the bar, and – of course – on social media.
But even that only scratches the surface on storytelling.
People are constantly telling and seeking stories that make sense of their own lives. That's one of the reasons journalism is organized the way it is. We also tell stories in our own minds without even thinking about it, contemplating our experiences and what they mean.
It's not surprising, then, that storytelling matters in employee branding.
Workers – especially millennials – want to feel connected with the places where they work. They want to see values in action and have a meaningful connection to what they do daily.
Employers benefit, too, since that sense of connection leads to employee engagement.
To become "employers of choice," many top brands have crafted powerful narratives as the centerpiece of employer branding. A purpose-driven story can educate, entertain, convince, and inspire all in just minutes, especially when great digital storytelling techniques are used.
Let's learn from some of the most powerful storytelling campaigns in the employee branding world over the last few years.
1. Accenture: #InclusionStartsWithI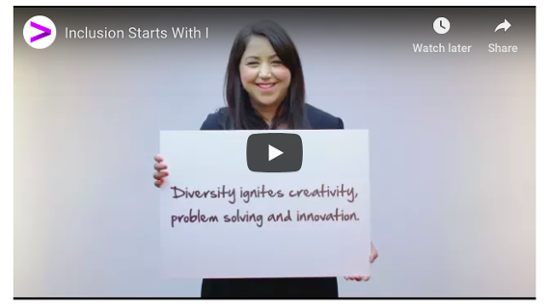 Accenture is one of the top management consultancies in the world and is already known for excellence in employer branding. It has to structure all its recruitment efforts "just right" to tempt world-class talent willing to take the plunge in a notoriously challenging work environment.
That makes this campaign – an adjunct to its famous Employee Resource Groups – a high-stakes effort that paid off handsomely. Accenture's viral video was covered by outlets including Diversity Inc. and Fortune, giving heft to its detailed reporting on employee diversity.
Accenture discovered phenomenal ways to make its brand more palatable to energetic, educated millennials, particularly the MBAs that are its bread and butter: Transparency, honesty, and a communication strategy that leveraged employee-generated content to the utmost.
2. Microsoft: Microsoft Life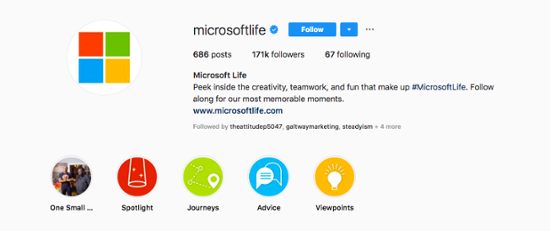 Microsoft is one of the top tech brands in the world, but it is fighting to reclaim its luster as an employer. With a reputation for being stodgy and straitlaced (fueled by hip competitor Apple) it has been struggling against the tide. Stories of harsh employee evaluations added to its woes.
Microsoft needed a platform where it could reposition itself and take control of its own narrative. Enter Microsoft Life, in the form of both a blog and an Instagram account. Fun articles and short videos by employees have helped revitalize employer branding for the enterprise.
The voices represented in the Microsoft Life campaign are diverse and the stories compelling. Plus, it has given the company the opportunity to shine a spotlight on what makes the brand unique: Fun, yet state of the art workspaces, cool projects, and awesome conferences.
3. Salesforce: Ohana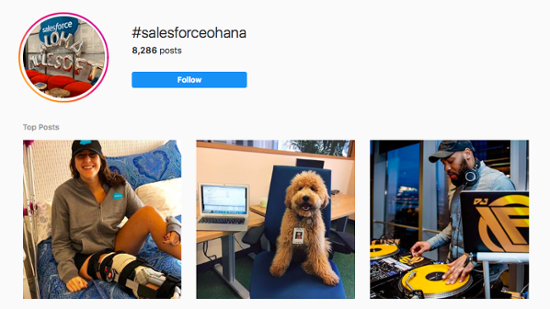 Salesforce has strived to position itself as a values-driven organization. As the original pioneer in the world of sales enablement technology, however, it has found itself running up against smaller, more nimble competition. It needed a way to bring its strong values to the fore.
It found its formula in Ohana, a facet of Hawaiian culture. Ohana means family, as anyone who has watched Lilo and Stitch knows. The Salesforce spin on the concept is Ohana isn't just your family, but all those you choose to be around you – yes, including co-workers.
With that in mind, Salesforce launched its Ohana project on Instagram, showing teams working together to make the world a better place. It demonstrates a level of employee engagement and brand ambassadorship that says good things about working there.
4. Etsy: Parental Leave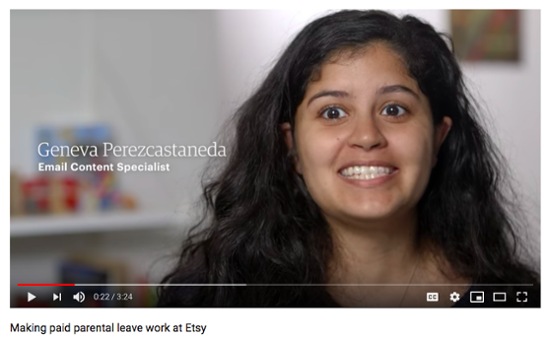 It might seem employer branding is all about appealing to new grads and looking the coolest.
But there's more: It showcases the ways you'll back your team members when they need you. That can come along in many different forms – and at all different stages of life.
Etsy decided to make a stand for robust parental leave, and in the process, it showed how its values converge with the lives of its employees. Its parental leave video is both touching and informative, positioning it as a champion for employees in a crucial time.
When it comes to today's workplace, companies need to offer more than a paycheck. Vision, core values, and practical action on both drive top candidates to your door.
Employer branding is an outgrowth of the search for meaning. Stories both share and shape that meaning, so think hard about what your brand's most important stories are.