During a Bluleadz team meeting in July 2016, a really great idea was tossed around that could significantly boost our social media traction if implemented correctly. A ton of businesses have automated "Thanks for following, click here to learn more about us" Twitter messages for new followers. What might happen if a business took that kind of interaction to the next level?
We began responding to new followers with custom, animated GIFs and personalized messages.
It ties in with a marketing lesson we've become very familiar with. People like to see people. By showcasing actual team members and adding personalization to social media responses, businesses can create stronger first impressions and relationships with new followers. This can, in turn, drive social media click-through rates and visits to a business's website.
Expanded Reach & Stronger Connections
As you might have guessed by the title of this post, the results of our new social media GIF campaign were incredible. Our audience growth rate more than tripled over a three month period. Before we get into results, here's a quick look at how your business can create and use animated GIFs, still photos or video to create lasting connections with new social media followers—and in turn, build a stronger brand and expand your audience.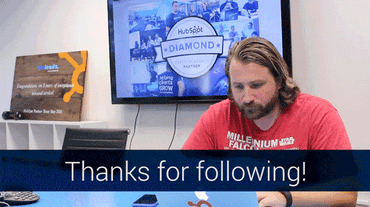 The best part? It isn't even that difficult to do. Any business can and should benefit from going the extra mile on social media.
Here's a quick look at a typical follower response tweet. Nothing crazy, just a touch of added personalization and an animated GIF to facilitate a better first impression with new followers: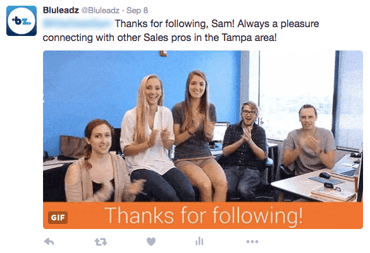 Whenever Bluleadz receives a new Twitter follower, a member of our team quickly responds using an animated GIF from our library of GIFs (made for this exact purpose). However, it's not a quick upload-and-forget practice. The reason these GIFs and their associated tweets work is that we actually review the profiles, and sometimes websites, of all new followers.
We use information about our new Twitter contact to inform our response messages. For example, David, the Social Media Manager at ExampleBiz, wouldn't receive "Thanks for following. Check out our website," he would receive "Thanks for connecting, David! We love sharing ideas and collaborating with other social media pros!" This, of course, would be accompanied by an animated GIF greeting featuring the BZ team.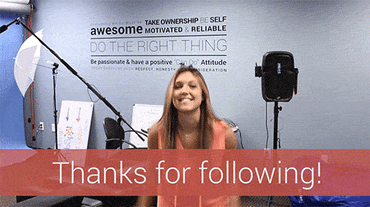 The bottom line? It's a time consuming practice, but the added effort goes a long way in strengthening relationships with new Twitter followers and gaining exposure with their followers.
It isn't even that hard to create customized GIFs. All you truly need is a camera (even a smartphone camera works!) and basic video editing software. Get the run-down by checking out our How-To on creating animated GIFs.
The Results
We began sending these messages out in mid-late July 2016, and in the following weeks our audience reach on Twitter skyrocketed. In just three months, our new follower rate monumentally increased by 550%. Not a bad return for some animated GIFs and a sprinkle of personalization.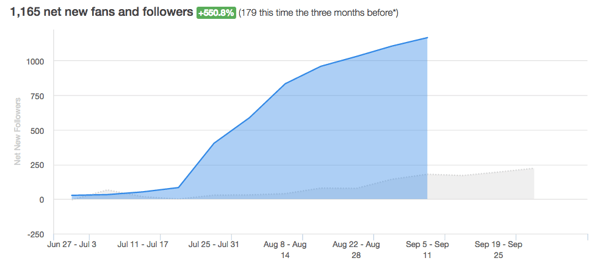 Adding visual content and taking the time to learn about our new Twitter contacts resulted in significant reach growth and accompanying clicks to our website.
What's great about this tactic is that any business, in any industry, can do it. What it all boils down to is spending 1-2 minutes learning about your contacts and delighting them with personalized content, and accompanying that content with visuals that put a face to a name. Show that there are actual people—that there's an actual team—behind your business willing to learn more about new contacts and their businesses.
In addition to a rapid increase in new follower rates, incorporating GIFs into personalized messages also helped us ramp up out Twitter clicks by over 86% compared to the period prior.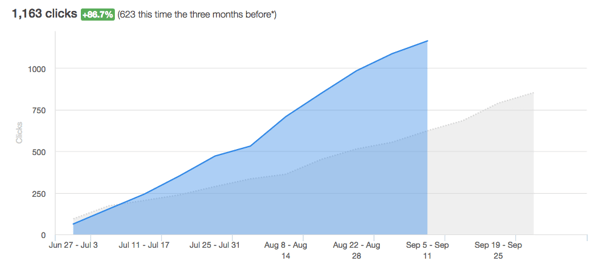 Videos—and by extension, animated GIFs—have become intergral components in building brand recognition and online engagement. There's no shortage of tactics your business can use to position, create and distribute powerful video content. What's key is that you understand the purpose of your individual marketing efforts.
In creating animated greeting GIFs for Twitter, our clear purpose was to create stronger impressions on new contacts. It was in execution that we discovered the added benefit of expanded reach and higher click-through rates.
Want in on this? Check out our guide below, in which we go step-by-step on how your business can create and use GIFs to gain exposure and create stronger connections with leads.