No matter what industry you're in, you have a target audience. And that audience is somewhere in the deep nether of the web looking for you.
They're on the hunt for the product or service you provide. When they find you, you should have opportunities available for them to express an interest in what you have to offer.
This is where a lead generation strategy comes in.
Lead Generation Strategy Elements
The aim of your lead generation strategy should be to capture interest and contact information from your target audience.
via GIPHY
This requires several key elements, including:
Content
This one's pretty obvious, but it's crucial that you educate and support your audience through content.
Content is how you expand brand awareness and establish credibility online. It comes in many forms, but the most popular choices are blogs and social media posts.
Lead Magnets
Also known as content offers, these are free content assets that you offer to your audience with the intent of offering true value. These should be gated in order for you to collect information from the lead.
For example, if they want to download an ebook from you or take your email course, they simply need to fill out a form and provide their contact info.
Some of the best lead magnet ideas include:
Ebooks
Webinars
Free trials for products or subscriptions
Training videos
Calls to Action
Calls to action (CTAs) are words or phrases that invite your audience to take action in a way that will grow your business. In regards to lead generation, they serve the purpose of guiding the person through the process of providing their contact information.
CTAs are usually placed after a short description of a content offer. They should be phrased clearly so that the person knows exactly what to expect when they perform the desired action.
It's a straightforward process of call and response that's extremely valuable to your lead generation strategy.
Landing Pages
Landing pages aren't necessarily mandatory for a successful lead generation campaign, but they will definitely increase your chances of converting a prospect into a lead.
Essentially, they're a page for your prospects to obtain their offer and submit their information.
Designing unique landing pages for different offers will help personalize the experience for your audience depending on what they're looking for and how they got to the page.
You don't have to over complicate a landing page. You can keep it simple as long as the content on the page matches the content linked to it. Consistency is key.
Thank You Pages
via GIPHY
These pages are meant to inform your potential customer that the transaction is complete. Pretty self-explanatory, it's meant to thank them for taking an interest in your business.
They are a pretty important step in your lead generation strategy since they can be used to track conversion data.
Looking at all of the elements involved, executing an effective strategy requires a lot of time and resources.
This is why lead generation tools are so helpful.
What Is Lead Generation Software?
Lead generation tools come in the form of software that can automate several processes for you. Many steps can be handled automatically, such as attracting and engaging your site visitors, gathering and storing their information, and nurturing those leads.
Lead nurturing is an important aspect of the strategy. It's how you deliver relevant, helpful information at each stage of the buyer's journey. It moves them through the journey and, ideally, pushes leads to the sales team, who can close deals.
Basically, your lead generation software is essential in streamlining your whole strategy.
How Lead Generation Software Works
There's so many different variations of lead generation software available.
And each tool delivers plenty of benefits because of how much they can do for you, operating in a variety of ways.
Attracts More Visitors
via GIPHY
A valuable generation tool will be able to attract more visitors to your website.
They use tactics like paid search advertising and SEO best practices to get your content in front of the right audiences.
Reduces Workload
There are a lot of elements that can slow down work processes, like a lead's contact info changing.
The right lead generation software handles keeping your lead information updated and accurate, allowing your team to spend less time editing data and more time selling.
Improves Lead Quality
A common challenge for business across the world, lead generation software can take the pains out of attracting high-quality leads by enabling you to target your ideal customers.
Qualified prospects mean leads that are further into their buyer's journey and closer to a sale.
Manages Leads Better
Certain softwares alert you when you get new leads, automate emails, and send you reminders when it's time to contact a lead in person.
All of these tasks are important in helping you follow up with a lead, but the timing has to be right. Lead generation software helps you keep track of each lead's timeline, reducing opportunities for oversights and mistakes.
Speeds Up the Sales Process
via GIPHY
In the world of marketing and business, time is money. Automating all of the different steps required for winning a lead with lead generation software can accelerate the sales process.
28 of the Best Lead Generation Software Options
The range of lead generation software types is pretty large.
Some have tools that center on simplifying your email and streamlining prospecting. Others help with your CRM strategy and can nurture leads toward closing. Many do all of the above comprehensively.
No matter what you're looking to improve, there are plenty of options for you to consider using.
1. Hotjar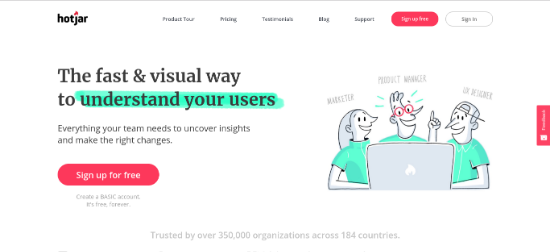 A customer experience analytics platform, Hotjar offers several helpful tools, like on-site polls, session replays, heat maps, and form analytics.
For example, their polls are useful in doubling conversion points by collecting an email address while also collecting feedback. Marketers, product managers, and UX designers alike benefit from what their software has to offer, providing value throughout the customer's entire journey.
Hotjar has a free basic plan available for personal accounts and then varying plan prices, starting at $89/mo for 20,000 page views a day.
2. Survey Anyplace
Surveys and quizzes are a more engaging way to collect lead information from a visitor than forms sometimes.
Survey Anyplace allows you to create customer satisfaction surveys, quizzes for lead generation, and beyond. A great tool to integrate into your existing marketing arsenal, it's easy to transfer leads to your CRM and begin nurturing campaigns.
Survey Anyplace offers a free basic subscription to learn the features, but to receive a starting count of 400 responses, they start pricing at $25/mo.
3. AWeber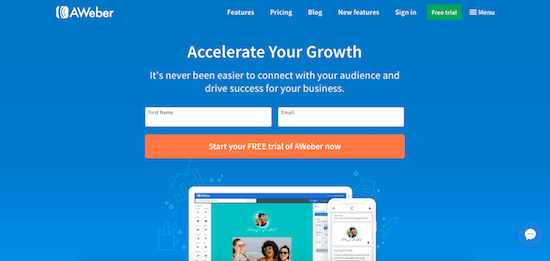 AWeber is an email marketing tool built to aid in automated lead generation.
You can easily create and send emails, import content from your blog, and share with your subscribers. All while keeping track of your analytics.
It has a pretty easy interface with pre-built templates, built-in A/B testing, and more meant to help build your brand.
AWeber prices start at $19/mo for 500 subscribers and unlimited emails.
4. Voila Norbert
Buying email lists is recognized as bad form in the industry, but Voila Norbert offers you a much more honest means of finding emails.
With a CSV file, you can search in bulk for prospects and verify email addresses. It's easy to integrate into most CRM software options, making it that much easier to keep track of your lead generation efforts.
Voila Norbert has many different pricing options depending on what you're looking for help with. For prospecting purposes, they start at $49/mo.
5. AeroLeads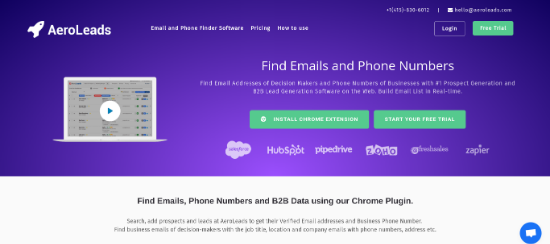 AeroLeads will search LinkedIn, AngelList, and other similar networks via a Google Chrome extension for leads.
It will find their business email addresses, along with other contact details, so you can start outreach faster than had you been hunting on your own. You can transfer data to Mailchimp, HubSpot, Zapier, and Salesforce for ease of access as well.
AeroLeads offers opportunities for unique quotes, but their most popular plan starts at $149/mo.
6. Prospect.io
If you're looking for a software that can multitask, Prospect.io is a great choice.
It takes care of prospecting and outreach jointly, searching for emails and verifying them for you. From there, you can use a variety of templates to reach out to prospects. All the data received from these interactions are tracked too.
Prospect.io charges $45/mo when billed monthly.
7. Keap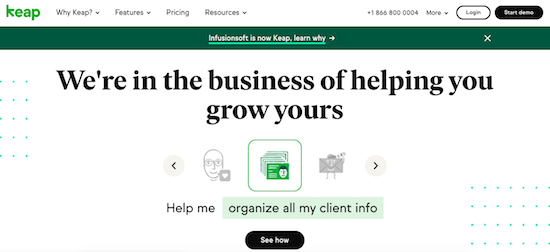 Keap helps you keep all of your customer info in one spot for easy access. This feature allows you to track interactions so that future campaigns can be better informed.
An all-in-one CRM, it works across devices as well so you have access at all times. Between reminders, automated emails and texts, and the ability to create repeatable sales processes, you'll never fall behind on lead follow up.
Keap starts their pricing at $79/mo.
8. Contactually
Great for real estate professionals, you can connect your Google and Microsoft contacts with Contactually for easy organization and segmentation.
Once synced up, you can control how often your automated messages are sent to clients individually, prioritizing relationships.
It's a neat tool if you have clients that require different levels of engagement. You can use custom templates to automate personal messages too, making your process that much more streamlined.
Contactually's pricing begins at $69/mo.
9. HubSpot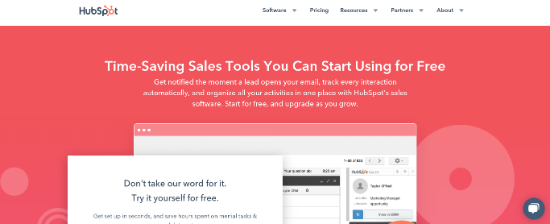 HubSpot's expansive tool suite includes HubSpot Sales, where you can really prioritize generating new leads.
Between personalized, automated outreach, email templates, and live chats, you can engage with prospects consistently on their platform. Following up becomes more efficient as you're able to track your entire pipeline.
HubSpot Sales subscription prices start at $50/mo.
10. Zapier
Boasting the "easiest way to automate your work," Zapier successfully does just that. "Zaps" connect all of your work apps to keep track of your tasks and remind you of next steps.
Conveniently, it can be paired with a lot of the other lead generation software on this list. The workflows generated can help keep your work day way more organized.
Zapier offers a small zap package for free, but those who require multiple steps and more connections can start on a plan of $20/mo.
11. Extole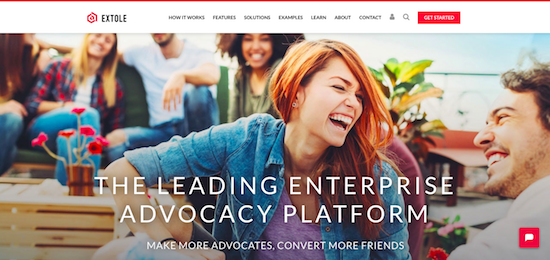 Extole is an advocacy marketing platform that allows your happy customers to turn into promoters who can generate more leads.
Through your social channels, you can invite customers to refer your business to friends and family. If a referred friend becomes a new customer, then both the friend and the advocate are rewarded somehow.
Extole is able to track and log all of this data, creating a bank of testimonials for your brand.
Extole has a demo that walks you through all the unique features. Following the demo, you can get a quote based on your unique needs.
12. ReferralCandy
Primarily for ecommerce stores, ReferralCandy is pretty similar to Extole in the sense that it rewards customers for business referrals.
Rewards are automatically paid out to customers, saving you time to send out emails and monitor your ROI. It can be integrated into your marketing stack fairly easily and provide you analytics and insights on your program.
ReferralCandy starts at $49/mo with a tiered commission percentage.
13. Clearbit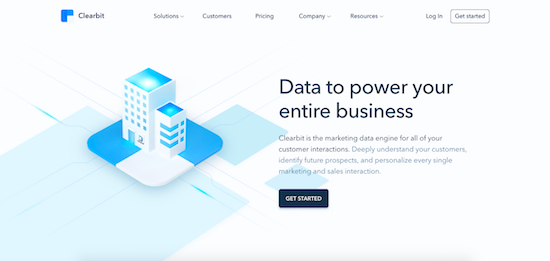 Clearbit offers several tools for lead capture.
It has the ability to find and fill out a lead's information just from an email address or corporate domain, then transfers it to your CRM.
With its real-time data acquisition, you can effectively manage your leads better, prioritizing them by qualification.
Clearbit's tools are priced at $99/mo.
14. Mailshake
Mailshake is designed to aid email outreach by helping you automate, personalize, and optimize your cold emails.
With templates and expert campaign reviews, your outreach campaigns will be bolstered tremendously. Its UX is customizable and built for team use, so everyone can be in the loop on the calendar provided to keep track of leads.
Mailshake starts at $39/mo.
15. Typeform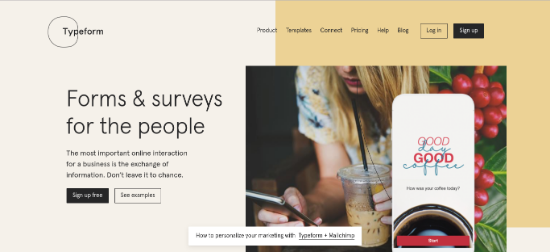 A survey tool, Typeform is capable of providing conversion data as well as lead generation. It makes customer surveys feel easier and more conversational.
It also successfully pairs with other marketing software, like HubSpot and Mailchimp. You can craft anything from surveys to quizzes to forms, with templates and question examples available for inspiration.
Typeform's free basic plan is expanded in the next Pro tier at $30/mo.
16. Proof
Proof's software tools are meant to boost your website's conversion by using social proof messaging to make the customer's experience feel more humanized.
Leads can get real time updates on your business and how other customers are doing. The technique boosts your brand's credibility, saves money on online advertising, and converts visitors into leads.
The addition of features like A/B testing and personalization make it an investment worth pursuing.
Proof's prices vary depending on your website traffic, but their most basic monthly plan starts at $29/mo.
17. Intercom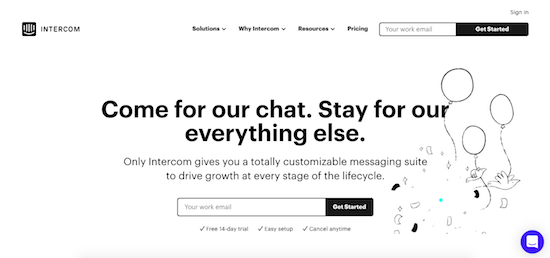 A great means to aid marketing, sales, and support all at once, Intercom presents itself as an on-site chat feature.
You can interact with your site visitors, collecting their information that will be analyzed. You can create message triggers for onboarding, support, or retention so that you never miss an opportunity with a lead. Current customers also have access to an integrated help desk and knowledge base.
Intercom's all-in-one starting plan is priced at $87/mo.
18. Qualaroo
Qualaroo collects user feedback on products or marketing experiences, providing valuable data and conversion metrics for your business.
Through analyzing responses, you can gather customer information and follow up on their experience, finding new leads along the way. As we've already figured out, surveys and forms are valuable means to generate happy customers.
Qualaroo has a starting price of $199/mo.
19. Hello Bar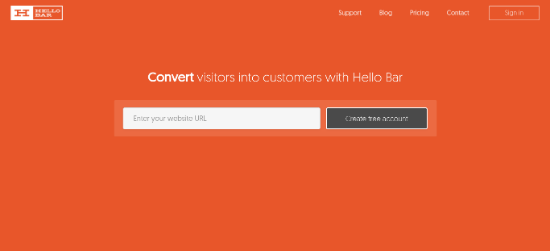 To start building a relationship with your leads, they need to stand up and be counted. Many potentially lucrative leads have "opt-in blindness," easily ignoring complex opt-in forms.
To cut through the clutter in a simple, inviting way, try Hello Bar. It functions as an elegant opt-in bar that can remain highly visible at the top of your website without frustrating your visitors.
Hello Bar starts at $29/mo, or a free plan for up to 5,000 searches/month.
20. Formisimo
Not exactly a lead capture tool, Formisimo is still a great way to optimize your lead generation forms.
Through their deep dive of metrics, you can learn form abandonment reasons and user behavior patterns, as well as segment reports by device.
You'll also receive helpful tips on how to improve your forms and monitor the impact changes make. The tool's installation is easy with just a quick code paste onto your webpage.
Formisimo offers a demo trial, after which an account manager will help you find a subscription rate that meets your needs.
21. Drift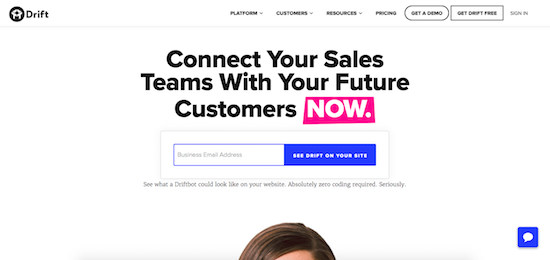 Boasted as the world's first and only conversational marketing platform, Drift is a truly powerful tool with a variety of features.
Their live chat function allows your website visitors to click on a chat bubble to get in touch with a member of your team immediately. You also have the option to set up a bot to act as your website's personal assistant.
Their leadbots qualify your visitors, identify which sales rep they should speak with, and book meetings... all without filling out a form.
Drift offers a free version to try, but their team option starts at $400/mo.
22. Turnstile
Video marketing has seen a meteoric rise alongside mobile technology. Turnstile, an app by Wistia, helps you motivate leads to take action when they view your videos.
Instead of putting links in the description and hoping you get clicks, you can empower any video with an opt-in form. The form can come at any point in the video, too, so you have a fully customized experience.
Turnstile currently offers both a free package and a $300 per year Solo package.
23. Ring.io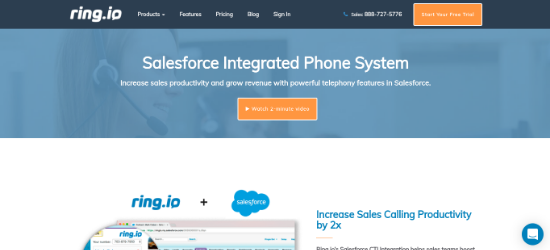 If warm prospecting over the phone is a cornerstone of your strategy, Ring.io is one of the lead generation tools you just can't miss.
This Salesforce-integrated phone system has helped some users double their productivity with a full-service solution that includes VoIP and CRM features. It offers high-level customization and KPIs, significantly reducing manual data input.
Ring.io starts at $69 per user per month for Zoho integration and $109 for Salesforce.
24. Hunter.io
Hunter.io provides you with an easy way to locate prospect email addresses based on their profile or website.
Since it comes in the form of a Chrome browser extension, it's easy to use while you are on the prowl for the decision makers you need to contact.
Hunter includes a free version with 100 lookup requests and starts at $49/mo for 1,000.
25. Quora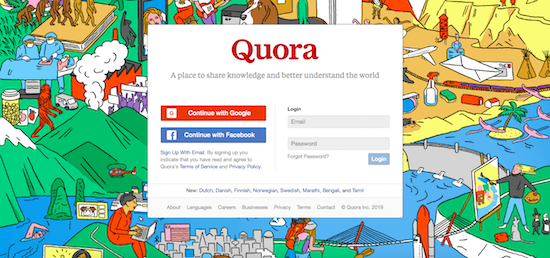 It might seem odd to find a social media site on the list of great lead generation tools – after all, social networks are often looked at as their own separate animal.
Look closer at Quora and you'll realize it's custom-built for two powerful lead generation activities: Spreading thought leadership by answering professional questions and connecting with genuine influencers.
Quora is free to use – all you need to do is sign up for an account.
26. Leadpages
Leadpages makes it easy to set up and test fully optimized landing pages for offers at any level of maturity.
It's so quick and easy that many enterprises use it to test market concepts before product development goes into full swing. With an immense variety of design elements, features, and built-in analytics, Leadpages calls itself the #1 landing page builder for good reason.
Leadpages starts at $25/mo paid annually for unlimited mobile responsive pages.
27. Datanyze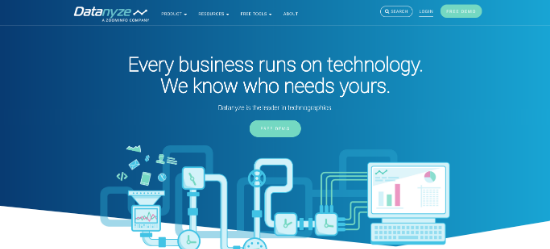 Datanyze is a sales tool that is specializes in "technographics." Basically their software helps software and tech companies understand what technologies their prospects are using on their websites.
But it doesn't just end there.
Their free Chrome plugin (up to 50 domains analyzed a month) also allows you to analyze company details such as the year they were founded, revenue and employees estimations, people within the organization and their emails, and much more.
It is a terrific tool to help your sales team save time prospecting.
Datanyze's Chrome extension is free, but to get domains analyzed on a monthly basis, you'll need to reach out to them for a quote.
28. LinkedIn Sales Navigator
LinkedIn Sales Navigator is the cream of the crop for lead gen. Their software allows you to "target the right buyers, understand key insights, and engage with personalized outreach."
If you're in B2B sales, you already understand the importance of LinkedIn, and their Sales Navigator is a great tool to help you capture leads. You are able to begin your prospecting efforts and save your leads into your CRM directly from their platform.
LinkedIn Sales Navigator has annual plans that start at $64.99/mo – a steep price, but given all the amazing features, it is definitely justifiable for most budgets.
What Lead Generation Tool Best Fits You?
Take the time to go over your budget, team size, goals, and other factors when researching which software to use. Many of these tools have free trials available, so start testing them out.
Also, make sure you gather feedback from your team. To narrow down your options and make the right decision on which tool to subscribe to, follow these simple steps:
Set your budget and identify your lead generation goals.
Build a list of five tools from this list that you can afford and that include features that will help you achieve your goals.
Establish a grading criteria to measure important aspects of each software, including ease of use, necessary integrations, accuracy of reporting, etc.
Assign team members who are going to be using your lead generation tools to test each of the options, and have them use your grading criteria.
After the trial period, reconvene and review each user's grade and feedback.
Vote as a team and make the jump!
When you equip your team with the right lead generation tools, you're setting them up for success. The software that fits your company right will help you drive big picture results in a sustainable way.