If you're like most business owners, you know how important it is to develop a mailing list. Done the right way, a mailing list is one of your best return on investment (ROI) efforts.
Email marketing has a return of 44 dollars for every dollar spent — or 4,400 percent ROI. Developing a list of your highly targeted audience members can mean the difference between lackluster results and success.
What Is an Email List?
via GIPHY
It's exactly what it sounds like: a list of emails. It's compiled of the emails from visitors who come to your site and fill out a form.
For marketing teams, it's the first step toward nurturing leads. Building a substantial email list means you're building a large source of contacts to reach out to and connect with.
Should I Buy Email Lists?
The answer is a hard and fast no.
Buying email lists can backfire on a business in a variety of ways:
Email providers penalize for it.
Response rates are impacted negatively.
Reputations are tarnished.
The emails in the list may no longer be active.
You'll be in violation of

General Data Protection Regulation.
How to Build the Best Email List Organically
However, getting people to sign up for your mailing list isn't as easy as you might think. It can take years to build up a list of loyal customers or even just people potentially interested in what you have to offer.
Fortunately, you can do some things that will encourage people to sign up for your list when they otherwise might not have.
1. Develop a Sense of Trust.
The consumer needs to feel they can trust you with their email address.
Spam is still a real problem, with many people having to weed through multiple messages each day to get to the mail they want to see. Site visitors might worry you'll sell their information to others, resulting in even more spam, or that you will send too many messages.
via GIPHY
Be upfront about your policies. Add a statement to your signup form that states, "We never sell or share your information."
Also, let the user know how often they can expect to hear from you. If you send out a weekly sales notice, then state that from the beginning and stick to it.
Make it easy to unsubscribe too. Do you really want subscribers who don't want your emails anyway?
2. Show You're Loved.
If you already have a good-sized mailing list, let other people know how many other people enjoy your emails. This old marketing technique is called the "bandwagon effect."
If people feel that many others are doing something, they are more inclined to join in as well.
So, if you already have 10,000 subscribers, add a ticker at the bottom of your signup form that says, "Join 10,000 other subscribers." Let them know that your mailing list is something others love.
Just be honest about your numbers here. If you don't have many subscribers yet, it would be best to leave this feature off your site for the time being.
3. Promise Inside Updates.
If someone is interested enough to visit your website and browse through your offerings, they are likely interested in what you have to offer.
One way you can entice them onto your mailing list is by offering to keep them posted on anything new. If the website regularly features new products, then offer to send a note each time new products arrive, for example.
4. Encourage Sharing of Your Emails.
via GIPHY
Those who are already your fans and on your mailing list are often your best means of promotion.
Word of mouth promotion is powerful. When making a purchase, about 80 percent of people in the United States ask for recommendations from friends. This means that your current customers are your best form of advertising, and it will only cost you a little time.
Encourage your subscribers to share your emails on social media, forward them in their entirety, and tell others about the benefits of subscribing to your mailing list.
You may also want to offer a discount on social media for anyone who subscribes, such as 20 percent off their first purchase.
5. Offer an Incentive.
Offering an incentive to sign up for your mailing list is a great way to entice site visitors to give you their email address. They gain something of value for giving up their email this way.
This offer can be something as simple as a free guide, online video course, or ebook that relates to your website in some way.
Incentives are a good way to draw new visitors and new subscribers in.
6. Give Out a Free Book.
Take the time to write a book related to your industry and upload it via a platform such as Draft2Digital, listing the price as free. On the first or last (or both) page of your book, invite readers to sign up for your mailing list for more tips on this topic.
Once you create a free book, you can participate in giveaways on sites such as Book Funnel. You can also list your free book on any number of sites and blast an announcement on social media with hashtags such as #freebook and #freebie.
This strategy opens up many additional markets for potential subscribers that you otherwise might not have reached.
7. Keep Signup Simple.
via GIPHY
People are busy. They don't have the time or desire to fill out lengthy forms. Since many are now accessing websites via their mobile devices, it's also difficult to fill in several fields.
It is vitally important that you make signing up for your newsletter as easy as possible. Signing up should involve no more than one or two fields.
If you need more information than that, you can always send out a poll with additional incentives later.
Email List Form Examples
It's always a great idea to examine what others are doing right to spark your own creativity. Here are some great sign up CTAs that we've found that exhibit some excellent qualities.
1. TOMS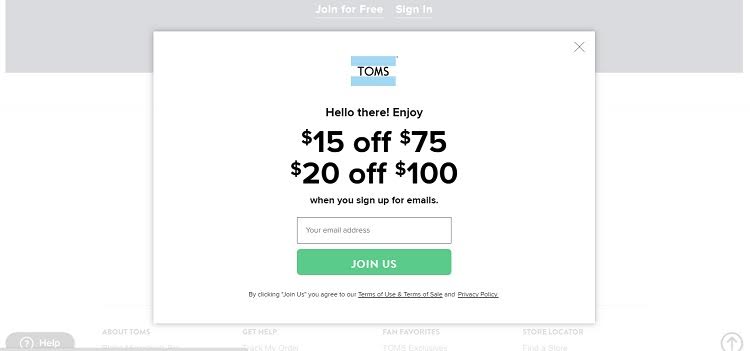 TOMS keeps their signup form extremely simple. There is one field in their form for an email address and then the "Join Us" action button. Even someone on a mobile device can fill this field in quickly and easily.
Note how they also offer an incentive here. By combining more than one element of effective mailing list invites, they pull in as many subscribers as possible.
2. J. Crew Factory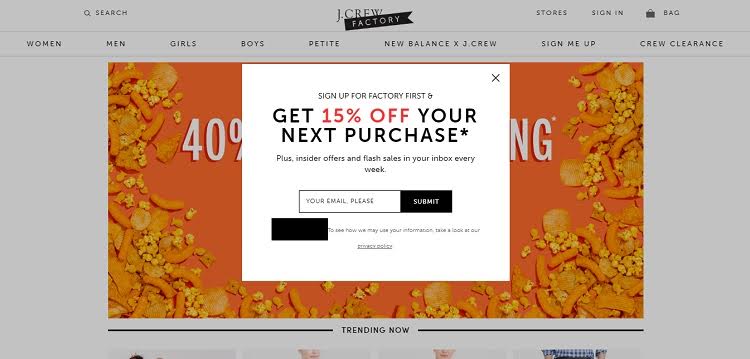 When you land on J. Crew Factory's website, there is a popup almost immediately that offers 15 percent off the next purchase as well as news about flash sales if you just share your email.
They also implement the trust factor on their form by sharing a link to their privacy policy. Note how the offer of a discount on your next purchase is in red to draw the user's eye.
3. David's Furniture

David's Furniture offers to keep subscribers posted about interesting news from the business as well as updates. They stress how easy it is to get these news items because they are delivered right to the subscriber's inbox.
4. The Daily Egg

This one is definitely unique from the others considering it's just a thin banner that sits at the top of the page. The Daily Egg offers the chance to subscribe to their newsletter as concisely as possible while still offering insight.
Visitors know that they'll be getting content related to website optimization three times a week. Can't be much more straightforward.
5. CXL
CXL's newsletter sign up flexes their popularity numbers with a shout out of over 95,000 subscribers. They make sure to address their target audience of marketers, analysts, and optimizers too.
You get a quick note of email frequency to assure you that your inbox won't be flooded and they confirm your voluntary sign up as well. CXL covers all the bases.
Grow Your Email Lists
Growing your email list takes time and consistent effort. You don't just want numbers, after all. You want your list to be made up of people who are highly interested in what you have to offer and might want to make a purchase.
Implementing some of these ideas will allow you to reach more potential leads. Knowing who your target audience is and the purpose of getting them to sign up will help you build a valuable mailing list.