Contrary to popular belief, email is not dead.
In fact, email is still one of the best ways to interact and drive engagement with your audience. Newsletters are one of the most effective elements of a successful email marketing campaign.
So if you haven't already created an email newsletter to send to your subscribers, then you're missing out on a major opportunity to boost traffic and brand awareness.
Why a Blog Newsletter Is Still Important
It's easy to miss the benefits of creating a newsletter – we get it, you think they're outdated, and seriously, does anyone read them anymore? Well actually, the answer is yes.
Creating an email newsletter for your subscribers can have a myriad of different benefits for your company.
You Have Direct Reach.
By creating a newsletter, you're directly reaching out to your readership, rather than competing for exposure on Google search results.
Additionally, you know you're reaching a target audience that is genuinely interested in your products and services, as they've already subscribed to your content!
You Can Promote Overlooked Content.
Very few people have time to sit and read through their favorite blogs everyday. It's easy for content to fly under the radar when people are busy with their day-to-day lives. However, including blog highlights in your newsletter allows readers to find content that may have previously missed.
You Can Guide Their Attention.
When you create a newsletter, you control exactly what your reader is seeing, and you can direct them toward specific actions you want them to take. For example, you can guide them toward blog posts, prompt them to answer polls or fill out surveys, or encourage them to follow your social media channels.
You Can Drive Sales.
You can also use newsletters to drive sales amongst your current audience by promoting campaigns and current sales. It's a simple tactic to boosting customer retention rates!
4 Tips for Creating a Knock-Out Newsletter
Now that you know why you should be sending out a newsletter to your subscribers, you can take the next step in the process – actually creating it. That being said, a lot of you are probably asking the same question – where do we start?
We've put together a few tips to guide you through how to create a successful email newsletter.
1. Establish a Goal.
First and foremost, you'll need to establish the goal of your newsletter, and this will help you shape it. How is it going to fit into your content marketing strategy? Are you hoping to boost sales, or create more engagement with your content?
Consider these questions when you start the process of creating your newsletter.
2. Determine Frequency.
Determine how frequently you want to send out a newsletter, whether daily, weekly, or monthly. This will likely revolve around how much blog content you publish each week.
If you publish multiple blog posts every day, then you'll likely want to send out a daily newsletter. If you publish once per day, or a few times a week, then a weekly newsletter would be fine.
Finally, if you publish sparingly throughout the month, then a monthly newsletter is likely the best option for you.
You can still opt for a monthly newsletter even if you do post lots of content consistently. Just make sure that you highlight the top performing posts from throughout the previous month.
You should also include a section about upcoming news, sales, etc. that your readers can look forward to in the coming month.
3. Keep It Short.
Don't include absolutely every piece of content that you've published since your last newsletter. Focus on the quality of content included, not quantity.
Your newsletter should only include the top performing blog posts and relevant news or calls to action. If you make it too long, your content will risk becoming oversaturated, and your reader will quickly get overwhelmed by the excess material.
4. Don't Forget Visuals.
This part gets a little tricky for people, as we're not all design wizards. Unfortunately, good content alone isn't enough for a successful newsletter.
In order to create a positive user experience, your newsletter needs to be visually appealing. Include photos or even screenshots from videos to break up blocks of text, and always find a way to incorporate your brand colors!
We know that designing the nuts and bolts of a newsletter can be tricky, but luckily, there are a bunch of useful tools out there to help you. Services like MailChimp, Aweber, and Feedblitz are all good options. These tools are incredibly user friendly, allowing you to upload, drag, and drop content to easily create a newsletter.
5 of the Best Blog Newsletters to Learn From
1. HubSpot
HubSpot has multiple newsletters, each one directed toward different segmented groups of contacts. For this example, we'll just focus on the newsletter that they send out to their HubSpot partners.
This is a monthly newsletter recapping on what took place throughout the previous month. It includes a combination of company news and highlights top performing content posts.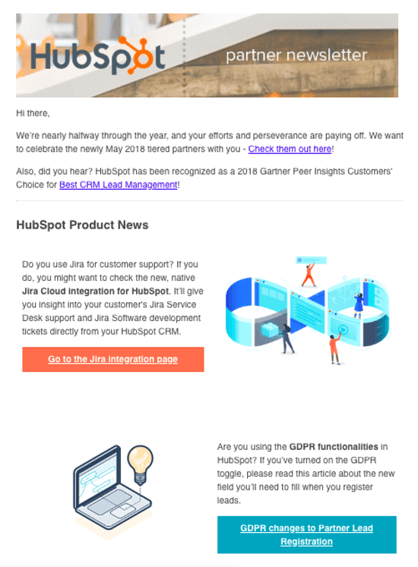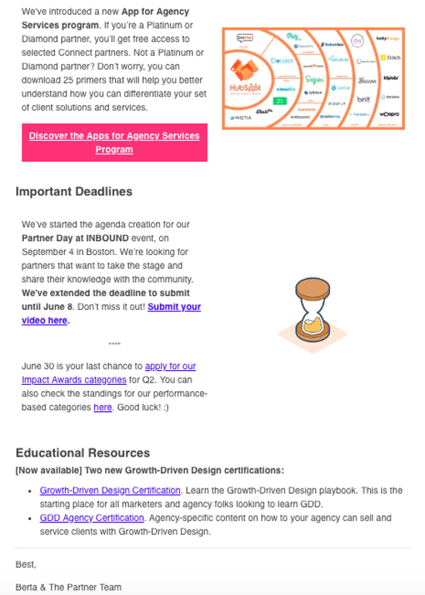 Their newsletter design is incredibly user friendly – incorporating short blocks of written content, with pleasing graphics next to them. Clickable action buttons are clearly defined, and they use white space to their advantage.
Additionally, they also include educational resources and have a "deadlines" section for upcoming closing dates to create urgency within readers and prompt them to act now.
2. The Daily Stoic
The Daily Stoic is exactly as it sounds – a website dedicated to educate people on the ancient philosophy of Stoicism. Their website also includes interviews with authors and experts on relevant topics associated around philosophy and mindful mentality.
Every day, The Daily Stoic sends out a newsletter with a thoughtful post about a relevant topic. They include an engaging photo in each newsletter, and keep the content short and direct but still thoughtful. It's relevant content delivered directly to an interested audience.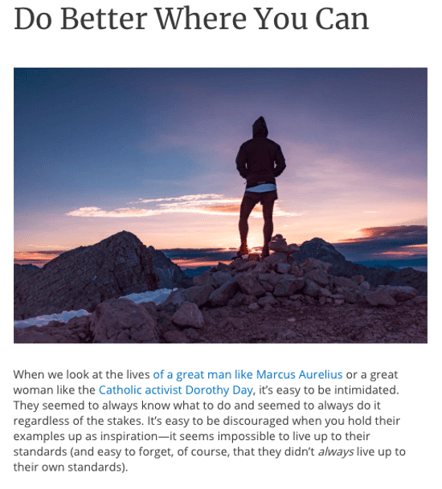 3. Mel Robbins
Mel Robbins is a TV host, motivational speaker, and author of the bestselling self help book,The 5 Second Rule. She sends out a weekly newsletter with fresh motivational content for her subscribers.
She also tells her readers what's been going on in her own life to foster personal connections with her audience. The tone of Mel's newsletter is relaxed – she speaks to her readers as if she's having a conversation.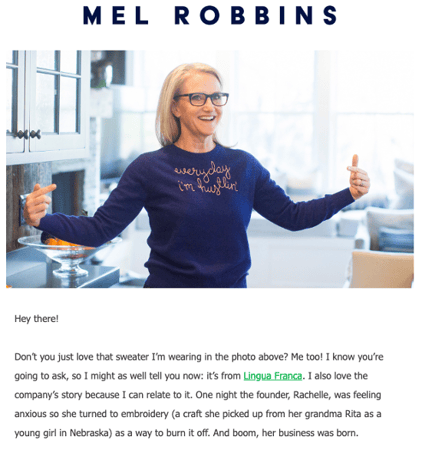 Mel knows her audience, she knows how to speak to them, and she knows what they're interested in. She consistently delivers relevant content to them through her newsletter, which they would otherwise not have access to.
Take a look at this snippet from one of her recent newsletters, in which she talks about how to define success.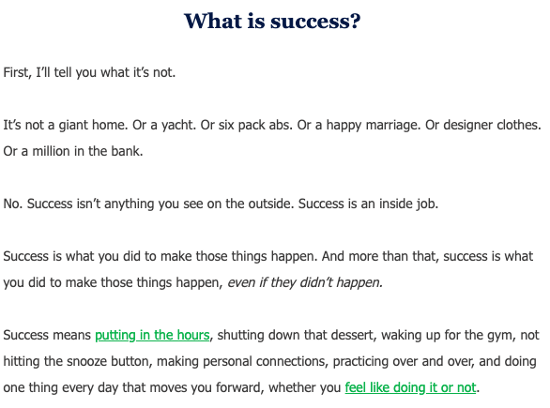 4. REI
REI sends out a highly effective weekly newsletter to their customers. They use quality content to promote their products, balancing written material with visual elements such as photos.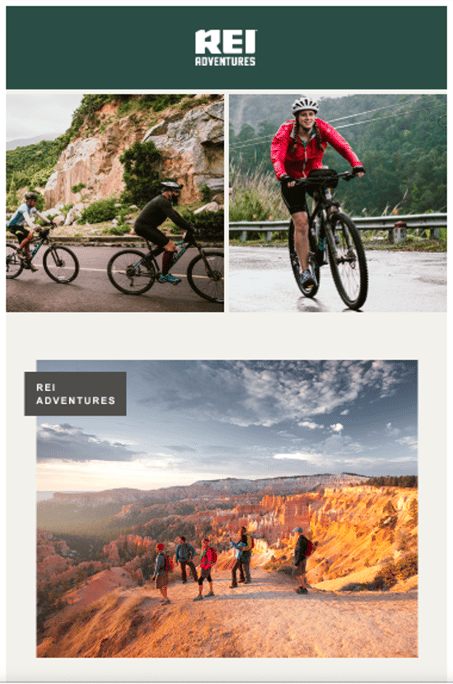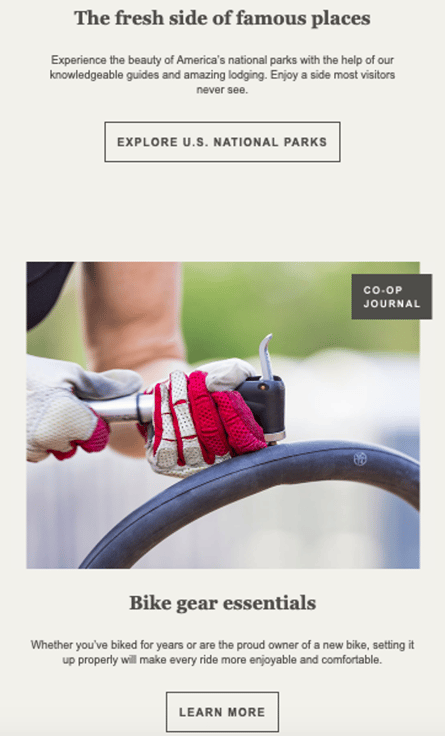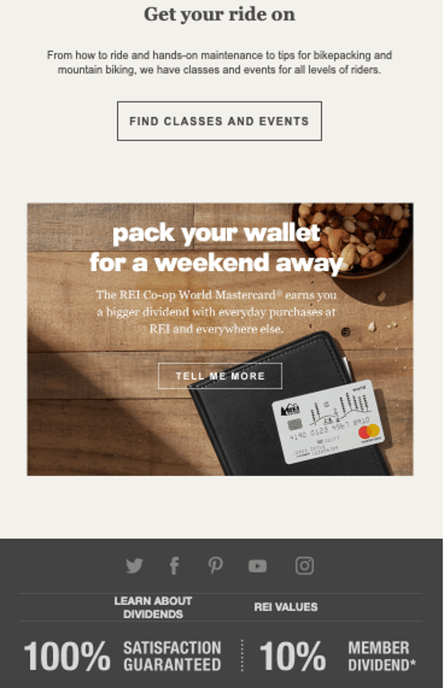 REI sometimes focuses their newsletters toward specific target customers. For example, this specific newsletter is tailored toward cyclists. They provide informational content, like gear essentials, but also promote their educational courses where you can learn about mountain biking and similar skills.
Focusing your newsletters toward niche audiences is a great way to boost engagement from that group. It's a form of effectively nurturing each and every segmented contact list within your domain.
5. Tim Ferriss
Tim Ferriss is a successful entrepreneur, author, and investor, and he was listed as one of Fortune's 40 Under 40.
Each week, he sends out his newsletter entitled "5 Bullet Friday," in which he includes five things from the previous week – whether it's a book he's reading, a gadget he's using, ideas he's been pondering, and much, much more.
Take a look at Ferriss's most recent newsletter: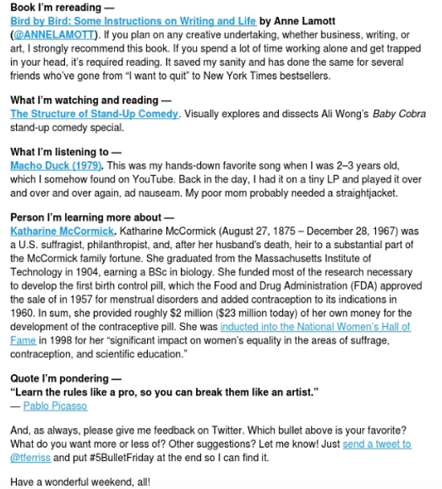 While his newsletter doesn't include much in the way of visual elements, he keeps it short and direct, making it easy content for his readers to consume. The material he includes is interesting, and it's an easy, direct, and personal way for Ferriss to connect with his audience.
If you devote some time to the initial startup of it, creating a newsletter can be an incredibly beneficial element of your content marketing and blogging strategy. But don't forget to have some fun with it!
After all, this is all about your company's news and top performing content. Come up with a fun name for your newsletter, develop a unique layout, or shape it around an innovative set of ideas to be delivered, like Tim Ferriss did.
You can make your newsletter completely your own, so have it celebrate your brand by keeping it in theme and making it impactful!