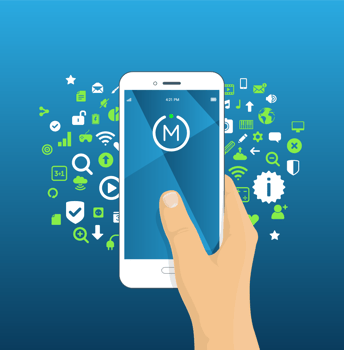 Mocana is a highly regarded firm in the security industry and a pioneer in securing the Internet of Things (IoT). Last year they launched their Atlas platform, a cutting-edge solution that is transforming enterprise mobility for some of the largest companies in the world.
Besieged with a challenging subject matter, Bluleadz needed a way to deliver easy-to-read content that functioned smoothly; much like Mocana's platform provides a high-quality end user experience (UX) to enterprise mobile device users.
Not only that, but we needed to generate form submissions and convert new leads that were relevant to Mocana's industry. Talk about a double whammy.

Enter the Mobile Hierarchy of Needs: a blog series designed to address the steps that comprise implementing strong security into connected mobile devices.
This originated from a previous 20+ page eBook collaboration with the client's team that included employee interviews and extensive research. From this, the Bluleadz team broke down content from the eBook as a means to market it to readers. Clever and innovative without doing double the work.
Bluleadz's posts bridged the gap and educational lapse that may come with advanced enterprise terminology by using Maslow's Hierarchy of Needs pyramid concept, something that everyone is familiar with in some capacity. In other words, we utilized a seemingly intangible concept to most and analogized it into something simple Mocana's readers could relate to and understand.
Segmenting the content in conjunction with each piece of the pyramid allowed for the floodgates of information to depressurize and be relayed gradually.
A gentle trickle is far easier to absorb than a tsunami, after all. This made compiling the information into separate blog posts easy, and allowed for us to reign in the focus on the campaign itself rather than stressing about the bottom-of-the-funnel cogs and wheels.
Security, Scale, Visibility and UX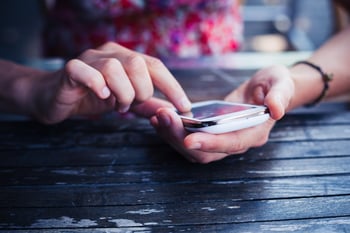 Our execution of explaining this client's main needs in mobile security was digestible, informative and even entertaining. We did the following:
Conducted in-depth interviews with several members of the client's team for content in the article
Created an eBook exceeding 20 pages, and broke it down into separate blog posts in order to promote it effectively
Ensured a base understanding and analogy between human needs and the needs of the mobile app architect was met in each part
Provided examples and statistics to illustrate real-world applications of these needs
Delivered a royal flush of information that is accessible to end users (or blog readers)
Metrics Matter
As ambassadors for inbound marketing, we all know that metrics fuel our efforts with hard data on what worked and what didn't.
Here are some metrics from this "Hierarchy of Needs" campaign from November 2014:
1,310 total visits
30 total contacts
Over 24,311 CTA views
73 form submissions from the CTAs
46 LinkedIn clicks
48 Twitter clicks
Since the client's industry is so specific, getting customers isn't exactly a Wal-Mart trip. From this campaign alone, we here at Bluleadz were able to gain the client 30 new contacts and over 421 visits from email alone.
Project Success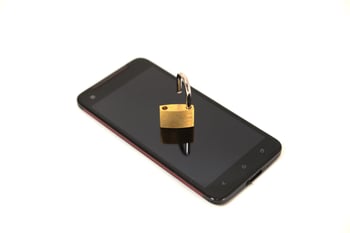 By making this blog series for this client, Bluleadz:
Reinforced the client's position as an industry thought leader
Succeeded at presenting an easy-to-read blog series
By implementing this blog series about the Mobile Hierarchy of Needs, Bluleadz successfully integrated our company ethos, which is: helping clients grow their businesses.


Our inbound efforts were rewarded with further website traffic and exposure to Mocana's website, as well as more valued contacts to add to their ever-growing database. We believe this effectively encapsulates the paragon of an inbound campaign.

If you're interested in reviewing the Mocana Blog Series, here are links to the original posts: