When you google, "dry cleaners," what search results do you see?
Unless your Google just happens to be broken (which it never is), you're most likely going to see a map with two to three dry cleaners in your area.
And, if you look further, you can see their address, phone number, business hours, and even customer reviews if they have them – all the information you could possibly need in one place. Pretty neat, huh?
How do they do it? With Google My Business. And your business should do it too.
What Is Google My Business?
Launched in 2014, Google My Business is a service operated by Google and geared for business owners. It was created to give businesses more control over what information shows in the search results when someone searches for their business's name.
Customization options include your business's name, location, adding relevant photos, replying to customer reviews, and more.
Is Google My Business Free?
Absolutely!
Google My Business is a free tool that helps businesses control their online presence in search results. Plus, leveraging GMB can help you tell the story of your business to your prospects and customers.
Note: You cannot create a Google My Business Listing if your business is 100 percent online – you must have some sort of face-to-face interaction with your customers in order to be eligible.
How Google My Business Can Boost Your SEO
Google My Business isn't just a way to present your company information; it's also a great way to optimize your business and help you get found in relevant search queries!
Utilizing industry-related keywords on your GMB listing can boost your SEO ranking and help consumers find your business online.
Not only that, but the local SEO potential that a Google My Business listing can bring your company is well worth the five-minute set up.
Think about it; these days, we all search for things in our area, like "smoothies near me" and "banks in Tampa."
And, 88 percent of mobile searches for local businesses will either call or visit the business within 24 hours. So, if your information is inaccurate or incomplete, you probably just lost a customer.
GMB Insights is another handy tool with SEO benefits. With Insights, you can learn how customers search for your business, where they search, how they interact with your listing, and search phrases used to look for you business. All of this is valuable information to feed into your SEO efforts.
How To Set Up a Google My Business Listing
Setting up a Google My Business listing for your company is fairly simple and can be done within minutes. Here's a quick step-by-step list to help you get started.
1. Head to google.com/business.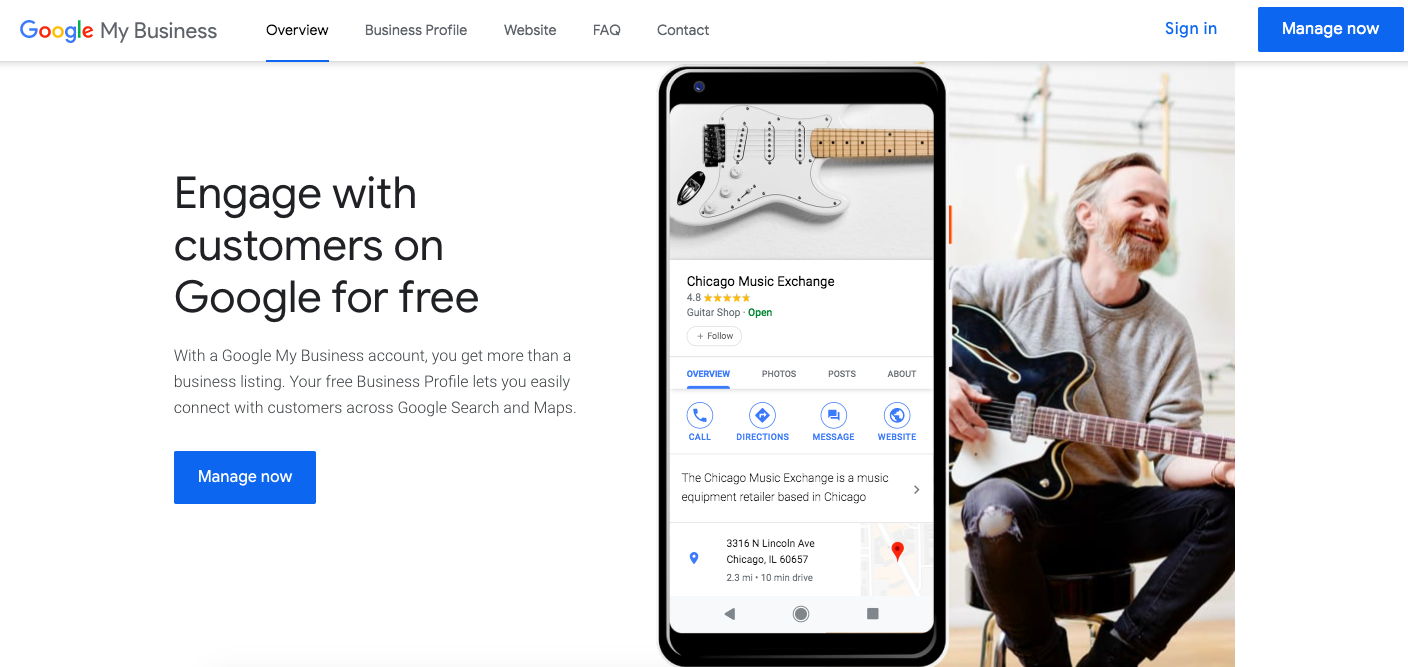 2. Click "Sign In," and log into the Google account you want associated with your business. If you don't already have a Google account, you must first create one.
3. Enter your business name.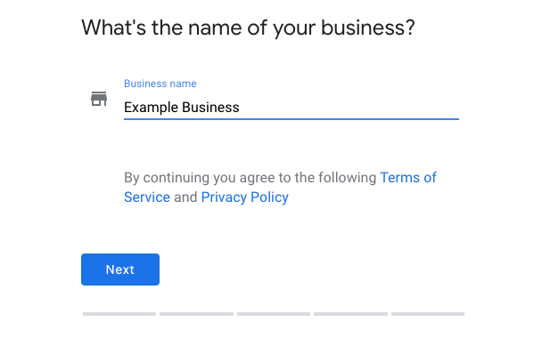 4. Select whether or not you want to include a location for your business. (Which you should!)
5. Enter your business's address.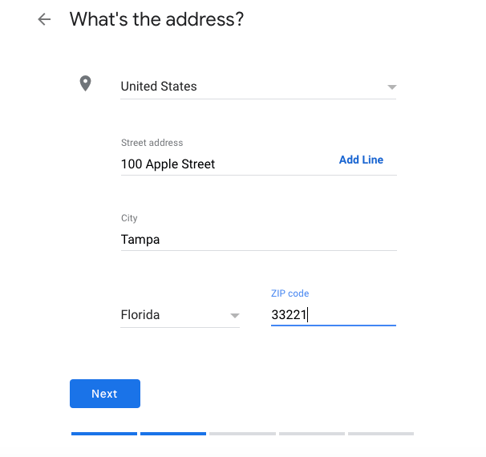 6. If you also serve customers outside of your area, you have the option to include where they can help bring relevant customers.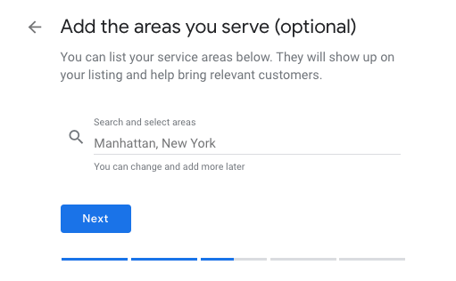 7. Choose your business category – try to be as specific as possible.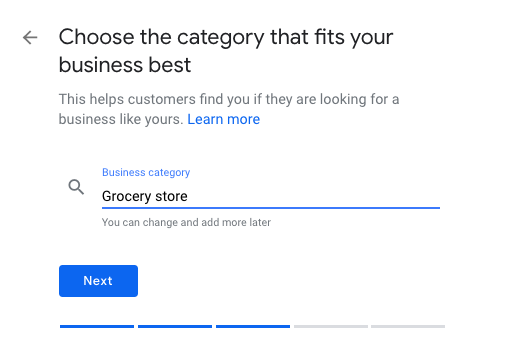 8. Add your business's phone number and website URL (if you have one).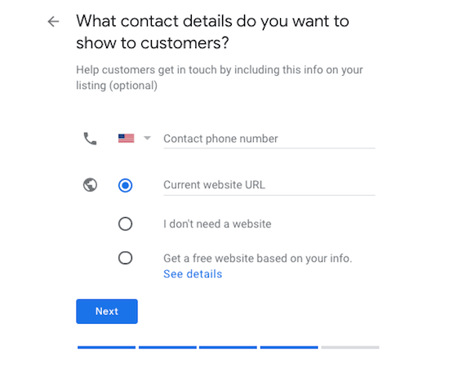 9. Click "finish," then select how you want to verify your business listing. If you don't want to verify your business just yet, you can select "later" under the "other options" tab.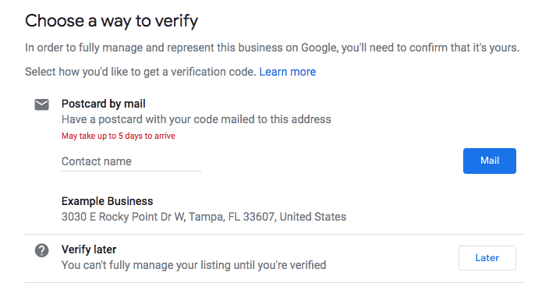 Verifying Your Business on Google
Verified businesses are twice as likely to be considered reputable by internet users, so in order to ensure accuracy and security of your business information, you should verify your business.
Most businesses choose to verify their business via postcard (in the mail), but there are a few ways you can do it.
How to Verify Your Business by Mail
1. Sign in to Google My Business on your computer using the Google account you signed up with.
2. Choose the business you want to verify and click "verify now."
3. Under the "Postcard by mail" option, add a contact name and ensure that the address provided is accurate.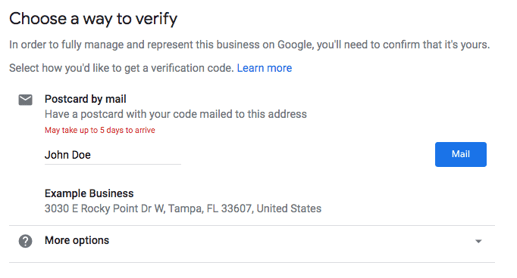 4. Click "mail."
5. Once you receive the postcard in the mail (which can take up to five days), sign back in to Google My Business and select the business you want to verify.
6. Click "verify now."
7. Enter the five-digit verification code listed on your postcard.
8. Click "submit."
How to Verify Your Business by Email
Note: This verification option is only available for eligible businesses.
1. Sign in to Google My Business on your computer.
2. Click "email" from the list of business verification options.
3. Check the email that you use for your Google My Business account.
4. Click "verify" in the email you receive.
How to Verify Your Business by Phone
Note: This verification option is only available for eligible businesses.
1. Sign in to Google My Business on your computer and select the business you want to verify.
2. Click "verify now." The phone number you will use to verify your business is the phone number you provide when setting your account up.
3. Click "verify by phone" to have a code sent to your phone in an automated message.
4. Enter the verification code.
To verify your business with any of these methods via the Google My Business app, visit this Google My Business Help page for instructions.
How to Optimize Your Google My Business Listing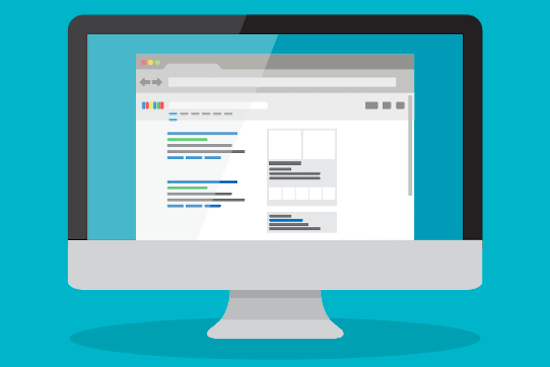 Provide ALL Important Business Information.
One of the most important things you should always do when setting up your GMB listing is to complete all the information Google asks for. This includes address, phone number, website URL, and business hours.
If you leave any of this information out, you're only making it harder for people to gather all necessary information about your business. If someone wants to visit your website to learn more about your services but can't find it, they'll likely find the next best option.
Include Keywords.
Just like website SEO, including keywords within your GMB listing can have a huge impact in helping your business appear in search queries.
Be sure to include keywords relating to your business and industry when adding services and when writing your "From the Business" section.
Publish Google Posts.
Google Posts allows you to create content directly on the platform. These posts will show up directly in your SERP sidebar on desktop and on top of SERPs when they appear on mobile devices.
Similar to a blog post, announcement, or advertisement, you have control over the content of the post up to 300 words, the ability to add an image and, most importantly, the option to add a compelling call to action.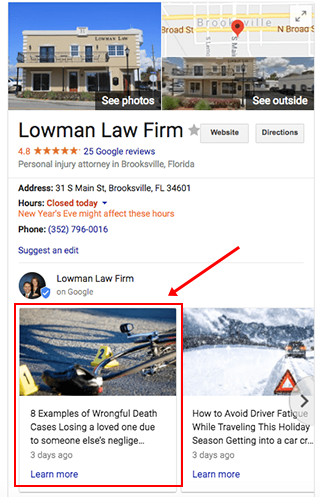 Encourage and Respond to Reviews.
Reviews can be essential to your business. When you get a good review, it can bring in a new sale. And, the more positive reviews you get, the more business you can bring in.
And, since almost 64 percent of consumers check reviews on Google before visiting a business, you definitely should have some on your GMB listing!
One of the easiest ways to get a review on Google is to simply ask. Just a quick email showing your appreciation for their purchase and a request to leave a review could be very impactful. (Just don't forget to include a link!)
But, let's be honest: not every review is a good one. There's always one unhappy customer that will leave a negative review someone on the internet explaining their experience.
No matter what kind of review you receive, Google My Business encourages you to respond to all reviews.
On your Google My Business dashboard, spend 10 minutes each week to reply back to each reviewer, no matter if it was good or bad.
A surprising 44.6 percent of people would be more likely to visit a business if the owner responded to negative reviews, so keep that in mind as you message your reviewers back to thank them for their input.
Set Up Direct Messaging.
Another cool feature on the Google My Business platform is the ability to directly message customers. Allowing quick communication between you and people looking at your GMB listing is a great way to help answer questions and offer advice.
Once set up, mobile customers will see the message button directly on their device. You can also set up an auto-respond message once you have verified the number you want to use. It's a great feature that gives direct access to your business via messaging.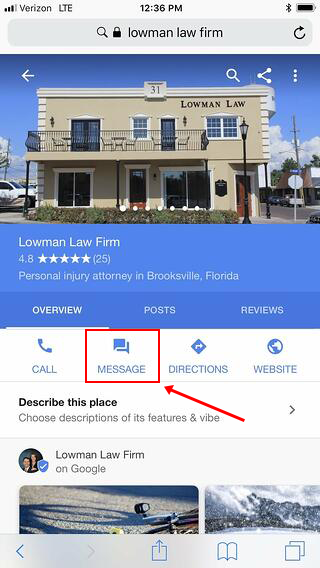 Set Up the Q&A Section.
The question and answer feature allows visitors to ask questions about your company before they even visit the website.
They can easily click on the Q&A section from their phone or desktop and submit any question or concern they might have prior to visiting your business, or even before going to your website.
Another unique feature of the Q&A is that it allows visitors to mark up answers to helpful questions that could help your business improve listings. You may also add your own response from within the company.
Add Company Photos.
Did you know that businesses with photos on their GMB listings receive 35 percent more click-throughs to their websites?
Adding relevant company photos to your listing can help boost traffic to your site and spotlight your business brand and culture.
Your profile photo should be your first priority, as it's what is shown when you post an image or reply to a review.
Google My Business also encourages you to upload a cover photo, which is a preferred photo that will appear on your listing in Google Maps and Search, as well as a video to tell the story of your business.
When it comes to what photos you should add to your listing, here's a quick list you might choose from:
Your logo: Helps identify your brand
Your office building: Helps identify your exact location
A team photo: Puts a face to the name and highlights your employees
Company events: Shows off your personality and culture
User-generated photos: Highlights products and services in use by real customers
Bring In More Business With Google My Business
When you've successfully created and optimized your business listing with all the essentials, you're ready to start bringing in new customers in your area who are looking for help.
Using Google My Business benefits companies of all sizes in any industry. You want to prove your existence to potential customers and establish your credibility when they're researching your brand.
But creating your listing is not just about getting found – you want to impress your potential customers with a strong first impression. Write engaging content, add the right information, and start engaging with prospects now.