If you're a member of the business world, you probably already know about the awesome benefits LinkedIn can bring you and your network. As a way to connect with your professional community online, LinkedIn allows professionals to expand their network digitally. But did you know LinkedIn is also a powerful tool for businesses?
Businesses, like professionals, can use LinkedIn tools and pages to make important connections and expand their network. Whether this means connecting with new talent or finding new clients or business partners, LinkedIn is a tool businesses of all sizes should be taking advantage of.
If you're unfamiliar with the LinkedIn platform and its capabilities, you may be unsure of where to start. Let's take a look at five ways you can use LinkedIn to grow your business.
1. Post Jobs or Internships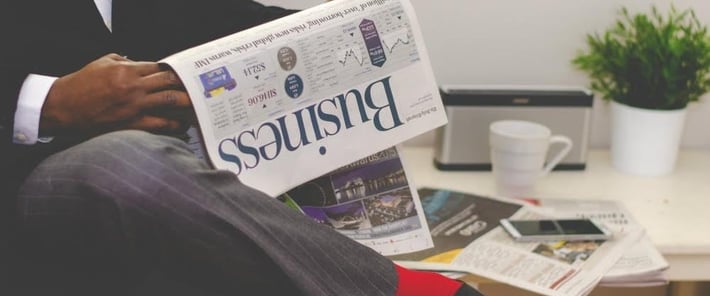 When you're posting a new job or internship you have available, you want to place it on a site that's popular with the best talent. Placing your new job or internship on LinkedIn, like Roku does, allows you to reach job hunters and gives you the opportunity to attract individuals who may not even be actively looking for a new position.
LinkedIn is beneficial to you because applicants can gain a better feel for your company before applying. Unlike other job boards, potential job seekers can browse around your company profile, check out other employees and see if it is the right fit. This kind of preliminary research means you're securing highly qualified leads.
2. Get Involved in Groups

LinkedIn Groups are one of the best ways to connect with others in your industry. Whether you're looking to attract new business partners or clients, communicating and sharing in relevant groups can help increase your brand awareness. You can even form your own group, like the Content Marketing Institute, where interested parties can communicate.
When participating in groups, keep in mind that you shouldn't be selling products or services. Instead, you need to be sharing your expertise and insights. Share information that will be valuable to other members of the group and engage in conversations relevant to your business, even if you're not the one who started them. These groups should act like a community, and you should be an active community participant.
3. Use LinkedIn SlideShare
SlideShare is a great way to create content that can be easily skimmed. When your audience is in a rush, they don't want to read a whole study, or they're unsure if the content has the information they're looking for, a SlideShare allows them to briefly browse through and develop a better understanding. Maccabee PR is a good example of a company that frequently uses LinkedIn SlideShare a part of its content strategy.
Look for a few ways to add SlideShare into your content marketing strategy. Whether it's repurposing a piece of content or creating something entirely new, adding some slideshows on LinkedIn can boost your credibility and attract new audience members. SlideShares also provide you with new content you can share in your social media marketing strategy, directing people to connect with your business on LinkedIn.
4. Give Frequent Updates

Your LinkedIn profile should be treated like any other social media platform, although it should have a bit more of a professional spin. When you're creating content to share through your social media strategy, consider what additional posts you may be able to create specifically for your LinkedIn profile, similarly to what Nike does.
Remember that each post should be valuable, but you can get creative with your LinkedIn posts. Businesses will frequently use their LinkedIn profiles to create a conversation with the people they've connected with. Instead of only giving an update about your business or trying to push viewers to your website, ask a question or find a way to get your community involved. If you get responses, be sure to respond to keep the conversation going.
5. Improve Trust and Authority
Before you can start selling your products or services, you need to sell your brand. In order to attract new leads who will eventually turn into customers, you need to find a way to improve your trust and authority with those audience members. To get them interested in your company, show them you're worth investing in. Robert Mericle does a great job of building trust and credibility for his company on his LinkedIn profile.
You can improve trust and authority through LinkedIn by thoroughly filling out your profile, sharing articles relevant to your industry or uploading videos you may have created for social media marketing purposes. Giving your audience some content to engage with can educate them on what you offer and prove you're an expert in your industry. If they trust you, they will be more likely to come purchase from you when the time is right.
LinkedIn is typically seen as just another social media profile. But for a business, it can be a powerful networking tool that can attract both leads and new talent. If you're looking for a way to give your business a bit of an online marketing boost, consider what kind of returns you may get from any of these five LinkedIn tips.
Connecting with your audience depends on what your audience is looking for. As you begin to better understand where your target audience is on LinkedIn, you can create a unique strategy that speaks right to them.