Did you know that 3 out of 4 members use LinkedIn to keep up on business news or research companies?
Consumers are becoming more and more interested in connecting with companies and brands who provide insightful content and useful information. LinkedIn provides the ideal platform to build these beneficial relationships, but how do you get people to follow your LinkedIn Company Page?
There are many things you can do to start expanding your company's reach on LinkedIn.
---
Download Our LinkedIn 101 Tipsheet To Expand Your Reach.


---
Optimize Your Profile for Search Results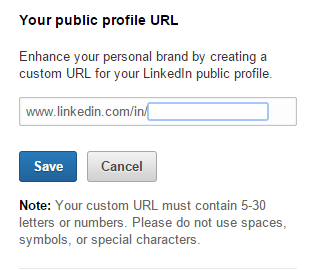 Optimizing your profile for search is the first thing you should do to obtain followers for your company LinkedIn page. This includes optimizing your URL to make your Company Page look more professional and easier to share. If you haven't already done this, the URL probably looks something like this: http://linkedin.com/in/123456789. Optimizing your URL allows you to choose your company name rather than displaying a bunch of jumbled numbers. You can change the URL by clicking here and clicking "Customize your public profile URL" located on the bottom right hand side.
Another aspect of optimizing your Company Page is ensuring it is SEO-friendly for searching on both Google and LinkedIn. You can achieve SEO-friendliness by having a compelling company description that uses relevant keywords. By doing this, your preview on Google will directly reflect what your company does. Inside LinkedIn, members can search for your Company Page by keyword, so it's important to include key words and phrases that describe who your company is and what they do.
Utilize Your Products and Services Page

This page is the so-called "sales" section of your Company Page. You want to sell the benefits of the products and/or services your company offers by displaying them on your Company Page. This doesn't mean you can only post your products and/or services; you can and should lead your followers to your companies marketing offers: guides, case studies, and white papers that are available on your website. When you create your Products and Services page, make sure your featured and most important product or service is listed first. If your company has a YouTube or promotional video for the product or service, this is the ideal spot to place it.
Another important feature of this page is the reviews section where members can write reviews of your products and/or services. Reviews can set you apart from your competitors by providing your audience with the credibility they need to see. You can even take testimonials off your website and feature them on your Company Page.
Share Relevant Content & Engage With Your Followers
Thanks for reporting a problem. We'll attach technical data about this session to help us figure out the issue. Which of these best describes the problem?
Any other details or context?
message

Sharing new, relevant, and interesting content through your LinkedIn Company Page will keep your followers engaged and give your page a greater chance to succeed. A great way to engage with your followers is to ask a question in your post to encourage members to comment, so make sure your posts are meaningful rather than just posting to post.
Including images in your posts is another easy way to capture your follower's attention. Setting a post as a featured update will highlight that post at the top of your page. So, if you're promoting an event, product, or service, you should set it as a featured update.
There are over one million groups on LinkedIn covering almost every industry. Groups allow you to focus the attention of your Company Page on your target audience while staying up to date on current news and topics in your industry. Most LinkedIn members who have joined a group are interested in sharing content, making connections, and finding answers; contributing your own insight into these groups is how your company can establish an authoritative position.
Contributing to group discussions and sharing relevant content will attract members to engage with and follow your Page. Not only should you contribute to an established discussion, but you should also post your own topics, ask questions, and engage with your audience.
Create Visibility for Your Page
Ask all of your employees who have a personal LinkedIn profile to follow your Company Page and identify within their profile that they work for your company. Once they are listed as employees, they will appear on your Company Page where other members can connect with them to expand the visibility of your company. In addition to employees of your company, many of your clients and business partners probably have a LinkedIn Company Page that you should follow in hopes to reciprocate the follow-back.
Cross promoting your Company Page through your existing social media platforms will invite those followers and connections to follow your LinkedIn Page. You can do this by placing a link to your Company Page in your Twitter Bio and 'About' section of your Facebook Company Page. You can also amplify your LinkedIn followers by linking your Page from your company website, blog, and email signature.
The cover image is located at the top of your LinkedIn Company Page. This image should reflect some aspect of your company that will capture the visitor's attention and encourage them to explore your Page. It's useful to include a strong value proposition in your cover image to give a brief description of your company.
Jab, Jab, Jab, Right Hook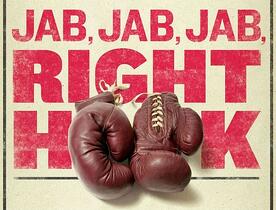 "Its all about building relationships and setting up the environment where the 'ask' or 'right hook' would be easy and lead to high conversion." (Actionable Books)
Gary Vaynerchuk is co-founder and CEO of VaynerMedia, a strategic social and digital consulting agency dealing with Fortune 500 clients including GE, the New York Jets, and PepsiCo.
In his book, "Jab, Jab, Jab, Right Hook," Gary details his theory behind providing your audience with thought provoking information, advice and free resources to get their attention. Once the audience is hooked, Gary explains, you shouldn't be afraid to ask them for something in return. In your case, it could be a simple email to your contact database asking them to take a minute and follow your company's brand new LinkedIn Company Page.
Image Source: Gary Vaynerchuck